I can't say I had major regrets when the French movie Blue is the Warmest Color, by Abdellatif Kechiche, didn't win a Golden Globe and wasn't nominated for an Oscar. Had the controversial movie about a lesbian relationship not won the Palme d'Or in Cannes and split another Palme d'Or between the two actresses — LĂ©a Seydoux and comparative newcomer Adèle Exarchopoulos — the film might never have floated up to fame like a hot balloon. I didn't find myself more than mildly engaged by the story of a mismatched couple: Emma, ambitious young artist, seasoned lesbian and free spirit with blue hair, and high school student Adèle, working class, shy, sexually inexperienced, but graduating instantly (a nature talent?) to energetic oral sex of every kind with Emma. The 3-hour epic is based on a comic book by French author Julie Maroh (Le Bleu est une couleur chaude), and whatever qualities the film version has – beautiful camera work, excellent acting, attention to class distinctions — gets catapulted out of balance by the bizarre sheet acrobatics at the center of the tale.
The first of several bed scenes lasts a full seven minutes and is an exercise in the unreal. Emma and Adèle get at it without any preliminaries. There is non-stop grunting, gasping, slurpy kissing in close-up, jumping from one sex position to the next with more grunting, gasping, slurping… Seven minutes devoid of any visible pleasure in the faces of the acrobats. I was finding myself turning into Masters and Johnson, stop-watch in hand, waiting for the frantic plateau phase to peak and flower into something like revelation, smiles, radiance, maybe teary gratitude. None of that. No tears of ecstasy from Adèle, the novice who otherwise weeps throughout the movie at the drop of a hat. Did anyone in the sex scenes of Blue come at all? I checked with a group of friends. Maybe, maybe not. Nobody could tell. Adèle and Emma end their seven-minute-sex tour seemingly just exhausted. They stop in a perfect 69 position, each limb nicely decorated for a final tableau as if to point out and show off the director's "male gaze."
No wonder reactions have been divided. For writer Julie Maroh the sex scene was a "brutal and surgical display, exuberant and cold, of so-called lesbian sex, which turned into porn." For critic Anthony Lane of the New Yorker, this was "not in the realm of the pornographic but on the brink of romantic agony."
The mostly male critics liked or loved it. (Steven Spielberg, Ang Lee, and Christoph Waltz were on the Cannes Jury.) The male majority of the Hollywood Foreign Press nominated Blue for the Golden Globes, and the Los Angeles Critics Award gave Adèle Exarchopoulos the Best Actress Award. Most women/lesbian viewers were skeptical at best and furious at worst, among them the two actresses themselves. They complained publicly about Kechiche's obsession, about getting sequestered for ten days on a bed, having relentless sex. Léa Leydoux (last seen here in Les Adieux de la Reine) felt "trapped" and "like a prostitute." Young Adèle Exarchopoulos admitted how awkward she felt as a heterosexual (like Léa Leydoux) with little idea of lesbian lovemaking.
Their sex performance elicited shock and awe and some good laughs here and abroad. Rumor had it that the actresses were wearing fake vulvas for their intimate encounters. The queer NY magazine Posture asked a number of lesbian viewers what they thought of the sex scene. "I thought it was hot, at the beginning," one of them said, "and then it got a little ridiculous when they kept switching sex positions every 10 seconds. And it started to feel kind of like an infomercial for a kitchen product, where they're trying to, like, showcase all the things it can do. Like, 'Oh, it can chop, it can slice, it can dice and it can mince and puree, and it can eat out your asshole."
The frantic acting-out of desire seemed cold indeed, disconnected from the story, out of character for mopey Adèle — a put-on instead of a turn-on. Of course, turn-on is in the eye of the beholder. In order to find Blue a turn-on you have to share the evident erotic fascination of the director with his Lolita, Adèle Exarchopoulos who just turned 20 and often looks even younger in the movie than her supposed high school age of 17. About 80 % of the three hours of Blue are spent a few inches away from her face, in mid-close and close-ups.
I happened not to share Kechiche's fascination. Adèle is a hopelessly awkward, depressed, mute teenager who doesn't seem to grow up and who is often shown sleeping. She has a cute, pudgy face with a thick, upturned upper lip that tends to be open, revealing her overbite – a feature that must have seemed sexy to the director but often reminded me of Miss Piggy. Adèle is shown slurping loads of spaghetti in several scenes, eating like a pig. The poor thing also has to learn to slurp oysters in front of Emma's parents while Emma giggles her head off. Again and again, Adèle is embarrassed as the young, naĂŻve outsider who doesn't fit in with Emma's cool crowd, can never rise to the occasion, can't find the words to explain or defend herself. In short, if you don't go for her sexy snout, she isn't a very rewarding heroine.
The "best film of the year" as renowned critic Mick Lasalle claimed? Film criticism in this country often has no history; films are reviewed without drawing comparisons, as if they floated in an empty landscape for one flickering moment in the now. Blue ought to have inspired a look back at comparable stories of lesbian relationships and lesbian sex to place it in a context and question its quality. Other male directors have managed to convey desire much more convincingly: Andy and Lana Wachovsky showed some hot eroticism between Jennifer Tilly and Gina Gershon in their film noir Bound (1996); and in Tony Scott's vampire story The Hunger (1984) Catherine Deneuve seduces Sarah Sarandon for well-deserved cult status. But a direct forerunner of Blue is the Warmest Color in almost every aspect is Lisa Cholodenko's award-winning High Art (1998).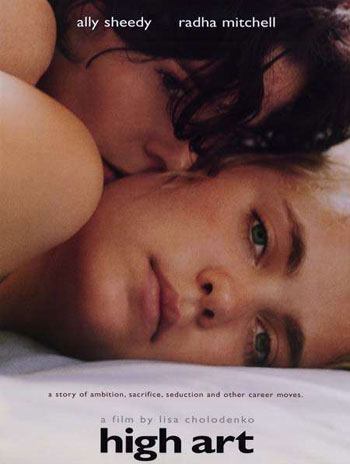 High Art is also set in the milieu of artists, in this case in the bohemian drug scene of the early eighties in New York. And it is also about a relationship between a seasoned lesbian, and a young novice. Here, too, the young woman, Syd (Rhada Mitchell) becomes the love interest, muse and model for the older artist, Lucy (Ally Sheedy), a gifted but jaded and drugged-out photographer. A defining difference, however, is that in Cholodenko's story, both women are engaged in the field of art, establishing an interesting dynamic of power in spite of (and heightened by) their age difference. Syd is a few years older than Adèle; she already has a first job at a magazine called Frame. She, too, is shy and awkward, but she has more to give to Lucy than innocenct youth and beauty. Their relationship is told with tragic-comic undertones and consistent humor (humor is entirely missing from Kechiche's film). Even though the story also ends badly, Syd is given a maturation through love and art, a true coming of age, which Adèle never achieves.
The most telling difference, however, is the way sex is depicted by the woman director who also wrote the story. Cholodenko spends as much time with the hesitation, shyness, and deep emotion of the inexperienced young woman in love as Kechiche spends with Adèle's "sexpertise." She knows when to hold her camera at a distance; she is not besotted by her (equally astonishing) actresses. (Ally Sheedy won a best actress award for the role).
It remains unclear whether Kechiche's conscious or unconscious desire was to shock by presenting a lesbian relationship in a way that recalls a standard relationship between an ambitious male artist and his young muse, with the muse ending up serving her master until he isn't inspired any more and drops her like a hot potato. The director ends the story a few years later, when Adèle tries to rekindle Emma's desire one more time. The scene instantly brings to mind the movie that shocked audiences back in 1973 with its sex scenes: Bertolucci's Last Tango in Paris. At the end of that love story, Maria Schneider gives Marlon Brando a hand job under the cafĂ© table next to the Tango hall. Setting his copy-cat scene at a cafĂ© table, Kechiche must have wanted to shock. But I wonder how this can shock when it is a mere voyeuristic fantasy, so patently unreal. Once again, there is panting – now in a public space; once again hungry, slurpy kisses and, when it doesn't work because Emma has moved on, close-ups of Adèle's tears.