Jehabdulloh Jehsorhoh's art is rooted in the South of Thailand, in Pattani province. His art incorporates lines, colors, characteristics and the 'way of living' from native Malayu people at the southern border of Thailand. He received several Excellence Awards in many art contests from 2005 – 2012. His colorful works have distinguishing features that deeply reflect love and understanding in his hometown. He also did some installation artworks with children and students in the community. He taught them about the meanings and puposes of these works. These are in-depth creations which are frequently found in western arts. Presently, he is running a project to construct an art exhibition hall in Pattani Province.
Prince of Songka is the first university in Southern Thailand, established in 1967. The name of the university was granted by His Majesty the King in honor of His Royal Highness Prince Mahidol Adulyadej, Prince of Songkla, the King's father. The ocean in deep blue color provides a fence for the university. Its John F. Kennedy library is a good place to see the beautiful boats docked at the pier. Life there is very easy. In the sky, large hawks and other birds fly over the glittering sea in the afternoon. It is a wonderful setting.
It can be said Prince of Songka is the one of the famous universities in Southeast Asia and is always ranked in the top 10 universities of Thailand. In July 2009, the university was ranked 175th in the world.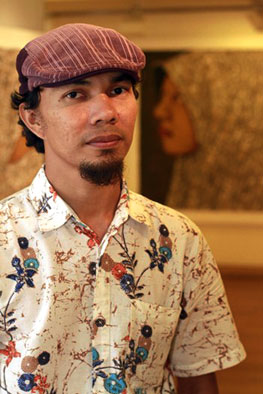 Jaeabdulloh Jaesorhoh is a Thai-Muslim lecturer who teaches art at the department of Visual Arts, Faculty of Fine Arts, Prince of Songkla University. In 2004, he received a scholarship from the General Prem Tinsulanonda Statesman Foundation. In 2004 and 2005, he also received scholarships from the Thai Art Council-USA to represent visual arts. In 2008, he won a gold medal from the Bangkok Bank foundation. In 2011, he won the first prize from Krung Thai Bank at the 57th National Art exhibition and in the same year he earned a field trip to Venice, Italy through a scholarship from the Office of Contemporary Art and Culture, Ministry of Culture Thailand.
Here are some of his views on his art and the culture that surrounds it.
A brief biography.
I was born in Pattani Province in 1983 and spent most of my time studying there until 2005. In 2009 I finished my Masters degree from the faculty of Fine Arts, Sculpting and Print, Silpakorn University in Bangkok. From 2000 – 2012 I received many awards from art contests almost every year. In 2012 I had my first solo art exhibition called "Looks of Malayu people in Pattani" at the Queen Sirikit Art exhibition hall in Bangkok. From 2005 through 2012 I exhibited my academic projects every year.
A passion to teach art in the university and expand that passion in Pattani Province.
My intention is to create quality and standards of art in the south of Thailand, especially in the three provinces next to the border of Thailand. As a university lecturer, I have a great opportunity to deliver my knowledge and experience to students. I want to open public spaces to create an opportunity for young people to show their artistic ability fully. I myself aim to build an art exhibition hall in my hometown, Pattani. The hall will have both permanent sections and temporary art exhibition rooms. What I want to see are artworks that represent the uniqueness of the local area but such artworks must be understood universally by foreign people as well, regardless of their races or beliefs. Artworks in the show can be in any form and styles. I think these art creations may be a turning point of feelings and behaviors for both the creators and viewers.
I hope that in the future we will see meaningful changes in the socio-political environment and the art that it inspires. I still cannot determine the duration of my projects. It might take as much as ten years or more to finish them all. And then there's the question of resources and budget. I use my personal savings as a primary way to fund the project. However, external help from funding sources or organizations is welcome and necessary to make it all happen sooner.
Hopeful changes in the South of Thailand?
There are three main factors that contribute to these changes. First, good artworks must be of high quality and high standards. Second, artists produce that high quality and those high standards. Third, good environments and places for making and exhibiting these high-quality and high-standard artworks are essential. We already have the first and second factors but the third one is in progress because of the large amount of money to be invested in constructing suitable faciliities. What we have to do next is to inform people about our activities so they can come to see the art and perhaps provide financial support.
How artworks can be improved and changed?
In my thinking, everything has its own role in giving inspiration or influencing the way people create art. It is not an important issue that creations are made by man or God and it also does not matter that they were created by either nature or technology. Indeed, artworks are influenced by various factors such as locations, traditions, cultures, beliefs, faith, politics and economics. In addition, technological developments affect the present way of working and living.
If it is possible, I would like people to see and appreciate art more. Apart from religion, it is a good way to ease your mind from mental suffering. Furthermore, I would like people to look at arts from the three southern provinces near the border of Thailand. They are precious arts created within the serious disturbance and violence in that area, just like a beautiful flower that grows in a fire. I also would like people to support Southern arts because they are quite unique and offer different experiences from the art in other provinces of Thailand.