An invitation was extended. Invitation accepted by the guest, details to be worked out later. But the venue wasn't some cocktail or garden party. The event was to be held at the White House. Not just any White House, but the Nixon White House. And the invited guest would be none other than the rough cut king of Country Music, The Man In Black – Johnny Cash. He would be playing a show in the East Room on April 17, 1970 before the president of the United States, 250 congressmen, and other dignitaries.
It was no doubt destined to be a footnote in the long and storied careers of both men until the "incident" happened. And what exactly transpired has been left open to interpretation and out and out misrepresentation down through the years. Nearly every biographer of Cash's career (and there have been many) has included the White House episode in their examination of his life.
In 1970, Johnny Cash was in the midst of his popular ABC television show and at the height of his personal popularity. Richard Nixon was early into his first term and to that point had gained the goodwill of the majority (his so called silent majority) of the American people. Of course, this was all before Watergate. He had already succeeded in marginalizing the poor, minorities, and the youth movement.
The controversy started before Cash was scheduled to appear. The always devious and plotting Nixon wanted to seize the opportunity to take political advantage and co-opt the principles and moral standing of the man himself. Nixon thinking Cash the John Wayne of country music, sought to solidify his base and use him as an instrument in a Machiavellian manner. But Nixon would find out what others already knew. Steve Turner in The Man Called Cash describes him in this manner, "He wasn't concerned about pleasing a particular constituency – liberal or conservative – but wanted to stay true to himself". Political considerations be damned.
Someone acting on Nixon's behest requested three songs that Cash play during his appearance – A Boy Named Sue, Okie From Muskogee, and Welfare Cadillac. A Boy Named Sue would pose no problem since it had already been a monster hit for him the previous year. Although it was doubtful Cash would be singing the riotous, raucous, live version he sang at Folsom Prison with profanities radio stations had to bleep out. But Okie From Muscogee, and Welfare Cadillac would present huge problems. These two songs were not in line with an inclusive America that Cash believed in. Guy Drake's Welfare Cadillac spoke of folks buying a new Cadillac with their welfare checks. Cash would describe the tune as being derisive to the poor and a "lightning rod for anti-black sentiment." Even though Merle Haggard was a friend, Cash thought Okie From Muskogee was demeaning, mean spirited, and not indicative of an America he wanted any part of. Haggard would later claim that the song was all tongue in cheek, but Nixon's silent majority claimed it as their anthem.
Instead of granting the president's requests, he opted out by explaining there was not enough time to learn and work up arrangements for the songs.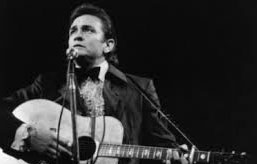 But anyone who knew him knew he frequently trotted out songs he had just learned. Somehow Cash's refusal leaked out to the press (where were Nixon's plumbers?) where they played it up to the point in which they had Cash slighting and snubbing the leader of the free world. The concert went off as planned. When introducing Cash, Nixon seemed to get the message. "One thing I've learned about Johnny Cash, is that you don't tell him what to sing". Cash went on to perform his usual set of songs about God, love, and murder. But one newly written song (What Is Truth?) seemed to say it all to a Nixon staff hell bent on relegating the truth to the White House basement. Lyrics like these left Nixon feeling a little uneasy as news accounts would report.
A young man sittin' on the witness stand
The man with the book says "Raise your hand".
"Repeat after me, I solemnly swear".
The man looked down at his long hair.
And although the young man solemnly swore
Nobody seems to hear anymore
And it didn't really matter if the truth was there
It was the cut of his clothes and the length of his hair!
And the lonely voice of youth cries, "What is truth".
The concert would end on a cordial note, but certainly not what Nixon had anticipated.
The incident is instructive as to the way a musical artist or any artist for that matter navigates the political minefields without losing or having one's personal and artistic integrity corrupted and/or compromised.
Cash wasn't always consistent. He would speak of his beliefs as constantly growing and evolving. In his book Johnny Cash And American Culture, Jonathan Silverman titles one of his chapters Cash Chooses (Not To Choose) Vietnam. But only Cash could get away with statements such as this at a New York concert in the 80's – "I thank God for all the freedoms we've got in this country. I cherish them and I treasure them – even the rights to burn the flag. I'm proud of these rights…we also got the right to bear arms, and if you burn my flag, I'll shoot you. But I'll shoot you with a lot of love, like a good American". He could stick to his guns (literally) and still not alienate an audience.
Perhaps the true measure of the man lay in his steadfast loyalty to friends such as Pete Seeger, Bob Dylan, and Kris Kristofferson at various points in their careers when they were under the gun for their political stances.
In his last years, everything seemed to be slipping away even as he experienced a career resurgence – the love of his life June Carter, his health, his eyesight, and his ability to counter the addiction to pain medication. But one thing remained intact – his integrity.