I found as a writer of Arts in Thailand that Thais were proud of their art development which matured silently though the path was clear. I am a writer who meets many artists, talks and exchanges information with them about art and their exhibitions in art galleries and public venues. So it is that Arts in northern Thailand flourish because educational institutions support several regional art projects. Art works are a part of culture and a community's wellbeing and education tries to improve and present them to the community. It is delightful that most Thai artists have many art exhibitions in many countries and some of them organized tours to such places as the US, China, Germany and Japan. Besides painting, sculpting and prints, their works include music and performances. It could be seen that good opportunities let them exchange their ideas, collaborate their projects and improve the quality of their works significantly.
In Chiang Mai,"Artist's Street" is just an in-progress project which will take a while before more people recognize it. In Chiang Rai, however, the artist's community was firmly established many years ago. We can see that Chiang Rai maps show the way to several well-known artist's houses and galleries. Particularly, Tawan Duchanee, one of the Thai national artists, who opens his house called "Baan Dam" so visitors can see his work. Another highlight in Chiang Rai is Wat Rong Khun temple which was designed and constructed by a renowned artist, Chalermchai Kositpipat, and his team. A few months ago this temple was damaged due to an earthquake in Chiang Rai. Many Thai people in Thailand and overseas were especially interested in this news and some even went to the actual site to see the damaged temple and donated money to restore this wonderful structure.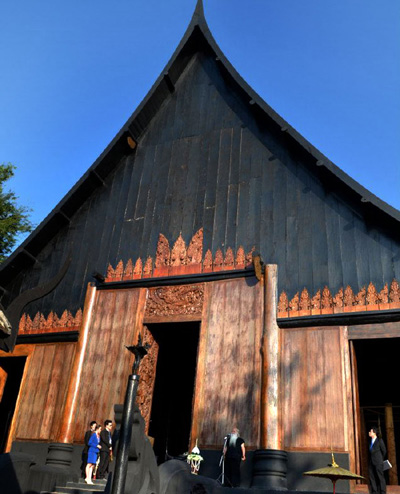 It is true that Thai political conflicts divide Thai people into factions such as 'yellow shirts' and 'red shirts' but artists cannot openly take sides because they use every color for their creations. I have written about the Arts of Thailand for many years, and I saw many beautiful works of art and the real life of the many artists who created them. I realized that artists who did advanced graduate work in a university can present and develop their works well as they have a solid foundation in art theory and practice. As art lecturers, they use this knowledge to teach their students. Most artists I know incorporated their art works with the local way of life and place in which they grew up. Festivals, ceremonies, contests and exhibitions are events that artists use to show their works to the people. They have opportunities to show their methods and the marketing to strengthen their image and support working together. One thing that cannot be missed is the array of suitable working locations in which Thai artists are willing to collaborate with others. Temples and luxurious hotels are good examples of this as they are considered a primary source of work for Thai artists. By request, famous artists were usually asked to paint murals or sculpt the Buddha image and other statues in the temple. Sometimes, with little or no help, many artists have to do everything by themselves from scratch.
It is necessary for artists to be open minded and easily adaptable in many situations. They also have to continue to improve their works, exchange ideas with other artists and be courageous enough to present themselves to society. All these difficult things are easier for experienced artists who can act as a medium to connect people. Works of artists cannot be measured by their monetary or business value because the path of the artist might be slower than other professions. There are some artists who receive bachelor and master degrees from universities while many passionate artists collect more practical experiences. They can exhibit their works in art galleries, studios and restaurants with musical performances. Most artists here generously welcome visitors to their studios at home. It can be seen that every accommodation both big and small can be used as a workplace and showroom. Artists in educational institutions usually have good contact with local artists and connections with investors who understand and set up the residences for artists and art museums with all-year exhibitions.
However, support from the government is essential to continue and maintain artistic projects. A good example here is an artist/professor from the south of Thailand, Jehabdulloh Jehsorhoh.
Recently, I wrote about his installations and paintings. He brings art students from Prince of Songkla University to visit places he used to exhibit his works in Chiang Mai and Chiang Rai. In this time of repetitive and furious political conflicts in the south of Thailand, his works are presented with simplicity and clarity to communicate thought using art as a powerful means of communication. I am excited to follow his dream and wish that peace happens in Thailand. Politics is complex but often simpler than it appears, as we can imagine the way he intended to express the present Muslim world.
It is the prototype and connection with which he intended to show the nature of tranquility without speech.