On any given night from early June to late August the Pickard Theatre on the campus of Bowdoin College in Brunswick, Maine, is ablaze with lights. Crowds flock to hear one of four Broadway musicals performed in the 500-seat theatre by one of the largest professional theatre companies in the state. Inevitably, after more than two hours of enchantment – acting, dancing, singing and dazzling design, that audience is on its feet cheering.
"You get the best of the best here," award-winning director Marc Robin explains. Seeing a show at MSMT is about as close to being on Broadway without actually going to New York. It's the standards they set, the expectations they ask of their artists."
Indeed, for the past fifty-five years the Brunswick theatre company, founded by Victoria Crandall in 1959, has been producing musical theatre for summer audiences. It has grown from a summer stock company to a resident regional theatre and has become one of the chief draws for visitors and locals alike to this lovely, coastal college town just forty minutes north of Portland. As it opens its 56th season June 5, 2014, it is under the helm of a new Artistic Director, Curt Dale Clark, who is partnered by Stephanie Dupal, a twenty-year member of the MSMT team, who has just been named Managing Director. It is a business model that plays well to the strengths and personalities of each of the new leaders.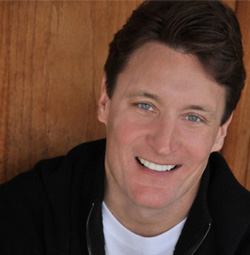 Both Clark, who has extensive experience in regional theatre and is a familiar face as an actor from seasons past on the Pickard Stage, and Dupal combine a strong sense of the company's history with a bold, bright vision for its future. The atmosphere in the company's offices on Elm Street just a few weeks before rehearsals begin is electric with anticipation. For 2014 MSMT will present four main stage productions, The Buddy Holly Story, Chamberlain, a little-known but magnificent musical about the Civil War hero and Maine governor Joshua Chamberlain and his wife Fanny, Seven Brides for Seven Brothers, and Footloose. These are in addition to several special events, among them, a concert performance of Godspell and children's theatre productions of The Little Mermaid and The Teacher from the Black Lagoon.
From mid-May until closing night, August 23, the more than one hundred-person summer company will build all their own scenery, costumes, and props, rehearse the four shows with intricate schedules to accommodate the personnel and production needs, and engage in a number of community outreach activities. This they will accomplish despite a mind-bogglingly tight schedule, and somehow, when the curtain goes up, they will make it all appear effortless. But then, that is the thrill of theatre at its best, and MSMT seems to have a special flair for wizardry.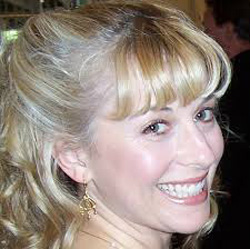 "It's our job to make it look seamless and easy," Dupal says. "The audience expects that, and fortunately we have a creative team that almost always does deliver."
Talking with the management and artists who make this possible offers a lively glimpse into this world of very real "make-believe." Like any successful endeavor, a theatre company must run efficiently and practically, but MSMT seems to do more than that. "We are a family. When things are great we celebrate, and when they are rough, we pick each other up. It's such a wonderful experience!" enthuses director/choreographer Raymond Marc Dumont, who has worked for MSMT in managerial and creative capacities. It is a sentiment reiterated in every interview I undertake with company members, and it is, no doubt, this spirit which contributes so potently to the theatre's success.
When asked how he feels to be executing his duties as Artistic Director, instead of last year's interim title of "Artistic Consultant," Curt Dale Clark articulates his respect for the company's traditions, as well as his goals to enhance its presence in Maine's theatrical landscape. "Last year I felt I was a caretaker, which is a valuable skill, but this year I feel Stephanie and I can say 'this is how we want to go forward.' Not that things have not been done well in the past, but we can implement a new take." He has, for example, a number of exciting ideas, in the drawing-board stage and thus not yet for publication, which involve expanding the company's repertory and collaborating with other Maine theatre groups
But one of the areas which Clark is clear about wanting to make some changes is in the company's audition process. Having just returned from the annual spring junket to New York and the Southeast Theatre Conference, where he and Dupal auditioned some 2000 actors to fill the company roster, Clark says he wants to upgrade the audition studio locations and to rearrange the schedule of auditions "in order to let the directors and choreographers see the intern auditions as well as equity callbacks, and not have to take my word on the interns."
Les Mis
Clark, who, himself, has a distinguished resume as an actor, dancer, librettist, brings his experience and keen eye for talent to the table. He is thrilled that this season MSMT has been able to hire "more than ten young actors with ten or more Broadway credits." The company which offers opportunities not only to young professionals, but which has an acclaimed intern program, balances this youth with a core of regulars, who return season after season. Among them this season will be Charis Leos as Wren's mother in Footloose, David Girolomo as the Reverend in Chamberlain, and Heidi Kettering as Milly in Seven Brides.
This mix, Clark feels, is invaluable especially for the young professionals and interns who sign on. "It's one of my selling points. I tell [the young actors] 'you have a choice to make. You could play Billy Bigelow at this point, but you're really too young. Or you could be in the ensemble with us and watch and learn from someone who has a fully developed skill set, who has worked on Broadway.' Sometimes there is a part that is just right for them, and then we are happy to cast them in it, but the ensemble is a great place to begin."
Both Clark and Dupal are hugely proud of MSMT's intern program and of its many graduates who have gone on to successful careers. "Last year there were forty-eight of our interns in Broadway shows, and this year there are thirty-six," Clark says. "I always tell them, 'if you can survive a summer with us, you can make it anywhere!'"
In addition to casting and programming, Clark is very much involved with the overall operation of the company and has a keen instinct for marketing. In the past year he has worked hard to promote MSMT in the greater Brunswick community, employing novel strategies, like taking the company of singing interns into restaurants and shops on Maine Street or having them perform at intermission on the Bowdoin lawn, inaugurating a series of Meet the Artists conversations this summer at the Curtis Memorial Library, and hosting a variety of fundraisers with theatrical flair, such as the recent Celebrate Your Inner Diva night. He tells the story of a gentleman from Dallas Musicals who said at a recent theatre conference, "If you have any employee in this business who is doing only one job, fire them! We are all in development and marketing. At some point in our day, we have to work in those fields." While Clark has an able and energetic presence in Carol Hammond, MSMT's Director of Communications, and Marketing with Missy Patteson as her assistant, he himself keeps a hands-on approach.
"I consider this a community chair," he says presciently. "I was taught when I was a little kid that if you don't participate in somebody else's activities, especially in a town this size, they are not going to come to yours. I have joined community groups like Rotary, and we collaborate with the library and the schools, and I love it. It makes a huge difference in good will."
Building on that good will Clark hopes to firm up MSMT's subscriber base –"which is the company's selling point on a national level." Not only does this improve the bottom line, but also it becomes an issue of faith. "I want our subscription base to be so strong that they trust our spin on whatever we program."
Clark's financial goals are shared – and overseen – by Stephanie Dupal, who was named Managing Director this season, after she served as Interim Executive Director after the departure of her and Clark's predecessor, Steve Peterson. Dupal has been with the company for twenty years beginning her tenure as Business Manager, and progressing to General Manager and now her present post. For two other intervals besides last year's she has served as Interim Head, so she brings continuity and a wealth of experience to the table.
Asked how it feels to have the title after filling the shoes, she replies with a smile, "I have a wonderful collegial relationship with Curt. He has so much energy and so many great creative ideas, and I serve the business side a little more. I try to keep our costs realistic, but we share the same goals, and work very well as a team."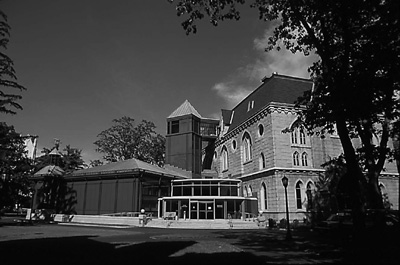 Pickard Theatre
Dupal recalls some of the more seminal changes MSMT has made over the years: the move from five to four productions a season, which gave the company more rehearsal time, but forced them "to sell three weeks of any given show, instead of two," and the various renovations and upgrades to the Pickard Theatre, most of which have made the audience experience a more pleasurable one, though some areas, like limited wing space and current sound systems continue to remain technical challenges for the theatre team.
Like everyone else in the company, she is aware of the tightness of the schedule as well as the limitations stipulated by Actor's Equity for personnel. "Our directors and creative department heads have to be very good at jigsaw puzzles to manage the schedule," she says wryly. And, she, as Managing Director, has to be very good at helping to keep the creative wheels running while staying within the fiscal constraints.
"I hope that I can leave this theatre," she continues, " as healthy as I found it if not healthier in terms of financial stability. I hope that MSMT is able to continue to produce musicals and to bring live theatre to audiences, especially children, who can grow up, as I did, with an appreciation for what it means to experience actors close and real with music and scenery and stories."
Of MSMT's financial health, Dupal says, "We are very fortunate not to have any debt, but like any artistic organization we are very dependent on ticket sales and on the benevolence of our donors, sponsors, and advertisers. We are fortunate to be in a place where we are strong and healthy and will be here for a while, but we can always use extra help. Ticket sales at MSMT make up about 65% of the company's revenue – a large percentage for a theatre – but we have to find the other sources of revenue." Dupal also stresses that it is incumbent upon MSMT "to spend the money we receive wisely, to make responsible decisions so that this wonderful arts organization can continue to exist for the actors and technicians and audiences for many years to come."
Asked if she feels MSMT's seven-person full time staff is adequate, she replies honestly that "more would always be better," but like Clark, she realizes that expanding staff is not a realistic long term prospect. In addition to the administrative personnel previously mentioned, MSMT currently employs an Audience Services/Box Office Director (Susie Sharp), a Development Director (Barbara Whidden), and a Company Manager (Kathi Kacinski), who tends to the logistical and practical needs of the influx of summer artists, as well as two staff members who handle the company's ancillary costume rental business. "In the summer we work seven days a week," Dupal says, "but we are working with people who love what they are doing, and we love what we create," so it doesn't seem a burden."
Her sentiments are echoed by each of the creative department heads with whom I speak. "Everyone who works there has been hand picked. We are working with friends, and that makes it feel like playtime. Of course, we take the work seriously, but there is so much support," says Kyle Melton, who is MSMT's Props Designer. Melton, who is a professor of scenic and lighting design at the University of Casper, Wyoming, heads the props department for the summer and is responsible for creating and building all the properties, many of them quite technically involved.
Melton runs his shop with one assistant, two apprentices, and an intern. Each day they prepare for that day's rehearsal and then go about building for the next main stage show. Before an opening, they load in on Monday, do tech on Tuesday and preview on Wednesday for a Thursday opening. There isn't much margin for error.
Asked about props which have misfired, Melton laughs about last year's collapsing table in Mary Poppins: "The butler is supposed to break it in half, and Mary is supposed to put it back together. It works on pneumatic pistons by hitting a button to collapse it and then again to pressurize it and have it come back together. On opening night the actor got a little excited and knocked the table off the wagon, so there was no way the trick was going to work. The design team was sitting in the theatre and they were all looking at me, and I was thinking, 'what do you want me to do from here?'" he laughs. Such mishaps are part of the game. "If one out of twenty special effects doesn't work, that's OK. We've created so many wonderful props like the oven that turns magically into a juke box in Patsy Cline – that one actually got applause."
The thrill of working with a collegial team and creating from scratch also motivates Kristin Womble, who heads the MSMT costume shop. A graduate student in costume technology at University of Texas, Womble will be returning to MSMT for her fourth season this summer. She manages the $100,000 costume budget and prides herself on always coming in under budget while still producing the lavishly elegant costumes for which MSMT is noted. She, too, is part of a department of five which realizes resident designer Kurt Alger's drawings. "Kurt is one of my best friends," she says warmly. "We are in constant conversation during the year to prepare for the summer season. He does so much prep work that he makes my job a dream."

Gypsy
Womble is sensitive to the educational component of her duties, as well. The interns who work in the shop are there to learn, so she tries to delegate responsibility to them. If there is a difficult problem to solve or a very intricate costume, however, she will build that one herself. She tells of the show stopping costume, which had lights on the bra and derriere, that she built for the stripper Electra in Gypsy. " We took a Vegas costume, and I wired and soldered in seventeen bands of LED lights. It was very fragile, but made the number hilariously funny. One evening she came off stage and ripped the wire out. I was called to the theatre for emergency surgery!"
Womble tells the story with sang-froid. Like the other resourceful design and crew members, she has learned to be prepared for everything. She recounts how one of the company's favorites, Broadway dance star Tyler Hanes, has "jumps and extensions which are so stunning that he often blows out the seams in his pants. We've learned to sew in giant elastic gussets in his costumes and always build an extra set for back up."
It is all part of a summer of collaboration, creativity, and fun. Womble says she not only loves being in Maine, which she views as a second home, but she "loves and respects all her co-workers. Being that close helps with the collaborative work."
Charles [Chuck] Kading is the company's veteran Production Manager, and he is responsible not only for the technical aspects of the shows, but for coordinating a thirty-person crew in the departments under him, such as Womble's and Melton's, as well as in scenic art, stage management, wardrobe and set crews. Kading, who is Chair of the Department of Theatre at Southern Maine University in Portland, has the longest tenure at MSMT, having been with the company for twenty-four years as production manager, scenic designer and technical director. Kading came to MSMT from his native California after working at Seattle Repertory and other regional theatres through the offices of former MSMTArtistic Director, Charles Abbott, whom he met at the Houston Alley Theatre.
Mary Poppins
"MSMT was and continues to be a very special place," he says of his decades with the company. "Chuck Abbott used to say that we are a summer theatre producing regional theatre, and those that have followed him hold to that philosophy." Kading, who usually designs two shows a summer – this season it will be Chamberlain and Footloose – seems to thrive on the busy schedule a summer at MSMT entails.
"We have a challenging schedule of producing a new show every three weeks – fourteen to sixteen working days -,and yet we manage consistently to produce some of the highest quality work I have ever done even for theatres with larger budgets and more time. We scratch the show that closes at 11:30 p.m. on Saturday night, load in on Sunday, have a full tech on Monday night and ten to twelve hours of dress rehearsal Tuesday, and then do two previews Wednesday and open on Thursday."
Yet despite the hectic pace of this schedule, Kading believes that MSMT compensates with the care it shows its employees. "We guarantee one day off a week, which is unusual for summer theatre, and we help everyone feel they can have some fun along the way. People come back summer after summer; some have begun as interns and now are creative department heads. Being in tech doesn't have to be a hellish week. It can get tense if people are under pressure to get things finished and they are tired, but the group of artists we have now are not only good at their jobs, but they are pretty even tempered, and so have our directors been."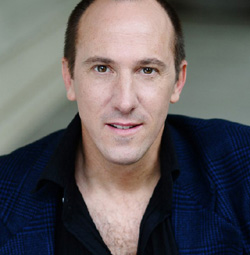 One of those regular directors is Marc Robin, himself the Artistic Director of Lancaster, Pennsylvania's Fulton Theatre, and the winner of sixteen of Chicago's coveted Joseph Jefferson awards for his work as a director and choreographer. A nine-year-veteran with MSMT, Robin, who was acclaimed last year for Dreamgirls, Les Mis├ęrables, and Mary Poppins, will take the helm for this year's Civil War large-scale show, Chamberlain. Robin is known to wear a T-shirt emblazoned with "Tech is fun," in the crazy lead-up to opening night, and apparently his enthusiasm and seemingly boundless energy rub off on the company.
Because he, too, sits in an administrative chair, he says he is sensitive to the practicalities of a production. "I always think about the cost of staging a show, and I am careful what I ask for. I have to feel that the impact on the audience is worth the artistic expense." This is a perspective appreciated, no doubt, and shared by Curt Dale Clark, his spouse and longtime partner. Together they have shared productions for their respective theatres, such as last year's Mary Poppins and this year's Buddy Holly Story, and they have written and composed children's shows, practices, Robin feels, make increasing sense in the current theatrical economic climate.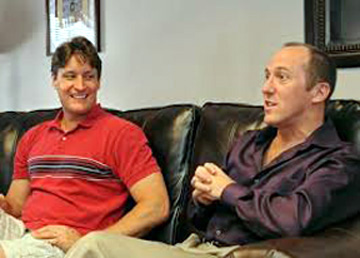 Robin feels all regional theatres face some of the same artistic challenges. "We have to figure out programming which will give the audience what it wants at the same time that we fulfill the not-for-profit model, and sell tickets. We have to consider producability of the shows we choose given the constraints of the theatres in which we work. (MSMT's Pickard Theatre has limitations in backstage space, for example) And because grants and government funding have decreased so radically, we have to rely on corporate and individual giving, so no matter how successful a season, we are always in need."
Nonetheless, Robin is optimistic. Of the Fulton, which just became a professional Equity house in 2001, he says, " I aspire for my theatre to be like MSMT one day. I am in awe of their history, their reputation. It is a gift for me to work with them."
It is evident from everyone with whom I speak in the MSMT artistic family and in the surrounding community that this theatre company is, indeed, a gift to all those who experience their work. For the artists and dedicated staff who understand the herculean labors necessary to bring a performance to the stage, there is a special thrill in the alchemy of the process whereby seeming chaos and madness are transformed into magic.
Photos Courtesy of Maine State Music Theatre
Cover Photo - Annie Rose