Is there an androgynous experience of a city? No? Then Barcelona has just invented it, perhaps not only for me. This should not be too surprising as this old Spanish city ranks as number one in gay freedoms, nuptial rights included. [1] I had never spent time there, and my plan for six days was: 1) Gaudi, 2) more Gaudi (there are 13 sites in the Catalan capital) plus other "modernists" of architecture, and 3) Flamenco.

Gaudi-Roofs

Plunging into Gaudi's work can cause the visitor instant "Stendhal Syndrome" – that famous malaise or vertigo that befalls travellers who expose themselves to more art and cultural sensation than they can stomach. Gaudi's spirals, swirls and flourishes present a serious risk of overwhelm – an architecture that vacillates between overstuffed women's boudoirs from 1900, dreamscapes out of 1001 Nights and visionary nature mysticism. This male genius was perhaps overwhelmed by his own creations: after labouring on some of them for decades, he left major works unfinished.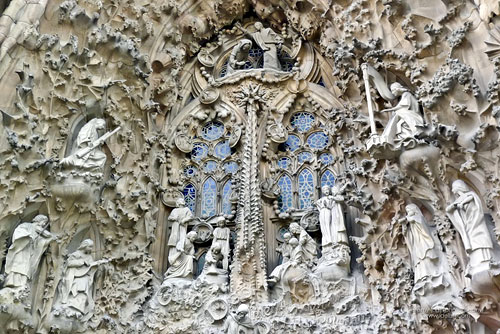 Gaudi-Facade of La Sagrada Familia

His favourite, the Basilica of La Sagrada Familia, begun in 1883, had just one finished facade with four towers when, in 1926, a streetcar named demise ended Gaudi's obsessions. The strange chef d'oeuvre, looking inside like a stone-sculpted, flowering jungle, has only just been opened as a place of worship. The creator of endlessly drooping, curving, bulging feminine forms was so meticulous in his architectural calculations that today's computers can pick up where he had to leave off. The goal is the final completion, with all 18 towers in place, in time for 2026, the centenary of Gaudi's death.

Was Gaudi gay? There is no mention of a Mme Gaudi. A photo shows a make-shift bed under a cathedral nook next to stone mason tools and dust.

A Secret

The Barcelona bourgeoisie loved Gaudi and let him create their luxurious living quarters, entire buildings sculpted and decorated from floor to ceiling, door-handle to chimney pot, in materials and shapes that please the senses, envelop and caress the body. One wonders how the patriarchs at the turn of the century could feel safe in the Baudelaireian luxe et volupté of the Casa Batlló or the Casa Milà ("La Pedrera"), the most famous Gaudi mansions built a stone-throw from each other. Were these patrons as androgynous as their eccentric architect?

Gaudi-Casa Batlló

Probably not. Today, in the depth of the city's offices of information, a secret is unveiled between women: it was the wives who patronized Gaudi. The homemakers and tastemakers, who came from wealthy families, chose to live, entertain and make love in his rooms without a single straight line.

Women's masculine drive and power could not openly show. It had do be conceiled behind veils of deception. A telling example of such veiling is a villa by Gaudi's rival Lluis Doménech I Montaner, the sumptuous Casa Fuster from 1908 (today a luxury hotel). The official story tells that its emblem, the letters C and F embracing in an elegant Art Nouveau curlicue, stands for "Casa Fuster," the splendid gift that Mr. Fuster from Mallorca presented to his wife. Unveiled, the letters (they appear in every material used in the decorations), stand for the name of the wife who sponsored the building and payed for it: Consuelo Fabra I Puig from the Catalan capital.

Is Flamenco gay, when it comes down to it?

Flamenco Eli Ayala

The provocative combat of the sexes that resembles the display of haughty peacocks is usually seen as the quintessence of man-woman passion. The archetypal feminine with tight curvy dress and voluptuous ruffles, teasing and inviting the magnificent, dominant male, the Andalusian uber-man. But once you begin to see the cracks in this story there is no end. These couples madly stomp their feet at each other as if in a rage to land a good kick where it really matters, especially the women who disguise their stomps and kicks under those ruffles and conceal fans like weapons in their cleavage, fired up by howling laments from the singers, the furious beat of the guitars and threatening clacks of castagnettes.... If you look more closely at the voluminous ruffles of those skirts you notice feisty, muscular legs, strong feet in heavy shoes, not exactly feminine, and letting your eyes wander upward, you encounter taught, muscular bodies and stark, beautifully bony faces that could make you wonder when the next Trockadero Flamenco troupe is going to strut out of the wings.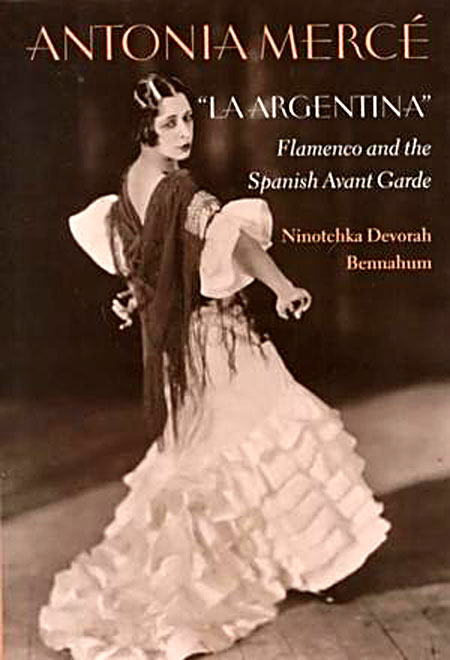 No wonder Gertrude Stein fell in love with one of these famed Flamenco dancers (La Argentina?) on a trip to Spain, together with Alice B. Toklas, in 1913. Stein left her a coded poem, "Susie Asado," full of clacking sounds and staccato rhythms, an erotic incantation that repeats, "Sweet sweet sweet sweet sweet tea,/ Susie Asado." "Sweet tea" easily reveals the double entendre of "sweetie." "Susie" may lead to the anxiety of sexual secrets (kept from Alice?) via the French word souci – worry, and Asado evokes a well-seasoned, meaty body: maybe Stein's. [2] Calling a fiery, fierce Spanish dancer "sweetie"– there you have it. At the same time of Gaudi's "modernism" Stein, who was just then inventing her own modernism, spelled out her androgynous experience of Spain.
Gran Gala Flamenco
Flamenco Orange Palau Musica
My unorthodox impressions of Flamenco imposed themselves at a Gran Gala Flamenco, a performance by renowned musicians and dancers rooted in Barcelona, who gather in various combinations to deliver classic, gypsy-style Flamenco shows. I saw them at the Palau de la Musica Catalana, another architectural landmark of "modernism" by Gaudi's rival Montaner. The stage of the "music palace" is encircled by a chorus of stone-sculpted women musicians of medieval times, leaning out of the tiled walls with their instruments like in a film by Cocteau. Their forward movement seems to insist on a female dominance in music, and oddly, the spectacle they hovered over eloquently made their point.
Flamenco Trio
There were five musicians onstage, three over-powering women dancers and a strange absence of the uber-man. The central male dancer, reputed Nacho Blanco, the peacock who was supposed to be the pièce de résistance, came in a body with strong legs, but where his legs ended, all energy stopped. The rest of him, torso, arms, hands, head and face were limp, lacking any sexual vibe or charisma. In spite of his stomping excellence, he radiated a disturbing impotence that seemed to contradict everything expected in Flamenco. It raised the question whether a man without masculinity can be considered androgynous, or whether the concept of androgyny requires the combined sexual and erotic energies of both sexes.
Cantaora Fefa Gómez
No question like that for the women, the celebrated dancer Eli Ayala, Marina González, and the star cantadora Fefa Gómez, a singer who suddenly steps out from the circle of musicians for a blast of gypsy dancing, setting the stage on fire. The women (and at times the musicians, too) seemed to ignore the male dancer as if saying, "Who needs YOU?" Their Flamenco fury rose into a fanatical, fully empowered celebration of each other and themselves. No doubt, everybody had a very gay time.
---
References
[1] http://www.huffingtonpost.com/2014/04/18/pew-gay-acceptance-poll-_n_5175296.html "Great news for Spain's lesbian, gay, bisexual and transgender (LGBT) community: the nation tops a list of 40 countries most accepting of homosexuality, according to a Pew Research Center's Global Views on Morality poll."
[2] For further decoding of Stein's "Susie Asado", see the introduction to my photo-biography, Gertrude Stein in Words and Pictures, page XII.