The Wikipedia's concise description of 'whodunits' states:
"A whodunit or whodunnit (for "Who [has] done it?") is a complex, plot-driven variety of the detective story in which the audience is given the opportunity to engage in the same process of deduction as the protagonist throughout the investigation of a crime. The reader or viewer is provided with the clues from which the identity of the perpetrator may be deduced before the story provides the revelation itself at its climax. The investigation is usually conducted by an eccentric amateur or semi-professional detective."
For small Off-Broadway theatres the whodunit genre that gained popularity in the 1930's offers many advantages – a suspense driven plot that engages the audience in light entertainment – a one-piece stage set that represents an isolated venue - an odious victim whose murder occurred offstage before the action - a likable wanna-be-detective who fumbles with the evidence – a crew of type-cast suspects whose treasured secrets are revealed and thrilling action that often concludes in 90 minutes of real time when the mystery is solved in a surprise ending. In the civilized British upper crusty version that lends itself to parody, the location is usually an elegantly furnished drawing room in a country estate where anxious weekend guests are detained against their will. The audience is spared the grotesque gore of real life homicides often committed by deviant psychopaths and can enjoy the escapism of puzzling over the suspects' alibis and motives as they hunt for clues in a useless exercise.
The three Off-Broadway productions I recently saw present unique variations on the whodunit theme.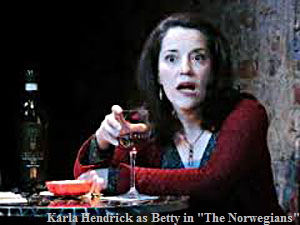 "The Norwegians" - we'redoinIt
"The Norwegians", a play by C. Denby Swanson that premiered at the Drilling Company in the Spring 2013 ended its current run of over 160 performances on April 27, 2014. Published by the Dramatists Play Service, productions by other theaters around the country have already begun. A New York Times Critics Pick, it packed the small theatre on the Sunday matinee in January when I saw the show.
With a plot reminiscent of the 30's comic "Whodunit" genre "The Norwegians" is a we'redoinIt in which two women, Betty and Olive, contract two nice gangsters, Norwegian hit men to wipe out their x-boyfriends. Under the skillful direction of Elowyn Castle, the action takes place on a minimal stage depicting a restaurant stage right and bar-café stage left with the center spot lit for the characters' dreams, memories and stark monologues. As the story evolves, off-stage murders become a device to explore the arc of the characters' self image that begin to shatter in light of budding romances between them. Totally enjoyable with solid performances and a beautifully rendered soliloquy by Karla Hendrick, the play however went off the moral compass portraying a "Generation Me" mentality in a locale devoid of ethics, law enforcement, court system or prisons. In a vacuous 'today world' of cell phones, tampons, and social media, the play's eclectic allusions to astrology and Norse mythology in a landscape of Minnesota snowfields evoked a pagan wasteland where ritual killing was the norm. If the women's motives for offing their x-boyfriends was not just broken hearts but physical or child abuse, infidelity or betrayal, we might have some real sympathy for their revenge, but probably not as much fun. Traditionally in comedy and cartoons, reality and its consequences are suspended in favor of humor. However in the Norwegians the villains are too three dimensional to give them a pass.
"The Norwegians" by C. Denby Swanson at The Drilling Company – 236 West 78th Street, NYC - Directed by Elowyn Castle with Veronica Cruz as Olive, Karla Hendrick as Betty, Hamilton Clancy as Tor and Dan Teachout as Gus.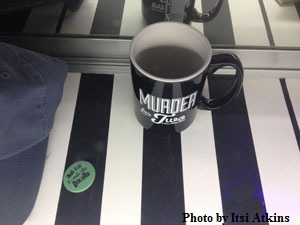 "Murder for Two" – musical whodunit with a twist
"Murder for Two", a musical comedy at New World Stages, NYC, (winner of the Jefferson Award for Best New Musical in Chicago 2011 and a New York Times Critics Pick) will run until July 6, 2014. The show played more like a parlor game than a play when two fabulously talented actors, Joe Kinosian (suspects) and Brett Ryback (Marcus) took the stage for 90 minutes without intermission, singing, dancing, miming and playing the piano in a tour de force performance.
The set, portraying a secluded New England mansion, where famous author Arthur Whitney was shot dead during his birthday party, was reminiscent of a 1930's man cave with a old trunks, shelves filled with chalices, knifes, ropes and chains, a piano and ladder set against a brick wall backdrop. Only the addition of a ringing cell phone brought the milieu up to date. Marcus, an aspiring detective, who tries to solve the murder to impress his Chief, mourns his failed love life and career ambitions and foils with his friend who plays all the suspects. He struggles to determine which one had the most compelling motive. With no pretense at gravitus, aided with only a pair of glasses, handkerchief and baseball cap, Joe Kinosian played all the guests in a breathtaking charade of characterizations. As it turns out all had appeared in Mr. Wintry's novels with their dirty little secrets exposed. Was it Dahlia, his wife - a frustrated chanteuse, his mistress Barrette Lewis who pirouettes sans tutu, a member of the Boy's Choir - irreverent kids who steal ice cream, or Dr. Griff, - a psychiatrist who has treated them all?
The plot structured on the classic elements of a whodunit – a detective trying to solve a crime, suspects as sequestered quests, intriguing plot turns with a surprise ending was obscured by action that moved at such a fast tempo it was difficult to guess not only whodidit but whowasit?. The performers, who did a marvelous job in romping about, playing melodious duets and including the audience in the show, couldn't rescue the vacuous story line. Although they succeeded in making sheer entertainment, our joy in following the clues to make a wrong guess to solve the mystery at the climax was notit.
"Murder for Two", a musical whodunit at New World Stages, 340 West 50th Street, NYC - Book and Music by Joe Kinosian, Book and Lyrics by Kellen Blair, Joe Kinosian as the Suspects and Brett Ryback as Marcus.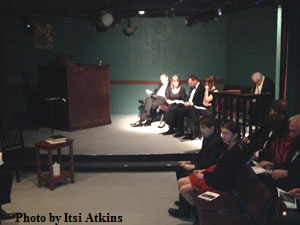 "Witness For The Prosecution" by Agatha Christie - didhedoit
Sequestered in Sniffin Court, an historic muse on East 36th Street, NYC, The Amateur Comedy Club is a non-profit private theatre club, dating back to 1884, that has presented over 130 seasons of performances. The Club owns two charming landmarked pre-Civil war carriage houses that connect to a building with a small state of the art theatre. Its cozy upstairs salon filled with memorabilia and a drama book library creates a genteel atmosphere that makes coming to a play as a guest a special and memorable event. The fun of watching their productions, always cast with veteran volunteer actors, is seeing the spirited performers in plays selected for male ensemble that are often classic whodunits, old-fashioned comedies or costume dramas rarely staged elsewhere.
I was fortunate to see "Witness For The Prosecution" as a guest of Eric Kuzmuk that ran from February 10th through the 22nd, 2014. The beauty of this classic is that it raises more questions than it answers. First written by Agatha Christie as a short story, then as a play that premiered in 1953, we may wonder after the denouement when all is revealed - was she a feminist? Her male characters insult her female characters who are shallow or ditzy, but her calculating and gutsy heroine, Romaine, who pronounces that men are "quite stupid", tricks everyone and may be the ultimate she-bitch Christie uses to exact vicarious revenge.
In her tale Christie also asks her audience to consider the effectiveness of the system of adversarial justice at its core. Under British law as well as in the US, a defendant can only be tried once. In this case the vaunted English Judicial system did not deliver the truth and ultimately justice. The line, "Our English judicial system is, in my opinion, the finest in the world", is stated twice in the play.
In the Club's production, the Old Bailey criminal courtroom was staged as a theatre-in the-"surround" with the audience made to feel like members of the jury. Leonard Vole is a charming drifter who is arrested for murdering a wealthy widow he befriended in post-war London. The prosecutor presents compelling physical evidence against him, as well as the fact that the widow recently updated her will in his favor. His only hope is that Romaine, his assumed wife he rescued from Germany, will testify that he was home before the time they believe the murder took place. As the plot twists and turns, Romaine, who has declared, "He worships the ground I walk on" and endangered herself to save Leonard, is astonished in the finale. Is the surprise ending Christie's fictional enactment of her own anger against her first husband whose infidelity ended their marriage and is Romaine's craftiness a reflection of Christie's own detective crime novel writing skill? The mystery remains.
If you haven't seen the play or the rounded-out film adaptation directed by Billy Wilder in 1957 starring Charles Laughton, Marlene Dietrich and Tyrone Power, the story is exciting even if you know how it ends.
"Witness for the Prosecution" by Agatha Christie at The Amateur Comedy Club, 150 East 36th Street, NYC.