Lanna Thai performance originated from the ritual Lanna faith. There were traditional dancing performances by a group of northern Thai people who preserved the old tradition. This might be a good chance for me to continue from my previous article last month about talismanic garb worn by Lanna Thai soldiers in the period of battle against neighboring countries. In the camp, there was a sword dance and mock battle in which participants wore armor and Yantra clothing. This was a preparation because all countries were governed by the kings. The warfare using horses, elephants and troops and seemed like a sport that gambled with blood, life and colonies.
The ritual and performance of Lanna faith are the way of elderly civilians who were concerned about their beloved husbands and sons in the army. They feared loss from the fight, sickness as well as loss of treasure. The villagers tried to ask for help from their dead ancestors they called "Phee Pu Ya". This required a ritual and party to be held at Lanna New Year and other special days. Food, chicken, pig heads, liquor and fruits were offered to the ghosts in every house.
Villagers built a theater for everyone who came to the afternoon party. They brought food and liquor and fruits to their neighbors. There was a ritual to pay respect to the ghost guardian called "Phee Mod and Phee Meng". Men and women, young and old, could dance together. The representative of Phee Mod was a man and Phee Meng was a woman with a long red scarf and red bandana. One representative acted as an oracle, a medium to bring a spirit into his/her body and had the power to persuade the audience.
Although the world has changed since then, I found that the rituals still exist everywhere around the city. "Pham" was a temporary village theater that was built for the harmony of the people. The dancers could drink liquor during the performance and most of them were elderly people. They also dressed in vibrant attire and screamed with the sound of musical instruments.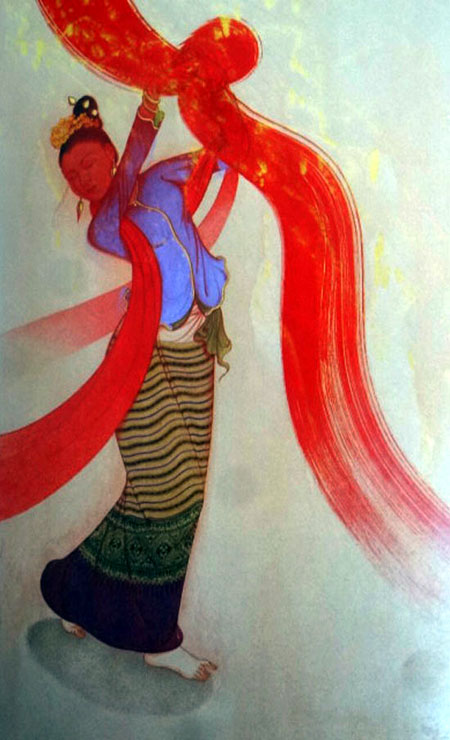 The artist Withaya Phonwithun brought what he found from the fascinating dance of spirits as inspiration in his paintings and installations for his master's degree art thesis from Chiang Mai University as well as the accompanying ambient sound and music from traditional musical instruments. His works also exhibited in several countries.
I had a chance to visit Withaya Phonwithun's gallery and studio in Chiang Mai in the afternoon in April 2014.
JY: I would like you to tell me about the origin of Spirit Dance in your art thesis.
WP: There was a consistency between spirit dance and ritual Lanna faith: both internal content were so similar but details were different. It was strange to represent paintings to become the performance of spirit dance. My upcoming art project should be unconventional to some extent. I decided to use installation art which I never did before. The creation of Spirit Dance was presented in a new way by letting space integrate as a part of my work. Music used in the Spirit Dance was modified by myself and mixed with cultural influences. I hope that people who love art can understand my artistic language.
JY: I have heard that you can play many Thai traditional musical instruments and today you played violin. Can you tell me about your experience with playing Thai traditional instruments in Thailand and abroad?
WP: Thai traditional musical instruments were my favorite hobby when I was young. I saw people playing them and I wanted to play them too. I studied and trained to play these instruments by myself and later I learned from many teachers. Someone asked me which instrument I can play the best but I cannot answer that. I never set my goal to be a professional musician but I love to play them all if I can. I consider myself a "Jack of all trades" and do not wish to master a particular musical instrument at the moment. I went to many places in Thailand and foreign countries to play music from small parties to national exhibitions. I was very honored to play a Thai traditional musical instrument in the presence of the Princess Maha Chakri Sirindhorn. I had opportunities to perform concerts in Asia, USA, South Africa and Europe.
JY: As a teacher and researcher, you wrote a book about the Thai art pattern called "The Creation of the Kham Janko Pattern" which is an ancient Lanna art pattern in most Lanna pagodas. This was very necessary for Thai art students and art lovers.
WP: I wrote this book because as I learned about Thai art, I was surprised that books about Lanna Art were so scarce and rare. Then I had the idea to write the book as a reference for everyone who studied Thai Lanna art. Actually, all aspects of the Kham Janko pattern cannot be written even in 10 volumes or more because this legacy is very immense and connects with many cultures. I've decided to research and write more about it in the future.
Withaya Phonwithun
Education
- B.F.A. (Thai Art) Faculty of Fine Arts Chiang Mai University
- Master of Fine Arts (Painting) Faculty of Fine Arts Chiang Mai University
- Lecturer at Rajamangala University of Technology Lanna.
Solo Exhibition
- 2010 Dance of the Spirits
The journey to the exhibit started from Vietnam, Japan, Taiwan, Hong Kong, Laos, USA, Spain, Portugal and France.