"I was doing a great deal of freelance work, and Steve [Underwood, co-founder/Production Manager] and I had been touring his play, Radical Radio, and we got a chance to produce Over the River and Through the Woods at the St. Lawrence Center here in Portland. That went well, and as a result in 2001 we were invited to become the Center's theatre-in-residence. We are now starting our thirteenth season," Brian P. Allen, Artistic Director of the company recounts enthusiastically.
"Our philosophy has been to focus on the productions we are doing and create really good theatre – hence our name. In the decade since 2001 we have grown exponentially. We went from being non-existent to having one thousand subscribers, and we have operated at ninety-five percent capacity for the past two years. In the recent rough economic period, conversely, our donations went up. I think people like what we do and know we work hard to put together a nice mix. Steve and I feel so incredibly blessed to work in the profession we love and to be able to do the shows we want with amazing artists. That is a gift!"
Allen recalls being bitten by the theatre bug at the age of seven when he played Sunny Bunny in Sunny Bunny's First Easter. "There I was lying in a trap calling for help, and a little child came up on the stage to rescue me. 'Oh, my goodness,' I thought, 'they believe it!' It was an epiphany!"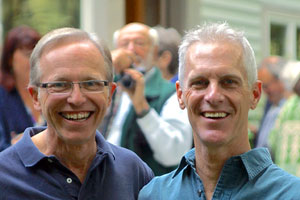 Brian P. Allen & Stephen Underwood
(Photo-Craig Robinson)

Born and raised in the small rural town of Union, Maine, Allen has always called the state home – "even when I worked in New York and elsewhere. The scion of a blueberry dynasty, Allen was expected to work in the family business, which he did until he was twenty-two. Having been graduated from Nasson College – which he jokingly dubs "the university of Brigadoon" because it has vanished from Maine's educational landscape - with a double major in business and theatre, Allen recalls sending out only one resume to Maine State Music Theatre, where in 1982 he was immediately hired to run the box office by Victoria Crandall, the company's then – Executive and Artistic Director. He advanced to Managing Director the following year, and as Crandall's prot├ęg├ę, Allen served MSMT for seven more years. "Vicky's health was failing, and I was doing everything with her. We spent weeks in New York at auditions. I helped her pick shows. She would take me to the theatre and introduce me to artists in the pit or backstage. I met the likes of George Abbott and Gwen Verdon – so many stars! It was the most amazing education, and I am so grateful."
After seven years, however, Allen realized that his desire to direct plays would not happen with MSMT. "They saw me as the business guy." So he left and started his own directing career. Along the way he met Stephen Underwood. Underwood hails from Massachusetts, and he had studied at University of Maine, Orono, and was working as a director, designer, and actor. They formed a partnership on and off stage. "We toured with Radical Radio for five years up and down the East coast and off-Broadway." Allen also continued to freelance direct, stage concert productions of musicals and pops evenings for Portland Symphony and other venues, and act as well. Among his notable roles was that of John Merrick in The Elephant Man, as well as appearances in Side by Side with Sondheim, A Funny Thing Happened on the Way to the Forum, and Blueberries, Broadway, and Brian, a play he wrote "about the wackiness of my world, growing up in a colorful family and a colorful town and finding myself in the wonderful realm of professional theatre."
Allen and Underwood's partnership at the Good Theater is an amazing one – essentially a two-man show. "Steve and I have always said from day one when we started the Good Theater that between us we could handle everything. We do get some help from time to time, but we try to keep it lean and mean and put the money into the shows," says Allen, who manages to run the organization on an amazingly slim $310,000 budget.
Asked how they manage to run a company which might normally need a larger full-time staff, Allen replies: "Steve does the graphics, supervises production, often designs and builds the sets, handles the mailing and our data base. I cover the artistic direction, most of the directing, publicity, and writing grants. We work seventy-eighty hour weeks during the season (from September to April), but we get the summers off to do what we want. And we have artistic control to produce the kind of season we want."
That season, comprised of four main stage productions and two special events, offers what Allen calls "a product of my own vision. Portland is a dynamic theatre town, where everyone has his own niche. Theatre is alive here, and it's thrilling to see people come to a real, not virtual, space, turn off their iPhones and listen to the oldest form of entertainment – to hear us tell stories. I try to get lots of new shows. This year we have three Maine premieres, which is very exciting!" The 106-seat theatre at the St. Lawrence Center, located atop Portland's artsy Munjoy Hill, is, according to Allen, thirty-five percent subscribed with a loyal public that virtually fill the house during the season.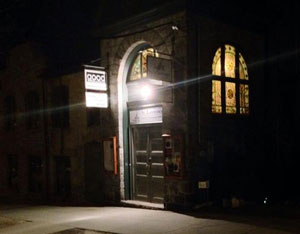 Good Theater

The St. Lawrence Center, meanwhile, is in the midst of a fundraising drive to expand the building and add a four hundred-seat performance space to the facility. If this becomes a reality in what Allen estimates to be three more years, the Good Theater "will have to see how it goes. I could see our performing sometimes in the small space and sometimes in the bigger one, especially if the larger venue could be cordoned off into two hundred seats," he says. "Basically, though, I love the intimacy of the space we have and the contact it gives us with the audience."
A tour through that space reveals how small it actually is. The stage has practically no wing and no fly space; exits and entrances involve descending to the basement and crossing over through the dressing rooms. Scenery is built on stage and stored at Allen and Underwood's home. And yet, with carefully selection of repertoire, an uncanny sense of what will engage audiences, a knack for incisive casting, strong visual values, and an excellent resident tech team, the Good Theater manages to deliver the full package each time.
Choosing the repertoire is one of Allen's favorite tasks. Explaining his process, he says: "I usually like to pick one show as an anchor and then build around that. This year, however, our anchor show – a new work by Rob Urbinati about Lee Harvey Oswald called Mama's Boy - got pulled for a year because of a rights issue, so I don't have an anchor per se." Still it is a strong lineup which includes N. Richard Nash's The Rainmaker, Jeffrey Hatcher's Mrs. Mannerly, Paul Rudnick's Regrets Only, and Sharr White's The Other Place, and a reprise of Stephen Underwood's Underwater Guy, these in addition to two musical evenings - Legends, The Music of Barbara Streisand, and Broadway at the Good Theater, a popular annual revue.
Rainmaker (Photo - Stephen Underwood)

Allen explains his programming rationale: "Rainmakerdoesn't get done nearly enough, and it stars Laurel Casillo, who just made her Broadway debut in Act One. Mrs. Mannerly came to my attention when we worked with Rob [Urbinati] on Death by Design. It is a wickedly funny, acerbic gem of a play, which Steve will direct because he specializes in multi-character work, and this is a two-character drama in which the pupil plays all of the other students in Mrs. Mannerly's class.Paul Rudnick's Regrets Only is very funny, wacky, over the top – just the thing for the winter here in Maine. Then The Other Place is a four-character psychological thriller about dementia. It's quite unlike anything we've done, and Denise Poirier (who enjoyed a huge success in Gurney's The Grand Manner here) will star." Allen is also careful to choose plays that will work in the intimacy and within the constraints of the theatre's space. " I would love to do On the Twentieth Century, but it would never work in the current theatre," he confides, "but he has mounted a number of musicals and says he is confident that next season "will likely see a full-scale musical."
"Audiences trust us enough to come to our plays whether they are familiar with them or not. This is something we have built over time. We have done everything from A.J. Gurney's rather tame Ancestral Voices to full frontal nudity in The Little Dog Laughed. One of my favorite comments about that one was from an elderly lady who said to me afterwards, 'You know, Brian," – he mimics –'I could see that one again!' If I believe in the piece and we get a good cast, people will come along with us."
August: Osage County (Photo - Stephen Underwood)

Getting a good cast has been no small measure of Allen's success as an artistic director. He has nurtured his New York contacts as well as his ties to local professionals. He credits the Good's Equity representative in New York, Tripp Chamberlain, "for helping us get the best talent," and he, himself conducts annual auditions in New York and Portland in May and June. "I often see actors in ways others may not. I don't pigeonhole them, and if I can see the show in my head, I know I can get the ensemble to go there."
Allen, who has won numerous accolades for his directing skills and is known in theatrical circles as being a brilliant actors' director, says he thinks the talent comes from "being a big picture kind of guy. I can stand back and see the whole thing. It has been something I have done instinctively since childhood. When I was four and my sister two, I directed her how to escape from her crib without hurting herself."
Asked about his directorial style, Allen says, " I give actors clear guidelines, but I allow them to be creative within my concept. I start by reading the play over and over, each time with a different intention. I have a clear picture in my head, but I don't map out minutiae. I try to let it evolve organically. In my early career I saw some directors micromanage performances and others allow creative freedom, and the latter got much farther, much faster. I love to see what actors can bring to a part and where it leads them. There are times I will give a specific direction to cross on a particular line, for example, but that is rare. I think if we find a natural moment together, the actor will remember that."
The Outgoing Tide

Allen is also no fan of stressful, extenuated technical rehearsals. "We have a two or three week rehearsal period here at the Good, and our tech is unique. I try not to stop and reconfigure every cue. I make notes and then fix it afterwards with the tech people. So those rehearsals are basically run-throughs. I personally don't think the custom of 10/12 rehearsals" - (he is referring to the Actors Equity rule that actors in the last four non-performance days prior to opening may be asked to rehearse ten hours out of a twelve-hour period) - "is a good use of time. Actors need their rest. I also try to add elements like props as we go along, so the process is more ongoing." Allen has found this method successful not only at the Good Theater's home stage, but also in his guest directing stints, such as this summer's What the Butler Saw at Theater at Monmouth, and when the company has gone on tour, as they did last season with The Outgoing Tide to South Carolina.
Underwater Guy (Photo - Heather Perry)

Touring is something he would like to see the company do more of and to that end next season the company will inaugurate "The Good Theater on Tour", an outreach arm of their company. Allen has hired Ellen Domingos to spearhead the project in which they will offer ten previously produced shows to venues throughout Maine, New England and beyond. "Our goal is to provide quality productions in venues other than our own in Portland and to create work for artists," he affirms.
This appears to be a major step forward in the little company's growth process, and I ask Allen where he sees his and Underwood's organization headed in the next decade. Without hesitation he replies, "Steve and I would like to work here for at least seven more seasons after this one and reach our twentieth year milestone. Then who knows? We have a couple young people like Ellen starting to work with us. So perhaps it can become more than the Brian and Steve show. And that is a very exciting prospect!"
All photos courtesy of Good Theatre. Cover Photo - Craig Robinson