In the past weeks millions of people have congregated, migrated and demonstrated all over the world for the purpose of religious ceremony, survival and protest. Between October 1st and 6th 2014, throngs of Muslims gathered in Mecca, Saudi Arabia to perform Haij, a ritual central to Islam. On September 21st the U.N. Refugee Agency reported that 70,000 Syrians crossed into Turkey to escape IS militants. In the ongoing political protest in Hong Kong tens of thousands of pro-democracy supporters occupied Hong Kong's streets. On September 23rd over 300,000 people walked in an historic Climate March in New York City that coincided in 100 cities ahead of the United Nations Climate Summit that took place at the UN on September 23rd. It is ironic that walruses in northern Alaska joined the herds when an estimated 35,000 hauled themselves onshore in September because their sea ice had melted.
Although each event had a specific purpose, the significance of this global mass phenomenon remains elusive. In the 60s, the Civil Rights and Anti-War Movements, Women's Liberation and Sexual Revolution resulted in positive social changes that Americans live with today. If the outer mirrors the inner, out picturing in unrelated instances reflective of a change in race consciousness, these movements, like the Arab Spring that began in 2010, can meet resistance and turn to turmoil and chaos.
illUmiNations Protecting our Planet
Projecting the Crisis of Animal Extinction on the Urban Canvas From the Oceanic Preservation Society Founded by Louie Psyihoyos
This spectacular multimedia presentation of images of wild animals covering the 39-story façade of the UN Headquarters, NYC along with recordings of animal songs and a narrative by Jane Goodall (September 20th between 8pm and 11pm) was projected by professional race car driver and environmental activist, Leilani Münter, from a Tesla car outfitted with a high tech movie projection FireFrame unit designed by Obscura Digital. It was a fitting introduction to the Climate March highlighting our concern that human activity is a major cause of global warming and responsible for the destruction of ecosystems on which vast numbers of plant and animal species depend. Louie Psyihoyos states, "Our generation must illuminate and take action around truth for the sake of future generations."
Taking on projects of great magnitude, Louie Psyihoyos' personal mission has been to raise awareness of environmental disaster and inspire activism. His background, which includes 17 years as an award-winning nature photographer for National Geographic and writing the book "Hunting Dinosaurs", has led to his founding the nonprofit Oceanic Preservation Society and dedication to filming eco-thrillers that inspire activism. A 2010 Oscar-winning Director for his documentary "The Cove" about the slaughter of dolphins in the bay of Taiji-Wakayama on the southeast coast of Japan, Louie is planning to release his new documentary "Racing Extinction" about the ocean and mass extinctions in 2015.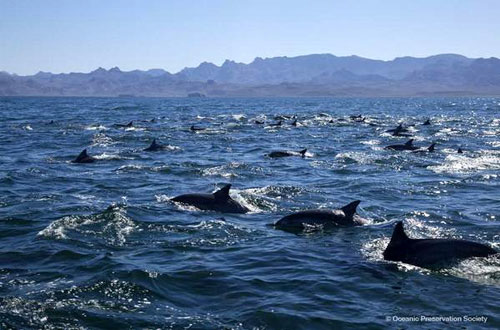 Louie's partnership with artists, conservationists and cutting edge technicians has earned him a global reputation as an environmental visionary that has helped him garner results. "The Cove", an underwater expose, raised compassion for seized dolphins and awareness of the complex issues raised by disputed fishing rights and danger of mercury poisoning. When refused permission to shoot by Japanese authorities, he and his crew resorted to unique and subversive techniques to film underwater and in the area incognito. The documentary, which won international support for the cause, has resulted in a reduction of dolphin slaughter, but not its elimination.
Under the title "6", "Racing Extinction" premiered as a "Work in Progress" screening at the Tribecca Film Festival in April 2014 to critical acclaim. The trailer, now available on YouTube and other online platforms, features fast paced action with stunning underwater and aerial footage as well as rogue video uncovering the Black Market fish trade in China. The film combines the use of state-of-the-art technology - innovative robotic mini-helicopter drones, Segways, inventive underwater cameras, hydro-phonic recording equipment and more -with shots captured guerilla style on hand-held cameras. The gorgeous images filmed by deep-sea divers reveal a living world rarely seen. "Racing Extinction" documents years of adventure and discovery Louie and his devoted crew took to record an unprecedented event.
The irony of the plight of the oceans, the mother of life, is that as we come to understand more of its mysteries, our plunder of its resources is putting its bio-diversity in grave danger. Mass accelerating extinctions and acidifying water in the oceans are caused by many factors including burning fossil fuels, extensive commercial fishing, toxic dumping, oil spills, radioactive waste runoff as well as military testing. Fish beachings, the death of coral reefs and depletion of marine populations are warnings not be ignored.
Louie Psyihoyos believes that we are entering the last or 6th age of animal extinction and stated, "It's my estimation that half of the species on the planet could disappear by the end of this century, but not if we can help it. I consider a film to be a weapon of Mass Construction."
---
In my poem about evolution, THE OLD BARN, I wrote,
"With these lost animals, legends and companionship are destroyed
We are left to grieve in concrete canyons alone"
Photos - Courtesy Oceanic Preservation Society