There's nothing nautical or maritime about Princeton, New Jersey. While we have a lake and a canal that connects the Raritan and Delaware Rivers, the tang of salt air and the ocean's roar can't be had unless one journeys at least 30 miles east. The most dangerous predators in Princeton's opaque waters are snapping turtles.
So it seems an unlikely place for Peter Benchley, author of one of the most renowned novels about the ocean, to have called home. Then again, Herman Melville lived in western Massachusetts and wrote his great seafaring saga, Moby Dick, while gazing out at the rolling backs of the Berkshire mountains.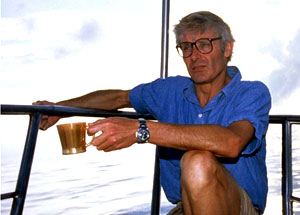 Peter grew up in a famously literary family, the son of author Nathaniel Benchley who, in turn, was oldest son of Robert Benchley, acclaimed essayist for Vanity Fair and The New Yorker, as well as an actor and Academy Award-winning filmmaker. Like his grandfather, Peter attended Harvard. After a reserve stint in the U.S. Marine Corps (at the end of which he received an honorable discharge) and several years at The Washington Post and Newsweek, Benchley worked as a speechwriter for President Lyndon Johnson. When Johnson left office in January of 1969, Peter and his wife Wendy moved to Princeton.
The fact that it's a landlocked town hardly mattered.
In a filmed interview, Wendy Benchley had a laugh: "Peter said to me, 'I have an idea for a story and it's about a shark that terrorizes a New England town' and I said Peter, that is just the most foolish idea I have ever heard, you know, think of something else honey."
But, like the 4,550-pound great white caught with rod and reel off Long Island's Montauk Point which Peter read about in the 1960s, Benchley was hooked. The result was the greatest fish story since The Old Man and the Sea (since, contrary to what Melville argues for a few hundred pages in Moby Dick, whales are mammals.)
As Benchley related years later, "so I sat down in the back of a furnace supply store in Pennington, New Jersey and began to tap out the first eight pages of Jaws which to this day were never changed–not a comma was changed, those first eight pages were exactly as they came forth from my subconscious." (Prompted by this quote, I re-read that first chapter and it's easy to see why no editor would need to pick up the blue pencil.)
The completed book, of course, stayed on the bestseller list for over 40 weeks and the film adaptation, directed by a very young Steven Spielberg, ushered in the concept of the summer blockbuster, smashing domestic box office records and netting three Academy Awards.
What's hard to believe is how little experience Benchley had around sharks. As he related in a filmed interview:
I had never seen a great white shark by the time Jaws was written. Only thereafter, after the book had come out but before the movie, ABC came to me and said would you go down to south Australia and get in the water with one of these things–sort of challenging me–and I thought, well, that's really not what I do you know, I write books and I don't get in the water with sharks. And I said alright, on one condition, that Stan Waterman come with me."
If it seems improbable that one of the most successful writers of books set at sea should have lived in landlocked Princeton, consider the likelihood that his neighbor would be a pioneer of both scuba diving and underwater filming. The aptly-named Stan Waterman and Peter Benchley were close friends, vying on the tennis court when they weren't collaborating on undersea film projects. Notably, Waterman worked as co-director of underwater photography on the 1977 film adaptation of Benchley's novel, The Deep. Viewers of the Discovery Channel know that Stan is The Man Who Loves Sharks.
Working with oceanographers, master divers, and underwater filmmakers such as Stan Waterman (and David Doubilet and Teddy Tucker and Howard and Michele Hall) was part of how the success of Jaws as book and movie forever changed Benchley's life.
Jaws would make Peter Benchley a champion of the sea.
As he said after emerging from a dive among great white sharks in 1990, "this animal is so sophisticated–we've learned so much–it's almost as if this isn't the same animal that I wrote about a quarter of a century ago and if there's one thing I know for dead certain it's that I couldn't possibly write Jaws today: I could not turn this beautiful beast into a villain."
Benchley and his wife Wendy would become great movers in worldwide efforts to preserve the ocean and all the wildlife in it, especially sharks. As a marine conservationist, Peter worked tirelessly on dozens of short films, television series, and magazine and newspaper articles, as well as giving hundreds of talks and hosting "Ocean Report," a nationally distributed public radio program.
Toward the end of his life, Benchley described this transformation of purpose:
One of the things that I've been most fortunate in, in having all of these chances for the last 28 years to dive, is to grow up with the environmental movement and to change my own sensibility from one of sort of novelistic sensationalism to educational conservation. For the last five years or so I've devoted myself entirely to conservation efforts–I make films with the New England Aquarium, I'm on the National Council of Environmental Defense, I work with a group called WildAid, with the Bermuda Underwater Exploration Institute, and other groups, the sole purpose of which is to disseminate information to the general public around the world as to why it's important that we save the oceans.
As a poetic précis of his work on behalf of the sea, Benchley said, "We all live by the grace of the ocean and if I have any legacy I hope it will be that I tried the best I could to make people understand how important the ocean and its creatures are."
Benchley's eloquent, influential voice is sorely missed, especially at a time in marine conservation when there are those who still question global warming–precisely because these shortsighted fools have vested interests in the industries and technologies that have directly contributed to Earth's rising temperatures. Wendy Benchley continues the work of ocean conservation, a champion of the sea in her own right.
Peter Benchley died in his Princeton home in February 2006. A beautifully produced DVD was made of the memorial service held in his honor at McCarter Theatre Center. (My wife knew Peter and Wendy for many years, but in keeping with the Benchley family's generosity and community spirit, the event was open to the public.) Peter's family, friends, and colleagues from the publishing and oceanographic worlds shared memories and often hilarious vignettes. Interspersed with the eulogies were thematic video montages. Over the last several months, our four year-old daughter has become extremely fascinated with the DVD, watching and re-watching several segments, especially one called "Ocean Conservation" which surveys Peter's long involvement with that cause.
He'd be happy to know his legacy continues on–even here in landlocked Princeton.
Resources:
Peter Benchley: Jaws Author + Ocean Advocate (www.peterbenchley.com)
Stan Waterman: Pioneer Underwater Film Producer & Photographer (www.stanwaterman.com)
The Environmental Defense Fund (www.edf.org)
New England Aquarium: a global leader in ocean exploration and marine conservation (www.neaq.org)
WildAid: when the buying stops, the killing can too (www.wildaid.org)
Bermuda Underwater Exploration Institute: "To advance the appreciation, knowledge and understanding of the ocean and to encourage the protection and preservation of the marine environment" (www.buei.org)
The Nature Conservancy: Protecting Nature, Preserving Life (www.nature.org)
Get involved locally with the protection of our oceans, rivers, lakes, streams, and wells. Find out about regional or local environmental groups working to safeguard our water.