Fairytales are irresistible candidates for a make-over. Famous choreographers like Nureyev, Balanchine, Matthew Bourne, Mark Morris, John Neumeier or Mats Ek have tried their hand at them: Sleeping Beauty, Nutcracker, Giselle, and of course the most tempting one, Swan Lake, the tale of eternal love and betrayal that fills the stage with courtly pomp and a whole slew of beautiful dancers looking and moving like swans. There are innumerable versions (Benjamin Millepied choreographed the Hollywood hit, Black Swan. ), and now another, updated version is presented by Australian Ballet.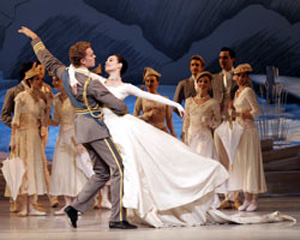 Australian Ballet?
The troupe hasn't been seen on these shores for forty-three years, but its renommé has been spreading ever since Nureyev performed there in his heyday and created his Don Quixote for the company. Australian Ballet is considered one of the world's top companies. I saw the cover photograph of their Swan Lake and was instantly intrigued. You can see a lot in a photograph if you have eyes to see: style, production values, qualities of the dancers caught in one telling pose. I heard this Swan Lake was inspired by the love triangle of Princess Diana, Prince Charles and Camilla Parker-Bowles, and I thought: why not? Tchaikovsky's original ballet has exactly this kind of royal triangle, and it hardly matters that Black Swan Odile, the deadly rival of White Swan Odette, is usually (but not always) danced by the same dancer. Why not make this rivalry between two women for one prince the center of a modern story?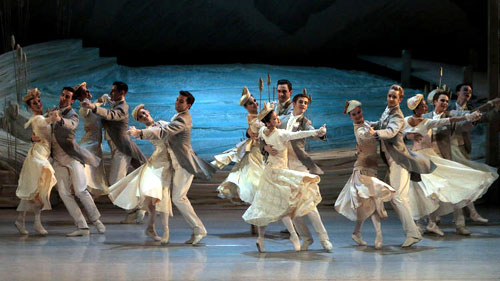 Australian choreographer Graeme Murphy (Mao's Last Dancer) starts with a courtly wedding, set not in Lady Di's post-pop era, but in Edwardian times, a period that allows for the most elegant costumes for both women and men. Prince Siegfried marries the lovely, delicate Odette while he is already pursuing a passionate affair with Baroness von Rothbart (the name of the sorcerer in the original tale). Odette realizes the full extent of the betrayal during the reception, gets picked at by the nasty Queen, goes mad (think Giselle), ends in a mental hospital (Mats Ek), dreams her way into freedom by joining the swans on the lake (Matthew Bourne), then recovers enough to appear at a party (Matthew Bourne) and draw the Prince away from the Baroness. Too late! Pursued by the Baroness, the hospital staff and the nasty Queen, Odile ends in the lake and the Prince ends up – no, not with Camilla, but with eternal regret instead of eternal love.
The result has been met with worldwide thundering applause and critical derision in New York, Los Angeles and, most recently, at Cal Performances in Berkeley. Critics pronounced this Swan Lake a "tabloid version," found it "silly," "opportunistic" and a "royal disconnect." The fact that Tchaikovsky's music was cut up and rearranged to suit the Australian choreographer, enraged many critics who weren't enraged when British Matthew Bourne (to give one example) did the same; critics who forgot that the composer himself wrote the music to suit the demands of the stage, rearranging his own "numbers" repeatedly.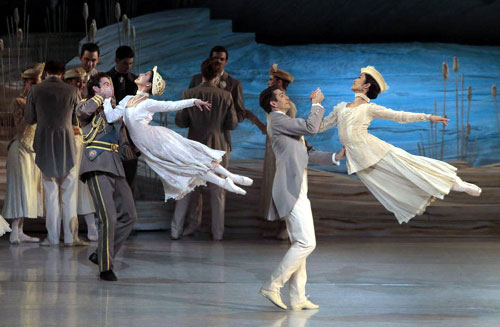 In the chorus of indignation over Graeme Murphy little was said about the strength of his choreographic ideas or the prowess of his dancers. The Australian Ballet is a gorgeous-looking, superbly trained mix of Australian, Asian, Eurasian and other international dancers. A company at the top of their game, with stand-out ballerinas (Amber Scott and Madeline Eastoe) who could make San Francisco Ballet envious. Australian-born Madeleine Eastoe (whom I saw in the final performance) is a dancer whose feet can set you dreaming, whose arms and torso can do the most sinuous swan and also the most edgy modern twists of brokenness and despair, and whose face is the face of an actress who lives and breathes the story. For her alone, this Swan Lake is an event and unforgettable.
Eastoe's Odette appears in a silk wedding dress with a train three times as long as her height, and the choreographer makes fantastical use of this dress as an element of ballet. It becomes a fetish when the Prince waltzes the dress more than the bride, an ecstatic element in lifts and swing movements (all reminiscent of bird flight) and a dramatic burden when others are needed to carry it. Later, in her suicide scene at the night-glittering lake, the dress appears one more time and now wraps the fragile woman into its folds, swapping over her and smothering her like silken water.
Costumes and lighting are spectacular throughout. I have rarely seen a better staged, more sumptuous and lively society party than this wedding reception, kids flying kites, everyone dressed to the nines, the ladies in snow-white with white umbrellas, the gentlemen in dove grey. To my knowledge, only John Neumeier could have pulled off a similar degree of invention in psychological storytelling through the graceful, natural movement of bodies, many bodies, in a social scene. The overbearing Baroness presents a wedding gift: the Hungarian dance of Act III suddenly plays in Act I, where Tchaikovsky apparently had it to begin with. For once, we don't have to make do with two soloists onstage and everybody else standing aside stiffly looking on. The pas de deux fans out with 6 couples in fiery color and energy right into the excited wedding crowd. The original music of Odette's loss and yearning accompanies a dreamlike solo of the Prince torn between his two women. A tall, charismatic dancer, Australian-born Kevin Jackson (who didn't have a sure-footed day) is literally torn and twisted, his long arms and expressive hands flapping and gripping like birdwings and claws, bringing forth some of the swan language Matthew Bourne invented for his male swans. Instead of being the expected cad, Jackson creates sympathy for a Prince who loves too much.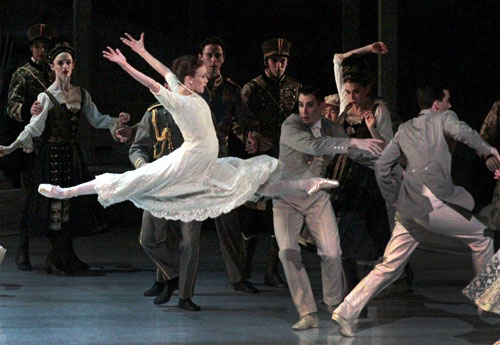 Allusions to birds appear throughout the work like fleeting thought forms and allusions, particularly when Odette breaks down and her arms and legs turn into unexpected positions and shapes like broken wings and bones. Before that break-down, the choreographer takes ample time to show her attempts to remind her husband of her existence, finds interesting ways for her to interfere and get her body in between the obsessed lovers. When she gives up she flings herself at every male guest in a mad impulse to get even (an apparent reference to Lady Di). The music that traditionally accompanies the Black Swan's triumphant fouetté pirouettes in Act III now supports Odette's demise: she explodes in a rage of kicks and turns to keep everyone from stopping and containing her, and the music is spot-on, a refreshing shock. Two hospital nurses arrive with head gear that is dangerously reminiscent of swans' beaks. When Odette is finally taken away, the music of the Act IV finale rises for the ironic apotheosis of the Baroness: her pact with the Prince ends the first act. She positions herself proudly on the Queen's throne and Prince Siegfried slavishly sinks onto her lap.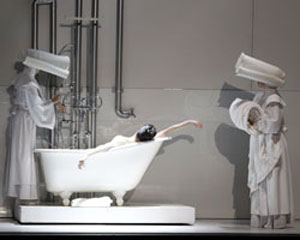 The piece could have, perhaps should have, ended there, with this satisfyingly modern, cynical conclusion. If swan maidens were needed, a scene of Odette's imaginary escape into a dream or fugue state by the lake could have been introduced into the wedding scene, thus focusing the modern story on a single event at one unified location. But such restraint was not Gaeme Murphy's cup of tea. We get Act II, the mental hospital (misery à la Little Mermaid by John Neumeier), and Odette's dream escape out the window, landing her at a swan island (like Helgi Tomasson's "swan rock"), a round, tilted disk that reminded some critics of Busby Berkeley's showmanship.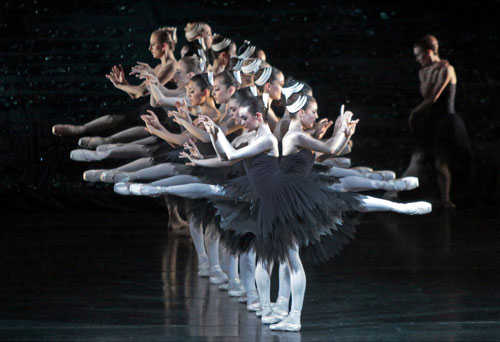 Indeed, the now unfolding chunk of Petipa's 1895 choreography of Swan Lake feels like a somewhat absurd show piece meant to satisfy the traditionalists, after all. The swans were excellent, once in white, then in black, but there was little mystery, sorcery, or magic. A fun touch came with the Four Little Swans: Murphy made their task twice as elaborate and tricky as the original choreography, and the four dancers pulled it off like perfect little wind-up toys.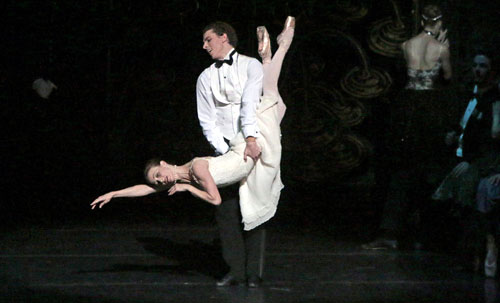 The Act III ballroom scene is called "An Evening Given by the Baroness." If it weren't for Matthew Bourne's super-sexual (and impossible to top) version of the same party, this would be a very amusing, sexy romp. Odette's reappearance makes no sense apart from the fact that it reverses Bourne's idea of having his male Black Swan appear among the royals, clad in black leather and hot like hell. The opposite is at least beautiful to behold: a mysterious, snow-white Odette, pure and light like a feather, simply allows the choreographer to turn the tables on the Baroness and show her clawing need for the Prince. Unfortunately, Australian dancer Lana Jones is a technical war horse, but not much more. There is no character on stage who could interest you in this triangle: the mistress of the Prince stands for nothing but arrogant will power and athletic, unembodied sex.
At three hours, the show is about an hour too long, and as there is hardly a moment of bad or boring choreography, one ends up exhausted by the riches, by the sense of having been over-fed on a fabulous wedding cake. The too-muchness of story-detail and emotion leaves one oddly uncaring on the whole, lost in the anecdotal rather than the archetypal realm, and even somewhat washed out by Tchaikovsky's stirring but repetitive music. Up to the very end — the final pas de deux of the Prince and Odette — Murphy comes up with new, exciting ideas of movements, new surprising lifts and shifts – but I couldn't for the best of me tell you what they were.
Photos - Jeff Busby