Call me Norma. I am a Druidic priestess and I have a tool shed. My toolshed is in the Druidic barn (did we have barns back in ancient Gaul? never mind) and that's where I keep the kids I bore Pollione, our Roman enemy. You could wonder about such a hiding place inside the barn, but it's worked for years, nobody noticed because my tribesmen are busy around the clock opening and closing the barn door, so a lot of stuff goes unnoticed. Thank Goddess (oops, little blunder!) — I have to say thank God, as papa Oroveso and I, we worship a bull with a big horn – a horn which my men keep raising and lowering (and you know what that means). I still sing my famous "Casta Diva" to the Goddess of the Moon but don't expect to see much of that "chaste" Druidic moon. The barn door has its stingyness. It only lets you peek at tree trunks and tree stumps outside while it opens and closes, so you have to make do with me, the unchaste diva in the barn. You wouldn't know about Druidic anyway as my warriors look like Robin Hood's band, and my temple women go about with naked shoulders in winter like they are out to party with the Capulets. I myself really belong into The Marriage of Figaro, the way I am all elegant with a white hairdo like the Countess and robal glitter. But something's got to give in this Roman occupation of the hinterlands, don't you think?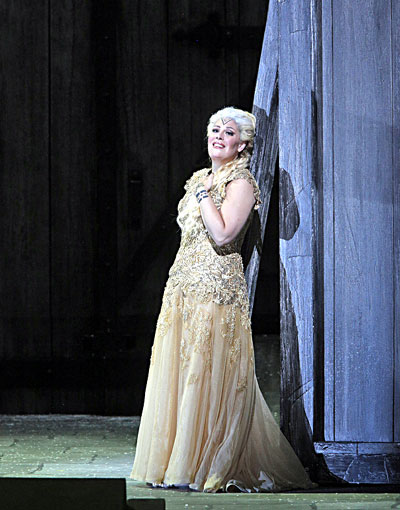 Anyway, this is all about love, and I've just found out my Pollione is in a midlife crisis. He's turned the head of my novice virgin Adalgisa, and no wonder, with that name. I mean, listen to their names – Pollione and Adalgisa and Oroveso and what? Norma?
So Adalgisa says to me, I want out of the temple, I'm in love. I think, that sounds familiar. He's such a looker, she says, and that sounds familiar, too. I understand. I say, go ahead, you are free to love, and we are BFFs, we hug and cry together and I love her so much while the barn door goes up and down. What's his name, I say. Pollione, she goes, and I hear some sniggering out in the audience. Now I hate her, but I hate him more. Look, I say, he's mine, he's the father of my kids, these little monkeys here (aren't stage kids always the cutest monkeys, running about and getting squished with hugs so they settle down and SIT?). Okay, she says, I don't want him then, I want to stay here with you forever. But he's like, "It's my destiny to love her, it's my destiny to leave you." Real pompous like, and I hear some more sniggers that make me think, hey, that's a good line you might use for your next affair. Right now I hate everyone and I want to die. No, seriously. I want to kill my kids so he can't have them. But wait a minute, am I in the right opera? Well, I guess I am because I can't bring myself to snuff out those little monkeys, so I ask Adalgisa, can you do me a favor? Anything, she says while the barn door goes up again and down again. Girlfriend, I say, swear to me. She swears and I tell her to marry him and take my kids to Rome while I'm dead. Never, she says, I will stay here with you forever, and I love her for that. We are BFFs again and we hug and cry and I hear someone in the wings like, "What? Are they lesbians?" Not so fast. She says, let me talk to him and he'll come back to you, and I don't care about the sniggers, I am just psyched.
Well, you know how this ends, don't you? She doesn't change his mind and I go so mad I want to kill her and kill all the Romans too, but not him, I love him so much, just burn her up so he can feel as lousy as I feel. She has to go into the fire, but then I change my mind and I go myself. But I don't go quiet, I tell everyone and that's when he knows he loves me, always has, just me, so he goes to the fire too.
Giants in Lilliput Land
One doesn't have to push hard to make the argument that opera is the art of love par excellence. There isn't a single opera to my knowledge, from Monteverdi's Orfeo to Capriccio by Strauss, that isn't focused on love. Desperate love, forbidden love, tragic love. Feelings that inspired the most glorious music and most heart-rending singing across four centuries, and it did not matter to anyone that the stories and the text of the libretti often were bizarre, truncated, and hotch-potch -- especially in the era of belcanto opera (ca 1780 to 1840). But not Norma. Norma (1831) has always been admired for the libretto by a famous contemporary of Bellini, the poet Felice Romani who closely collaborated with the composer to reach the emotional and cathartic effects of Greek drama through exquisite verbal and melodic lines. According to Rossini, "The words are so enmeshed in the notes and the notes in the words that together they form a complete and perfect whole." When Callas sang her first Norma in 1948 she started a whole renaissance of forgotten belcanto repertoire. With its extreme emotional shifts and technical demands of coloratura fluidity as well as dramatic heroism, Norma became her signature role. In her rendition, even without any visual record left to us, the passionate as well as spiritual dimension of this tragedy pierces the heart.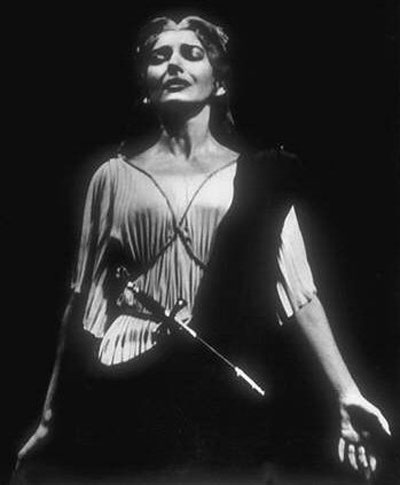 So how is it possible that this rare masterpiece (only few dramatic sopranos can master it) suddenly seems anachronistic, that the "perfect whole" of notes and words falls violently apart and the story seems so outlandish and absurd that the audience is laughing and one can't help but make a spoof of it?
The fault lies, as so often in the tightrope adventure of grand opera, in the staging.
San Francisco Opera had invited Sondra Radvanovsky, today perhaps America's most powerful and gifted dramatic soprano, with two other superb singers, mezzo Jamie Barton and tenor Russell Thomas, all of them revealed last year at the Met in a triumphal run of Norma (in a very different production which I did not see). Their vocal power and beauty did justice to Bellini's genius in a rare, spectacular fashion. This was high art in the sense Wagner (who had conducted Norma in his youth) spoke of: "'taking away the power of the eye' when the 'very essence of human gesture' can be evoked in sound." (Jürgen Kesting, Maria Callas). If only one could have just listened. The power of the eye, alas, had to run into the production by Kevin Newbury and set design by David Korins.
I have rarely witnessed a similar discrepancy between ears and eyes, between high art and artless misconception of an opera. The clash felt like a thunderclap. With one blast of sound, we had landed in Lilliput land, where three vocal giants were tied down and stuck in the absurd ropes of Newbury/Korins' stage, and things fell apart to the point where the audience chuckled in disbelief at what the giants had to go through in this celtic story that seemed to make no sense. Bellini's melodic line, conducted with fervor by Nicola Luisotti and rendered with such dramatic power by the singers, was in a continuous tug of war — the incongruities and aggressive flatness of the staging.
Newbury and Korins had produced an elegant, understated world premiere of The Gospel of Mary Magdalene here last year. Norma, apparently, didn't mean anything to them. The ridiculous shed in the barn, the fussy stage cramped with carts and men carrying strange wood pieces, the stylistic clutter of costumes, the refusal to show more than one or two glimpses of the moon, the stubborn refusal to let the story breathe out of the silly barn into the sacred grove of the Druids...all showed a shocking disregard of Bellini's intent. Radvanovsky's intensity and her beautiful, convincingly noble movements were a reason to keep watching, but she could not win the war against the Liliputians (as Callas would have). She did not have the support to develop a spiritual dimension or the pervasive sense of tragedy in her character, and she could not be stopped from expressing the troubles of her soul by putting her hand to her mouth in an expression of girlish impotence. One can only dream of what a great director, a Visconti of our time, would have allowed these singers to achieve in a production that would have supported them with artistic qualities they could have believed in.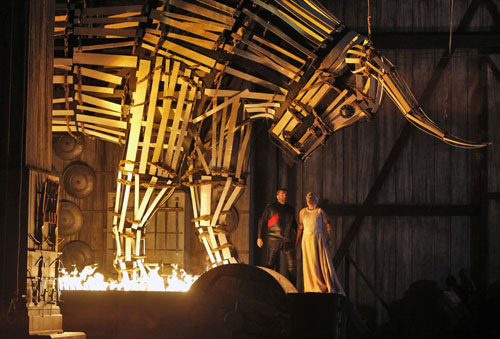 As if to make up for the lack of stage inspiration, near the end of the two-act opera, in came a gigantic, pompous Trojan Bull as "sacrificial altar" for Norma (so that's what the guys were schlepping their wood for!) -- a miscalculated final effect: Norma and Pollione stand below it at the back, hand in hand like stunned children, while three little fires erupt at the Bull's feet. One couldn't imagine a worse fizzle of what should have been a three-hour long devastating fire of passion.