Roger Ebert remains the only film critic to have a star on Hollywood Boulevard, as well as the only one to be eulogized by a President of the United States. He was also, famously, the first to win a Pulitzer Prize. For forty-odd years in The Chicago Sun-Times and for twenty on television, Ebert's earnest, witty, pugnacious judgments on cinema were the last word for millions of movie fans. Even after cancer robbed him of speech, Ebert still spoke eloquently, through his newspaper reviews and his blog, doing the best writing of his life.
Life Itself, the new documentary based on Ebert's autobiography of the same title, stands as Ebert's last word on Ebert. He was fortunate enough to choose his own director—Steve James, director of one of Ebert's all-time favorite films, Hoop Dreams. James worked with Ebert in what turned out to be the last months of Ebert's life, with the aid of Ebert's wife Chaz.
Life Itself presents the panorama of Ebert's life—from his childhood in Urbana, Ill., biking through his neighborhood to deliver his self-written, self-published newspaper, to his painful medical realities at the end, his face frozen in a permanent rictus, his jaw a useless flap. In between, it was a helluva ride, and James deserves credit for not trying to sanctify his subject. Ebert was cocky, he could be ungracious to colleagues, and in his early Chicago years he could drink anyone—especially himself—under the table. In the film, Chaz Ebert reveals publicly for the first time where she met her husband: an AA meeting.
Not surprisingly, a good portion of the film deals with the relationship between Ebert and his Sneak Previews co-host, Gene Siskel. The term "frenemies" could have been invented just for them. James shows us a hilarious series of outtakes for a Sneak Previews promo, with Siskel and Ebert going at it Bickersons-style, and an even funnier anecdote about the practical joke—one that fed straight into Ebert's vanity—that Siskel played on Ebert aboard an airplane. But if there was constant rivalry in their relationship, there was also warmth, and Ebert was devastated when Siskel died of a brain tumor in 1999.
The film also contains a section about how Siskel and Ebert were accused of dumbing down film criticism for a mass audience. Actually, they steered a middle course between critical Mandarins such as Pauline Kael and Andrew Sarris on one side, and celebrity interviewers such as Rex Reed and Gene Shalit on the other. They appealed to a broad audience, but they also made the esthetics of the cinema accessible to that audience, in a way that had never been attempted before. Ebert especially was an effective proselytizer for cinematic excellence, as well as for young filmmakers, many of whom owed their careers to his advocacy. Several of them appear in Life Itself, including Martin Scorsese, who is one of the executive producers of the film.
At 115 minutes, Life Itself feels padded. However, it's more a question of trimming the length of some scenes, rather than excising any scenes in particular. Ebert led a rich life, and there was a lot of material to include. At the end, when Chaz tearfully describes the scene at her husband's deathbed, we too mourn the man who saw the movies as not just an artistic but a moral force, and who voiced that opinion with dazzling eloquence. (For more of my thoughts on Ebert's life and legacy, please see my blog entry of April 6, 2013.) 1.
I regret that Ebert did not live to see Richard Linklater's Boyhood, a film he almost certainly would have loved. In his last list for Sight & Sound of the 10 greatest films ever made, Ebert included Terrence Malick's The Tree of Life. Boyhood makes many of the same points as The Tree of Life, but more modestly and—to my mind, at least—more effectively. I don't know if Ebert would have agreed with me on that, but I think he would have appreciated both the daring and the deep humanity of Boyhood.
Linklater has always been a risk-taking director. He came to wide attention in 1991 with Slacker, a loose but pointed series of vignettes set in his home town of Austin, Texas, each brief scene featuring a totally different set of characters. Up to now, his most famous cinematic experiment was the trilogy of films made over a period of 18 years—Before Sunrise, Before Sunset, and Before Midnight—portraying different stages in the relationship of a couple played by Ethan Hawke and Julie Delpy. In creating the characters of Jesse and Celine, two people who go from an enchanted meeting to a rapturous reunion to middle-aged discontent, Hawke and Delpy were Linklater's co-screenwriters, and very nearly his co-directors.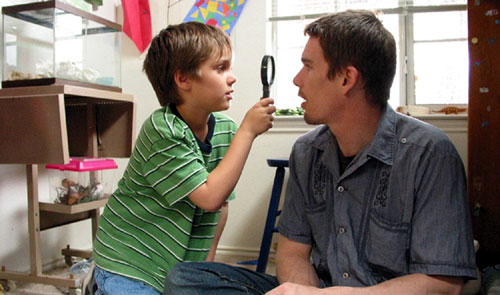 Hawke also plays a role, though not the center one, in Boyhood, Linklater's most breathtaking achievement to date. We're used to actors using makeup to age on screen, or child actors being replaced by teenage actors later in a film, or actors aging gradually in real time on a TV series. What Linklater does in Boyhood is simple, but so risky that it's no wonder no director ever attempted it before. For Boyhood, Linklater chose his cast and filmed a couple of weeks a year over 12 years, thus recording their changes organically in a film lasting two hours and 45 minutes. Ellar Coltrane, the actor chosen to play central character Mason Evans Jr., begins the film as a boy of six and ends it as a young man of 18, the camera recording every stage of his growth in every year along the way.
The risks of such a method are obvious. What if a cast member dies during the filming? What if one of them is horribly injured, or suffers some other catastrophe? What if a child actor who is cute and appealing grows up to be wooden and charmless, as has happened all too often in movie history? Fortunately, none of those things happened to Linklater and his cast. Boyhood is a vibrant, moving film throughout, and Coltrane, who begins the movie as a cherubic, likable kid with a snub nose and a big smile, ends it as a gangly, likable young man with a snub nose and a big smile. He loses none of his appeal, and none of his ability to engage an audience.
Boyhood doesn't have a plot, at least in the conventional sense. It covers Mason's boyhood years in various towns in Texas, living with his mother Olivia (Patricia Arquette) and sister Samantha (Lorelei Linklater, the director's daughter). Mason Sr. (Hawke), Mason's father and Olivia's ex-husband, appears irregularly in the house; at the beginning, Mason Sr. returns from an extended period wildcatting in Alaska. The tensions between Mason Sr. and Olivia are apparent immediately; Mason Sr. is the fun dad in the cool car, Olivia the harried mother trying to further her education while making ends meet. (The tensions between them do not lessen over time, as demonstrated when Mason Sr. plays a particularly nasty, passive-aggressive joke on Olivia at Mason Jr.'s high-school graduation party.)
For much of the film's running time, Boyhood might better be titled Family. It is only in the last third, when Mason's adult personality begins to emerge, that he truly becomes the film's focus. Mason Sr. and Olivia are commanding characters in their own right, and the ironic way in which their lives diverge is the film's major subplot. Olivia gets her Ph.D., wins a professorship, is respected by her peers and beloved by her students, but happiness eludes her. Her second and third husbands both turn out to be drunken bullies. Mason Sr., on the other hand, remarries happily, has another son, and trades in his muscle car for a minivan. Mason Sr.'s last speech in the movie consists of kindly words of wisdom to Mason Jr. about love and romance; Olivia's final speech is a tearful rant about her children growing away from her.
As for Mason, he rides his bike, plays video games, is forced to move away from his friends, makes new friends, goes to school, goes camping. We see him getting bullied by his schoolmates and his stepfathers, and getting the usual spectacularly bad advice about women and sex from older boys. We see his first love, including the loss of his virginity, and his first breakup. He emerges from childhood an easygoing, good-humored young man, gifted in art and hoping to become a professional photographer. But he's also a bit of a slacker, and his life experience has left him disenchanted with any kind of authority figure. Both his high-school photography teacher and his first boss lecture him: "What do you want to do with your life?" they ask him. But they make it obvious that they wouldn't bother lecturing him if they didn't like him so much.
Boyhood deservedly has received some of the best reviews of any movie in recent memory, though a few critics have accused Linklater of dealing in clichés. I would agree with that only to the extent that life itself is a cliché. Through Mason and his family, the audience relives the process of growing up, and we identify with Mason totally, often painfully. The scene in which Mason's first stepfather forces him to get an unwanted crew cut is as wantonly cruel as anything Mr. Murdstone did to David Copperfield.
Boyhood begins with little Mason lying on his back in his front yard, staring up at the night sky. It ends with the young adult Mason with his new college friends in Big Bend National Park, staring up at the night sky. In between those scenes, Mason has already made quite a voyage, with the promise of an even more exciting one ahead of him. The Tree of Life padded the voyage of its young protagonist with scenes of outer space and dinosaurs. In Boyhood, the night sky is enough, and the film is all the better for it. It's hard to think of any recent movie more likely to be regarded in future as an immortal classic.
1. Roger Ebert - MDM Blog Post