The 2015 San Francisco Ballet season marking the 30th anniversary of Helgi Tomasson's reign as artistic director has so far perfectly reflected his vision and leadership: safe, careful and stable. No big surprises, only occasional moments of excitement. The season opened with a lot of recycled work reappearing on the beautifully trained dancers who have been adequately coached and rehearsed. Finally, several weeks into the season, the fourth of eight programs was an elegant celebration of how satisfying music and dance can be: Jerome Robbins' Dances at a Gathering and a new work by Liam Scarlett, Hummingbird. But the first three programs also included moments of sparkle.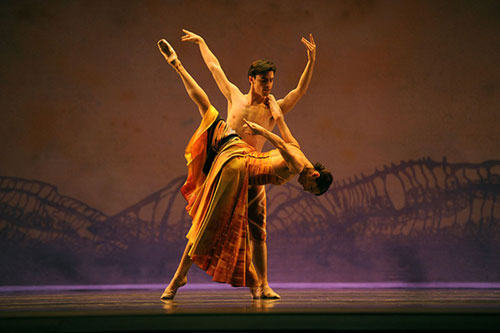 Val Caniparoli's Lambarena first appeared in the SF Ballet repertoire twenty years ago and it continues to evolve. Lorena Feijoo, as usual, ignited the stage with her unique interpretation of the mélange of African and classical movements, her carriage in the colorful costume and her bold yet polished athleticism. Before joining the company sixteen years ago, Feijoo sat in the audience for a performance of Lambarena and spontaneously jumped to her feet in excitement. A native of Cuba, Ms. Feijoo deeply feels and embodies both vocabularies as reflections of her cultural heritage. She dances the piece with a seductive and conspiratorial smile as if thinking about the ancient messages coded in the African rhythms.
Caniparoli created the work on Evelyn Cisneros in 1994 while they were both SF Ballet principal dancers. Then and still a slight and delicate beauty, she interviewed him in January during a program based in San Francisco called Words on Dance. Film clips of the original performances, as well as snippets from other Caniparoli works, were interspersed between questions about his long career as dancer-turned-choreographer.
Caniparoli arrived in San Francisco from rural Washington State at the age of 20, the son of social dancers and music lovers who had insisted that their children study music, dance and theatre. He auditioned for San Francisco Ballet School but lied about his age, saying he was 16. It worked. He was awarded a Ford Foundation scholarship and soon appeared in roles as a character dancer and eventually worked his way up to principal dancer.
During the Words on Dance interview, both Cisneros and Caniparoli giggled with delight as they remembered the creation of Lambarena. Not wanting to imitate African movements but to instead integrate authentic phrases into a classical framework, Caniparoli was working in the dark. He had taken a few African dance classes but that was the extent of his knowledge. He didn't even have a piece of music that he thought suitable. So he ventured over to Oakland and started asking around.
When, a few weeks later, icy Helgi Tommason looked in on rehearsals to see the progression of the work he had commissioned, Caniparoli panicked. He had forgotten to mention to the artistic director that he had hired Zakarya Diouf and Naomi Johnson-Diouf as African dance consultants and they had brought along a battery of drummers and various children who were running, dancing, singing, and playing all over the studio as the piece was being conceived.
Even after twenty years and hundreds of performances all over the world, Caniparoli continues to change and develop the choreography. The choreographer also gives the principal female dancer lots of room for embellishment and interpretation of the movement and music which itself is a arrangement of Bach and traditional African music arranged by de Courson & Akendengué . Accompanied by three female and three male dancers who must dance their steps in synchronicity, Ms. Feijoo treated the audience to an astonishing array of African movements including isolations of the chest and shoulders that defied the possibilities of human anatomy. While balancing en pointe she somehow shimmied her chest and shoulders as the rest of her body, including her arms, remained classically poised.
Thrilling as Lambarena is, it takes its toll on the dancers. Dancing en point, with the torso in a contraction, and jumping, jumping, jumping doesn't just wind the dancers, it challenges ever aspect of their athleticism while demanding grace, elegance and precision. Watching a film clip of her performance twenty years earlier, Evelyn Cisneros said, "I'm tired after just watching that."
Sadly, Lorena Feijoo injured her ankle while performing Lambarena. Still under the spell of her previous incarnations of the fragile Giselle, I had looked forward to her nuanced interpretation that had left me devastated, unable to move from my seat, in years past.
She was replaced by Mathilde Froustey who danced this Helgi Tomasson choreography (after Maurius Petipa, Jules Perrot and Jean Coralli) for the first time last year after joining the company in 2013 as a principal dancer. A former soloist with the Paris Opéra Ballet, where she also received her training, she is physically slight with delicate, expressive facial features. Her technique and her lines are clean and tight. She approaches each phrase with purity and freshness that is devoid of indulgence or self-consciousness.
The great challenge of portraying Giselle is that she goes through three complete transformations in two acts. Act I opens with Giselle as a young and naïve peasant girl who meets an unknown hunter who immediately claims to have fallen in love with her. Reluctant at first, and refusing to heed the warnings of her village sweetheart Hilarion, she eventually gives herself over to him in rapturous abandon only to soon discover that he is actually a Prince who is engaged to a noblewoman. Discovering this sends Giselle into the famous mad scene in which she throws herself around the stage in mental agony and heartbreak until she collapses and dies. She returns in Act II as a Wili, a kind of fairy-of-the-night, living in a community of other Wilis under the supreme control of the Queen of the Wilis.
Ms. Froustey endowed her youthful Giselle with the awkward lankiness of a young teenager uncomfortably growing into her own changing body. Her long neck and limbs seemed at times barely under her own control just as her emotions were surging and leading her into danger. Her childlike face inspired compassion as she shifted between swooning toward her newfound love and defying her mother's warnings about her delicate heart. Though her mad scene was less penetrating than that of other more seasoned dancers she had already captured the audience's affection by the time of her tragic collapse.
Myrtha, Queen of the Wilis, opens the second act in a dark and misty forest. Sofiane Sylve performed the role with authority and just the right amount of camp. Her elongated arms took ownership of the vast woods that surrounded her and the expression on her heavily made-up face was all business. It's her job to make sure that the Wilis, follow her nonverbal commands with absolute compliance. Wilis are all young women who have lost their lives before reaching maturity. By way of initiating Giselle into their sisterhood, Myrtha orders them to capture and kill anyone who visits Giselle's grave.
When Hillarion, (Sean Orza) Giselle's boyfriend in the village, comes to her grave the Wilis surround him and force him to dance himself to exhaustion so they can throw him in the lake. Two soloists, Clara Blanco and Julia Rowe, dance reenactments of their own deaths just to pass the time while awaiting another victim.
Enter Prince Albrecht (the always astonishing Vitor Luiz) who has come to visit Giselle's grave in the hope of begging her forgiveness. Ms. Froustey was gentle and serene in their pas de deux and especially as she tried to protect him from the wrath of Myrtha who had once again ordered the Wilis to make him dance to his death. The romantic tension between the two intensified as they each danced variations of increasing complexity and difficulty.
Vitor Luiz, as Albrecht, gave gravitas and solidity to this ethereal world. His virtuoso jumps and turns as well as his attentive and intimate partnering were a beautiful contrast to Ms. Froustey's fragile longing and compassionate forgiveness. In the end, morning arrives before the Prince has met his demise and the Wilis disappear. (In an unfortunate bit of unintentionally comic staging, Giselle is yanked offstage as she folds herself into a Pavlova-style bow.)
As Albrecht collapses onto Giselle's grave, grieving his loss and contemplating her compassion, the curtain falls. When the curtain rose again for the bows, the audience gasped as Vitor and Mathilde embraced at centerstage. Bravo!
Throughout his thirty years as leader of SF Ballet, Helgi Tomasson has frequently commissioned and presented the work of American choreographer William Forsythe. His crisp and complex tapestries of high-intensity movement on stark stages usually feature minimal costuming. These high-stakes works leave no room for error and reveal the dancers' tiniest flaws or weaknesses. Fortunately, though, dancers love the challenge and do everything in their power to defy the difficulty.
The Vertiginous Thrill of Exactitude is much shorter than most Forsythe works but he packs a lot in twelve thrilling minutes. Unusually, the three female dancers are in space-age tutus that look like something straight out of the 1960s animated American television program, The Jetsons. The tutus are lime green and the men are in orange body suits; a dark-blue backdrop reads "SKY BLUE BACKDROP." The music is Franz Shubert's suitably entitled, Allegro Vivace, from Symphony No. 9 in C Major.
Forsythe took his inspiration from Labanotation, the system of recording dance movements used before the age of video, which describes nine points in space as outlines for the possible ways of extending the limbs and positioning the body in space. Calling for counterbalance and opposition while requiring large, expansive shapes and movements, the technical demands are vicious. And the tempo is unrelenting for the entire twelve minutes.
But the dancers gave it all they had and conquered the movement by making time in the music to elegantly elongate their limbs and necks as a split-second form of respite. Dores André, Frances Chung, Jennifer Stahl, Francisco Mungamba and Gennadi Nedvigin wound themselves around each other and around the stage without hesitation and the results were indeed thrilling.
Gennadi Nedvigin, who was born in Rostov and trained at the Bolshoi in Moscow, is particularly strong executing the layer upon layer of beats in the air in constantly shifting facings. His musicality carried him and made him look fluid and graceful, never forced or pressed for time. When at times the other dancers began to tilt toward hysteria, his confident and serene presence seemed to keep the dancers grounded.
Forsythe was recently named associate choreographer of the Paris Opéra Ballet by Benjamin Millepied who is now in the midst of his first year as artistic director of dance. The prospect of a new permanent home for Forsythe, who has been peripatetic since the demise of both the Frankfurt Ballet and Forsythe Ballet in Hamburg, is promising—especially because of the energy, excitement and funding that Millepied is attracting. A Forsythe world-premiere will close the 2015-16 season in Paris beginning July 4, 2016.
In 1969 after choreographing the huge Broadway successes West Side Story and Fiddler on the Roof, Jerome Robbins returned to his home-base at New York City Ballet and created Dances at a Gathering. An hour-long piece for ten dancers, set to Chopin for solo piano, it is another Robbins' masterpiece that is so layered and nuanced one could gratefully watch it over and over again.
The dancers are identified only by the color of their costumes and certain characteristics though they are not characters per se. There is no story line only a pervasive feeling of shared experience and community. It opens with the male lead, Brown (performed with sensitivity and serenity by Joseph Walsh, SF Ballet's newest heart-throb), swaying to the music with his back to the audience. Individuals, duos, trios and groups come and go as the music shifts from one concerto to another. A pleasant feeling of connectedness draws the dancers toward each other in an imaginary world beyond narrative. All ten principal dancers were flawless, including two solo appearances by Lorena Feijoo as Green Girl. The Chopin is sublime as the choreography unspools in an unrushed, unpretentious series of vignettes. The piece ends with all ten on stage for the first and only time, their heads gently tilted upward gazing at the sky as the Brown Boy touches the floor and the lights fade. The work, which has become a classic in the vast American ballet repertoire, leaves the audience with the same faint smile seen on the faces of each of the dancers. Outside of time and place, pure calm.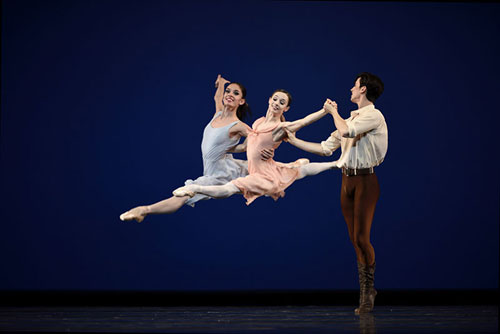 Sharing the program with Dances at a Gathering might be intimidating for any choreographer but Liam Scarlett's 2014 Hummingbird held up beautifully and made for an intriguing contrast. Much more complicated, intricate and technically demanding, Hummingbird is set to Tirol Concerto for Piano and Orchestra by Philip Glass with an other-worldly set design by Scottish designer John Macfarlane.
The first of three featured couples was Frances Chung and Gennadi Nedvigin who make a taut combination. His power is balanced by an instinct for perfect lines that make anyone he partners look free and even a bit wild. Frances Chung seemed to relish the feeling that no matter how far off center she flung herself he would always be there to counterbalance and secure their pairing. Though she doesn't project as much personality as one might wish her technique is solid enough and she makes the best of her quickness to inflect an occasional flicker of life behind her eyes.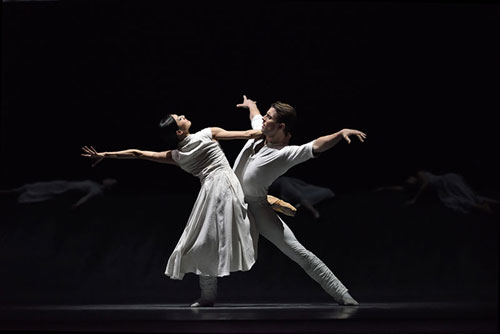 Yuan Yuan Tan and Luke Ingham's central duet was far more emotionally fraught and physically contorted. Wrapping her long and hyperextended legs and arms around him and then trying to escape created tension both physical and emotional. Finding melodic lines in the sometimes tedious music, they rode them like calming waves until the next burst of emotion spurred them into more intense motion. Yuan Yuan has developed more than anyone else in the company over the past ten years. She expresses surprising vulnerability and exploits her own bizarre physicality to perfection. The third couple, Maria Kochetkova and Joan Boada, danced in a more perfunctory fashion, especially compared to the emotional climax of the central couple. Entering and exiting beneath the backdrop that hung a few feet above the floor, the corps kept the driving pulse of the music interesting by their precision and classicism.
Scarlett Liam is the first to be named artist in residence at the Royal Ballet in London and he is absolutely worth following. In Hummingbird he held to a classical vocabulary but imbued it with a modern sensibility of architecture and use of space. The eye never settled because surprises were everywhere.
San Francisco Ballet's 2015 season runs through May 10 at the San Francisco Opera House.
Photos - Courtesy San Francisco Ballet © Erik Tomasson