Perched high on a bluff overlooking the icy gray Atlantic, waves crashing majestically on the rocky shore, sits a modern white edifice that is home to a unique collection of American art. Nestled among it sleepy gardens, just beginning to bloom after the long, impossibly hard winter, the Ogunquit Museum of American Art is ready to greet another season. Celebrating its sixty-second year, this small, but important collection of nineteenth-and-twentieth-century and contemporary American art has mounted a retrospective to highlight the history of the visual arts in this seaside Maine village.
Artists, especially those from metropolitan New York and Boston, were drawn to Maine throughout the nineteenth and twentieth centuries not only because of the dramatic landscapes, felicitous summer climate, and idyllic rural living, but also because they came to study with several influential masters who established noted art schools and colonies in the state. Among places like Monhegan Island, Phippsburg, and, Skowhegan, Ogunquit, a fishing hamlet in southern Maine, became a magnet for painters such as Maurice Prendergast, Charles Woobury, and Henry Strater. While Prendergast's fame would eclipse the others on the international scene, it was Woodbury and Strater who were to leave their permanent legacy in Oqunquit.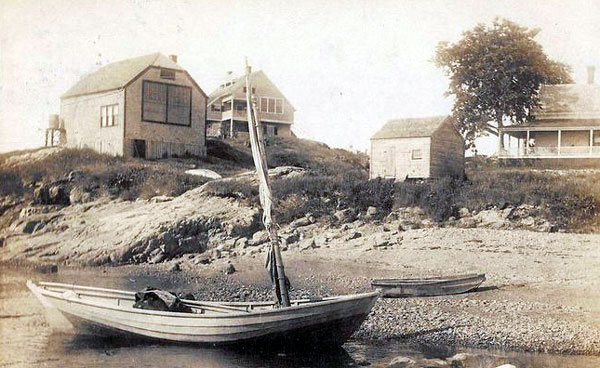 Charles Woodbury was born in Lynn, Massachusetts, in 1864, studied in Boston and Paris before opening a winter studio in Boston and beginning to summer in Ogunquit. In 1896 he set up his studio in Perkins Cove, a picturesque inlet dotted with lobster boats and a mechanically raised drawbridge that remains as colorful a place today as it must have been over a hundred years ago. There – though he, himself, had had very little formal study, having received his degree in mechanical engineering – he established his own art school and lured a virtual who's who of American artists – many colleagues and aspirants from New York's Art Students League -to spend time there. Woodbury's school prospered until his death in 1940.
Woodbury was not the only artist-teacher to make Oqunquit his summer home. New Yorker Hamilton Easter Fields, together with his prot├ęg├ę Robert Laurent, also inaugurated the Summer School of Graphic Arts there in 1911, having bought the land and cottages on the north side of Perkins Cove. Fields taught drawing and painting and Laurent sculpture. One of their pupils was Kentucky-born Henry Strater, who had already led a Hemingway-esque life as a journalist and ambulance driver in Europe during World War I. Strater's travels took him to Paris, Spain, and Italy where he counted Ezra Pound, James Joyce, Marcel Duchamp, and Ernest Hemingway among his friends. Returning to the States, he studied art in New York and with Fields in Oqunquit until 1922, when his teacher died. Then Strater returned to Paris, though he kept the house he had built in 1925 in Oqunquit near the site of the current museum.
Twenty-eight years later, Strater purchased oceanfront land and hired architect Charles Worley, Jr. to design a museum. The Museum of Art of Ogunquit, as it was then called, opened in 1953 with a small collection of painting and sculpture by artists associated with Maine. When Strater died in 1987 he left his entire collection of art, which included his own work plus that of other prominent Americans, to the museum, whose holdings have continued grow over the six decades of its existence.
This summer, as in every previous one, there is a gallery devoted to Strater's work, as well as several other exhibitions drawing on the permanent collection and works on loan. This year's selection of Strater's painting focuses on portraiture and still life, executed in his persistently post-modern realistic style. Dominating the gallery are the two portraits of Ernest Hemingway, the frontal representation from 1922 most arresting with the novelist's brooding, cast down eyes, and Strater's bold, wide brush strokes. Among the floral still lifes which occupied the painter in the 1960s, Blue and Shastas catches the eye with its elegant composition and tactile brushwork.
Strater's gallery provides a segue to the main exhibition, entitled Old Is the New New: Tradiition and Excellence: A Fresh Perspective, which features a selection of works from the museum's permanent collection by artists active at Ogunquit. Hung by Collections Coordinator Alexandra Bishop, the display is organized around four themes: portraiture, abstraction, landscape, and animals.
Among the first paintings which greet the visitor are a series of portraits and figurative works. Will Barnet is represented by his charcoal study and finished painting of Emily Dickinson: Poem #1101.("Between the Form of Life and Life") Created in 1984 as part of a series of illustrations of the Belle of Amherst's poetry, this image draws on Barnet's affinity for Japanese prints with their two-dimensional geometric clarity. Represented in profile, combing her long black hair, the woman in the somber neutral palette embodies the quiet withdrawal that characterized the poet's life, while the small window in the upper right serves to depict the separation between her and the outside world.
Other portraits include several stunning silver gelatin prints by Arnold Newman, among them a 1940 noir image of fellow artist Peggy Bacon. Contemporaneous with these slice-of-life images is Reginald Marsh's exuberant watercolor and gouache, On the Boardwalk Coney Island (1946), whose explosive color and dancing line offer a sharp contrast to the photos. In Marsh's work three young girls, dressed in summer finery, take center stage against a background of other less defined figures which include bathers and an alluring woman at the left who raises her hand in a siren gesture; beyond these lies the distant sea. Like Prendergast, Marsh's vision of the seaside is that of an urban, everyman pleasure retreat, rather than a romantic vision of nature.
Flanking Marsh's pert work is an elegant, neo-classical large-scale canvas by Hayes Friedman. Entitled Strategic Alliance # 4, this 1993 image of two woman heads inclined toward each other, arms stretched out in some posture of resolution. The stark neutrals of the palette recall the Barnet painting, while the heads have the mask-like modernity if a Picasso and the overall poses and the two-dimensionality suggest Greek vase painting.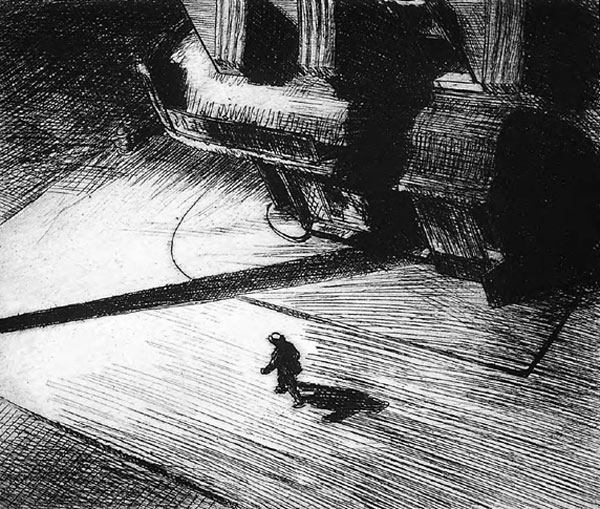 The human form vanishing into the larger composition is the subject of Edward Hopper's Night Vision, an etching which observes a man walking down a deserted town street at night. The unusual perspective and the smallness of the figure suggest that the subject here is less the human being than the light and shadow of his world.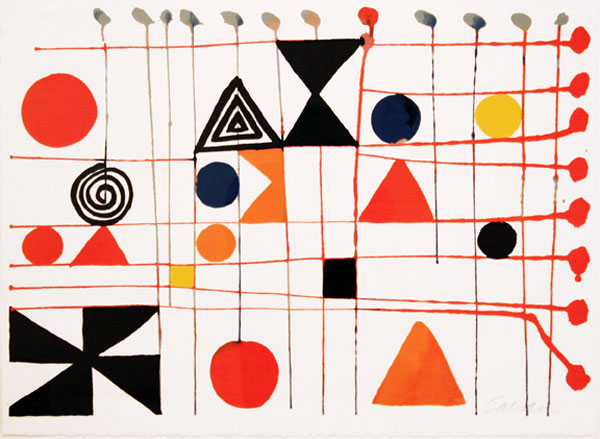 From these figurative works, the exhibition entertains a few pieces of abstraction, among them Alexander Calder's 1966 lithograph, Quilt, whose bright colors and floating geometric shapes give the appearance of one of his famous mobiles flattened onto the page.
But perhaps it is the paintings of Maine landscapes and seascapes – the forces of nature which drew so many artists to Ogunquit – that seem to dominate naturally the gallery. Charles Woodbury is represented by a tiny oil, Breaking Wave, which in its unpresuming simplicity speaks powerfully to the fresh vision Woodbury sought to depict and impart to his pupils. The gray water pulsates with power and life through the application of broad strokes of white impasto paint. Though the painting is not large, the energy which emanates from the canvas is. Somehow it seems to encapsulate the sense of the life force which drew its artist and so many others to this place. Another striking canvas is the small horizontal 1936 oil study by Marsden Hartley of Lobster Boats and Buoys in which the artist carefully composes the lined up geometric solid shapes of the boats and buoys beneath a sky dotted with equally solid clouds. All the forms are outlined in Hartley's characteristic black lines that give the shapes a formidable solidity, but the rushing brushwork contained within those frames gives the deceptively still work its vibrant inner energy.
Another Mainescape by Woodbury's pupil Gertrude Fiske depicts a hilltop graveyard with its view of a white village building below, framed by summer foliage and the blue Maine sky. The composition and its perspective remind of Cezanne, while Fiske's brushwork takes a cue from her mentor. The famed Rockwell Kent is represented by an arresting exotic seascape painted in 1919, Alaskan Sunrise, in which the horizontal canvas is divided into four planes and rendered in a restricted palette of blues, whites, and pinks. The snowy glaciers stretch calmly across the middle ground, their luminous radiance catching the early sun's rays. Kent's mastery of both light and solid form, his economy of composition and brushwork give this canvas a striking modernity.
The last category of this exhibition focuses on animals – a vital part of Maine's natural world, yet the depictions are not always naturalistic but rather boldly modern and whimsical, as in Dahlov Ipcar's 1971 work, Cock Fight. Ipcar, the daughter of Maine artists William and Marguerite Zorach, depicts the birds in a flat, decorative, brightly colored manner. The red and black plumage of the birds and the floating feathers from their altercation swirl around the canvas with animation. Despite her subject here, Ipcar's style retains some of the whimsy from her popular illustrations, and she succeeds, as she always does, in transforming her animal world into one of remarkable magic and mythos.
Complementing this primary retrospective exhibition, the museum has devoted two galleries to New England contemporary artists, DeWitt Hardy and photographer Verner Reed. Reed, who joined the celebrated staff of Life Magazine photographers with his coverage of the Rosenberg trial, moved to Pemaquid, Maine, in 1973 (and later to Falmouth) and continued to document events in New England's history in his strongly composed, atmospheric black and white images. These range from capturing the great and glamorous to the humble, from remarkably insightful and intimate photographs of then-Senator John F. Kennedy and Jacqueline to gritty images of working class Mainers like that of The Dowser or of Dreamland. In the latter, two women and three men of all shapes and sizes are seated on the steps of a run-down clapboard building topped by a sign that reads "Drink CocaCola;" they stare vacantly at the camera, speaking to the irony of lost hopes.
Hardy, who was born in St. Louis, MO, in 1940, now lives and works in Maine. His delicate, detailed watercolors reflect the influence of the American figurative tradition of artists like Andrew Wyeth, as well as the folk genre art of masters like Norman Rockwell. The large-scale watercolors displayed here are filled with muted color and intricate subtleties of line. The portraits take on a universality, and there is a disarming intimacy between subject and viewer, as well as a completely relaxed interplay between people and their natural or interior settings. The 1966 Seated Portrait of Pat in watercolor and graphite is a case in point. The young girl, dressed in robes of muted terracotta and blue turns her gaze away from the viewer. Her form has, at once, a rounded solidity and yet an ephemeral lightness. The same simplicity of composition, influenced by Japanese printmaking, can be observed in his 1974 Boy Asleep or in the earlier profile half-figure portrait of Kate, which recalls Toulouse Lautrec.
But perhaps it is his watercolor entitled Music Man which depicts an outdoor rural stage with costumed actors ready to play their roles in the Broadway musical that tugs so tenderly at heart. Because here on a warm verdant afternoon, one of Maine's delicious summer rituals comes to life – that of musical summer stock theatre. And Hardy with his birds eye view perspective looks down on the scene with a Rockwell-esque nostalgia. Then there is Hardy's uncharacteristic, non-figurative 1961 painting House at Ogunquit, a gift to the museum from Henry Strater, which shows an imposing Hopperish house in relief against a barren landscape with its solitary melancholy and resolve, itself a living entity in the cyclical drama of sand, sea, and sky.
The works displayed in the Ogunquit Museum's four galleries create an insightful microcosm of the artistic heritage of the town and of Maine and New England, themselves. This seaside village, as did several others in Maine, served as a refuge as well as a destination for American artists seeking to practice their craft in a setting from which they could draw inspiration not only from nature, but also from the fellowship of kindred spirits. The influence of the place can be felt in all these works, be they figurative, abstract, or landscape art. There is a commonality of feeling that emanates from these paintings, sculptures, and works on paper. It speaks to a solidity of form and feeling, to a tangibility of shape yet an immensity of spirit, to a harmony of human life in its greater context of earth, and sea, and air.
Cover Photo - Jordan Freedman