What is it about the retirement of a ballerina that is so uniquely poignant? Is it because ballet is the only art form that exiles artists solely because of age or injury? Because of the injustice that these dancers are at the pinnacle of their artistic expression as the body begins to fail them? The melancholy of knowing that we will never again see her or him dance the roles we have so loved? The worry that the dancer is now fearfully facing a world devoid of all that has sustained her—the thrill of learning new choreography, the camaraderie, the partnerships, the music, costumes and applause, even the arm-loads of flowers?
Aurélie Dupont has spent the past thirty-two years dancing in the studios of L'Opéra national de Paris, initially as a ten year-old student and finally as Etoile, the highest rank and comparable to principal in American companies, where she has been muse to choreographers and the favorite of audiences. Her final role, last month, was Manon in L'Histoire de Manon choreographed by Kenneth MacMillan in 1974. For her performances an Italian guest artist named Robert Bolle was brought in to portray her doomed lover, Des Grieux, in this tragedy based on the 1731 novel of L'Abbé Antoine-François Prévost, L'Histoire du Chevalier Des Grieux et de Manon Lescaut. Two special programs elaborating Aurélie Dupont's career were also aired in May on French television. One was shot the evening of her final performance as Manon on May 18 and the other was a documentary about her life as a world-renowned ballerina.
I had the great fortune of attending L'Histoire de Manon at Palais Garnier earlier in May and emotions were already running high. The house was completely full and the anticipation of her entrance built as the opening scenes unspooled. Set in the Regency period of France just after the demise of Louis XIV, MacMillan emphasizes this era's loose morals, opportunistic characters and the mingling of the obscene rich and desperate poor.
As the story begins, the fortunes of Manon and her brother Lescaut have shifted for the worst and Manon, under Lescaut's charge, is being sent by carriage to join the convent. Her calèche stops en route at a hotel in Paris where she finds Lescaut in the midst of a raucous crowd that includes brashly dressed actresses, opulently attired gentlemen, thieves, beggars and other sordid types. As she descends from the coach, Lescaut notices that the older gentleman who had shared the ride with her has become smitten by her fresh beauty and naïveté. Two other men in the crowd notice her as well: a student from a good though not well-endowed family named Des Grieux (Roberto Bolle) and a wealthy financier, Monsieur G.M. (Benjamin Pech).
Aurélie Dupont's fresh and youthful Manon appears to barely touch the ground as she zings with excitement over her surroundings. Costumed in a modest light blue and off-white dress, she floats about the crowd taking it all in with her large, expressive and curious eyes. Once she notices the terribly handsome Des Grieux it is coup de foudre. Love at first sight. Their playful flirtation swiftly leads to a plan to run away together. Her brother Lescaut does not notice her departure because he is distracted by negotiating (more colloquially called pimping) with the man from the carriage who would like to spend more time with Manon. Lescaut then interrupts an attempted pick-pocketing of Monsieur G.M. and to secure his release the would-be thief discloses to Lescaut that his sister has departed with Des Grieux.
All of this action, and much more, is masterfully choreographed by MacMillan who uses the entire stage with wit and a light touch. The sets and costuming (Nicholas Georgiadis) and lighting (John B. Read) were bright and colorful, emphasizing the constant movement and shifting relationships, fortunes and agendas of the various characters roaming, animating and disrupting the scene.
Lescaut manages to interrupt the couple's departure and convinces both Manon and Des Grieux that they will all be well-served by allowing Manon to take advantage of the attentions she is receiving from wealthy suitors, especially Monsieur G.M.
Act Two is another wild group scene in the gambling den at the Hôtel de Transylvanie presided over by Madame and her beauties including one who cross-dresses as a young man.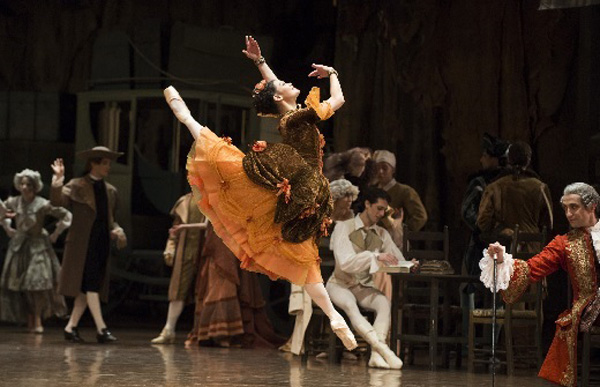 MacMillan makes plentiful use of the split-legged leap most famously associated with Kitri's exit in Don Quixote. The ballerina tosses her rear leg in the air bending it at the knee and arching her back so that she appears to nearly reach the back of her head with her toes. Here it symbolized departures as well as a feeling that everything is temporary and each moment must be seized to the fullest. The mistress of Lescaux (Alice Renavand), pictured above, encourages Manon to learn the ways of a courtesan by showing off her best moves. Her movements are forced, aggressive and bordering on vulgar. Aurélie Dupont's Manon begins to betray signs of her wavering character yet she is never brash or overdone. Above the complicated and conflicted depths of her still youthful personality, there is innate elegance and a hint of restraint.
Having fully transformed herself into a courtesan, Manon appears in a heavy brocade dress and loaded with jewelry. Multiple men vie for her attention as the other women try to distract them but Manon floats above it all, cool and aloof. Aurélie Dupont is a mature artist who allows her character to evolve within a tight shell. Her every move etches clean lines including those made by her high cheek bones and expressively arched feet.
Still wavering between Monsieur G.M. and Des Grieux she divides her attention among the various competitors for her attention. Finally she convinces Des Grieux to raise some cash by cheating at cards against Monsieur G.M. Caught in the act, a sword fight ensues and in the chaos Manon flees with Des Grieux only to be caught and accused of prostitution. She is sentenced to exile in Louisiana and the lovesick Des Grieux follows her to this land of the unholy ghost.
MacMillan created an emotionally riveting pas de deux as the third act. Manon and Des Grieux have fled to the marshes, sick and starving, where they succumb to their love and she perishes in his arms. Though feeble she dances with passion and abandon throwing herself into his chest after repeated triple revolutions in midair. Aurélie Dupont allowed no melodrama. Instead she gave a performance grounded in nuance—pure, abstract and almost disembodied. Roberto Bolle as Des Grieux showed off his virtuosic technique throughout but also allowed for warm moments of tender connection between the two lovers.
At the final curtain, the entire audience of the historic Palais Garnier rose to their feet and gave the couple an ovation lasting over ten minutes. Overcome by emotion, she covered her face with her hands and allowed herself to sob as her gallant partner stepped humbly to the side, gesturing toward her with open arms. Mesdames et Messieurs, voici Aurélie Dupont, étoile de L'Opéra national de Paris.
In the finale of San Francisco Ballet's 2015 season, even Sarah van Patten's flawless performance as Juliet could not salvage Helgi Tomassen's tiresome 1994 Romeo and Juliet choreography. Nor could the opulent sets, the colorful and textured costumes, nor even the San Francisco Ballet Orchestra's spirited performance of Prokofiev's score conducted by Martin West.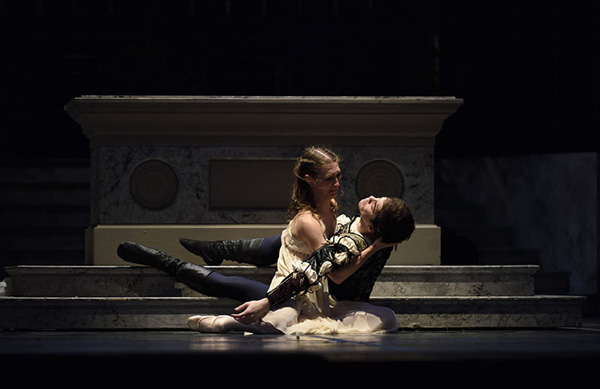 Sarah Van Patten's Julia grew from the childish prankster who plays hide-and-seek with her nurse into the heartbroken lover who stabs herself upon finding her Romeo has killed himself. Her lines were picture perfect and her graceful leaps soared with emotion. Partnered by the young Cuban Carlos Quenedit, their characters' immaturity and runaway passion drove them to inevitable ruin. Though she appeared much more comfortable in the role (she's danced it for fifteen years) and brought more depth to her character, he was convincing in the fear and glimmer of remorse that he showed after his deadly confrontation with Tybalt.
Tomasson's choreographic style is marred by his insistent use of repetition. He puts together a series of steps, nothing remarkable, and then has the dancers repeat the phrase sometimes only once, sometimes over and over. These predictable patterns are a transparent way of using up time and serve no narrative or lyrical purpose. Juliet's solos contained the same movements and motifs interrupted only by the overuse of mime to drag out scenes such as the confrontations with her parents who are trying to force her to marry Paris. Van Patten's body language said it all so clearly that the mime became redundant.
The choreographer is somewhat more interesting with the sequences he develops for men and he is enormously successful in recruiting, training and keeping excellent male dancers in the company at all three levels, corps de ballet, soloist and principal.
Romeo and his fellow Montagues Mercutio (Pascal Molat) and Benvolio (Hansuke Yamamoto), got to spend lots of time in the air executing daring combinations of jumps and leaps. Their confrontations with the bully Tybalt Capulet (Anthony Vincent) let them show off their formidable sword-fighting skills. Molat's Mercutio was a playful trouble-maker who seemed to be taken way too seriously by Vincent's Tybalt. For the sake of building the gravity of the double murder at the end of Act II, both could dial back the camp a bit. As Tybalt's mother, Sofiane Sylve was a gorgeous Lady Capulet. Her front and center presence in the court dances was riveting as she moved with simplicity, elegance and just the right touch of aristocratic haughtiness.
Photo Credits - (cover photo) LK Aubert; Marianne Bouzonie / Opéra national de Paris; Julien Benhamou / Opéra national de Paris; Erik Tomasson/San Francisco Ballet