In their 1980 book The Golden Turkey Awards, Michael and Harry Medved had a throwaway line about The Philadelphia Story and National Lampoon's Animal House representing the extremes of film comedy—two movies that were both movies, they said, but that possessed nothing else in common. The Medved brothers obviously did not anticipate 2016, when two even more disparate comedies—Shane Black's The Nice Guys and Whit Stillman's Love & Friendship—were released to great acclaim.
The Nice Guys is set in Los Angeles in the late 1970s, about the time Animal House was made, and it has much of the anarchic spirit of the earlier movie while far exceeding it in raunchiness. We get the picture in the first scene, in which a boy sneaks a look at his father's porn mags, and is interrupted by a sports car crashing into his house. The car's dying driver is the centerfold of the month, just as naked as she is in the pictures.
The main characters of The Nice Guys are Jackson Healy (Russell Crowe) a legbreaker for hire, and Holland March (Ryan Gosling), a semi-sleazy private detective. When we first see March, he is taking a missing-husband case from an elderly woman whose husband is obviously in the urn on the mantelpiece.
The Nice Guys can be described as a not-quite-buddy movie. Healy and March first encounter each other while working separately on the same case: March has been hired to find Amelia (Margaret Qualley), a young woman mixed up in the porn trade, and Healy has been hired to make sure that anyone looking for Amelia is forcibly dissuaded from doing so. Healy and March meet when Healy arrives at March's house to give him a spiral fracture of the arm.
However, when goons show up at Healy's apartment to give him a beatdown, Healy decides he and March should make common cause to find Amelia. Unsurprisingly, March is not enthusiastic about becoming Healy's partner, but soon events persuade him to join Healy in a walk on the wild side, into the most fetid depths of L.A.'s porn and drug trades. Here they must deal with multiple murders, multiple arsons, an assassin nicknamed John Boy (Matt Bomer) for his resemblance to that TV character, and a porn tape with an imbedded message indicting the auto industry for contributing to air pollution. "Let me get this straight," March says in learning about the porn tape. "You made a porn movie in which the point was the plot?"
Some critics have compared The Nice Guys to Deadpool, a movie I haven't seen. I found The Nice Guys comparable with Kingsman: The Secret Service, a film that was enjoyable as long as you could stomach heaping portions of mayhem and gore. The laughs are bigger in The Nice Guys, thanks mostly to Gosling, who is screamingly funny--emphasis on screaming--whether inflicting mayhem on himself or receiving it from others. Crowe is the world-weary Abbott to Gosling's perpetually victimized Costello. Crowe could also be considered the Danny Glover to Gosling's Mel Gibson, since The Nice Guys bears more than a passing resemblance to the Lethal Weapon movies and to any number of L.A. noirs ranging from Reservoir Dogs to L.A. Confidential. (The resemblance between The Nice Guys and
L.A. Confidential is underscored by the presence of Kim Basinger, Crowe's L.A. Confidential leading lady, in a
supporting role).
The Nice Guys needed a gentle presence to cut through all the violence and profanity, and it has one in Angourie Rice as March's 13-year-old daughter Holly.
Rice not only holds her own with Gosling and Crowe, but also serves as the film's moral governor, curbing the more vicious instincts of her father and his new partner. The Nice Guys holds out the possibility of a sequel at the end, and it would be pleasant to see Crowe, Gosling and Rice work together again. Whether anything else about The Nice Guys could be considered pleasant is up to you, although the film is extremely entertaining for those with thick enough hides.
Love & Friendship is also extremely entertaining, and in its own way alarming, although its action and dialogue are incomparably more genteel than in The Nice Guys. Based on Lady Susan, an early novella by Jane Austen, Love & Friendship is set in England in the waning years of the 18th century. The opening scene depicts Lady Susan Vernon (Kate Beckinsale) being unceremoniously ejected from the estate of Lord and Lady Manwaring (Lochlann O'Mearain, Jenn Murray) for doings considered too scandalous to discuss in polite society.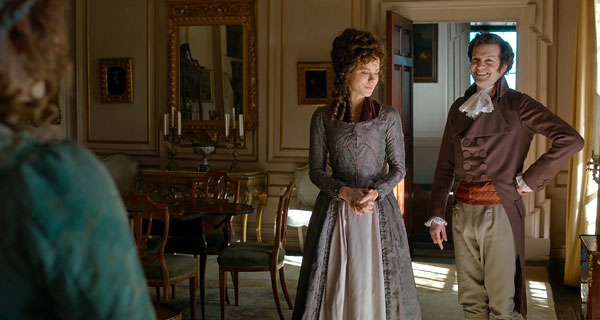 Lady Susan is an upper-class widow who finds herself financially embarrassed after her husband's death. (Although it is never stated outright, the strong implication is that Lady Susan's own profligacy is to blame.) Forced to retreat to the home of her in -laws (Justin Edwards, Emma Greenwell), Lady Susan immediately embarks on a plan to rectify her situation by marrying Reginald De Courcy (Xavier Samuel), the handsome, naïve young heir to a considerable fortune, and marrying her daughter Frederica (Morfydd Clark) to the wealthy but chuckleheaded Sir James Martin (Tom Bennett).
Lady Susan confides her plans to her only close friend, Alicia Johnson (Chloe Sevigny). Alicia, an American Tory forced out of her homeland by the Revolution, must meet with Lady Susan secretly because her husband (Stephen Fry) has threatened to send her back to Connecticut if he catches her with Lady Susan again. "Too old to be governable—too young to die," Alicia says of Mr. Johnson.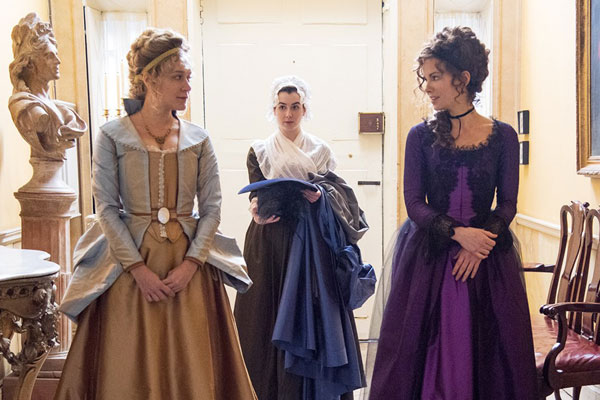 Lady Susan finds Frederica's lack of enthusiasm for marrying Martin a puzzling and intolerable annoyance. Ungrateful children, she remarks to Alicia, are worse than rebellious Americans. Meanwhile, Martin—who loves to boast of the agricultural innovations he's making on his estate—is utterly mystified by the peas on his plate. "Tiny green balls," he says. "A fellow could make a packet off them!"
Love & Friendship is the story of the swath Lady Susan cuts through the society of her time, by dint of flouting its morality while following its manners to the letter. Her peers are dumbfounded by her speaking openly of how she would dishonor Mrs. Cross (Kelly Campbell), her servant-companion, by offering to pay her. But they can say nothing about it, because Lady Susan leaves them no opening to do so. She is closer to Thackeray's Becky Sharp than to any other protagonist in the Austen canon, and indeed the dialogue in Love & Friendship sounds considerably more Wildean than Austenesque. I have never read Lady Susan, but I understand that Stillman took considerable liberties in adapting the novella to the screen. The plot twists toward the end of the movie, which would never have been countenanced in Austen's time, tell us as much. (The closing credits recommend that we read Lady Susan, "in which the character of Lady Susan Vernon is totally vindicated.")
Lady Susan is the best role Beckinsale has had in years, and she makes the most of it. Alluring and commanding in equal
degrees, Beckinsale's Lady Susan recognizes no one as her equal (with the possible exceptions of Alicia Johnson and Lord Manwaring), and she canters through society with the assurance of a thoroughbred in a herd of donkeys. The entire cast is praiseworthy, but special mention must be made of Bennett, who makes of Martin a most lovable twit. Bennett even steals the film's publicity poster.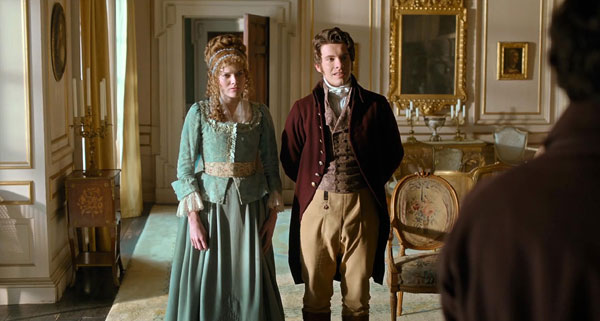 Love & Friendship is unusually beautiful even for a period film; honors for that go to cinematographer Richard van Oosterhout, production designer Anna Rackard and costume designer Eimer ni Mhaoldomhnaigh. The film is a superb example of one that portrays the most unruly human emotions in the most courtly manner, compelling all viewers to listen closely to the intricate and nuanced dialogue. It's not exactly the sort of film that would attract fans of The Nice Guys. But viewers of eclectic tastes will find ample laughs in both movies.