Is prostitution the most inspiring subject of all time? While the brilliant exhibition at Musée D'Orsay: Splendeurs et Misères, Images de la Prostitution, 1850-1910, continues its run in Paris through January 17 (q.v. November Scene4), the Bolshoi Ballet is staging John Neumeier's La Dame aux Camélias which may be the most inspirational tale of a courtesan among fierce competition. Numerous novels, infinite theatre pieces, no less than Verdi's opera La Traviata have all been based on the original roman à clef published in 1852 by Alexandre Dumas, fils. He fell hard for her as did his dad. A century and a half has not dulled the pain of his father's treachery nor that of her demise.
As a boy growing up in Milwaukee, Wisconsin, in the 1940s and 50s, Neumeier dreamed of being a musical theatre director. It couldn't have been easy for him in America's heartland at a time when a man shouldered the responsibilities of sheltering his wife and children by more conventional means. Instead he landed in ballet class and eventually moved to Europe where he became the protégé of John Cranko, director of the Stuttgart Ballet. He created his first work there in the mid-60s and after Cranko's untimely death, a decade later he rose to the challenge of both artistic leadership and choreography-on-demand. In 1978, the Stuttgart Ballet approached him about creating a full-length piece and he chose La Dame aux Camélias. The work, though often revised, lives on in the repertoires of both the Paris Opera Ballet and the Bolshoi, where it was recently simulcast in movie theatres around the world. Not bad for an outcast kid from Wisconsin.
The Bolshoi is trying to redeem its reputation from an angry self-destructive dinosaur to the artistically relevant, world -renowned and historically significant company that it is. And, to some extent, it's working. They're enjoying their most successful season in years.
After decades, if not centuries, of artistic policies and practices that promoted everything from propaganda to vulgar displays of competitive bravura, bribery and cronyism, back-stabbing and blackmail, the company's reputation hit an all-time low in 2013. During a near white-out of a blizzard near midnight in early January, the relatively new artistic director, Sergei Yurevich Filin, arrived home after a long night of schmoozing in Moscow. An unknown man wearing a scarf to partially obscure his face greeted him and brandished what Filin thought to be a gun. It was a jar of sulfuric acid and the assailant threw it into Filin's face instantly blinding him.
The atmosphere at the Bolshoi had become so toxic that Filin and his upper echelon colleagues brushed off the frequent threats of physical violence that filled their various voice and mail boxes. Shortly after the attack, a dancer in the company named Pavel Dmitrichenko confessed to hiring a hitman to harm Filin though he maintains he did not know about the acid. His reason: he didn't like the company's policies and practices.
Filin has undergone dozens of surgeries, mostly in Germany, and has finally regained some of his sight while retaining the leadership of the Bolshoi. David Remnick, editor of the New Yorker and former resident of Moscow has written about the incident in his magazine. Describing the widely held view that the Bolshoi is a microcosm of Russia's larger societal woes, he wrote:
"What happens in the theatre reflects what is happening in the streets. Russians, in the contemporary version of their fatalism, see their country as a landscape of endless bespredel, lawlessness, a world devoid of order or justice or restraint."
Nonetheless, Dmitrichenko and his accomplice are serving prison sentences.
The woman largely responsible for rehabilitating the Bolshoi's reputation is Katya Novikova, the company's press attaché. She acted as host to the recent world-wide screening of "La Dame aux Camélias" and held court during both intermissions interviewing various dancers and explaining different aspects of the production in no less than three languages simultaneously (Russian, French and English). Impressive!
According to her, the Stuttgart Ballet contacted the relatively young and unknown choreographer John Neumeier in the mid-70s after the unforeseen death of their artistic director, another American, John Cranko. Neumeier found inspiration in the Stuttgart's acting artistic director, the Brazilian beauty Marcia Haydée. Exhausted after a long day of rehearsals and administrative matters, she reluctantly dragged herself to the late evening meeting with Neumeier to discuss what he might do. He had been talking about a piece based on the life of Cleopatra. However, seeing the fatigued Haydée before him, he immediately changed his mind and decided to revive another idea: La Dame aux Camélias. Haydée would play the role of Marguerite and he asked that she looked exactly as exhausted as she did that evening when she faces her death in the final scenes.
The story, as Neumeier tells it includes a ballet within a ballet, a devise he also employed in his celebrated Nijinsky. La Dame aux Camélias is unspooled entirely in flashback. It begins with the auction of Marguerite Gautier's belongings inside her lavish apartment. She has died and along with her maid, Nanina, Monsieur Duvall père et Armand Duvall fils, we see various Parisians milling about looking at the spoils of a famous courtesan who had, in her brief life—she died at age 30—set standards for fashion and furniture, held coveted salons, and consorted openly with a well-known Duke. As Armand walks through the apartment touching various of her objects, articles of clothing and accessories, each brings back a stream of memories that he shares with his father and Neumeier animates on the stage.
The first time Armand (Edvin Ravazov, brought in from Neumeier's own Hamburg Ballet) sees Marguerite (the otherworldly Svetlana Zakharova), they are attending a performance of Manon Lescaut based on the 18th century French novel about another ill-fated courtesan by Abbé Prévost. Marguerite is distracted by her strong feelings of repulsion toward the morally suspect Manon who deceives her true love, the virtuous des Grieux, because she cannot resist the entreaties of numerous other men. Ravazov embodies the coup de foudre (love at first sight) with a charming, full-bodied innocence while Zakharova's Marguerite is at once overwhelmed by her feelings of revulsion toward Manon and too busy cavorting with her friends to more than simply take notice of Armand. Eventually he receives an invitation to her apartment and she finally takes him and his confessions of love seriously. The love scene that follows is among the most interesting and rewarding choreography of the evening. Neumeier does not try to dazzle with creativity nor inventiveness. His movements are simple, allowing for the emotion to be expressed through interpretation. This pas de deux, their declaration of love and mutual promise to a secret love affair, is all long-arching lifts between which Zakharova barely touches the ground, her endless arms and legs and impossibly flexible back carving ribbons through space. While Revazov is convincing in his puppy love, he is also as solid a partner as anyone could wish. His long and solid legs, sure hands and square shoulders provide her infinite freedom to throw herself into the abandon of love.
Act II of the full evening of choreography takes place in the countryside where Marguerite's patron, the sturdy Duke (played with severity by dark and dashing Alexander Fadeyechev), has given her and her friends access. Among her set, Prudence Duvernoy (Kristina Kretova) and Gaston Rieux (Mikhail Lobukhin) are the always ready, high-energy up-tempo duo accompanying Marguerite wherever she goes. Again Neumeier's choreography is unoriginal but he gives them plenty to do and they do it with great flair. Though already feeling unwell and occasionally collapsing into spasmodic coughing fits, Marguerite is lively and playful, ricocheting from friend to friend until the Duke enters and demands an explanation. She confesses her love for Armand and the Duke storms out.
Returning to the scene of the auction, Armand's father, Monsieur Duval confesses to his son his regrets for having interjected himself into the story at this point. A stoic and rather stiff Andrei Merkuriev, Monsieur Duval admits that he held a solemn meeting with Marguerite and out of fear that she would ruin his son, demanded that she stop seeing him immediately. Fearing that she would indeed ruin him in much the same way that Manon betrayed des Grieux, Marguerite agrees and after breaking Armand's heart, she returns to the Duke.
The third act begins with Armand recalling for his father how he once again saw Marguerite, by chance, walking with another courtesan named Olympia along the Champs-Elysées. Taking his revenge against her for hurting him, he retaliates by seducing Olympia. When Marguerite comes to Armand begging him to stop hurting her by cavorting with Olympia they unite once more but in a much more somber mood as Marguerite is now deathly ill. Zahkarova is thin as a popsicle stick and when she coughs her body ripples as if boneless. Still obsessed by images of Manon Lescaux (danced with drama and pathos by Anna Tikhomarova), she sleeps fitfully in Armand's arms while dreaming of Manon's own death, living in exile, sick and impoverished. She awakens and leaves Armand for the final time.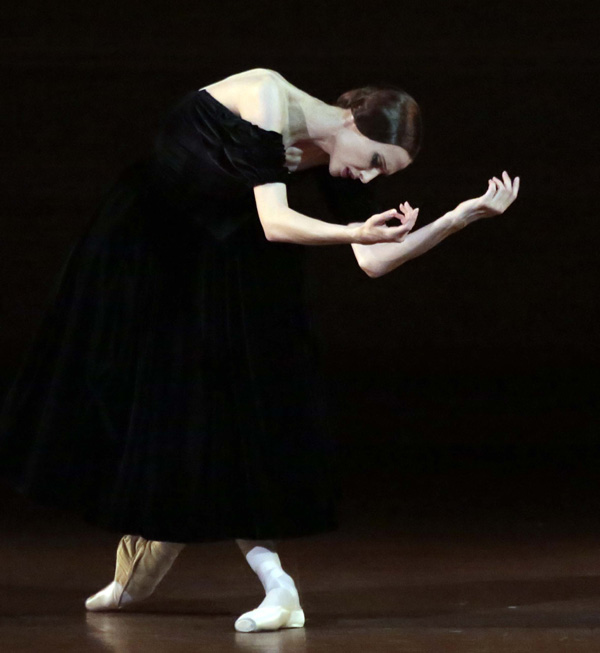 Dying, alone in her bedroom she writes her true feelings in a diary and gives it to Nanina, her maid. In the final scene of the ballet, Nanina gives the diary to Armand. We see him reading it as Marguerite dies.
Danced by another company this choreography could be clichéd and vapid but the Bolshoi dancers, and especially Mr. Revazov from Hamburg Ballet, allowed themselves to express the passion without self-consciousness and hesitation. Performed entirely to works by Frédéric Chopin, some with full orchestra, some with two pianos (one on stage, one in the orchestra pit), with staging, lighting and costumes by Neumeier, every aspect was thoughtfully conceived and executed by a committed company trying to find the road to redemption.
Photos courtesy of Pathé Live and
the Lark Theater, Larkspur, CA.