Composer and jazz pianist Tobin Mueller has recently completed a masterworks trilogy of recordings in which he explored three giants of Western music and then let these composers inspire him to write his own works, based on his listening and playing experiences. The process has proved to be an intense journey for the Connecticut-based musician – one that has allowed him to enter into the psyches of The Impressionists (Debussy, Ravel, Satie, Faur├ę, Carpenter), Bach, and Chopin and to discover the intersections between the musical language of these geniuses and his own eclectic, jazz-based voice. Not only have these three double-CD albums proved to be revelatory about the technique and essential modernity of these forebears, but they have allowed Mueller to discover his own kinship with these composers, to inhabit their world and to understand their music and his own in the larger contexts of history, visual art, and literature.
Each of the three self-produced albums is a labor of love to which Mueller has brought his numerous other talents as a photographer, a poet, and an astutely analytical mind.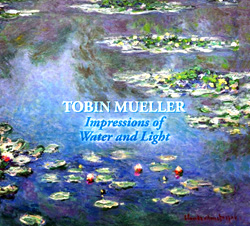 Beginning with Impressions of Water and Light in which Mueller produced a handsome CD booklet with insightful commentary and paired each musical composition with Impressionists' paintings and continuing in Flow: The Music of J.S. Bach and Tobin Mueller where he paired 18th century images with modern paintings, and finally in Of Two Minds: The Music of Frederic Chopin and Tobin Mueller where he used not only Romantic era art work, but also extensive references to the literature of the time, especially to the writings of George Sand. The inter-relatedness of disciplines is something which sparks Mueller's fertile imagination and reflects his protean talents and tastes.
Tobin Mueller has spent his entire career in the arts, as a jazz pianist and singer, as a playwright and lyricist of musical
dramas, as a writer and poet, and as a photographer and graphic artist – all these endeavors in addition to his composing. His grandfather had been a violinist for the silent films, and his mother had been a jazz vocalist, so perhaps music was his birthright. Born in Wisconsin, he studied musical composition, physics, and journalism at the University of Wisconsin and Marquette University before coming to New York City to launch his artistic career. A gifted pianist, his various creative pursuits have taken him on a journey through musical theatre, progressive rock, modal jazz and New Age. He has written plays, ballets, symphonies, film scores, poetry and fiction. Five of his musical dramas were produced in Manhattan in the 1990s, among them Runners in a Dream (about a Holocaust survivor), and his off-Broadway show, Creature, based on the Frankenstein legend. Throughout all these diverse activities, Mueller has continued to compose and to record, producing many collaborations with jazz legends like Ron Carter, Woody Mankowski, and Donny McCaslin, as well as solo piano recordings such as Midwinter Born, Thirteen Masks, and before illness impaired his singing, albums of favorite covers and original songs.
LISTEN: Time as an Emergent Phenomenon
from Of Two Minds
Tobin Mueller, now in his sixth decade, suffers from A1AD, an autoimmune, genetic lung disease that has been exacerbated by his volunteer efforts at the World Trade Center in the wake of 9/11. His beloved sister died of the illness when Mueller was fifteen, and he, himself, was diagnosed with it at fifty-four and given only eight to ten years to live. This somber sentence seemed to spark a new burst of creativity in Mueller. "My health was dramatically declining. I couldn't really sing any more; I needed to avoid stress; and I easily became exhausted, so I began to work more in the studio and stopped all live performances. I decided I would make a recording that could be given away at my funeral. One of my favorite pastimes has been to play piano for my wife after dinner – usually covers of songs by Bob Dylan, Billy Joel, Elton John, Broadway tunes. I wanted to preserve them in case I weren't able to sing or play any more. I had never recorded covers of other people's music before, but as it turned out, these recordings got a good deal of airplay on Spotify and other internet music venues. After that I recorded a Christmas album [Midwinter Born], and then I decided I wanted to do something meatier, so I embarked on Impressions of Water and Light, which explored the Impressionists. I realized how fulfilling it is to go back to my classical training after a career of playing solely my own music."
Mueller says he can trace this initial choice of musical subject matter to his own fascination with both Debussy (his grandfather's favorite) and Gershwin (his mother's favorite) and the connections musical between the two. Mueller decided to create Gershwinesque jazz arrangements of the Impressionists that wove in his own original material - a give and take highlighting the relationship between artistic influence and compositional creation. "I thought that all my arrangements would have a jazz feel to them, but as I worked, I found myself retaining more of the Impressionist stylings. I began to think of the whole project as evolutionary – as the combining of jazz, Impressionism and New Age, all in a single new form."
In this first album, as in the three subsequent ones, Mueller describes his process of creating the arrangements and the original compositions by saying: "I begin by playing from the composer's score, but sometimes I didn't get too far before I would start messing around. My intent wasn't to make it so different that you couldn't tell what the melody was, but at the same time I didn't want to quote, but rather to expand from the original music." This involves Mueller playing the piece over and over, then putting the music aside and playing from memory, seeking the emotion in the work. Little by little his own take on the work emerges.
The same is true for the original music Mueller then wrote after having immersed himself in the older composers' works. Speaking about the recently released Chopin album, Mueller says he can identify with Chopin's "heroic struggle" to put onto the page the music he first heard in his head. "All music starts as inspiration and improvisation, but at some point, as you keep playing, you ask yourself, 'Will I remember what I just did?' You begin to write it down. Is it the same? You second guess the original inspiration, smooth it out, add variations and what you hope are improvements. It's a struggle to capture that initial sense of freedom and discovery."
LISTEN: Chopin's Polonaise Op. 53 in A-flat Major, arranged by Tobin Mueller
In the case of each of these albums, Mueller produces some stunning compositions of his own in which one can feel the original inspiration of Debussy, Bach, or Chopin, but whose voice is singularly his own and refreshingly modern. In each
case, the juxtapositions serve to highlight some fascinating connections and counterpoints. For example, in the Chopin double disc, Mueller has composed three, three-movement sonatas that explore the junctures of quantum physics and music, the fluctuation between linear and non-linear time, and the vacillation between dreams and reality. Citing the last movement of his Sonata of Quantum Entanglements, "Of Two Minds," Mueller gives an example of his imaginative process. "For each of these sonatas I first listened to and played through a Chopin Prelude for inspiration. In the last movement I started with two related Preludes (no. 1 and No. 14), one in a major key and one in a minor. I began by piecing them together, playing alternating phrases, one major, one minor, back and forth, and loved the interconnections between the two. I finally decided to write a piece moving between keys to suggest a balance of light and dark."
Mueller calls these albums his "conversations with composers." "There has been an intimate giving and taking, listening and responding, resulting not just in inspiration, but growth." He says in each case he has made discoveries which have caught him off guard. "With Bach, for example, I had to practice very hard to play his music, and as I did, I came to understand not only his technical brilliance, but also how many rules he broke. I ended up feeling an intellectual kinship for Bach. With Chopin, the kinship I found was more on an emotional level." He says that he often felt as if Chopin were sitting beside him on the piano bench as he played. Asked what he might like to say to Chopin were he really there, Mueller replies: "With Chopin I could sit and play in an effortless, attainable, contemplative
way. Even when there is loss or longing, there is a seductive beauty and a revolutionary energy that underpins it all, a sensual expressiveness rather than a deep introspection. So I guess I would say to Chopin, 'Thank you. I needed that. You made the joy of music effortless again.'"
Mueller also feels that Chopin's compositions represent a kind of diary, and this is something to which he, himself, as a composer can relate. "We share not only a musical vocation, but also the fact that we are both artists working with the burden of illness. Then, too, Chopin lost a sister to tuberculosis, and I lost mine to A1AD, and I suffer from the same ailment. It impacts my immune system, my nervous system, my stamina and strength, and especially my lungs. I hear in Chopin's music – and I am trying to impart this in my own music as well – this sense of mortality, but mortality that frames beauty, meaning, and an impetus to cherish. Time is an emergent phenomenon; it shades, highlights, and alters our experience. As we move forward, we expand our universe, but somewhere deep within, we remain a child no matter how old we are. And that innocent child can be the core around which our expanding universe evolves. We still need to play to help integrate our accumulated wisdom."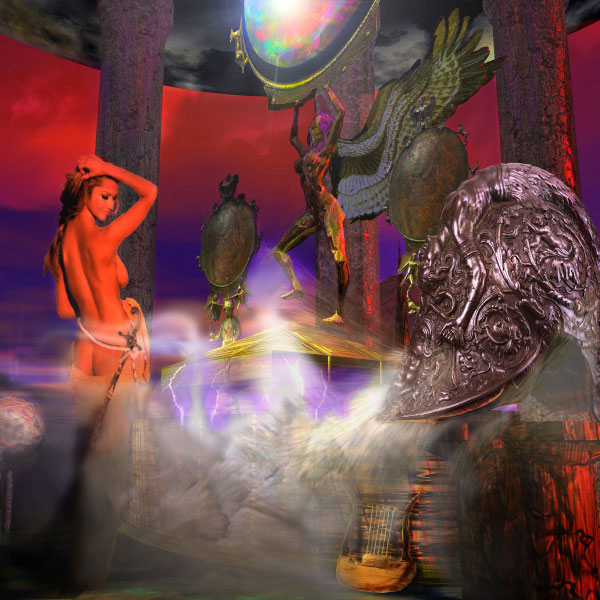 So how does Tobin Mueller intend to "play" – to switch gears from three such mammoth projects? He says his next project will be a return to one of his early loves – words. He plans a double album called Afterwords in which he will read from his favorite authors and play original music inspired by the quotes. "Words were always important to me; they were central to my career as a playwright. After I retired from scriptwriting to reduce my stress, I began to miss the written word. This new project will be a great way to incorporate words into my music again. There are so many pent-up styles of music within me that I haven't accessed yet and which I still want to explore. And it will be an exercise in musical storytelling, something I have always loved and found energizing!"
Tobin Mueller's website, www.tobinmueller.com, is an excellent resource to sample his music, his videos, his work as a visual artist, and to read many of his writings. His recordings are available on iTunes, CD Baby, and Spotify.