Emcharoen Art Gallery is a destination I want readers to visit. This gallery keeps a collection of art works done by Thai National Artist, Pratueng Emcharoen, who started his art career as a movie poster painter.
The gallery is located near the Mae Klong river. The evening atmosphere there is very pleasant, serene and clear as one can see the sunset here every day. This place is mainly run by Boonying Emcharoen, wife of Pratueng Emcharoen (she is a lecturer and artist) , her daughter Srisilp Emcharoen and a friend of her daughter. I met with "Khun Nam" (Srisilp) at the gallery in Kanchanaburi Province.
Kanchanaburi province was made famous in David Lean's Academy Award winning The Bridge On The River Kwai. The bridge was constructed across the Kwai River by prisoners of war and drafted Asian workers, amidst incredible horror and brutality, which the Japanese have yet to fully acknowledge.
You can visit the River Kwai Bridge at Tha Ma Kham, just northwest of Kanchanaburi. There are also two museums in Kanchanaburi, and a memorial to commemorate the dead. The River Kwai Bridge Festival is celebrated annually at the end of November-early December, with a Sound & Light Show telling the history of the Death Railway.
At first I knew Srisilp on facebook and we talked a bit before she went to the USA to visit her family and friends. I also ordered a limited edition book "Spirit of Art Retrospective 1963-2005" which was the compilation of Pratueng Emcharoen's works. In September 2016, there is going to be an art exhibition of Pratueng Emcharoen at the Bangkok Art and Culture Center.
Here is a brief interview with Srisilp Emcharoen:
JY: I would like to know about Emcharoen Art Gallery?
SE: Originally, my father, Pratueng Emcharoen, intended to build a house to keep all his paintings after he spent his money on education for his twelve children until all of them graduated. He did this because he wanted to make this establishment a place to collect, exhibit paintings and to do artistic activities for school children, students and anyone else who is interested in the arts.
JY: Tell me more about yourself?
SE: My full name is Srisilp Emcharoen. My first name was given by my father. I am the youngest daughter of the twelve children in this family. I am quite certain why my father gave me this name. Srisilp is the name directly related to art in the Thai language. Since I was born, my parents predicted that I would like to follow their footsteps as an artist because I saw them work on their paintings every day. This inspired me greatly, so I asked my father for drawing paper. In turn he gave me a sketching board, binder, some paper and a ballpoint pen. My father encouraged me to use pen instead of pencil because it would help me in the long run to draw without hesitation from right or wrong strokes. The results are that I have better self -confidence and my painting strokes are more sharp and stable.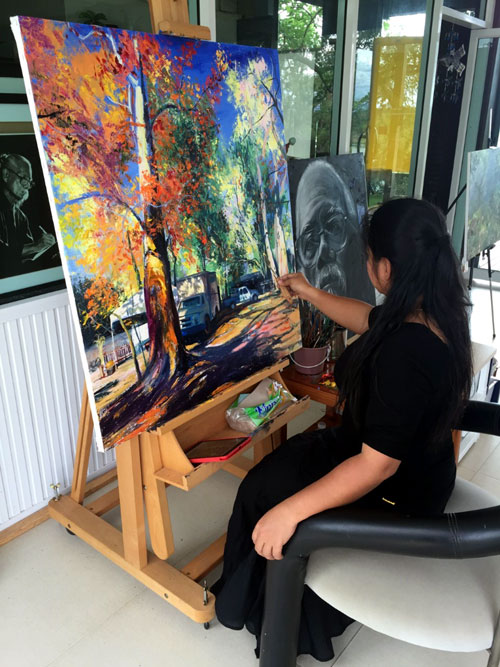 On many occasions, my father taught me and my siblings to play some outdoor games for young children like jackstones, throwing stones on cans, etc. Then he let us play together for a while. In the evening, if the weather was good and the sky was clear enough, he would bring us to look at the sky together. We just walked past someone's garden near our home. At that location there was a new housing construction site so the land there was wide open. It was so good that we could see the sky and stars so clearly without any obstacles. Thinking about that past moment, I found that the evening activity of our family was very memorable.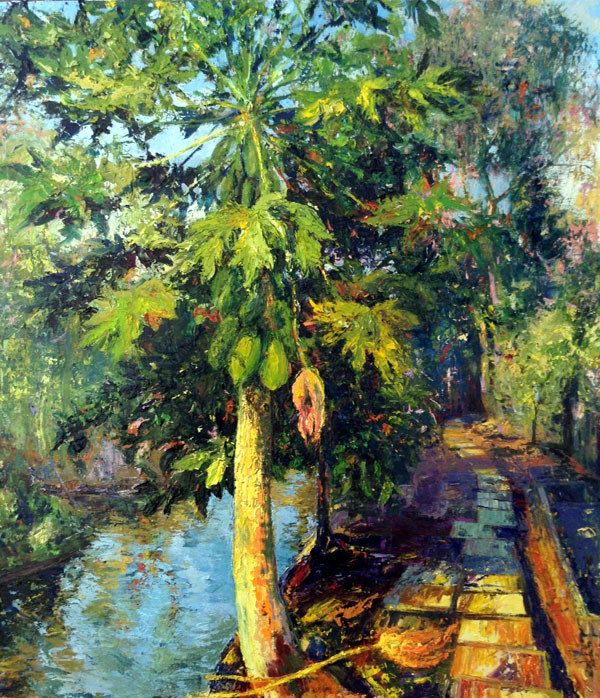 As the youngest child of the house, I usually followed my parents and brothers to various art exhibitions. Sometimes my father went to other provinces to do some work. If my school was closed during holidays, my mother allowed me to travel with her to see my father. Usually on weekends, my father took us on the bus to draw some pictures at rice fields near our home. My mother also prepared some food for lunch and dinner. I was lucky that in my childhood I was living with the family and purity of nature. Sunlight, in particular, is my favorite thing because I can feel the heat and liveliness from it. The sun's glitter on water is so bright and mesmerizing. This is one of the reasons why I strive to include sunlight in my paintings.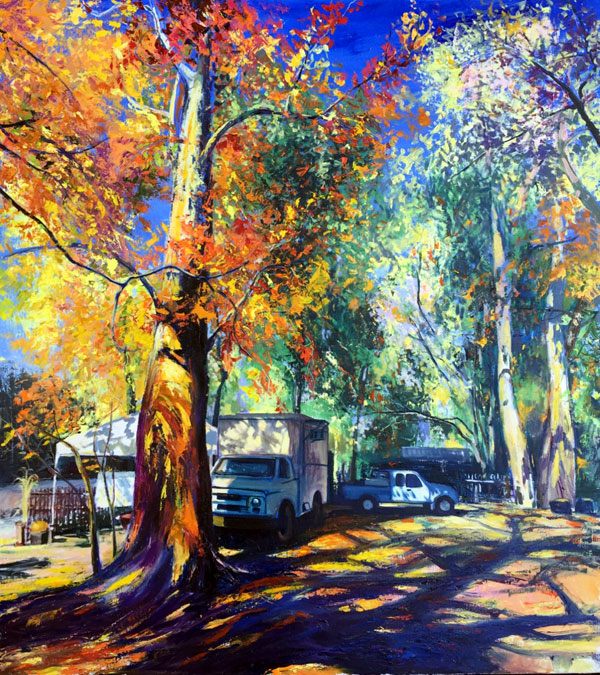 JY: I have heard that you have many responsibilities such as manager, housekeeper and gardener at Emcharoen Art gallery.
SE: After I got Bachelor's and Master's degrees in Visual Art (Contemporary Art) from Srinakharinwirot University, I wanted to be an art teacher because I love to teach art to students. However, at that time the construction of Emcharoen Art Gallery was completely finished. My father asked my mother to convince me and my friend to be the managers of the gallery. My father told me that the number of art teachers was not scarce so the country was fine without me as teacher but the gallery really needed me because no one except our family would understand and see its importance. Hearing that, I persuaded one of my friends who was an art teacher to resign from a teaching job help me to take care of the gallery.
In the first year of gallery's management, my mother and I planned exhibitions in the gallery. We held an exhibition every two months in one year. In that first year we had six exhibitions. But the problems were the low number of visitors who came to see exhibitions, and no art collectors to support the artists. Holding an art exhibition was very expensive so we had to revise our plan a bit by exhibiting only my father's paintings. In the fourth year we had a severe financial problem so my housekeeper and gardener quit. To save more money, my friend and I talked about this and decided to do everything by ourselves without hiring an additional housekeeper and gardener. We had to clean up the establishment and cut grass in the garden and parking area every day. The location was pretty large. The total land size was just a bit under 7 rai (11,200 square meters). I totally understood why my father had to work hard to earn money to buy this plot of land to keep his paintings.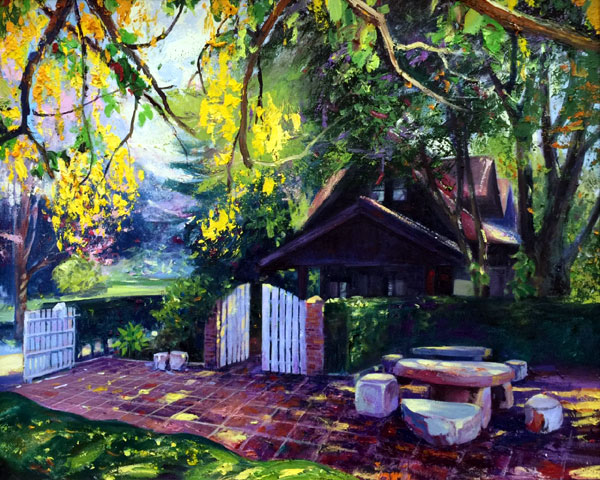 Although my father was a well-known artist, the sale of his paintings was still unpredictable. Each year if he could not sell his paintings, our family would be in debt because we didn't have enough money to take care of everything. But, my father did not think only for himself, he also decided to do something for the society we lived in as well. With his ideal, I will definitely try my best to take care of the Emcharoen Art Gallery as long as possible in my lifetime.
We struggled for just over a year until the financial problems were relieved and we got more income. The coming of a new housekeeper and gardener gave me much time to do my own works of art.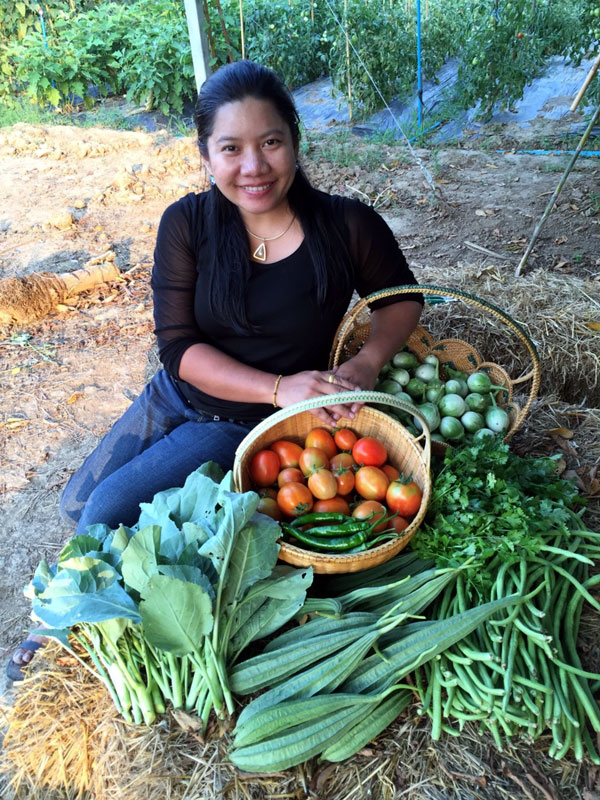 I also considered using the remaining land to cultivate fruits and vegetables. We flattened and prepared the land to plant various kinds of banana (around 25 species).
The frames for growing passion fruit, spring bitter cucumber and mulberry were also made. Moreover, we planned to grow some eggplants, long beans, tomatoes, basils, cucumbers and etc. Besides visiting the art gallery, I think it is good to walk in the garden full of vegetables and fruits. Visitors can buy fresh vegetables and fruits here. When the banana trees were around nine months old their blossoms were flowering. I was very happy with their growth and frequently observed their conditions. Two months later I saw birds fly out of a banana tree. Looking closer, I saw a bird's nest with two eggs. This was the first time I ever saw a bird's nest in a banana tree.
---
The gallery opens every Thursday to Monday from 9.00 AM – 17 .00 PM. It closes on Tuesdays and Wednesdays. There are souvenirs and handicrafts such as leather wallet, leather purses, pen boxes, keyrings, shirts, hats, bags, coffee cups and sketch books. There is a compilation art book (1963 – 2005) of Pratueng Emcharoen's work, art catalogs from various art exhibitions such as Rungmaeposop, Tongtalae, and books of poetry.