When photographer Edward S. Curtis finally completed his opus magnum, The North American Indian in 1926, it was a collection of twenty volumes and some 2200 photogravures that had taken him two decades to complete. The project commissioned by financier J. P. Morgan, became Curtis' defining achievement and one of the seminal works in that late 19th century-early 20th century American movement of Romantic Pictorialism in art and a similarly romanticized brand of anthropology and ethnology whose underlying misconceptions nonetheless proved ironically valuable to preserving an interest in—if not a completely accurate documentation—of native peoples.
Edward Sherrill Curtis was born into a farming family in Whitewater, WI in 1868, soon after moved to Minnesota, and then left school in the sixth grade due to the family's straightened circumstances. Always interested in photography, he built his own camera at an early age and when he was seventeen, apprenticed to a St. Paul photographer. He went on to co-own two photography studios in Seattle and garnered recognition for several photographs he had entered into the National Photographic Society's 1895 exhibition, one of which – an image of Mt. Ranier - won the grand prize. Another of his entries was a portrait of Native American Princess Angeline, the first of such images which would spur Curtis on to to his life's work. The Native American expert George Bird Grinnell took notice of Curtis and arranged to have Curtis appointed Official Photographer for the 1899 Alaska Expedition and later to join Grinnell on a mission to photograph the Blackfoot Confederacy people in Montana in 1900.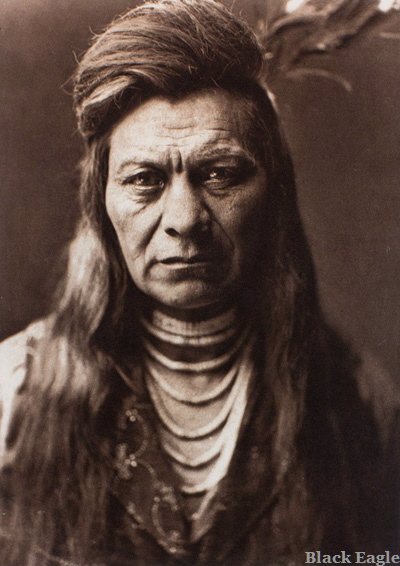 All this work drew the attention of J. P. Morgan who gave Curtis $75,000 to produce a twenty volume, 1500 photograph series on Native Americans over a five year period. Clearly, Morgan knew how to drive a shrewd bargain, because he stipulated that the money was to fund the costs of the expedition and writing, editing, and printing the books - not to pay Curtis any salary – and that Morgan would received twenty-five sets of books and five hundred original prints. Curtis, nonetheless, accepted the opportunity, though the actual endeavor took the photographer almost twenty years and some 40,000 photographs to complete. With Morgan's funding, Curtis was able to hire help with the project, including that of journalist William E. Myers, logistic advice from Bill Phillips, and anthropological and editorial expertise from Frederick Webb Hodge.
Curtis plunged into the task with a passion, not only producing twenty-five times the number of prints he wad been commissioned to do, but recording over 10,000 wax cylinders of Native American language and music, keeping extensive written records of native culture, customs, and tribal leaders, and even producing a feature-length silent film entitled In the Land of the Head Hunters with a cast comprised entirely of Native Americans, that premiered in 1914.
Regretfully, in addition to being plagued by an acrimonious divorce and alimony, Curtis was a poor businessman. Despite some of his ground-breaking work, he made very little money, selling rights to his work to men like Morgan or to the Museum of Natural History for fractions of their worth. He died impoverished in 1952 at the age of eighty-four. It was only some twenty years after his death that artistic attention was focused on Curtis, and he has gradually enjoyed a renascence as a photographer whose singular aesthetic and perspective were deeply imbedded in America's late 19th and early 20th century racialist thinking.
Curtis' interest in Native American culture must be seen in the context of the historical period in which he came of age as an artist. The late 19th and early 20th centuries spawned a number of artistic endeavors designed to understand and "preserve" non -Caucasian cultures in America. In music, for example, composer Charles Wakefield Cadman (1881-1946) was involved with the so-called "Indianist" movement in which he studied and incorporated elements of American Indian music into his own compositions. He is perhaps best remembered for beautiful songs like "From the Land of the Sky Blue Waters," which soprano Lilian Nordica made famous. Or there were the folklorists John Lomax (1867-1948) and his son Alan Lomax (1915-2002) made it their life's work to travel the country collecting, transcribing, and eventually recording American tunes for the Smithsonian. In the literary world heiress Mabel Dodge Luhan (1879-1962) fell in love with Taos, New Mexico (and with a Native American Tony Luhan, whom she eventually married), and she founded her art and literary colony there. And the list goes on. It was a period of ironies expressed not only in art, music, and culture, but in national policies. Teddy Roosevelt's Presidency, for example, espoused its own version of colonialism both abroad and in his tribal relations at the same time that it made great efforts in conservation and preservation of the "wildness" of the West.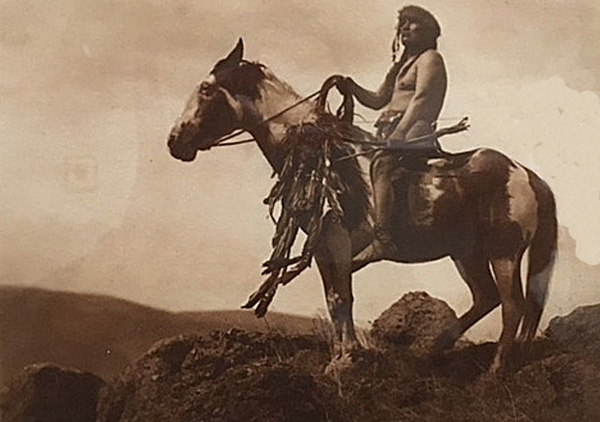 Curtis' photography reflects many of the same ironies, and it is now fashionable to question his "unscientific" research, his staged images "passed off" as real life photographs, and his romanticizing of the Native American tribes as "noble savages." Yet, as a small but insightful exhibition at the Portland (Maine) Museum of Art recently demonstrates, perhaps these hindsight judgments do not do Curtis' work justice. The twenty-two photographs on display here, taken between 1903-1930 for The North American Indian, speak to Curtis' skill not only as a technician but also as an artist, who, like Alfred Stieglitz, believed a photograph had intrinsic value as a work of art rather than a mere means of documentation. Moreover, they evidence an empathy and a genuine respect for his subjects. These are interpretations with an agenda – Curtis' belief he was preserving tribal heritages facing extinction – but at the same time, they are some of the finest compositions and studies produced by the early camera lens.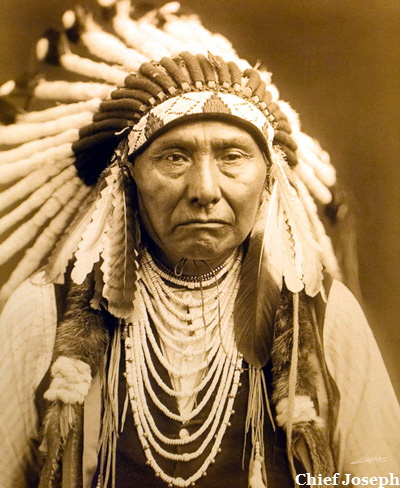 Curtis' prints reveal his fondness for sepia- toned, soft focus, dramatic lighting, and carefully balanced composition. He proves himself to be equally adept at still life, landscape, and portraiture, though it is in his human images that he achieves his finest work. Take, for example, the first image of "Grizzly Bear Ferocious," the Nez Perc├ę chieftain whose wizened face and penetrating eyes make him appear exotic and dangerous. Or the famous portrait of "Chief Joseph," who radiates dignity and sadness – a silent witness to the horrors his people have experienced. Or there is the captivating image of the young chief "White Bull Umatella" with a shawl drawn mysteriously across half his burnished face so that only the riveting eyes peer out. And there is the portrait of "Kyetani," a Wisham warrior wearing an elaborate headdress and rows of beaded necklaces that suggests both quiet, patient stasis and pent-up feline energy.
A Warrior
Then, too, there are the non-specific human images – figures posed in landscapes to evoke what Curtis believed were their native settings. Highly theatrical, they could be motion picture stills, and they vibrate again with the combination of stillness and kineticism. A warrior astride his pinto horse is a combination of meditativeness and dynamism. A group of braves on horseback ("On the Move Spokan") poses several men against a dramatic sky to suggest the hardy nomadic life style.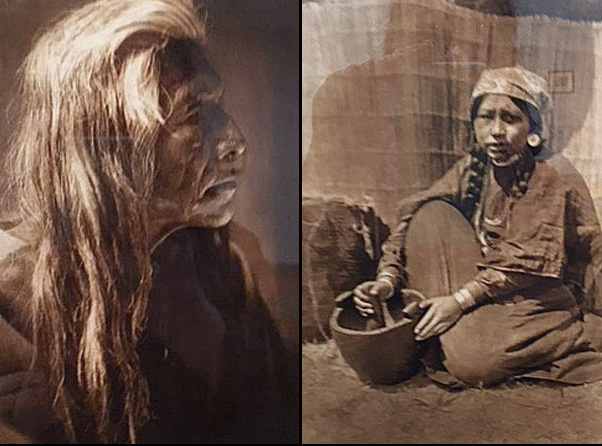 Curtis' female portraits are genre studies, depicting women in their traditional domestic roles as wives, mothers, and gatherers . Most have an hieratic quality such as the commanding profile of a "Wisham Woman" whose aquiline nose, wrinkled parchment skin, and intense stare compel the viewer. Or the "Cayuse Mother and Child" which takes its cue from iconic Christian images of this theme, and the endearing capture of a little boy on a horse ("Learning to Ride") that invites white Americans to identify with these universal themes. And sometimes the female sitter is adorned and posed, so that she, too, becomes a work of art, such as the hieratic woman in geometrically patterned garments with her similarly patterned baskets.
Among the few other photographs in the exhibition, there are several pure landscapes and still lives, which demonstrate the formalism of which Curtis was also capable. An image of "Tents" reminds of Cezanne's haystacks or a view of "Wind Mountain on the Columbia River" is born from the same American tradition that birthed the Hudson River School early in the 19th century.
Edward S. Curtis' photography may represent a spurious chapter in American ethnology and anthropology, but there is no question that the purely artistic values of his photographs are remarkable. Curtis's use of light and shade, his handling of the lens to evoke atmosphere, his skill at composition, and his sense of drama secure a place for these images in the history of photography. Moreover, besides the pioneering technical attributes of his work, Curtis demonstrates that he is an artist in a deeper sense: he believes his lens should reveal more than just the surface of his subjects, but rather, should evoke their spirit and soul.