As each San Francisco Ballet season comes to a close the inevitable questions arise: Who will retire this year? Will the retirements be sudden, silent and leave the audience without closure or will there be a tribute, a celebration, a curated evening of highlights? This year, one-by-one, three of the longest-serving and most-loved dancers announced their retirement and their departure was celebrated in high style with an entire evening devoted to celebrating each of them individually and all of them as a singular trio.
Opening the evening, Pascal Molat burst onto the stage for an excerpt from Renato Zanella's Alles Walzer. The standing-room only crowd burst into cheers and applause and the Frenchman elevated far above the stage in response. Known for his exuberant energy, the breadth and depth of his characterizations, and especially for his versatility as a principal dancer, Pascal created each of the hundreds of roles he performed as if it were the most important role of his career. And he has done this for a total of nearly thirty years, seventeen of them in San Francisco.
Moments later Cuban Joan Boada bolt onto the stage and the two played off each other in the up-tempo staccato moves by Renato Zanata. Where Pascal took easily to flight, Joan's grounded presence brought an earthy sensuality to the choreography. The casual look of black pants and vest gave the excerpt an almost improvised quality as if they had just worked out the choreography backstage. But as usual with San Francisco Ballet, the dancers' precision betrayed the strength of their training, long hours of rehearsal and their commitment to getting it right. They pushed each other to higher jumps, hammier affectations and multiple revolutions at every opportunity.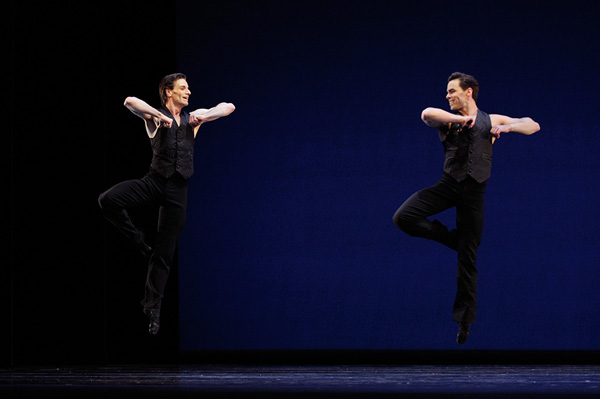 Gennadi Nedvigin, originally from Russia, rounded out the trio of retirees when he next took to the stage in Johan Kobborg's Les Lutins, a sexy trio featuring Dores André and Esteban Hernandez. Gennadi is greatly admired in the company for his ability to do anything and do it unbelievably well. Kobborg's choreography called upon his playful side as he flirted with Dores, his open shirt detailing every rib and sinewy muscle of his sculpted torso. Dores got to let loose from her typical strict ballerina roles and join in the fun flinging her legs like swords as she danced back and forth between the two men.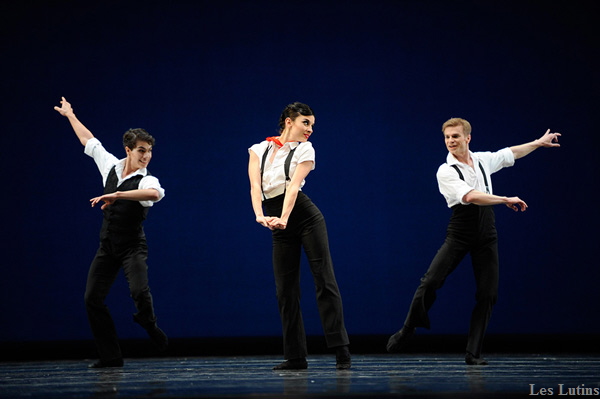 Ever since its premiere in 2014, Helgi Tomasson's Concerto Grosso for five men has always been a show-off piece for Pascal due to his innate competitiveness and preternatural athleticism. Set to music by Francesco Geminiani (after Corelli), Diego Cruz, Hansuke Yamamoto, Lonnie Weeks and Max Cauthorn all egged Pascal to push his limits once and for all. Tomasson's work is often best when it is designed for all-male casts and this piece is the best example. Providing ample opportunity for each dancer to give the steps his own interpretation from night-to-night, the choreography is like an outline that the individuals are free to fill in. A playful competition built momentum as the group coalesced around Pascal. Soaring high above the others, Pascal suspended himself time after time in mid-air, as if his all-red costume came equipped with super powers.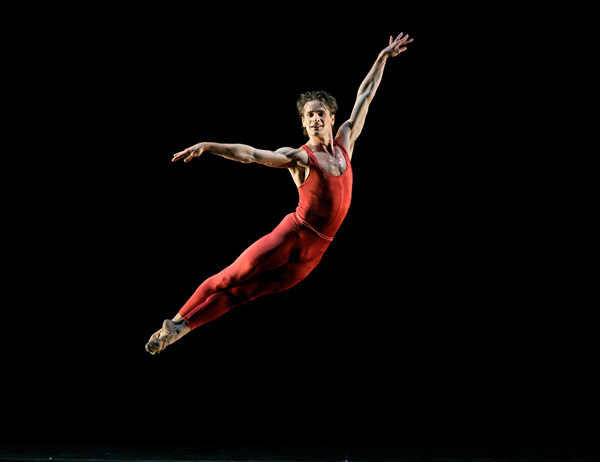 The only purely classical choreography of the evening featured Joan Boada and Maria Kochetkova in the Balcony pas de deux from Romeo & Juliet. Set to the irresistibly romantic score by Sergei Prokofiev, the dancers seemed magnetized as they met mid-stage after Maria climbed carefully down the treacherous stairs from the balcony. These two have sustained a partnership of mutual respect and intuitive vulnerability that consistently delivered physical feats as well as emotional depth. As she threw herself into the air he proved why his long-time Cuban partner, Lorena Feijoo, said that "Joan is the best partner, ever. If you think you are going to fall even before you execute the step, he knows it. So dancing becomes pure fun." It is also his confidence that makes him so captivating to watch. And on this night in particular he obviously let himself enjoy showing off his beautiful and powerful technique, throwing off moves as if they were mere steps any mortal could attempt.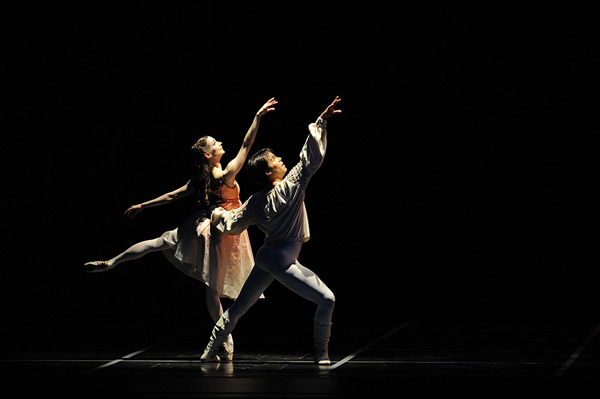 The evening ended with an excerpt from Yuri Possokhov's "Magrittomania," inspired by the surrealist painter René Magritte. Possokhov's first work for San Francisco Ballet, long before being named choreographer-in-residence, his prodigious talent for moving bodies around the stage in creative and surprising ways was already amply visible. He is particularly gifted at giving men what appears to be impossible choreography and challenging every aspect of their physicality as well as stamina with original, if borderline terrifying, jumps and leaps. So for the very last time in their San Francisco Ballet careers, they danced their hearts out together.
Pascal said later at San Francisco's "Words on Dance" event at Catharine Clark's beautiful gallery on Utah Street, "I felt like I was dancing in my living room in front of 3,000 of my best friends."
Before coming to San Francisco, the three young and aspiring ballet dancers from three top ballet academies in three corners of the world created friendships that would bond them together throughout their careers. Gennadi was the first of the trio to receive an offer of a contract with San Francisco Ballet but within the next five years all three would be together in the Franklin Street Studios working their way through the eclectic repertoire.
Already by age five growing up in Rostow, Russia, Gennadi Nedvigin knew that he wanted to be a ballet dancer like his older brother. So his parents enrolled him in the local ballet school while his brother successfully auditioned for the Bolshoi Ballet School in Moscow. When the leadership at the Bolshoi learned that there was another boy living at home, they asked to have him come in and audition.
Telling this story, he said: "They wanted to see if I had some talent like my brother." Looking down at his feet he added, "I think they found that I did."
He was immediately whisked into the redoubtable Bolshoi school where he set himself the task of perfecting every move. Genetics, hard work, resilience against the harsh (Russian!) competition during grueling hours of daily training combined with his innate artistry, athleticism and Golden Mean physical proportions and Gennadi developed into an artist of international stature. All dancers at the level of principal are obsessed with technical perfection but not all achieve Gennadi's grace, elegance, elevation and precision which consistently inspired wide-mouthed gasps from audiences throughout his career. In a recent video produced by San Francisco Ballet, Frances Chung, a frequent partner of his, said, "If you want to know how a certain step should look, watch Gennadi."
After more than eight years of training with the Bolshoi, Gennadi won a position with Le Jeune Ballet de France where in the mid -1990s he met a young Cuban named Joan Boada. A passionate dancer as dark as Gennadi is blond, Joan's training at the National Ballet of Cuba brought out both his expressive gifts as a soloist but also his extraordinary sensitivity as a partner. After so many years of sequestered training on the Caribbean island, Joan worked his way through Europe and even Australia, dancing with several major companies. While dancing with the Royal Ballet of Flanders, Joan met a fiery young Frenchman Pascal Molat.
As a young child Pascal was more passionate about soccer than dance until he became captivated in the 1980s of his youth by artists including David Bowie, Prince and especially the visionary dancer, choreographer and singer, Michael Jackson. He would sit in front of the television and watch music videos, easily memorizing and recreating the choreography though he had had no training whatsoever. He decided to make dance a serious priority in his young life after his friends talked him into performing a Michael Jackson number on stage. He fell in love with the feeling of performing in front of an audience and chose ballet over soccer. After only two years of training his parents took him to Paris to audition, along with 700 other youngsters, for the ballet school of L'Opera de Paris. The school took six students that year and Pascal was among them. After finishing the intense classical training program he longed to explore choreography beyond the traditional parameters set by the artistic leadership at the Paris Opera. He landed with Ballet de Monte Carlo because of their emphasis on new and contemporary works but after a few years with them he looked for a more balanced repertoire that included both contemporary and classical works. He found his home, if temporary, at the Royal Ballet of Flanders where he was able to express himself in a spectrum of choreography.
Among Pascal's greatest roles during his 17 years with San Francisco Ballet would be his powerful, quick and precise partnerships with Lorena Feijoo and Muriel Maffre in William Forsythe's work; his endearing incarnation of Dr. Coppelius in Coppelia, and Mercutio in Romeo and Juliet. A gifted actor and physical comedian, he plans to turn his talents to acting and development movement workshops for actors.
When asked what performances he remembered most vividly, Pascal responded that he wouldn't be able to say which piece of choreography he had been dancing but he would never forget the feeling. On a few rare occasions he felt completely at ease and present in the moment, no worries or anxiety about knowing the choreography, missing an entrance or enduring a costume malfunction. Instead, he felt pure joy and the movement felt as though it came naturally to his body. Gennadi responded that what he remembered best was sitting in the audience while injured. He had been warned by doctors that he might never dance again. When he saw someone on stage who was clearly going through the motions but not giving himself fully over to the choreography, Gennadi swore to himself that if he were ever given the chance to dance again, he would never give less than his all to each and every performance.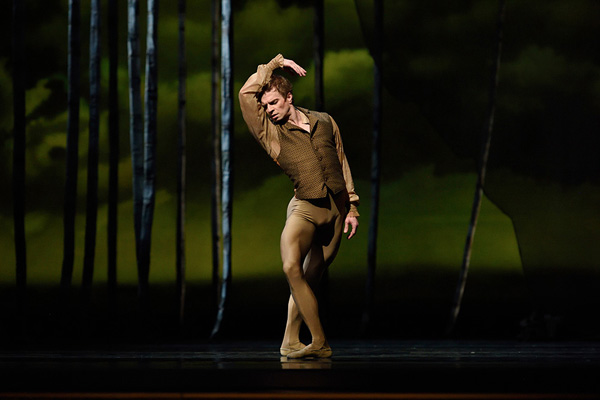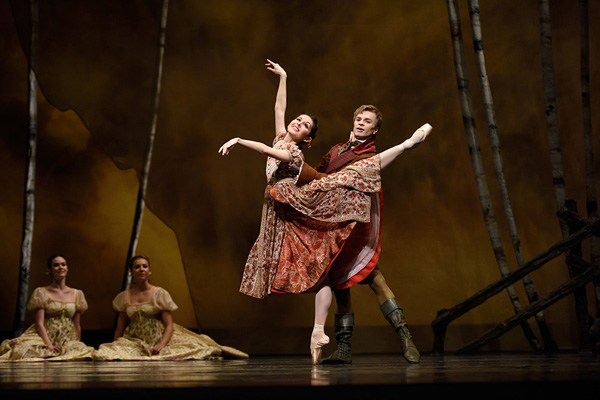 The final program of San Francisco Ballet's 2016 season featured the gorgeous and extravagant production of John Cranko's Onegin. The last performance of Onegin featured Gennadi in the role of Lensky with Lauren Strongin as Olga. Based on the novel in verse by Alexander Pushkin, the ballet requires a deep understanding of the motivations. With each gesture, step and facial expression, Gennadi communicated the intended emotion with subtlety and grace, gravity or joy. In his final scene Lensky is killed in a duel by the loathsome title character. For his last moment on the stage of San Francisco Opera House, Gennadi was flat on his back. When it came time for the bows, Conductor Martin West pulled Gennadi from the cast and the audience, already on their feet, gave him a rousing five minutes of loving applause and appreciation. After that little bit of rest he received on stage, he now moves to the Atlanta Ballet where he has been named Artistic Director.
Bonne route à vous Trois Mousquetaires !
Cover Photo - Gennadi in Magritomania
All Photos - Erik Tomasson