After eleven years, Gongdee Gallery and Vichit Studio on Nimmanhemin Road have become impressive meeting points for foreign art collectors who resided or frequently visited Chiang Mai. The gallery is owned by the famous artist Vichit Chaiwong who uses his house as an art studio in a lovely garden. (This establishment is also used for art exhibitions and events).
I happily walked around and looked at paintings in different sizes from various artists in the studio. Some of the paintings reveal Thai Lanna culture and local traditions. Along with paintings, there are many lovely objects for home decor and souvenirs like postcards or prints. Vichit also made product designs in Lanna style mixed with gold and silver leaves.
I've seen that many of Vichit's paintings were bought by hotels and resorts in Chiang Mai, such as the Napadoi Resort and the Ban Saen Doi Resort and Spa. His style is unforgettable. Prior to this visit, I hadn't met Vichit Chaiwong personally but I knew that he was a famous Chiang Mai artist and I wished to interview him someday.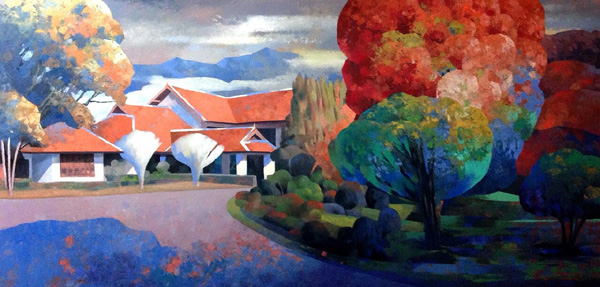 His concert hall is very impressive. At the end of July 2005, Vichit organized a concert of Claude Debussy and invited Dr. Bennett Lerner as the pianist for that event. I wrote about this event, about the dream and wish of Dr. Lerner who was commissioned by American Label Bridge Records to record all the musical works of Claude Debussy (1862-1918). I recaptured the atmosphere of that day for everyone who read that article. It was an event in the Monsoon season that made Chiang Mai more interesting.
At the beginning of March 2016, I made an appointment with Vichit Chaiwong.
JY: Could you tell me about your life and your personal gallery?
VC: After I graduated from Chang Sin College, Fine Arts Department, I frequently worked on some art projects. I had a dream and the determination to be an artist. When I was young I did not quite understand how to live well as an artist. I tried so many types of careers including working as a civil officer, working for hire or as an owner of a small business. I still got the same answer. That is: to be a full time artist and live with art for the rest of my life.
My concept of artistic creation comes from the surroundings around me. It is in fact the existing natural beauty. Drawing some extra objects such as trees, flowers, rivers and people can accentuate such beauty. We can see that both happiness and sadness can be blended in the nature of the same painting. This depends on how and what I want to express. People can easily perceive hidden loneliness and sadness in my landscape paintings.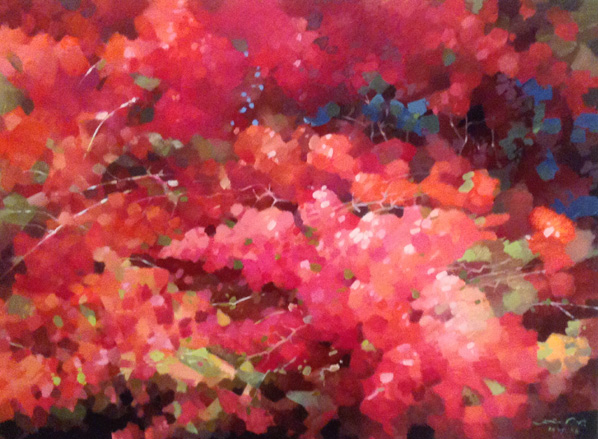 For years I exhibited my work several times in Bangkok and Chiang Mai Province. Some of my works were sold to Thai and foreign collectors. Many people follow my works when I exhibit my work in the galleries but recently I chose to keep all of my paintings at my own gallery, Vichit Studio. Art collectors and visitors then come to see my work here. The local press and art magazines also help promote and publicize the gallery. Right now I do not wish to do art business completely because I think it is best to develop slowly and naturally. My satisfaction comes from a gradual increase of new art collectors and visitors who are interested in my work.
JY: What is your view about arts in Lanna culture?
VC: A long time ago, the Thai educational system was mainly designed by the authority's decisions. There were only a few places that students could learn about Lanna and Northern arts. Around 20 years ago, each locality turned to study their local art and culture more than ever. In Chiang Mai, the faculty of Fine Arts, Chiang Mai University was a pioneer of this project to educate their students and interested people with in-depth knowledge of Lanna art and culture. Thanks to this, the study in this field is increasingly popular. They can learn more about the root of Lanna art and culture in their region. This makes the creation of arts influenced by Lanna culture more stable and stronger. Notable Northern artists who I know are Pornchai Jaima, Lipikorn Makaew and Prasong Luemueang. They are the artists who devote themselves to Lanna and Northern art.
Suwan Kongkhuntien, an interior designer (now he is a famous product and furniture designer), used to say that Thai style or Lanna art is inherited from one generation to the next, from the past to the present. It does not matter what or how Thai people make their art. It is still Thai art and belongs to Thai people. Types and characteristics of Thai art might change through time and period. It is not strange at all that Thai people make modern art more deeply because their art foundation is now solid. It is not like in the past when their art had too much leaping from the original concept of Thai art and lost the sense of self.
JY: Let's talk about the management of your gallery and collaboration with foreign artists.
VC: For some time I had a chance to do business in designing wood products. I used the knowledge I got from the Chang Sin school to design and make products related to my art specialization. From this, I also traveled to foreign countries in Europe, the Americas and Asia. Each time I visited museums, art galleries and musical concert halls. This helped me to appreciate the beauty of foreign art more than when I read about it in books. I felt that I could immerse myself in the concepts of civilization from those countries.
Although I am a businessman, I still do my works of art frequently. The Gongdee gallery I made in the past was an art gallery mixed with a store of commercial product design. It had both paintings and sculptures for sale. There were also some occasional musical concerts. This place was part of a good memory that I created for 20 years before its beautiful closure due to the inevitable cycle of change.
Originally, Vichit studio was constructed mainly for keeping my own artworks. I also allow Thai and foreign artists to exhibit and promote their works in my gallery as usual but some of professional management is reduced so I have more time to work on my new collection of arts .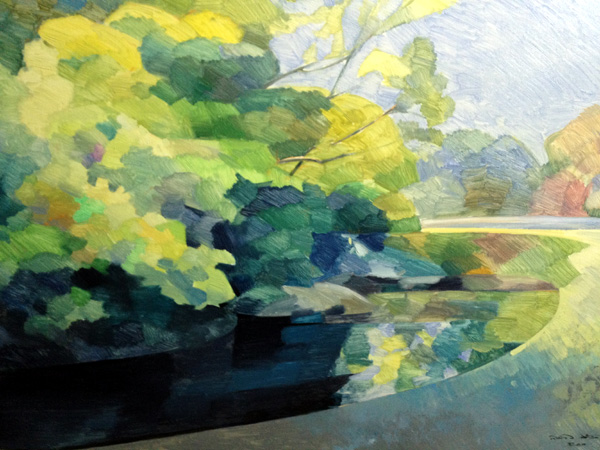 New location of Vichit Studio in Sankamphaeng District is considerably larger and more beautiful than the old one. It is open Tuesday – Sunday from 9:00 am – 5:00 pm. The gallery closes on Mondays. Single and group visitors are welcome. Sometimes students from Chiang Mai and nearby provinces come to see my works. Recently, 30 autistic students visited my gallery and we did some art activities together. Some people in the nearby communities also come here.