It was the last night of Mozart's Così fan tutte at the Paris Opera, and I was without a ticket. My press pass had already served for opening night. No problem. In the crowd coming up the stairs, I picked out an animated group of Parisians in tuxedos and evening gowns. The oldest among them, a monsieur with a white silk scarf, was holding the fan of tickets for all of them in his hand. They had to be box subscribers, patrons who tend to leave seats available for friends and random guests.
With my aviator scarf over my leather jacket I fit the group to a T. I followed my lively troop unnoticed, past the marble giants on their thrones in the vestibule—Rameau, Lulli, Gluck, Handel—and up the majestic sweep of stairs to the first balcony. VoilĂ , it was just as I had imagined. I took a seat at the back of the box with ease, grateful that you don't have to belong to the rich in order to enjoy their privileges. The more expensive the seat, the less interference from all sides. At least in the City of Light.
During my early days in Paris I had developed my "bohemian" technique—a necessity, given the empty pockets I brought with me from Germany. When an exceptional film or show opened and people were already lined up around the
block, I would mix in up front, making myself invisible. Not that I was usually overlooked. It had to do with energy, catching the right moment to make the move, then sending out the message, "I belong in this spot, you just didn't notice until now." If for once I didn't get away with it I would hold up a piece of baguette or a croissant I had at the ready in a paper bag. In Paris, every cinema has a bakery next door and Parisians understand stepping out of line for the urgency of a croissant.
In Germany, such a thing would have been unthinkable. Every German ticket controller was a moral authority, a "stiff -back" watching over rules and regulations as if patriotism depended on it. I was light-years away from of my childhood home, I was among the French who guard the temples and palaces of art with the relaxed assurance of serving a grande culture. Wasn't that what I was doing, too—serving culture, seeing an opera a second time?
As far as I was concerned, culture in Germany was dead. What could possibly be left after the massacre of intellectuals, poets, artists, gays, Jews? My parents, teachers, all of them good Germans, had been busy forgetting what never happened—so how could they possibly have known? The war was over—what war? That new Germany, country of Herr und Frau Saubermann , Mr. and Mrs. Spic-and-Span. Iron-clad respectability. Sex unclean, not to be mentioned. Homosexuality a crime. No craving for family and motherhood: perverse.
My Hamburg school friends and I found it hard to breathe in the scrubbed air. We lived in the haunted places of the past—the Vienna of Mahler and Wittgenstein, Kafkas's Prague, Gertrude Stein's Paris, the Berlin of the twenties, when typewriters stood at the ready on cafĂ© tables. I dreamed up different identities for myself—literary, gay, Jewish, while I played the good girl to my mother's face and rebelled behind her back. Coming of age in Germany was living with baited breath, waiting for some kind of exit, release, an explosion of truth. Just break the silence, break the primal taboo. Everything else will follow.
Goodbye then, forsaken Vaterland. I made it to Paris with two metal suitcases, one with clothes, the other with books and diaries. Paris would wash Germany out of my hair. Perhaps even suck the German marrow out of my bones. I was young then, and dramatic. I was twenty-three. I was ready.
Sneaking into the opera tonight, I had once again proved it to myself. I looked around the circle of boxes, that abundance of plush, red velvet and gold that seemed only a breath away from a luxury bordello. My unknown companions were bent over their programs, anticipating a production that had been called sensational in the press. An occasional curious look brushed over me. I almost expected them to invite me into the conversation: what did I think about modernizing Mozart? What would my box companions say if they knew I was here for an encore without a ticket?
(…)
The intermission seemed interminable until I noticed the dark-skinned ouvreuse standing at the entrance of my box with a stack of programs, eyeing me. I looked back with curiosity as she undauntedly held my gaze. I raised my glass to her, she smiled. I waited. She approached.
"Don't we know each other?" she asked.
"You seem familiar," I said. "Remind me?"
"The Women's Film Festival last fall?"
"Right," I said, searching my memory. "Great party."
Her Afro framed a round face with a big, sensuous mouth and lively eyes that seemed ready to laugh or tease. Compared to the aureole of her head, her body in the tight ouvreuse uniform looked small and trim. There had been many attractive women in the party crowd. Could I have overlooked her? Distracted by Claude, perhaps?
"Do you like the performance?" she asked. "Even a second time?"
"How do you know?"
"I worked downstairs in the orchestra on opening night. Right center section." The area where the press was seated.
I bowed slightly to acknowledge her compliment. "Do you remember every spectator at opening night?"
"That very much depends…"
"I see. And at daytime, you are a private detective?"
"You might say so." She laughed impishly and looked at my mouth. "I study music and remember certain notes."
"I can see Cosìagain and again," I said. "I like the production. For once the women are players, too."
"Dorabella and Fiordiligi know what they want…" She gave me a telling look.
"And what do they want?" I flirted back.
"Variety," she said with emphasis.
"Who wouldn't want that?"
"I would!"
"Well, aren't we a match." It was my turn to look at her mouth. "Which instrument are you studying?"
"Piano and voice."
"Mezzo?" Her talking voice had a pleasant timbre and her full lips were appetizing. "Which is—or would be—your favorite role?"
"Cherubino. Perhaps Oktavian, but Mozart is easier…"
"Trouser roles, I see. Unfortunately there aren't that many." I tried to imagine her chocolate skin in the silver suit and powdered wig of Octavian in Strauss's Rosenkavalier, one of the sexiest roles in the operatic repertoire.
"Unfortunately, in real life there aren't many either!" She let her eyes wander over my theater Jeans.
"But that very much depends," I quoted her, enjoying the warmth rising in my body.
"On what?"
"Who you turn to. During intermission, for example."
She laughed at me from the corner of her eyes as if that were too good to be true. The intermission bell rang.
"Next intermission?" I proposed. I saw a certain shimmer in her eyes.
"Agreed."
Back at my seat, I tried to place my new date at the party where she had seen me. Had I flirted with her? Had she flirted with me? Had we kissed? There was an ease between us as if no effort had to be made to be more than strangers. What a promising night. I might be doubly rewarded for sneaking into Così a second time.
At the second intermission I contemplated my image In one of the gilded mirrors of the foyer. I was d'accord avec
moi-mĂŞme, as the French would put it—okay with myself. My slicked-back hair and the white aviator scarf over my leather jacket made me look like…who was it? David Bowie's brother -sister? I felt I cast a proper figure in Little Versailles, among the gold candelabras and lascivious statues, the medallions and frescos with naked nymphs swooning over Apollo. The mirror was guarded by the statue of a muse with a mighty leg. The contrast between her and me seemed to incite women to crane their necks. Or was it some other contrast? In certain moods I looked too young and soft-boned, my eyes unguarded, my mouth too full for a boy. And boys usually don't glow the way I did this night.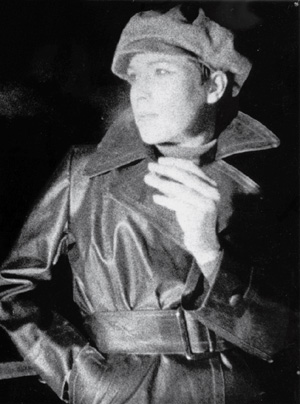 "What do you do between intermissions?" I asked the music student-ouvreuse who was leaning in a niche of the vestibule, one silky brown leg crossed over the other. "Are you allowed each time to see the entire opera?"
She nodded. "If it's really packed, I go down to standing room."
"I envy you. When I first got to Paris, I had an usher job in a cinema. I watched Catherine Deneuve in Belle de Jour at least thirty-five times. I learned a lot."
"I'd say," she said slyly. "Tonight there are enough empty seats, in any case. The first loge is completely empty…" She made a movement with her head toward the stage, inviting me to follow her. She opened a nearby door with her key. In the semicircle of boxes and loges she indicated the loge directly to the right of the curtain. She looked at me expectantly.
"CotĂ© court, stage left," she said pointedly. "Right across, you have the loge of the PhantĂ´me de l'OpĂ©ra. I'd rather not suggest that one…"
I stared at the loge on the right. What was she suggesting, exactly? The loge with its scarlet velvet canopy was flanked by two colossal half-naked caryatides. The first one had a strikingly shiny belly as if—like the feet of certain saints—it had been fondled for centuries by caring patrons. I remembered having been in one of these loges next to the stage. There was a small, dark entryway. One had to turn a corner before getting to the chairs. It occurred to me now that this meant nobody could directly barge in on the occupants. The architect must have had something in mind with this arrangement.
"Are you sure?" I searched her face. Could she be that bold?
"It's almost always unoccupied. You can't see much of the stage but—"
"Drop a rose into the diva's décolleté?" I made a movement of throwing, landing my fingertips lightly on the open neck of her uniform.
"I'm going to listen in the loge." Her tongue moistened her lips. "The garden scene and the rest…"
The garden scene meant the seduction of Dorabella by Guglielmo, her sister's fiancé, although in this production it wasn't clear who seduces whom. It was the sexiest scene. My companion was watching me, waiting. I knew her, I thought, even if I didn't recall the details. In Paris, every woman knew every other woman.
"I'm free after this intermission," she said with urgency.
"Free—for Guglielmo?" I assured myself with a long look into her eyes.
The way she looked back was my answer. We nodded at each other. As I turned to leave, I saw her expectantly chewing on her lower lip.