They had me at that opening press conference.
The media already knew the numbers: In just four years, the Wuzhen International Theatre Festival had achieved what the founders themselves expected would take ten years: between October 13 and 22, the 2016 Festival would be offering a total of 79 performances by 22 invited productions, half of them from Europe, at 13 theater spaces; 18 teams for the new play competition; an ongoing outdoor carnival; two exhibitions, five forums, six public dialogues, and five workshops.
Opening Press Conference. Photo by the author.
But numbers alone couldn't explain the giddy feeling in the
room. 2015-16 Artistic Director and Festival co-founder Meng Jinghui opened the proceedings with an impressive Festival overview and concluded warmly, "I can't live without Wuzhen—including everything—the air, the food, everything." Next up: the original mind behind the Festival, co-founder Huang Lei announced the expansion of the Festivals' new play competition, and reported that tickets to the new plays had sold out in sixty seconds. The Festival's first Artistic Director, 2013-14 , co-founder, Stan Lai (Lai Shengchuan) pointed out that the first year of the Festival it was hard to get international productions to come to Wuzhen: "A lot has changed," he said, referring to the fervor with which shows now vie to come, "but the heart of the Festival is still the same." A member of the press remarked that winners of the Young Theatre Artists Competition for new plays are now getting "famous" from it, and Tian Qinxin—always integral to the Festival and its 2017 Artistic Director—replied: "This competition is not about commercial success; it's about artistic success." Festival Chairman and co-founder Chen Xianghong, the genius Wuzhen native—who married his travel company to cultural tourism, architectural preservation, and live theatre to make this Festival possible—joked about the dazzling collection of luminaries sharing the stage with him: "You see how charming Wuzhen is—we don't give these busy artists money or fancy clothes—not even T-shirts!—but they keep coming back. Wuzhen is magic."
Press question to Stan Lai: What attracts international companies to Wuzhen? His modest reply: The town of Wuzhen itself is so beautiful. Chen Xianghong interjected: It's rather the theatre festival that's bringing so much attention to Wuzhen's beauty.
Press question to Meng Jinghui: What can other festivals learn from Wuzhen? His reply: Respect for cultural history.
Opening Ceremony. Legends in their own time. L to R: Huang Lei, Lin Zhaohua, Stan Lai (Lai Shengchuan), Meng Jinghui. Photo by the author.
No, the giddy feeling in the room is better explained, firstly, by the language we heard, and that seemed so natural there: air, new, heart, art, charm, magic, beauty, respect; and secondly, by this artistic team's integrity, combined experience, originality, humor, conviction, and fearlessness in the cause of theatre. Each word, phrase, statement became another coordinate on the map for locating the addictive pull of Wuzhen's Theatre Festival.
*
The setting for the Theatre Festival is so lovely that it's possible to come away with not much more than a camera full of
picture-perfect photos, or an imagination overflowing with nascent poems on the subject of Wuzhen's aforementioned beauty. It's pleasure enough to occupy the town's thirteen centuries-old constellation of stone, water, and wood: romantic flagstone walkways and alleys, reflective canals and waterways, elaborately carved wood on window shutters and folding doors; the cobbled staircases and graceful walking bridges, the gliding old boats, the curved roof tiles and the rain. The theatre productions aside, for the 10 days of the Festival every inch of the town becomes a performance space; and the town's hive of alleyways swarm with legends of the theatre and mega-stars of film and television; and every café, bar, banquet, and ceremony becomes a chance for everyone to talk with everyone, across cultures, about theatre.
L to R: director Meng Jinghui; unnamed translator; playwright Peter Handke; playwright Shi Hang. Photo by Chen Ran.
The result of all this is that there is no theatre festival in the world doing more for East-West relations than the Wuzhen International Theatre Festival. At a time when so much of the world is in political upheaval, Wuzhen works to create relationships between theatre artists and thinkers, including some who may have had little contact for any number of logistical or historically complex reasons.
To say a little more of what the "numbers" above don't quite capture: the Festival invites professional productions not only from around China itself, but also from the greater Chinese-speaking world and the greater Asian region, as well as from throughout Europe. This intra-Asia, inter-national aspect of the Festival is special.
There is also a rigorous new-play competition for productions by teams of next-generation theatre people, with a Grand Prize for the best overall piece and an Individual Prize for the best artist. An Honorable Mention category sends one of the teams to a theatre festival abroad, such as Avignon. The competition's cash prizes are generous, but the real coup is the boost a career can get from the enormous, and growing, prestige. Audiences for these performances are transfixed. This year, in a Festival first, both the Grand and Individual prizes went to the same two Tibetan women—and they were so astonished and happy that the whole ceremony audience was in a delighted, proud, uproar.
Visitors to Wuzhen's Festival encounter performances of every kind, in every nook and cranny. Here, chamber music. Photo by the author.
The Festival also creates opportunities for hundreds of outdoor performers of every kind from around the world: high-tech dragons, chamber music, a scene from Molière's School for Wives, a man striking odd poses with his back to us on a bed wedged into an unexpected cranny, earnest readings, childhood games to be played by mature audience members, stilt -walkers, performance artists, a group taking off their clothes in slow motion, three suitably suave Chinese dancers dressed to the nines, with bowties, expertly delivering old American song-and-tap routines. In short: the whole range of familiar and challenging fare.
There are also both local and international workshops with masters of the theatre, attracting a lot of interest. For 2016, the Festival added various exhibitions, including one for stage design, and a forum for exchange between several Chinese and Western critics. Forums encouraged future Chinese cooperation with 16 artistic directors from theatres of Central and Eastern Europe, and with cultural representatives of seven Arab nations. Tying it all together is a series of public Dialogues which, mostly supported by talented translators, puts many of these creative figures together in interesting combinations, and in turn, opens communication with their audiences. This year, for example, the truly great Peter Handke stopped by to chat with theatre lions Meng Jinghui and Shi Hang, and reminded the audience to read more! All the components, taken all together, the entire web of events, create what Festival co-founder Huang Lei—whose star wattage is blinding, to say the least—calls "the multi-dimensional, diverse ecosystem of theatre."
*
My hotel room was right on a canal, and if I went to sleep every night with a show or two or three turning over in my mind, I woke up every morning eager to see the life of the water. The waterway became inseparable from my experience of the theatre festival.
On Day 1, a low, steady breeze made a cross-hatching pattern on the surface of the water, from left to right.
*
Mother Earth, based on the novel by Chingiz Aitmatov. Dir. Sergey Zemlyansky: Moscow drama theatre of A.S. Pushkin. (Russia)
A lovely choice for opening the Festival. The director's background in choreography was evident in this pulsating staging of a story from the Kirgizian steppe: instead of words, the characters used ritualized movement and intuitive gestures to communicate among themselves, synchronizing their bodies to synchronize their nomadic, stripped down lives together. The movements themselves made sounds; characters responded to sounds with movement. Raw metals, fur, bowl, water, wood, stone. The first half was a celebration: a family was happy, a couple fell in love, a baby was born—feelings of contentment and plenty. The second half was about devastation: war came, the men left, the men were all killed, the young mother died, only the matriarch of the family and the baby remained. A confirmation of forbearance and hope. A feature of the show that was new for me: the simple traditional costumes and headpieces changed almost continually throughout the show, along with other rough fabrics, serving as visual element, set, and another living presence. A talented cellist accompanied from the side, and sometimes entered the scenes as if she might be Mother Earth looking dour or grim at the story unfolding.
*
Day 2, the morning canal brought a weathered wooden boat bearing clean linens in neat bundles.
*
Doctor Godot or Six People Searching for the 18th Camel, by Dietrich Schwanitz. Dir. Lin Zhaohua. (China)
The satirical pen of German scholar-writer Schwanitz (d. 2004) lambasted academia and achieved bestseller success. This combination of scholarship and pop appeal was at the fore in this stage adaptation, which features a politics-and-art debate between Shaw, Pirandello, Brecht, Ionesco, and Beckett, in a California madhouse. This year's honorary chairman, the illustrious director, Lin Zhaohua—now 80 and inextricable for decades from China's forward-guard theatre landscape—has added for the production the idea that we're watching a table rehearsal for an upcoming production of the play. The actors, holding their scripts, mugged and joked while speeding through the dense arguments made by the playwrights, never straying far from embarrassed apology for how challenging the material was. Everyone did a fine job, but the production never rose above their apparent lack of faith in the text as a play.
All the same, I won't forget the conclusion of the show. As an obvious foreigner, I had been seated in the front, where the combination of an exhausting day, and garbled subtitles that toggled between lurching and vanishing, foiled my heroic attempts to stay alert. My efforts were visible from the stage, as it turned out: at the curtain call, the actors received enormous bouquets of flowers and, as everyone left the stage, the gentleman down-center in the photo above came forward, smiling, and presented me with his bouquet, which smelled sweet in my room for the duration of the festival.
*
Big D, inspired by Friedrich Dürrenmatt's Romulus der Große. Dir. Chen Minghao: Snake & Rabbit Co. (China)
The first big success for the Swiss Friedrich Dürrenmatt (d. 1990) was his philosophical-satirical post-WWII play, Romulus der Große (Romulus the Great), a view onto the day (or so) the Roman Empire died in the 5th century, and the Emperor stayed home to tend his chickens. This production, by actor-director Chen Minghao—an important fixture of the Beijing avant-garde stage—explores the pull between those who fight in the name of "patriotism," and those who adopt a purposeful "actionlessness" that faces, Chen says, "the fact that the present will eventually turn into history." We entered on a staircase, passing through a large bevy of chorus member-like figures who, dressed in clear plastic and backlit to striking effect, were performing ethereal movements. The large banquet hall below was now a performance space with raised playing areas at right and left. And that's where the mad, mad, mad world of the play came blazing into unforgettable life: the chorus that morphed into chickens, or groupies, or lots of other things, in the spaces between or around stages; the chairs scattered around for audience members who could bear to sit in this electric, Studio 54 atmosphere. Romulus, played by the blazingly talented Zhang Luyi with the voice of a god, sat akimbo on a throne-like throne—a mixture of Christ, Jagger, Richard III, and maybe a used-shoe salesman—surrounded by piles of miscellaneous and hilarious objects suggesting the detritus of a civilization gone to seed: old toys, a folding pet gate, ad infinitum. Chen Minghao was the German Invader on the other stage. Power oscillated between the two leaders like a current, invisible but inevitable. On a small video screen, endless political platitudes scrolled by: we must defend ourselves against the enemy; economic growth is necessary for national stability. At the end, Romulus hung poised on the top half of a hydraulic ladder as it rose into the air—a perfectly calibrated climax to a text handled overall by director Chen like a prizewinning racecar driver on a dare. Then the two powerbrokers sat down and had a quiet cigarette together in their bathrobes. Even if there wasn't actually confetti to celebrate this show, it felt as if there were anyway.
*
Day 3, the water amplified the songs of the birds that woke me up: a mix of delicate melodies and noisy racket.
*
Der Spieler [The Gambler], by Fyodor Dostoevsky. Dir. Frank Castorf: Volksbühne am Rosa-Luxemburg-Platz. (Germany)
The newest of master director Castorf's nearly 20-year series of re-workings of Dostoevsky's novels. For many, a highlight of the Festival. Close to five hours long, in German with only Chinese subtitles. I was game to try it, having weathered a Chinese-only, 7-1/2 hour German "Ring Cycle" a couple of years prior—but no, the no-English subtitles got the better of me halfway through. Astonishing sets with multiple, dilapidated spaces visible simultaneously; wonderful actors on stage slipping into film projections and back. The next morning the critics talked in their Forum about whether to understand or to experience the sensory overload of such a show; and whether it is "bourgeois" to want to enjoy a show, or whether contemporary theatre might actually have an "abusive function." A very German production of a Russian work.
*
Day 4, the light shifted so the perfectly symmetrical grapefruit tree on the opposite bank was reflected in the water, making an exact double, upside down.
*
Quijote, based on the novel by Miguel de Cervantes, written by Jaume Policarpo. Dir. Carles Alfaro: Bambalina Titelles S.L. (Spain)
A loving puppet evocation of the story of Cervantes' famous knight, especially meaningful in the 400th anniversary year of Cervantes' death. A table, some candles, two puppeteers. Sound score, props, masks, "sets"—all very simple, leaving ample room for the creators' fiercely imaginative work, ranging from the slapstick to the profound. My favorite thing: the puppeteers, quite the reverse of disappearing in black or remaining neutral, stayed engaged, constantly registering on their faces what the characters were feeling, or even interacting with them. It was magical to see the candlelit images carved out of the darkness. But a little more light somewhere would have been welcome, too.
*
Day 5, the low wind returned, this time making cross-hatching patterns… from right to left!
*
King Lear, based on the play by William Shakespeare. Dir. Dou Hui: Non Spatial Visual Studio. (China)
Director Hui is an award-winning stage designer who has become interested in how the various departments of a theatre production, with their differing concerns, might work together. In his public Dialogue, he took the position that he didn't need to know Shakespeare's Lear, as long as he gave his audiences a good show. His set was like an enormous square marshmallow cut in half horizontally, with the action mostly taking place between the two halves, which sometimes changed position. Lear delivered long soliloquys: he deserved the hatred of Regan and Goneril because he had been a terrible father. At one point, most of the cast hurried around the playing area in corporate dress, as if rushing to impersonal, creativity-crushing work cubicles. Memorable: there was a battle scene rendered by a chorus of soldiers marching, circling the stage with large-ish computer screens strapped to their backs, with footage of classical battle scenes playing on them.
*
Day 6, the water carried the sound of voices coming closer and moving away in both directions.
*
Avevo Due Pistole con Gliocchi Bianchi e Neri [He Had Two Pistols with White and Black Eyes], by Dario Fo. Dir. Meng Jinghui: Meng Jinghui Theatre Studio. (China)
Director Meng Jinghui isn't just a director, he is a force of
nature. It's hard to overstate his achievement and influence in China's ever-expanding theatre scene, with his quiet erudition, wild eclecticism, bad-boy stance and deadpan, mischievous sense of humor. With fortuitous social forces emerging, in cahoots with awe-inspiring collaborators, Meng virtually pulled the Chinese theatre into the contemporary age through his deep, auteur relationship with the canon of the early European avant -garde. The work of Dario Fo (d. 2016) in particular has served as an important touchstone for Meng for decades, and Fo became in large part the lens through which Meng looked at the possibilities for a new Chinese theatre: Fo's hyper-theatricality, his irreverence and skewering social critique, his mixing of high tone and low antics. This made it especially poignant that Fo passed away the day the 2016 Festival opened, on Meng's second year as the Festival's Artistic Director—and the performance of Fo's play in China became a brilliant tribute to the master in Italy. Here, Meng has turned Fo's play into a singing, dancing, shock-filled extravaganza with a chorus of inhabitants in a madhouse in a society where of course the state steals: Brecht meets popular farce meets rock meets shiny popular entertainment and achieves a stylish, comic desperation . Fulfilling his long conversation with Fo's work, Meng has once again forged his impossible, signature unity between the commercial and the blasted aesthetic of the experimental.
*
Day 7, a light rain turned the surface of the water into a sea of polka dots.
*
The Tiger Lillies Perform Hamlet, based on the play by William Shakespeare. Dir. Martin Tulinius: Theatre République. (Denmark)
Who would imagine Hamlet as a cabaret show? The macabre British cult band, The Tiger Lillies, that's who. In collaboration with Copenhagen's Theatre République, The Tiger Lillies trio have created a creepy, compelling show that mixes a nasty pre -war Berlin aesthetic with elements of art theatre, circus, vaudeville, musicals, and more. In 2012, The Tiger Lillies put out a five-star double-CD of their Hamlet, with 19 original songs by Martyn Jacques, who performs them in a charismatic falsetto by turns piercing, quavering, scolding or melancholy, accompanying himself on accordion and piano. Onstage, he appears in angular clown face makeup and bowler hat, moving in and out of scenes like a cross between Fate, a whorehouse madam, and the Mad Hatter. The original play's scenes have been distilled to their core ideas: Sin, Murder, Mad Hamlet, Worms and so on, each translated into a striking moving tableau against a digital backdrop, created by Martin Tulinius, much celebrated for his visual theatre creations. Now lovers Hamlet and Ophelia embrace, spinning slowly, suspended in the air; now Gertrude & Co. celebrate her new marriage at a table distorted like something out of the expressionist film, The Cabinet of
Dr. Caligari, or she slithers along the ground like a wounded pheasant; now Ophelia balances on the footboard of her bed as if it were a branch over a stream; now the characters all gather around Hamlet, manipulating his facial muscles like clay while he decides who he is. On one set, top-hatted actors appear like automatons in a tall, standing flat with openings and doors of various sizes, reminiscent of prostitutes on display, and also familiar to devotees of the 1960s "Laugh-In."
Ultimately, audience members eager for productions that supplant the dense language of Shakespeare's plays with memorable scores and remarkable images have a surfeit here, and will be happily satisfied with only very brief sections approximate to the text. Others, who look forward to hearing the text as written, will miss it, along with the original verse's surging pentameter that serves as the engine that moves the scenes forward. But for everyone there is a rich, irreverent, even wicked trip into a funhouse mirror inhabited by a weird family that pretty often reminds us of the one in Shakespeare's Hamlet.
*
Day 8, there was one dark, skinny fish deep in the water, maybe six inches long. Then he was joined by two more.
*
Kaligula, by Albert Camus, adapted by
Austeja Lunskyte Yildiz. Dir. Vidas Bareikis:
No Theatre. (Lithuania)
Several things piqued my special interest in this show, so I went even knowing I could only see part of it. First, at his public Dialogue, director Vidas Bareikis remarked: "Everyone is tired of post-post-post-modern theatre; everyone wants a 'normal story'"—something I don't hear very often. Then, when I'd told a lovely company member that I'd have to leave early, she'd replied: "You won't want to leave before the end." And I'd read in one critic's review: "…even before the show's intermission you will become, through this experience, one with the others." Added to these enticements: I'd heard the actors all trained together before starting their theatre together, and I was eager to go see what I could see.
In the event, the production was exactly as promised. The show's cast welcomed seated audience members with grapes and water, with genuine warmth; the director talked before the show, without any pretension, his chat giving the audience a basis for a shared understanding of the work we would see. Camus' influential 1938 play, Caligula, was staged with intelligence and courage, in a "scenic interpretation" that made rare, gimmick-free sense of bringing audience and playing areas together and projecting all the goings-on onto three walls. As the action unfolded and Caligula increasingly lost his bearings, several audience members were requested to stand in as conspirators and so on, and it was clear that they would be mobilized in an exciting manner later in the production. All design elements a pleasure. But the real joy for me was the acting: a group of magnificently trained theatre artists bringing to explosive life a play text that is historically important and topically relevant, playing the scenes with discipline, insight and clarity. When I left after the first half—missing what I hear was terrifically powerful, of course—I was already filled up with that special hooray-feeling of theatre, theatre, theatre.
*
Day 9, the shadowy water was dark with wriggling, skinny fish under the surface.
*
Hamletmachine, by Heiner Müller. Dir. Chan Hang Fai Andrew: Alice Theatre Laboratory (Hong Kong, China)
One Hong Kong critic wrote that Alice Theatre Laboratory is "the only theatre company in Hong Kong that persists in their efforts to produce avant-garde works." Indeed, their production of Müller's famously abstract text sat squarely, heroically, deliciously in the avant-garde tradition. In lieu of a "play," the incomparable Müller (d. 1995) offers a poetic, nightmarish text in five parts, with specifics of staging so minimal that no single interpretation or production is possible. Hamlet's spooky grief becomes superimposed on the Hungarian Revolution; Ophelia becomes Electra in a wheelchair under the sea. All Time seems simultaneous; all people seem to intersect. This production found just the right balance between staging the mad text and using it as a springboard for their own imaginings: now a formalistic rite; now a ballet dance accompanied by the fluttering sound of book pages used to horribly beat a young woman; now a wall constructed of colorful commercial products. In both Müller's work and this company's, by hook or by crook, Hamlet's experience of Machine emerges.
*
Day 10: In the evening, I saw several long boats together, approaching a bank with deliveries of fruits and vegetables, foods colorful against the dark water.
*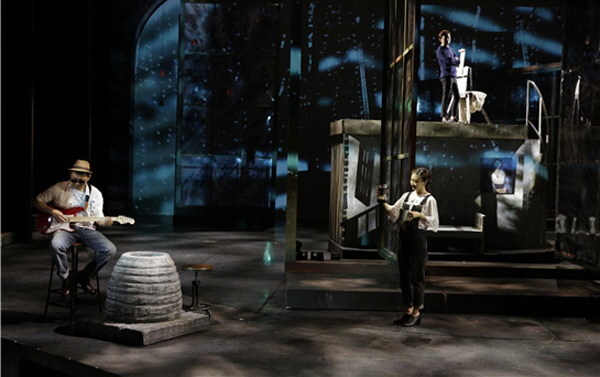 Writing in Water. Dir. Stan Lai (Lai Shengchuan): Performance Workshop (Taiwan, China)
[See my recent Scene4 review of Stan Lai's Dream of the Red Chamber.]
My other Scene4 articles on Wuzhen also include introductions to Lai and reviews of his work: see links below.
Recently, director Stan Lai was asked: What does a theatre festival such as Wuzhen mean to a generation raised on "new media"? Lai's reply suggested that, quite the reverse of theatre's being passé and trying to hang onto an audience of tech-users that's raced ahead, the theatre is in fact way out in front. Young people, he said, are being drawn to live theatre because it's associated with "a new feeling, an open mind." Attending new performances is the new theatre-goer's badge of cultural literacy and broad thinking. In short: it's the new cool.
Lai's show for this year's Festival played out a related theme: what do simple love, respect for the past, and self-knowledge have to offer a generation weaned on instant gratification?
This show was mind-bending by stealth. At the outset,
we were apparently watching a mainstream TV sitcom: the behind-the-scenes life of a successful motivational speaker. This impression was reinforced by the fact that the lead was played by He Jiong, real-life TV host so successful he already had over 83 million internet followers a year ago. His character, He Shi, taught Happyology to, well, losers—encouraged by his money-minded co-worker and her boyfriend. What could be wrong with this combination of a lucrative business and the pursuit of bliss? As He Shi started to doubt his own seminars, he suddenly learned he had inherited a ramshackle beach house, and things started to get strange. No simple plot twist, this was more like a slow, sneaky, plot tesseract. Lai himself called the play "a screwball Zen comedy" (spoiler alert keyword: reincarnation…). He Shi had to decide whether to keep or sell the dilapidated property, so antithetical to the upscale lifestyle; we got lost in Time as it folded back on itself, taking some of the characters along with it; his decision process became a metaphor for the choice between materialistic and spiritual values. And when he made his choice for happiness over Happyology, he took the people around him, and us, right along with him. Standout cameo: the perky real estate agent from hell.
*
My last night in Wuzhen, walking along the waterways, in the dark I saw several aged gondolas slip gracefully away from the banks, filled with trash in neat bundles.
*
At the conclusion of those ten idyllic, improbable, gasping, 36-hour days, I can report: The venerable town of Wuzhen, in Zhejiang Province on the coast of the East China Sea, is the place to see a superb selection of the world's theatre festival offerings, including China's own cutting edge productions.
Water Day and Water Night | Photos by author
* * *
REFERENCE
See http://www.wuzhenfestival.com/en/index.aspx for the full Festival program (in Chinese and English).
VIDEO CLIPS: SOME 2016 FESTIVAL SHOWS
Quijote
https://www.youtube.com/watch?v=GCtsvDzwbdM (3:32)
Kaligula (stage space and curtain call only)
https://www.facebook .com/kulturosatasekinijoje/videos/719163701581356/ (1:05)
Hamletmachine, Alice Theatre Lab, Hong Kong
https://www.youtube.com/watch?v=mEQnVjFg_gw (3:11)
Tiger Lillies Perform Hamlet
https://www.youtube.com/watch?v=S8Nx2DuLppI (8:33)
MY SCENE4 ARTICLES ON WUZHEN
Introduction to the Festival, its main people, reviews of productions
1. Geniuses Making Live Theatre: China's Wuzhen Theatre Festival
http://www.scene4.com/archivesqv6/2015/feb -2015/0215/lissatylerrenaud0215.html
2. Dreamy Theatre: Metamorphoses in Wuzhen, China
http://www.scene4.com/archivesqv6/2015/mar -2015/0315/lissatylerrenaud0315.html
3. For a Fruitful Future: Wuzhen Theatre Festival 2015, China
http://www.scene4.com/archivesqv6/2016/jan -2016/0116/lissatylerrenaud0116.html
VIDEOS ABOUT THE WUZHEN THEATRE FESTIVAL
1. TV spot. Includes sound bite with Huang Lei. In English.
https://www.youtube.com/watch?v=9FZR-iRP_K4 (1:42)
2. Beijing article includes several brief videos.
Also Festival overview and interviews, including one with this author. In English.
http://www.bjreview .com/Lifestyle/201610/t20161028_800070420.html
3. Overview with footage of Wuzhen and sound bites with Meng Jinghui. English translation below the video.
http://newscontent.cctv.com/NewJsp/news.jsp?fileId=379220 (2:15)
Photo by the author.
Cover Photo:
Wuzhen Theatre Festival 2016, Banquet.
Photo by the author
All production photos from the Festival website: