The Oregon Shakespeare Festival takes over the city of Ashland for ten months each year and creates an atmosphere so harmonious, tranquil and stimulating it's easy to forget the rest of the world exists. Their policies of nontraditional casting, commissioning new work, engaging and educating young audiences, and fully funding the creative process from start to finish results in highly satisfying, world-class productions. While several plays created in Ashland eventually end up in New York, seeing them in this charming town near the border with California is absent the stress, pretension and perhaps even the pressure of big city theatre. Instead, one wanders the streets of Ashland running into actors, production staff and audience members all engaged in conversations about the plays. It's the kind of alternative reality one longs for when the news from the outside world is so dreadful.
The 2017 season kicked off with Shakespeare's Henry IV, Part One (part two will be presented later in the year). Although some of the staging was overly stylized and Lileana Blain-Cruz's direction dragged on for a painfully long three-and-a-quarter hours, the actors gave it their all. Daniel José Molina as Prince Hal began his trajectory as a spoiled brat, lanky and either drunk or hungover, irresponsible but irrepressible, who gave his overly serious father (Jeffrey King) good reason to fear for his succession. Many of the fun-filled scenes in the first act were set in a bubble bar and a bordello where Molina slithered around playfully escaping his duties and joking with his buddy Falstaff (G. Valmont Thomas). The second act was dominated by battle scenes in which Prince Hal finally grows up. But the true hero of the play was the woman who played the warrior Hotspur (Alejandra Escalante). Adapting the gender neutral pronoun "they" was but one of the ways that made this daring casting decision work. Escalante herself was in such command of her extensive lines, her body language was so beautifully tuned to portray the hot-tempered soldier, her credibility was instantaneous. Though not particularly large, she filled the stage with her swagger.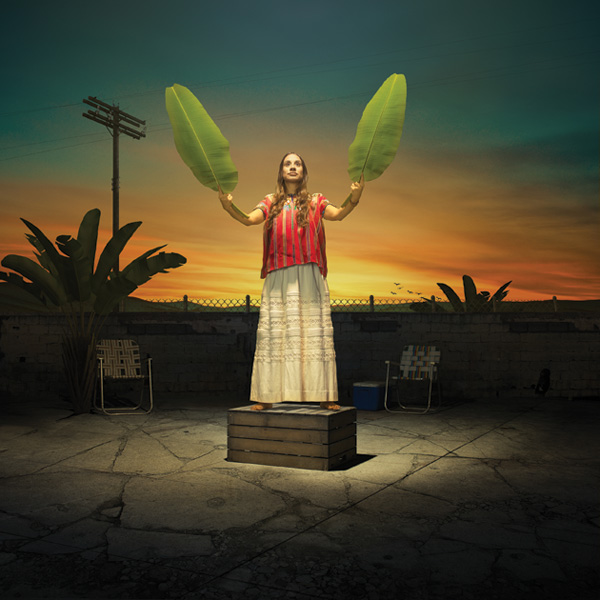 Mojada: A Medea in Los Angeles is Luis Alfaro's third adaptation of a Greek tragedy. In Euripides' original, Medea is a princess endowed with magical powers who bargains with the ambitious young Jason to get her out from under her controlling father's watch in exchange for the Golden Fleece. Escaping together they eventually have two sons before Jason spurns her for another princess in their new land. In a catastrophic act of revenge, she murders their sons.
Alfaro envisioned his Medea and Jason as Mexican immigrants who fled Zamara, in southern Mexico, because it was overrun with drugs and violence and also to escape Medea's brother's oppressive reign over the family farm. Accompanying Medea and Jason are their son Acran and their elder domestic employee, Tita. Both Medea and Tita are cunanderas, meaning they are endowed with healing powers.
Living in a crummy cottage and being exploited as a seamstress doing piecework, Medea sits in her garden at her sewing machine while Tita, acting as the Greek chorus, tells the story of their dangerous journey across the border in an airless, overheated truck. As the play rolls on, it becomes clear that Medea was deeply traumatized by the journey and also by the violence that spurred her to leave home. Agoraphobic, paranoid and sexually inhibited she clings to her son and tries in vain to prevent him from becoming Americanized even as Jason encourages the transformation. "Don't call me Papi, call me Dad."
Jason's ambitions take him from a day laborer hanging out in front of Home Depot to a construction manager for a wealthy Mexican -American real estate developer named Armida. His ambitions soon land his son in Armida's swimming pool and not long after rumors begin to circulate that Jason is Armida's lover. Knowing how the Greek play ends, you can guess the rest.
Though beautifully performed and well directed to build suspense throughout, in some ways, the play is overly ambitious. Trying to make political statements about labor exploitation, the invisibility of immigrants, the dangers of border crossing, the challenges of integration while also clinging to the original Greek tragedy became cumbersome at times. The superimposition of the cunandera scenes did not add clarity but felt like an interesting distraction. The design decision by Christopher Acebo to portray their tiny cottage as a building on stilts actually helped lighten the burden of the heavy material. Lighting by Christopher DuVal also brought depth to the story as it resembled the moody sparkle of an LA evening.
It took the playwright Lee Hall a full sixteen years to adapt Tom Stoppard and Marc Norman's screenplay, "Shakespeare in Love," for the stage. It was entirely worth the wait. While the movie was mostly a love story between William Shakespeare and a female actor playing male roles (because women were not allowed on stage in early 17th century England), the play took on more nuanced plot. The love story remained but Lee also added storylines that portrayed the development of the main characters' careers: Shakespeare recovering from writers' block and his love interest, Viola de Lesseps, finding her voice as an actress.
It's all set within a madcap story about two rival theatre houses competing against each other for audiences and for Shakespeare's tardy scripts. Costumes by Susan Tsu were mostly period and worked as such even as they contrasted against some forthright feminism that may not have been present around 1600s. A few cameos by Kate Mulligan as Queen Elizabeth added gravitas to the struggle for the equal right to the stage. William DeMeritt was a disarming and rather bumbling Shakespeare while Jamie Ann Romero's Viola de Lesseps sparkled with cleverness. Christopher Liam Moore's direction was light-handed and quick which may have made the actors breathless but kept the audience fully engaged and delighted.
Artistic Director Bill Rauch, now in his 15th season in the role, has an ambitious agenda. Fortunately for all involved he seems to have adequate support to realize his goals for programming, casting, commissioning and producing. In Ashland, all the world is truly a stage.
Photo credits: Henry IV, Part One (2018) Jeffrey King (King Henry IV), Daniel Jose Molina (Prince Hal). Mojada: Ad Medea in Los Angeles (2017) Sabina Zuniga Varela (Medea). Shakespeare in Love (2017) Jamie Ann Romero (Viola de Lesseps) and
William DeMerrit (Will Shakespeare)
Photos courtesy of the Oregon Shakespeare Festival.