While it always puzzled me how my late husband could marathon watch football, I am certain many of my friends are mystified at how I can spend virtually an entire vacation in the theatre, taking in as many new productions as I can fit into my travel schedule. Yet that is exactly what I look forward to each fall when I join Maine State Music Theatre and the Fulton Theatre's London theatre excursion. As always, this year's repertoire was varied, high quality, and stimulating, making for lively post show sessions in talkback with the tour leaders, actors/directors/choreographers/creators of musical theatre, Curt Dale Clark, Artistic Director of Maine State Music theatre, and Marc Robin, Executive Artistic Producer of the Fulton Theatre.
The single drama we attended was The Height of the Storm, Florian Zeller's latest play in translation by Christopher Hampton. Starring the incomparable Jonathan Pryce and Eileen Atkins, this is a haunting memory play of strange, gossamer delicacy. The actual reality of the characters' situations is puzzling from the very start, as the audience struggles to determine what is truth and what is illusion, who is living and who is dead, and what are the actual dimensions of time and space. As Zeller writes, "The theatre for me is a place to hunt down the truth," and The Height of the Storm certainly challenges its audience to do just that. Not only are the large existential questions subtly asked, but smaller, more mundane secrets of characters' pasts and broken relationships probed.
Jonathan Kent's deft direction allows the focus to shift almost imperceptibly from possibility to possibility, arriving at the heartbreaking poignancy of the final scene. Part King Lear, part Winter's Tale, the poetry of the emotions and the text create a timelessness, which is beautifully supported by Anthony Ward's wintery white and slate blue set of a country house kitchen with its long, exaggerated angles and by Hugh Vanstone's cold white lighting design that suggests a feeling of otherness. Sound designer Paul Groothius uses new age aural effects and the eerie original music of composer Gary Yershon to bolster this feeling. Pryce and Atkins offer a master class with their subdued, yet fiercely powerful performances as the long-married older couple Madeleine and Andr├ę, while Amanda Drew and Anna Madeley contribute the right tension as the two daughters. James Hillier and Lucy Cohu as the other man and woman, seem to intrude on the surreal world of the principals, adding texture and contrast.
Otherworldiness, magic, and new realms of reality have long been staples of the world of Harry Potter, and the two-part staged version of J.K. Rowling's Harry Potter and the Cursed Child does a masterful job of bringing all that enchantment to the stage, while keeping the play grounded in real human emotions and conflicts. Rowling, who retained significant control over the script, partnered with Jack Thorne and John Tiffany to create an almost five-hour, two-part narrative that explores the adult Harry Potter's world and that of his son Albus who struggles to find his calling and his relationship with his father. The story line with its references to the entire previous mythology contains some psychologically poignant scenes about Harry's lonely childhood, his sense of being different and the loss of his parents. Likewise, it draws the central characters of Albus and Scorpius with touching clarity.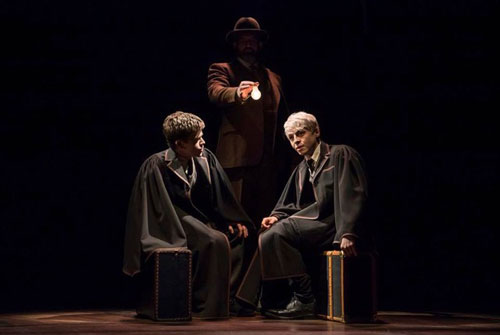 But beyond the compelling narrative, it is the artful stagecraft of this production that makes it so extraordinary. There is a simplicity and elegance to the stage effects, created by Steven Hoggett's stylized movement, Jamie Harrison's illusions and magical effects, Christine Jones' architectural and fluid scenery, Katrina Lindsay's clever costumes (including the capes that facilitate many of the transformations), Neil Austin's atmospheric lighting, and Gareth Fry's sound design and implementation of Imogen Heap's evocative new age original music. John Tiffany directs with a keen sense of balancing the economical and the fantastical, ending the first part on a spectacular moment with demons flying through the house. Strongly cast, the ensemble delivers some excellent performances, most especially from Jamie Ballard as Harry, Jonathan Case as Scorpius, and Joe Idris-Roberts as Albus.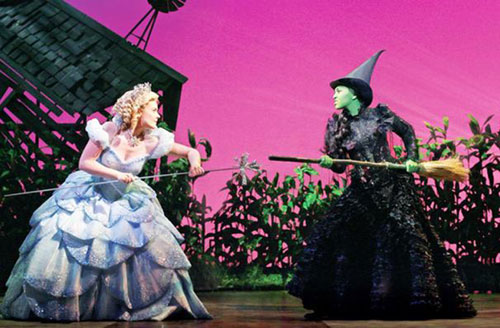 Magic and sorcery are again the themes in Wicked, now running on the West End for twelve years. The colorful, imaginatively designed production transforms the Apollo Victoria Theatre into a visual feast with fanciful sets by Eugene Lee, stunning costumes by Susan Hilferty, magical lighting effects by Kenneth Posner with projections by Elaine H. McCarthy. The inner child responds to the flying monkeys, Glinda's aerial entrance, or Elphaba's broom flight. Joe Mantello's original direction with Wayne Cilento's musical staging remains imaginative, but in the performance we saw, all these visual trappings seem a somewhat empty shell encasing the many lackluster performances. The single standout was Elphaba's replacement, Laura Botterill, who gave a vocally powerful performance.
From the magical to the gritty reality of modern city streets, Baz Luhrmann's Strictly Ballroom and Jim Steinman's Bat Out of Hell offer stark theatrical contrasts. Luhrmann's juke box musical (book with Craig Pearce) follows closely the original movie and captures some of its cult following. Like all Luhrmann endeavors, it is colorful, garish, and runs on incongruity and exaggeration. If this production does not rise to the heights of the recent Moulin Rouge, it, nonetheless, has its moments that make it compelling and stageworthy. Directed and choreographed by Drew McOnie, it tells the story of the fiercely competitive world of ballroom dancing and of two young dancers , Jonny Labey and Fran who defy the rules, fall in love, and effect a moving and cathartic transformation in their family dynamics. Soutra Gilmour's set design conjures up the grungy world of the dance studio and the city rooftops, though Catherine Martin's costumes are garish and curiously jarring period-wise. David Caddick supervises the excellent orchestra who perfectly create the big band sound. Scott Hastings gives Jonny a sexy, angular look to his dancing and creates the right chemistry with Zizi Strallen's Fran, who does a fine job of transforming her character from awkward ugly duckling to thrilling star dancer. Ivan De Freitas, covering Matt Cardle as Wally Strand, turns in a charismatic performance as the singer-narrator. But perhaps the strongest performance of the evening comes from Fernando Mira as Fran's Tango-dancer, macho Latino father, who sizzles in his big numbers. Strictly Ballroom is an uneven production, but offers enough pizazz to make it an entertaining evening altogether.
The same unevenness is experienced in Bat Out of Hell which has been given a lavish, glitzy production, directed by Jay Schieb. With a book, music, and lyrics by Jim Steinman, whose songs soared to popularity in the 1977 album by Meatloaf, this in-your-face rock musical features all the familiar hits like the title song, "Out of the Frying Pan," and "Two Out of Three Ain't Bad." These form the backdrop for a tale which Steinman patterned loosely on Peter Pan, but actually incorporates a fair number of allusions to Romeo and Juliet. At times the book is contrived and the references muddy, but there is enough drama and conflict in the story to make it work, and the music, however loud and immersive, ultimately proves irresistible.
The physical production is impressive with Jon Bausor's set suggesting the steel skyscrapers of the city, as well as the junk heaps, and featuring some high octane effects such as the motorcycle crash and sinking, as well as his punk costumes (with Meentje Nielsen). These are embellished by Finn Ross' kinetic videos, Patrick Woodroffe's kaleidoscope lighting, and Gareth Owen's well-balanced sound design (that never overwhelms despite its volume). At the performance we saw, four covers replaced principals and acquitted themselves compellingly. Barney Wilkinson gave an especially impassioned performance as the hero Strat, leader of the Lost Boys, with Craig Ryder as his ruthless tycoon nemesis Falco; Christina Bennington as Falco's rebellious daughter did not always rise to the level of intensity one might have wished, but she gave a strong vocal
performance. The entire ensemble was composed of young, talented singer-dancers with a touching performance by Alex Thomas-Smith as Tink.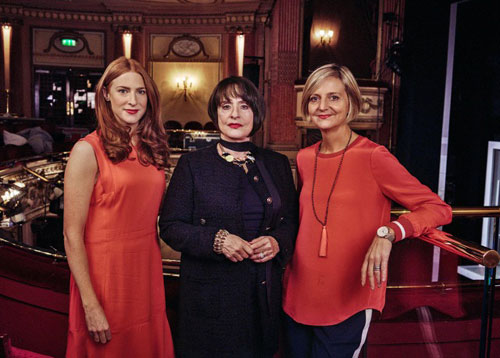 From the world of big band and rock to the classic elegance of Stephen Sondheim, our theatre odyssey continued with the new production of Company, directed by Marianne Elliott. Creating a buzz because Elliott, with Sondheim's approval and assistance, flips the gender roles of a number of the characters, most notably the (now) heroine, Bobbie, and Jamie, who replaces the original Amy in what is now a gay marriage. Lending star allure, Patti Lupone headlines as Joanne alongside Rosalie Craig's Bobbie.
The changes to the script are never forced, and, indeed, work well to put a contemporary spin on this classic tale of a single professional surrounded by married friends who feels time racing and seeks some answers to his/her future. In making Bobbie a woman, there is the added motivation of her biological clock pressing her to make some decisions. Elliott has added more choreography (Liam Steel), movement, and humor to the production in contrast to the very abstract original on Broadway. Scenes such as Bobbie's imagining married life with her one-night stand turn into a wry dream sequence. At times this tendency made me feel Elliott was going out of her way to explain her characters' motivations, whereas Hal Prince in 1970 let it play as an existential dilemma.
The physical production (Bunnie Christie) cleverly begins in a claustrophobic box – a New York cell-like apartment – and expands to add other boxes reinforcing the metaphor of individuals connecting. The orchestrations by David Cullen lack some of the electricity of Jonathan Tunick's originals, and Joel Fram's slower tempi detract a bit. All this is compensated for by some outstanding performances and the very strong ensemble dynamic of the cast. Rosalie Craig makes a sympathetic Bobbie, and she has a lovely soprano voice, but her very timbre puts her at disadvantage in a number like "Being Alive" where she simply cannot belt the music and give it the angst and punch it needs. Patti Lupone is in excellent form, doing vocal justice to Joanne's "The Ladies Who Lunch," and delivering a very focused, consciously subtle performance. Jonathan Bailey as Jamie brings down the house with "I'm Not Getting Married Today," and Ben Lewis is a firm and touching Larry. By the rapturous audience response at the early preview we saw, this production is surely slated to cross the pond and continue to add luster to Sondheim's enduring legacy.
The last of the eight shows is also a new musical which is scheduled to open on Broadway in fall 2019: Tina. It tells the story of pop singer Tina Turner in her rise from a difficult childhood in the segregated South to her career and personal struggles over the more than fifty years as she rose to superstardom. The book by Katori Hall (with Frank Ketelaar and Kees Prins) is tightly structured and filled with enough dramatic conflict to make it gripping, while the score takes a musical journey through the various styles and highlights of Turner's career from gospel to blues, disco, and rock, culminating in a recreation of her sensational concert world tour concert. Directed by Phyllida Lloyd, the production is both intimate and grand. It tells the story of a woman abused by her first husband and mother, disappointed as an artist, depressed to the verge of suicide, but also of a fighter, a passionate and vibrant soul whose creative flame simply would not be extinguished. Marking the milestones in this journey are Tina's many musical successes and her evolution and maturing as an artist. Mark Thompson's sets and costumes perfectly recreate the various time periods and looks of the story while offering some dazzlingly theatrical moments, and Anthony Van Laast's choreography adds to the sparkle.
Best of all, however, is the fact that the production has assembled an absolutely stellar cast with great depth of talent. Adrienne Warren as Tina has been receiving raves and will surely come to New York with the show, but on the afternoon I was able to wangle a ticket, one of her covers, Tsemaye Bob-Egbe assumed the title role and managed to blow the audience away with the vocal/dramatic intensity of her performance. Kobna Holdbrook-Smith gave a gripping performance as Tina's husband Ike, not shying away from the dark unpleasantness of the character. Tom Goodwin was an uncannily excellent Phil Spector, Francesca Jackson a sympathetic Rhonda Graam, and Gerard McCarthy a sweet Erwin Bach, Tina's second husband. The large ensemble is comprised of true triple threat performers, with vocal power, strong dancing skills, and the ability to individualize characters. The entire effect is one of riveting sparkle, a musical journey that is uplifting and satisfying and a dramatic narrative that is completely engaging. No wonder it has become one of the hardest ticket to get in the West End and is likely to do the same in New York, as its reputation precedes it. For me, it was the most exciting theatrical moment of the trip and one I felt very privileged to have been able to see.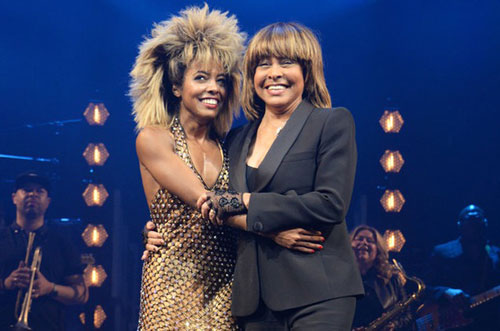 Back home in Maine with winter fast approaching, I am still savoring the vitality of the experience: the chance to see theatre in a city which really lives and breathes and understands the art form, the opportunity to preview new works and revisit old favorites, the time spent discovering writers, composers, performers and their visions. Then, too, there is the fraternity of time spent with friends and folks who share your passion and who are eager to discuss, debate, reflect, thereby enhancing the entire communicative experience. And after all, isn't that what theatre is at its core – communication and the exploration of our human commonality.
This particular theatre trip takes place each October; to learn more about the MSMT-Fulton London trips visit:
www.msmt.org