For my New Year's present to you, I have an interview with a passionate sculptor, Professor Peerapong Duangkaew. I would like to tell you that he is a role model of a Thai gentleman who has a dream and uses his effort and aspiration to accomplish it. Many of his wood and stone carvings are exhibited in many places. He was born on 26 January 1950 in Ubon Ratchathani Province.
Professor Peerapong Duangkaew is a sculptor who had his first art exhibition in 1980 when he was around 30 years old. That exhibition was called the 2nd Lanna Group Art Exhibition in Chiang Mai in 1980. Over the course of 37 years from 1980 – 2017, he participated in about 81 Art Exhibitions. His next upcoming exhibition in 2018 is:
Concept for the creation of sculpting work
Name: Creation of sculpting work "Biodiversity"
Received research grants from National Research Council of Thailand in 2017
Date: 3 – 27 February 2018 Time: 9.00 AM – 16.00 PM (Closed on Mondays, Tuesdays and Thai national holidays)
Venue: The National Gallery, Chao Fa Road, Bangkok Thailand
Here is the interview
JY: Could you tell me about your determination to be an artist.
PD: It began in my childhood. During primary school I was interested in painting and carving. My grades in art subjects were quite good and I was often praised by my classmates. I also submitted my works to several art contests and received awards. This encouraged and pushed me to work on art continuously. After finishing secondary education from a provincial school in Ubon Ratchathani Province, I went to study fine arts program at Poh Chang Academy of Art in Bangkok for three years. Then, I continued my art education at Silpakorn University and received Bachelor's and Master's degrees there. This institute provided me intensive knowledge of artistic creativity. My favorite subject was sculpting.
JY: In your view, what is the charm of sculpting?
PD: It is that it can be touched in three dimensions. Shapes can be created realistically and abstractly. For me, learning and creating sculptures are my happiness. Although sculpting is tougher and more tedious than other kinds of art, I am never discouraged. With my complete love and faith in the works, I have attempted to improve my works constantly in both realistic and abstract sculptures.
JY: What are your preferred techniques and materials you like to work in your sculpting?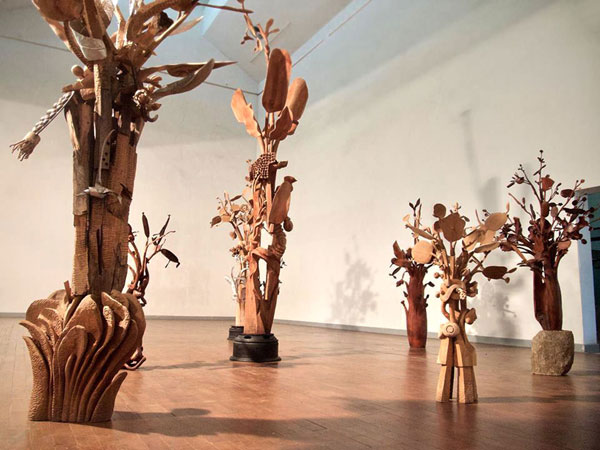 PD: I like to carve woods and stones and combine them with other materials. What makes carvings so special for me is that carvers have to be certain, confident and considerate well enough to carvesome parts out of the working materials to create particular shapes they thought of or wanted to see because removed parts may not be reattached once they are designed out of the final shape. Hence, most of the sculptors are decisive and confident in their thinking and action. Michelangelo, Constantin Brâncuși and Henry Moore are sculptors that I admire very much.
JY: Could you tell us about some of the works you have created over these years.
PD: Apart from my home country Thailand, I had some experiences in working overseas and left my works in many countries including USA, Canada, Australia, Mexico, India, Vietnam and Malaysia. My time to stay and work in those countries was quite short from 10 days, 15 days to 1 month. Large granites or marbles I carved usually weighed over 3 tons. It is challenging to work under pressure within a time limit. Sometimes I fear that I cannot complete the work in time they specified. So I have to plan my work schedule systematically and clearly. I also have to maintain physical and mental health. Having more experiences in working helps me a lot to solve certain problem during work as well as ideas, imagination and essential skills are used together to achieve the highest potential. Looking at the stone or wood, we have to consider the special feature of each material type. There are some questions to figure out such as how special those materials are or how we can shape them as we want. I like to call this process "talking to stone". With complete understanding, we can then commence our work. During working time, we should have stable and long focus since carving is tough and time-consuming until the entire shaping process is done. For decoration, when our work is finished fully, we can place it in the community area or in the building for a long time. Most outdoor sculptures are made of durable and long-lasting materials such as stone or bronze.
JY: What else?
PD: I have my personal ideal to devote myself to sculpting with love and faith in the virtues of art. This is to improve myself and society in purity and gracefulness. Fame and wealth are not my prospect. My present life is given to art fully. Everyday I work with delight. On many suitable occasions, I help teach sculpting to art students from many institutes. In February 2018 I would like to present the latest set of my sculpting work called "Biodiversity" to the public again at the National Gallery, Bangkok. Welcome to all visitors and anyone interested in the art of sculpting to visit the gallery and chat with the artist at the exhibition.
Notable exhibitions of the past 5 years (2012 - 2017):
2012: - Confluence of 9, National Gallery,Bangkok 2012
- Contemporary Art Exhibition by Lecturers from Department of Printmaking, Painting and Sculpture, 2012
- 8th International Art Festival Workshop in Thailand 2012, Poh- Chang Academy of Arts, Rajamangala University of Technology Rattanakosin Bangkok Thailand
2013: - 9th International Art Festival Workshop in Thailand 2013, Poh- Chang Academy of Arts, Rajamangala University of Technology Rattanakosin Bangkok Thailand
- Art Exhibition Jomon Contempolary Art Exhibition at Funabashi city, Japan 2013
2014: - Solo Exhibition " Diversity : Form and Spirit " At Chamchuri Art Gallery Chulalongkorn University, Bangkok 2014
- An Exhibition of the exchange program between CMU Faculty of Fine Art and ANU School of Art " Chat " 4 April – 3 May 2014 at ANU School of Art Gallery, Australia
- RMUTL International Art Workshop 2014 Faculty of Arts and Architecture Rajamangala University of Technology Lanna Chiang Mai Thailand
2015: - " Chat 2 : Exchange 2015 " Exhibition of Art , ANU School of Art & CMU Faculty of Fine Art 15 January – 6 February 2015 at CMU Art Center Chiang Mai Thailand
- The Art Exhibition 71 Years Kamol Tassananchalee & Friends January 6 – Febuary 6 , 2015 at Rachadamnoen Contemporary Art Center, Bangkok, Thailand
- Andaman Art Festival,International Art Workshop & Exhibition 2015 at Andaman Art Museum and Andaman Cultural Center Krabi, Thailand
- Myanmar – Thai and Artist friends Art Exchange & Art Workshop 2015
- Contemporary art exhibition by Lecturers from Department of Printmaking, Painting and Sculpture, 2015
- " CHIANG MAI BREEZ" Tokyo , Japan2559
2016: - PSU International Art Workshop 2016, Prince of Songkla University
- Contemporary art exhibition by Lecturers from Department of Printmaking, Painting and
Sculpture, 2016
2017: - Paper Work Contemporary Thai and Australian artists and university professors from Chiang Mai University Thailand and Australian National University Australia
- Art Workshop Hanoi March Connecting 2, Hanoi, Vietnam
- Visual Art Exhibition 2017 Faculty of Fine Arts, Chiang Mai University, Chiang Mai Art center 8 - 30 August 2017