On November 11, 2019, this reviewer had the pleasure of seeing Peter Shaffer's Amadeus directed by Richard Clifford for the Folger Theatre in Washington, DC.
Having seen the American opening of the play in November 1980 at the National Theatre in Washington, DC, I was eager to revisit what had been a profoundly moving experience. On the one hand, the play emphasizes the rare genius of Wolfgang Mozart and, on the other, it deeply explores how the mediocrity of another composer—Antonio Salieri—can usurp all public support. How would it be to see this play in the Folger Shakespeare Library's tiny theater where the lead actor Ian Merrill Peakes as Salieri would be an arm's length's away and certainly within spitting distance? Could Peakes sustain the level of intensity required by this play which runs two hours and 45 minutes with one 15-minute intermission? Salieri is on stage the entire duration of this two-act play. Yes, enthusiastically yes, Peakes gives a tour de force and nuanced performance. He physically demonstrates that Salieri is both envious of and sincerely awe struck with Mozart's music and the young composer's ability to produce it at lightning speed.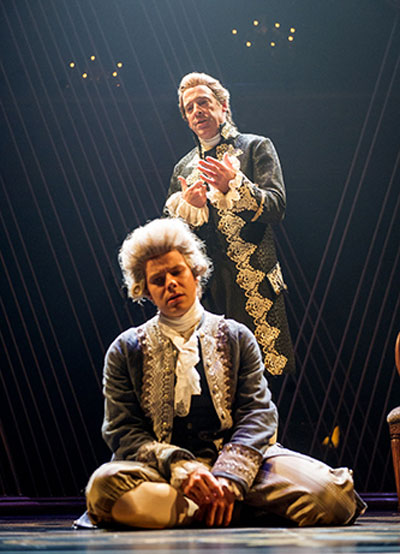 With meaty lines like: "Music is God's art." "Goodness is nothing in the furnace of art." "God was singing through this little man to all the world." How could an actor not succeed? In a small theater where the actor shows his character is no different from the people sitting in the audience by walking off the stage frequently to plead his case face to face against this babyfied upstart Mozart to those listening, Peakes was naked with raw emotion.
Likewise Samuel Adams as Mozart was up against similar challenges in terms of portraying contradictory behaviors. Adams must project an unchecked 26-year-old man who acts impulsively, spouts inappropriate outbursts, giggles like an embarrassed teenage girl but also is capable of stating profound thinking. At the end of the play after a traumatic visit from Salieri, a broken Mozart dies in the arms of his wife. It's a scene from which it is hard to hold back tears. Adams succeeds admirably and perhaps his is the harder role to project as he moves from buffoon to seer and back. Toward the start of Act II, Mozart defends his decision to write about ordinary people (as opposed to gods) in The Marriage of Figaro.
I tell you I want to write a finale lasting half an hour? A quartet becoming a quintet becoming a sextet…all sounds multiplying and rising together…making a sound entirely new! ...I bet you that's how God hears the world. Millions of sounds ascending at once and mixing in His ear to become an unending music, unimaginable to us! …That's our job, we composers: to combine the inner minds of him and him and him, and her and her—the thoughts of chambermaids and Court Composers—and turn the audience into God.
Certainly Richard Clifford heeds Shaffer's words and elevates the audience by selecting an outstanding cast and technical crew. Tony Cisek's minimalist scenic design of slanted strings (as in a piano harp) or bars suggests that both composers live in an environment that is rigid, on the order of a prison. When the play opens and closes we see the old Salieri sitting in an old-fashioned wheelchair with people dressed like mourners behind the bars. While at the end of Salieri's life, he was confined to an asylum because of deteriorating mental health, the play depicts him living with his servants at his home. Still the set suggests something darker and more confining.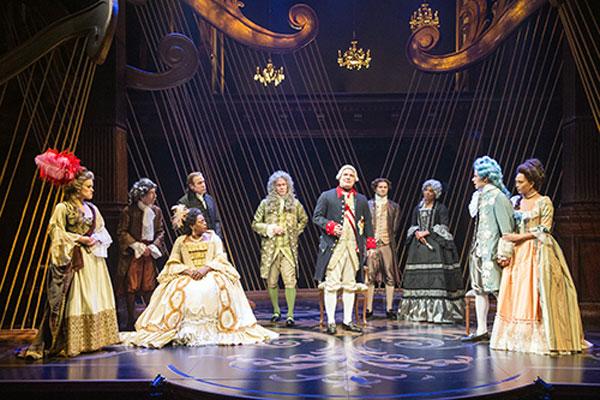 Costumes pop most for Mozart (especially his blue wig) and his wife Constanze Weber as played ably by Lilli Hokama. The playwright does little to make the women characters stand out except for Constanze who must undergo the humiliation of enduring Salieri's sexual advances with the hope that court composer Salieri will give her husband work and alleviate their destitute situation. Kudos to Clifford for casting a woman—Amanda Bailey—as one of Salieri's Venticelli "gentle winds. The partner Venticello is Louis Butelli. These characters serve as interlocutors to introduce the play, provide gossip from the street, and serve Salieri as he requires. Unlike the nameless valet of Salieri (played by Junior Gomez) and Salieri's female cook, who wasn't assigned a cast position by playwright Peter Shaffer, it is not clear that the Venticelli are visible to any other character except Salieri.
One thing this reviewer never understood when she first saw this play was its name. Amadeus derives as a Latin translation of one of Mozart's many middle names. His whole name was Johannes Chrysostomus Wolfgangus Theophilus Mozart. Theophilus is a Greek name meaning either lover of God or loved by God. The German translation is Gottlieb and in Latin, Amadeus. On his marriage certificate to Constanze Weber, his signature reads Wolfgang Amade Mozart. Amadeus was a nickname but one that links Mozart to God as Shaffer links the genius and his music to God. It should not go unnoticed that Mozart's wife gets a sympathetic rendering by Shaffer perhaps because Mozart emphasized in signing their marriage license his nickname pointing to love.
The Folger Theatre production runs from November 5 to December 22, 2019.
Photos - C. Stanley Photography