Blackouts in California? Big deal, I thought. In the past, a winter storm throwing our house, our neighborhood off the grid simply meant throwing on the generator: Let there be light!
When PG&E (Pacific Gas and Electric) threatened to shut off entire regions to prevent their high voltage power lines from sparking more wildfires, I kept my cool. They wouldn't do it in the end. Not here in San Francisco's neighboring Marin County, at the edge of the ocean and the wetlands. But then fires sprang up all around us, and a PG&E high voltage line sparked another inferno slightly further north-east, in Kincade, Sonoma. (Last year, such a PG&E-sparked fire close to the same area killed dozens of people and wiped out a whole town.)
Day by day, the shutoff of the entire region was looming as winds of 90 miles an hour blew cinders across the hills. The hills are one giant tinder box, fuelled by years of drought and years of neglect. Day after red-flagged day the bankrupt PG&E managers kept wringing their hands and warning about the big preemptive "PSPS." A new word to add to our language: Public Safety Power Shutoff. It could last up to five days, they said, and effect 38 counties with over three million people. A neighbor stopped by in the early evening. "Are you prepared?"
We looked at him blankly. Prepared?
At the start of the summer fire season, every resident of California had received a how-to manual in the mail. "Living With Fire" told us how to create "defensible space" around our houses, prep our roofs, our gutters, our vents. How to put together a "Go-Kit" with essential documents and valuables. How to take that nice old redwood set of garden furniture off your deck. It even showed us how to "dress for survival." We would joke among friends that at this year's Halloween we'd all come dressed up as "Prepared": all wearing the same Jeans, long-sleeved cotton shirts, floppy cotton hats, bandannas, face masks, heavy gloves and heavy boots.
My friends gave me funny looks when I recently told them I had bought a Wise survival backpack online, plus a solar radio, and a bucket of dried meals. For Americans, anything edible wants to come in BUCKETs, and maybe they know why.
So the shut-off was immanent, if our neighbor was right. We'd seen long lines of cars at the gas stations on the way home, without thinking much about it. Now we rushed over to our village station, filled the car, filled the gas cans for our generator, and grabbed the very last supply of water at our super market, just in time before the lights went out.
The next day, and the next and the next, the village was dead. No gas, no tourists, no traffic, no phone lines, no internet, no TV, no pharmacy, no mail, no library with computer access. The few places far and wide that still sold food (because they had a generator) only took cash. Temperatures had been in the nineties for days. The eery stillness, the unrelenting, leaden heat, and the smoke in the air were unnerving. The village made me think of High Noon, waiting for the Four Riders of the Apocalypse to appear in a cloud of dust. Then slowly the sun lost its warmth from the smoke and smog.
On the first morning, the generator fuel level had sunk so low that our freshly filled gas can came in handy. If only we'd managed to fill the tank. But the tank, nicely encased in wood panels against rain and corrosion, did not have enough air space for the big canister to be placed on top of the opening. We went to the neighbor who had warned us. He was not home, but this very morning, he had taught his wife how to handle their own, similar Honda generator. With her expertise and a slew of curses against the design of everyday objects (like generators and gas can spouts), it became a three-women job to hold up the can at the right flow angle for the gas to fill up the tank.
The next crisis arose a few hours later when we realized that our generator did not generate what we needed most: information. Connectedness. Email did not go out, not even from cell phones. TV channels did not come in. Internet access was gone—no Google to ask what was happening with the fires. No landlines for calls, no Skype for our work with clients here and abroad. The worst: nobody among our friends was responding to texts because everyone feared running out of charge.
I began to feel stuck and paranoid. The first messages coming through told of friends waiting for an evacuation order, and one Sonoma client had already left everything behind and fled. We finally drove to the next town outside Marin County. A Peets Coffee shop in Petaluma had just (for unknown reasons) regained electricity. The large caf茅 was packed. Every table taken. We squeezed in with two other stranded folk, holding our laptops on our knees as the tables were too small for more than one or two devices plus coffee cups. Everybody worked and everybody talked. The fire was at one car hour from our area. It was 5% contained. Another huge fire was once again raging in the south, near Los Angeles. News outlets were spouting fury at PG&E's crimes of neglect and mismanagement. The extent of the shut-offs was considered an overreach, a way to punish and shut up Californians—all victims of a monopoly that knows how to rake in big money by not spending it on their equipment. Their PSPS shut down an inordinate number of cell towers and with it, potential emergency warnings by phone. This was compounded by the fact that some local providers of Wi-Fi and TV did not remember how to throw on their existing generators (could have been us).
We checked in with our friends, exchanged the kind of prayers people turn to in a dicey situation: Hope you/we have a quiet night… Think of the fire fighters. Think about the saddest of all: the animals. Donate money. Determine which friend would be an out-of-state phone relay for information. We heard from a friend in our neighbor village Bolinas whose portable generator went back and forth all day to different neighbors to save their freezer contents. County-wide, generators were sold out; you had to go on a wait list, even online. Someone mentioned extra batteries for our cell phones; another dreamed up local micro-grids to get out of the grip of PG&E. Another suggested we don't wait, but start using less electricity right now, in our normal life.
Normal life? We remembered the story of a Berkeley friend who had anxiously moved to a town further away from the fault line after the big earthquake of 1989, only to be caught two years later in the big Oakland hills fire that burned down 3,500 houses, theirs included.
Back home, we asked each other what we would want to salvage in a worst case scenario? Nothing, we said in unison. Nothing would break our hearts—except losing each other and our dogs.
So, are we prepared? I can't help thinking we are clueless. Any time, some government agency can decree that the climate crisis necessitates a preemptive shutoff of water (PSPW?) to Californian counties. Another monopoly corporation could decide that propane gas tanks are too dangerous in an earthquake or fire zone, and shut down everyone's gas lines.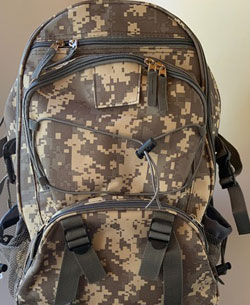 Looking at my dead village, I could see the war zone created by PG&E and other climate change deniers. This was their war against wildfires. No bombs falling yet.
Anyway, good Californians like us, who drive a car with a low carbon footprint, would not get very far. Our Prius C would hold nothing more than two people, two dogs, one Go Kit, one Survival backpack, our computers, and water for a day or two.