In October 2018, the Wuzhen Theatre Festival once again spread its wonders before us. In its sixth year, the ancient town's warren of flagstone pathways, and its arched stone bridges over the romantic canals, were still delightful. One main walkway still bustled with happy families enjoying Outdoor Carnival acts from around the world—classical music, clowning, gigantic puppets, and earnest new play readings—and the other walkway across the water still overflowed with cafes overflowing with the chic set sipping good cappuccinos while comparing notes about the shows. The Dialogues open discussion series, the Young Theatre Artists Competition for new short plays—all the familiar and beloved components of the Festival conspired to put people in the mood for theatre love.
There were also wonderful new elements. The Midnight Readings invite festival-goers to read from works selected on specific themes by Raymond Zhou, China's inimitable film, theater, and culture critic. Participants, he says, "share our passion for works of literature in general and theatre in particular." Last year the Festival added the Daydream Readings, featuring informal readings by professional theatre people, poets or singers. These are hosted by well-known playwright and critic, Shi Hang, he of the flamboyant outfits and deeply intellectual nature. Photos show these events bursting with engrossed readers and listeners alike. Next year, the Midnight Readings will be expanded to include some English-language readings.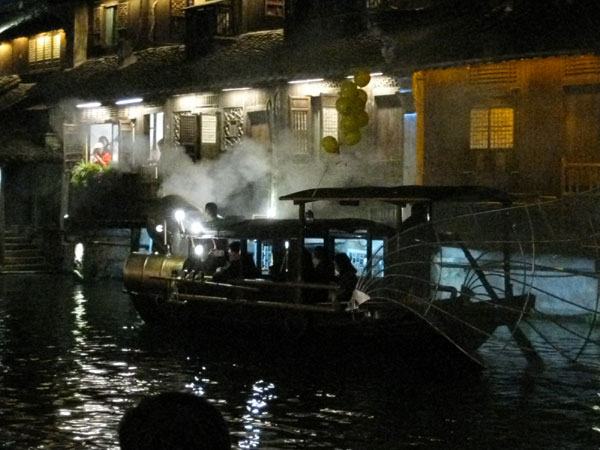 Victorian Steampunk contraption on the ancient canal. Photo by the author.
It never stops being lovely to see the gondola-like boats gliding on the canals at night. In the Festival's second or third year, I remember fully costumed singers from the Chinese Opera performing while being magically floated down the waterway. It was a witty novelty this year to gussy up a few of the boats as kooky Steampunk-inspired machinery, eccentrically chugging and hissing as they passed under the ancient bridges.
*
Note: Even with shows and other offerings scheduled throughout every day, still I had to forego more wildly interesting productions than I can name. Among them were shows by The Workcenter of Jerzy Grotowski (Ponedera, Italy)—I consoled myself that I had attended the Year of Grotowski in Poland in 2009—and the 40th anniversary show of the important Lan Ling Theatre Workshop of Taiwan. Please do see the Wuzhen Festival website's English page for the full program and photos.
*
Springtime in the North, based on the novel by Nobuo Kazawa
Director: Tadashi Suzuki
Suzuki Company of Toga (SCOT). Japan
"I don't like theatre." Thus spake the legendary theatre director, Tadashi Suzuki. "When I'm watching rehearsals, I'm thinking: why did I choose this for my profession?" Now 80, he is in his 60th year of working in the theatre.
Festival co-founder/playwright Stan Lai (Lai Shengchuan) was interviewing Suzuki for the Dialogues series. Over the course of two hours, Suzuki—known for his physically grueling actor training and for moving his theatre company from Tokyo to a remote village—shifted from this curmudgeonly persona to that of an elder with a deep love of the stage, and even a bit of a ham: well into the second hour, to make his point that the theatre is the only art form that communicates directly with the audience, he was suddenly up and out of his seat, moving gracefully around the space, facing front, gesturing like an old pro doing his star turn.
From my notes, taken through translation:
Now the theatre is adding music and dance. But the theatre expresses thoughts and ideas. Sports don't use language, just the body; theatre is more difficult than sports, or other things done in front of a lot of people—ballet, violin… Politicians, they think about systems, about education. But artists, theatres, are on a different level—they need to consider the spirit. Theatre can influence politicians; it is on an equal footing with politicians about how to run a country. Theatre is as important as running a country.
Suzuki brought to the Festival Springtime in the North. Based on the novel by Nobuo Kazawa, it is the story of a man, a shut-in, who lives in a small village, playing games on his computer and remembering his life. Suzuki gave this a Noh-like staging: the stage was spooky-dark and static, the action was interior; the main character was downstage with the ghost-like people he was recalling behind him.
I was glad to have that interesting discussion in mind while pondering the production, which was a challenge to watch. The stage was very dark. The man, sitting nearest us, was expressionless, repellent, bald with ugly muttonchops, and his "ghosts" sat behind him in grotesque positions with their faces contorted. There were "parents," somewhat raised, further upstage in the dark. The first part of the play included vomit and masturbation, and then unfolded into an inexplicably long inquiry, joined by his "ghosts," into whether or not he had farted during a class in school. Next there were the suggestion that he had stolen the money to buy his computer, and the story of his having impregnated a virgin and then called her a whore. These topics were sometimes punctuated by sharp exchanges with his hypercritical mother, and indeed, it became dimly clear that the fellow had murdered his parents.
A remark of Suzuki's came back to me: "What's important is whether you understand what I'm doing, not whether you liked my show." I suppose his Springtime in the North explored the cankers of the soul, a soul made up of nothing but cankers, the cankers that keep someone endlessly re-living his worst moments. Theatre of cruelty? Cathartic purification? What stays with me is his slender figure sashaying around the heavy furniture on the Dialogues platform, communicating directly with his audience.
*
Waiting for Godot, by Samuel Beckett
Directed by Silviu Purcarete
Radu Stanca National Theatre of Sibiu. Romania
If you are going to do a production of Waiting for Godot, and you are as lionized as Silviu Purcarete (director) and Constantin Chiriac (Gogo) are in their native Romania, you really can do whatever you want with it. And they did.
Gone was the bleak landscape we expect from the play's opening stage direction ("A country road."), with its single tree ("A tree."). Over two-thirds or more of the stage there was a makeshift looking structure made of aluminum tubing, like the frame we assemble for a camping tent, but extending overhead and in a curious configuration. Gogo and Didi (Marian Ralea) sometimes sat on a crossbar as if it were a bench, and later, Lucky was tied to this arrangement; upstage, a simple curtain hung from it across an opening (to what?), and plastic sheeting was stretched around one side of it. Part construction zone (what were they constructing?), part circus tent (what would their "act" be?). The tree was suspended in the air, like a high-wire performer, with its roots exposed, separated from the earth, starving for water. A large, rounded stone. A real, stuffed pelican.
The remaining area of the main stage was a close space over-filled with stuffed armchair, sofa, table with ordinary desk lamp, all covered with white storage cloths as if the inhabitants were intruders there, or were just about to leave on a trip. At the upstage end of the table, there was a large gong.
Gogo and Didi were right out of the classic fat-man-skinny-man comedy duos that go back at least to vaudeville: Laurel and Hardy, Jackie Gleason and Art Carney, and so on. They were true to comic "type": Gogo (Chiriac in a fat suit), in a sorry business outfit and clutching a thin briefcase, his mouth hanging open in perpetual astonishment; Didi, his straight man, a self-effacing sketch of an everyman. Pozzo was part one-percent-er, part shyster —worldly and well-to-do in dinner jacket, bow-tie, immaculate white shirt with his "man" Pozzo doing all the heavy carrying; and at the same time, a small-town carnival barker likely to slip town when the bills come due. The dialogue came to a halt for Pozzo to sit down, center stage, to eat a picnic of cold chicken, unapologetically slowly. When Lucky began to "dance" and speak, he overheated like an automaton with its mechanism malfunctioning, smoke pouring from him in some wonderful old stage trick. The boy ("Mr. Godot told me to tell you he won't come this evening…") was as naturally beautiful as an angel, and his microphone had an echo that gave him an added ethereal quality.
At the table, there was a woman with an intriguing, large ledger. Actually, she was the prompter holding book for the actors and sometimes ringing the gong. She was very present, sometimes silently reacting to the action or interacting with the actors within her area of the set. It was inexplicably moving to see these characters, Gogo and Didi, pass from their poetic world to our own prosaic, table-and-chairs world. The images of them crossing over into the kind of "utility" nook the woman inhabited—Gogo lounging in the armchair or Didi working at peeling his carrot—certainly these made for a version of Godot I had never seen and will never forget.
The pinnacle of all this happy mischief done to the original play came at the intermission. The simple curtain at the back was pulled aside to reveal a chamber music group—piano, violin, cello—all playing expertly while dressed in fluffy, gray rabbit suits. Rather than doing a disservice to the play, as a purist might feel, this nonsensical leap underlined that the production was bent on adding dimensions heretofore unimagined, non-reverential and rich. And it made the intermission less boring, too.
But make no mistake: every single word of Beckett's original text was played, and the original play emerged fully intact and undiminished. The program noted that the play "has the power of infinite adaptability": in this production, the inviolable friendship between Gogo and Didi is at the very center. At the public Dialogue, Purcarete, sitting shoulder to shoulder with Chiriac, said "You could do a production of this play your whole life without finding the 'right' way." Stan Lai, who was hosting the talk and has directed his own renowned Godot, called the play "one of his most important teachers." Purcarete and Lai agreed that one could not "impose meaning or action" on the text.
In 2016, I attended a talk that Chiriac gave at the International Shakespeare Festival in Craiova, Romania. An elegant man, he talked at length about the many Hamlets he had played over the years. He described how his thinking about the role had changed, now this way, now that. Finally, he said, instead of playing Hamlet, he learned to let Hamlet play him. This is exactly what I experienced watching this Godot: rather than playing Beckett, the director and actors had learned to let Beckett play them.
*
Teahouse, by Lao She
Directed by Meng Jinghui
Meng Jinghui Theater Studio. China
At the international festivals, audiences become used to seeing their own dramatic canon presented through the lens of a foreign culture. The plays of the ancient Greeks and the Elizabethans, for example, are freely adapted all over the world, resulting in productions their original creators did not intend and would not recognize. Does it matter? Critics and audiences have weighed in: yes, maybe, sometimes, probably not, and no.
Over the years—and in the case of Shakespeare, centuries—Chinese theatres have altered countless Western plays to make cultural sense to their home audiences. This production of Teahouse gave Chinese audiences a more unusual chance to see what it looks like when one of their beloved classics is staged with a foreign sensibility.
A "cooperative work" between China's highly influential director, Meng Jinghui, and Germany's respected dramaturg, Sebastian Kaiser, the production engendered a warm Dialogues discussion about adaptations and appropriation of the classics; cross-cultural collaboration; the dramaturg's process, being the only one on the project who didn't grow up with the play; how Meng and Kaiser worked together, their schedule, their translator. Interest hovered around theoretical and logistical matters, bypassing the play and its playwright. This was also true of the show itself, which unfolded in theoretical and logistical grandeur, without making it a priority to conventionally tell the story that the play tells.
Lao She (1899 - 1966) was among the most exceptional figures of 20th century Chinese literature. Known as both a novelist and a dramatist, he is often considered the Mark Twain of China for his humorous or satirical insights into human nature and experience. His subject matter was Beijing and its citizens, bringing them to life in a dialect said to be both simple and exquisite.
Set in the titular teahouse, with over 60 characters coming and going over a 50-year period, Lao She's much-loved Teahouse, described both as "microcosmic" or "panoramic," condenses some difficult social and historical transitions: Act I takes place in 1898 as the almost 300-year Qing Dynasty is coming apart; Act II in around 1917 with the establishing of the new Republic; Act III in around 1948, following the war with Japan, during the Nationalist-Communist civil war. At the end of the play, the suicide of the teahouse manager is said to "bury" these three periods, leaving audiences looking towards a hopeful future. Lao She himself committed suicide after horrific treatment when the Cultural Revolution's targeted interrogations first took hold.
In the Teahouse at Wuzhen, the play was not so much about either the teahouse or the people in it; it was about History. History, destiny, fortune—these were the main character in the form of an enormous, metallic wheel that swallowed up the stage space, upstaging the story and dwarfing the actors. Which is exactly what History does. Isn't it.
In truth, one had to wonder whether the company members had enough time to rehearse with this gigantic object, because it seemed as if they used it relatively little. Yes, people sat, walked or climbed on it, but it didn't seem integrated into the play or really necessary. But then perhaps we all live our lives parallel, or peripheral, to our Historical Times.
The two intermissions for set changes were each long enough for me to take jet-lagged naps, waking myself up to enjoy gifted actor-director Chen Minghao, who had the task of filling the time it took to change the position of the wheel backstage, "ad libbing" into a cell phone a mix of something planned and whatever came out of his head. But when we returned to the play after the scene change, there the wheel still was, if perhaps in a different position, with walls having become floors and ceilings, walls. I remember a climactic scene in which the wheel turned during a scene, sending set pieces and props sliding, emphasizing the inexorable nature of History, which takes the evidence of your life and deposits it in a random heap.
Liubov Popova, Maquette for
Magnanimous Cuckold.
© A. A. Bakhrushin State Central
Theatre Museum.

Popova's set for The Magnificent
[Magnanimous] Cuckold, 1922.
Hekman Digital Archive online
Festival-goers debated over breakfast whether the show was Chinese, or German, or both. But I couldn't get past the notion that it was in good part grounded in the early Russian avant-garde. The set seemed to be a visual quotation from Lyubov Popova's famous Constructivist set for Meyerhold's 1922 production of Fernand Crommelynck's The Magnificent Cuckold (a.k.a. The Magnanimous Cuckold). The set for this Teahouse was like the Popova set on steroids, but sterile. Director Meng Jinghui—very knowledgeable about that body of Russian theatre—as well as the dramaturg and designer, certainly know Popova's set. In any case, it is an interesting and apt reference point for a visual image of History for Meng's Teahouse.

For the opening of the play, the actors shouted the lines, face front, with a ferocity that threatened to turn them inside out. The leading role was played by Wen Zhang, a popular TV and film actor, who looked as if he might prefer the original classic to this "reimagined" classic. His oddly distracted performance was outweighed by the aforementioned Chen Minghao, and by actor-director Ding Yiteng in a cameo as a zippy, funky-to-the-max rapper.

Bravo to director Meng Jinghui for what he called "an aesthetic adventure." All the best adventures are by turns exciting, challenging, boring, mind-expanding, troubling, and perspective enriching. This production took me on such an adventure.

*

The Fat Black Women Sing
Directed and written by Napo Masheane
Village Gossip Productions. South Africa

This production had a naïve quality that took some getting used to and then packed a punch. In the backstage dressing room of a music club—live musicians were visible, playing just offstage—five performers hung around and dressed to go on stage. What they had in common was their gorgeous singing voices, and it was singing they relied on to iron out problems between them and to share matters of life and health. Indeed, as the story proceeded, there was a song for every eventuality: fighting with a close friend [a song!], menstruating for the first time [a song!], discovering masturbation [a song!], complaining about your mother [a song!]. Material that could have been just a public health lecture became tremendously fun when they burst yet again into song.

The other thing they had in common was their very large size, and many of their most riotous, in-your-face songs celebrated the joys of taking up more space in the world than skinny people do. It took a while to stop thinking—yes, but you really could be thinner—but their charm, humor and exuberant singing won us over to their way of seeing.

At which point, the piece suddenly went in a dark direction. Each character had a story to tell: of rape, physical abuse, an eating disorder; of hiding being gay, of being told they were born "a mistake." These agonizing stories were told with such simplicity, sadness, and hurt, that they left quite a few audience members crying and pinned to their seats for some time after the show ended.

When the singers appeared around town later that evening, there was a lot of hugging and feeling of closeness.

*

19.14
Directed and written by Alexander Molochnikov
Chekhov Moscow Art Theatre. Russia

This piece told the story of World War I, focusing on "fanatical patriotism" and the initial enthusiasm that young men on both the French and German sides felt for becoming soldiers, and then their physical and emotional disintegration when faced with the hatred, destruction, disease, madness and killing that were the realities of trench warfare. There were poignant moments: a young man holding out for one last kiss with his sweetheart at the train station; a gentle, wouldn't-hurt-a-fly fellow we were fond of suddenly vanishing, leaving us to understand he had been killed; the men gathering in newly-issued "battle gear" that obviously offered little more protection than cardboard would; two soldiers in opposing armies learning they had studied with the same university mentor, and sharing a book; the men returning, deeply changed, to families and lovers who had not changed with them; their heart-rending efforts and complete inability to seem whole.

The frame around all this was a cabaret, partly because it's an open, flexible medium that can handle both comic and tragic topics, and partly for historical reasons related to the legendary Moscow Art Theatre (MAT) of Stanislavsky, from whence this production hailed. The first Russian cabaret opened in Moscow in early 1908. The cabarets of Moscow quickly developed and flourished, loosely based on folk theatre, with its quick succession of acts and social, topical humor, and not least, on the popular, yearly parties thrown by the MAT and the like. Over time, these cabarets came to attract accomplished performers, sophisticated audiences, and to receive recognition abroad. One cabaret in particular thrived: The Bat, which was started by a former MAT troupe member, and where many MAT actors performed late into the night after their "art theatre" shows, which they often parodied.

But the cabaret component of 19.14 did not make the cultural leap from Russia to this American viewer. Its garish, Las Vegas style was trying to tell me something, but I didn't know what. The M.C., in a satin-y red suit of unappealing cut, worked hard to shift the tone of the piece as needed, and he also danced, sang, joked, narrated and played the electric guitar. Electric guitar? Too many of his jokes fell flat, and neither his obvious performance skills nor his guitar un-puzzled me about the world of the play. The Chinese audience, though, seemed to "get" it.

Later, at the Dialogues session for this show, we learned that the play was conceived around the time of the Ukranian conflict, and that although it was about the French and Germans in WWI, home audiences knew the play was addressing what was happening in the Ukraine.

*

Constellations, by Nick Payne
Directed by Wang Chong
Théâtre du Rêve Expérimental. China

A circular stage, with outer space projected on it (circular), and center stage, a live hamster running on a wheel (circular). There were perhaps a dozen cameras distributed around the (circular) perimeter of the stage, transferring what we were seeing live on the stage, in real time, onto a large screen (rectangular). As much as I wanted to watch the stage, my attention was commandeered by the size of the images on the screen, where I also needed to read the subtitles.

The play told the story of the love relationship between a woman named Liu Mei, a theoretical physicist, and a beekeeper named Du Lei. And told it and told it. In a multiverse, there are multiple universes, with countless parallel time-space dimensions, and countless parallel Liu Meis and countless Du Leis. Everything that happens, happens in other universes, in countless numbers of permutations. Constellations advanced along the path of these permutations, the actors advancing to a different camera for each one, the action repeating, folding back on itself, looping around, scenes staying the same or changing. Liu Mei knows from physics that there is Time in parallel Time, where there is no past or present. Du Lei knows from his beekeeping that Time is short, and has Purpose.

The two meet at a ballroom dancing class and fall in love, but they've also already broken up so that seeing each other is awkward. They move in together, and also decide not to; they don't marry and they do; he cheats on her, and also he is faithful and she cheats on him. Her mother has died, and it is Liu Mei's own death. She falls ill and is diagnosed with a brain tumor, which turns out to be benign, and also terminal. The first time we hear "If you want to call it a day," it refers to their breaking up; much later, the same line refers to his agreeing to let her die. She goes abroad for assisted suicide, and she is also still there.

At the end, the two actors came directly out to the audience and Liu Mei said, "There is no Time. There is no 'less' of it; it is still all there."

These two actors were utterly irresistible, individually and together. I was transfixed no matter how many times they asked the big What If's and then explored the multitudes of Well, Then's. Now I know: Love is just a stutter of the universe, and it's not.

*
Cabinet of Dr. Caligari, originally written by Hans Janowitz and Carl Mayer
Directed by Deepan Sivaraman
Blue Ocean Theatre & NECAB in collaboration with Performance Studies Collective, Delhi. India
A mysterious clear box being lowered from above, like a terrarium for dead trees; a man at a typewriter being raised on a rope around his neck. A wall with a row of spigots flowing with "blood"; a motorcycle trapping a man in its light. A man making his way up a very long ladder, with the limp body of a young woman slung over his shoulder. A video screen filled with the image of a man running in terror; real fire on stage. These are a few of the many striking effects of this Cabinet of Dr. Caligari.
The production is a staging of the cinematically ground-breaking 1920 German Expressionist film. Considered the first cult horror film, borne of the horror of World War I, it created a jagged, graphic visual world that has never stopped being influential: tilted, claustrophobic staircases and hallways, paranoid-making sets filled with shadows and stabbed with light. The endlessly varied and creepy music was by the important Italian film score composer, Giuseppe Becce.
That European film is understood to be an examination of fascist authority's abuses and their ghastly consequences. Director-designer of this staging, Deepan Sivaraman, explained its relevance to his own country in a 2017 Indian Express interview: "Caligari and his sinister companion the somnambulist can be read as the allegorical representation of India's powerful right wing fascist mechanism and its lynching gangs and shooters which have become a threat to the life of rational thinkers and also the common man." Sivaraman has been making a plea for theatre artists to take a much more active political stance.
Sivaraman's production has been enthralling audiences and critics since 2015, so I have to think it was the tricky festival conditions that didn't allow the piece to have more impact. For example, the space was extremely deep, and although there were times when a character came close to the audience, for the most part, we were just very far from the action. The opening of the show was a painfully long period almost completely static—a woman far upstage combed her hair in the identical gesture, while we heard the identical four notes, for what, five minutes? ten minutes? Was this intentional, or something offstage was causing trouble for the company? Were the acoustics challenging? Sound levels were set so loud that the floor was shaking, and the actors, whose projected voices could have been heard easily without any electronic support, were shouting at full voice into the mics taped to their faces. Sound levels are ticklish, set before the audience arrives, at which time the sound needs completely change and it's often too late to adjust.
Whatever the reason, I arrived at a staging of a "silent" film, and found myself instead in the midst of a prolonged, nerve-rattling roar. Luckily, memories like that subside, and what will remain for me will be those clever, evocative stage images and the director's courage in speaking out against fascism.
*
Gele Mountain, Collaborative Creation
Directed by Zhao Chuan
Grass Stage. China
This piece was based on a 78-hour event on the nationally protected Gele Mountain, created together by a theatre company, a group of potters, and their friends, celebrating the natural elements.
Brought into a theatre space, this translated into a collection of tenuously related threads and themes. The show opened with a dull 15-minute video of a firing seen from inside the kiln, which we watched while the players relaxed and drank tea in front of us. Then in rotation in sections: a folk story about a man trying to enter where a guard tells him for years that he cannot go; a young woman wandering in the aisles talking about the male doctors who can't identify her menstrual cramps; a young man without his shirt on trying to balance a log on his shoulder and himself on a pile of stones; an older woman describing a gruesome hospital experience. This climaxed with the opening of a philosophical discussion between players and audience members on Artificial Intelligence, without any translation.
Outside the performance venue, those of us who hadn't made it to the end—Chinese audience members and myself—had a lively, enjoyably crabby What-is-Theatre type conversation.
The next morning at breakfast I spoke to two well-spoken women, from New York and Hong Kong, who had come to the festival to see that very performance. They had a special research interest in authentic Chinese folk performance, and they had loved it. Which is an excellent reminder that, for every show that leaves you cold, there is another audience member it left all afire.
*
Fade Away
Written, Directed and Produced by Yang Zhefen
China
This searing production, on the nightmare of bullying, won Best New Play [or perhaps Best Production is a better translation] in the 2017 Young Theatre Artists Competition. I included a review of the show in my yearly Scene4 Wuzhen Festival critique, and farther down, identified it as the winner: see it archived here.
For 2018, the group was invited to re-stage their show. On second viewing, it remained an unforgettably powerful experience, and where small adjustments had been made since the year before, they only made it sharper.
Imagine sitting near the moment pictured above.
*
500 Meters: Kafka, the Great Wall or Images from the Unreal World and Daily Heroism
Concept by Tian Gebing and Christoph Lepschy
Directed by Tian Gebing
Paper Tiger Theater Studio, China
Hands down, this production wins for Best Title.
The Festival is true to its commitment to offering a broad range of theatre: 500 Meters was a dance-performance art piece of the postmodern sort. One critic associated it with the Happenings and visual arts world of Polish director Tadeusz Kantor, which is fitting enough, but other critical mention has been made of the Spanish Surrealist Luis Buñuel, and the refined, ironic French filmmaker René Clair, even though they have less than nothing to do with this show. More relevant to picturing what the performance was like is the work of German dance-art choreographer Pina Bausch: multi-media, experimental group movements, often using repetition as a structuring device, featuring abstract scenic images or environments and sound. Even the near-nudity in 500 Meters suggested Bausch's work, but without any of her purpose.
This German-Chinese project showed an interest in group action—for example, the collective building of the Great Wall of China in 221 B.C.—an effort Kafka pondered in a short story in 1917 (pub. 1930)—and China's new Silk Road initiative, which includes massive plans for building ports and railways. Suggesting oppression by authorities, in a group the performers stepped over other performers who were lying on the floor. Seen in the photo above, the group action of holding the chairs aloft perhaps signified the herculean effort required to bring China's ambitious megaproject to fruition, or perhaps it questioned today's growing collective, hybrid identities.
A serious work; an acquired taste.
*
Animal Magnetism, script by Terry O'Reilly
Directed by Lee Breuer and Terry O'Reilly
Mabou Mines. USA
This show was so easy to love; it was my last show of the Festival, and what a way to go.
In the theatre, there is a trend now to translate films into stage productions, but did you think that would include putting cartoons on stage? Just when there is a social media trend to change real life people into cartoon characters, this show takes large puppets in a cartoon-like world and translates them into real life.
Tin Tin, a large rhino, and Cheri, a petite monkey, are in love, but they are both busy so a lot of their relationship ends up being on the phone. Unbeknownst to her, he is a dealer in rhino horns; she is an actress waiting to land a commercial. She only registers that he is somehow gainfully employed and doesn't think more about it. Their relationship goes through recognizable ups-and-downs: on a good phone day, they are flirty and make plans; on a bad phone day, their relationship is frustrating and off-kilter. Once, they go on a trip together, and it's wonderful. Tin Tin realizes he has to get out of the rhino horn trade, but when he tries, the trafficking mafia threatens him. The story ends [spoiler alert] with a twist right out of an O. Henry story: to satisfy the traffickers, Tin Tin sacrifices his own horn just in time to hear them, as he's talking to Cheri on the phone, arriving at Cheri's door with murder in mind. "Don't answer the door!" he begs her, but she's on her way…
Mabou Mines was already one of the most influential experimental theatres in the 1970s, with its multi-disciplinary new works and avant-garde adaptations of classics, and its synthesis of the approaches of the greatest European theatre practitioners of the day. Since then, the company has re-organized itself over the decades, done 120 shows and won 100 awards. This show is a re-visited version of the O'Reilly script that Breuer first directed in 2001.
The writing and direction were masterful. The story unfolded with absolute clarity. The puppets were enchanting, not only because they were beautifully designed (Jessica Scott). They were also expressively moved by their puppeteers, who were visible; they were creatively given voice by Sean Runnette, who could be creatively channeling Arnold Schwarzenegger, and Clove Galilee, whose ringing voice sounds like a Betty Boop Boop De Doop in the jungle and all grown up. Witty cartoon and pop projections; a delicious musical score including bossa nova, blues, rock and rap; original songs, flying; a jungle setting achieved with not much more than a few cleverly positioned potted plants and lighting—each component of the show was top-notch, and all of them fit together and contributed to the sense of a whole.
In an age of fragmentation, it is more and more rare in the theatre to experience that cohesion of plot, theme and execution, and wherever we come upon it, even in a setting as improbable as this one, it is something to cherish.
*
When the Closing Ceremony ends, it's time to pack up. Photo by the author.
* * *
Cover photo: East and West. Photo by the author.
Note:
Production photos can be found on the Festival website, at www.wuzhenfestival.com
See my previous Scene4 writings on the Wuzhen Theatre Festival, in the Archives.