Here is a Thai artist from the South of Thailand that I would like to introduce this month. Opas Chotiphantawanon has many exhibitions. I followed his works many years ago. I find his works outstanding and creative. Over the years, he has had both solo and group exhibitions. I want readers to know more about him and his work.
Here is the interview
JY: Could you tell me about yourself?
OC: I was born on 25 September 1966 in SuratThaniProvince in the South of Thailand. To start my art education, I enrolled in ChangSinCollege of the Arts Department in 1982 and then passed the entrance examination to enter the Faculty of Paintings, Sculptures and Graphic Arts, SilpakornUniversity in 1985. I studied there for five years until my graduation in 1989. When I was studying in the final year, I received the Silp Bhirasri silver medal award from the 6th Art Competition for Youth in 1989. My works at that time were Mixed Media on handmade paper in abstract style with some stories and inspiration in creating artworks about the sea. It was one of my successes in making art that I started to find my own way of creating artworks and was the beginning of developing sets of succeeding artworks in later years.
JY: What are the concepts of your sets of artworks?
OC: One of the earlier sets of my artworks I would like to mention was called "Color of Life". The undersea world is a home of various colorful corals, sea plants and marine animals. Beneath the deep blue water, sea flowers are waving in the ocean current and fish of various kinds are moving freely with their vivid colors, continually adding another changing beauty to this mystic world. Its beauty and life force have been a major source of infinitive imagination for the creation of these works which can be seen through the face happiness.
The second one was the "Thai…Land" that I submitted to the Silpa Bhirasri Creativity Grants 2012 at SilpakornUniversity and was chosen for this award. I would like to convey the concept and objectives of this project. For the past five years, there were many incidences that affected life and the way of living of Thai people including social disruption and severe conflicts of ideas. Thai people were politically divided into groups such as red shirts, yellow shirts, blue shirts and colorful shirts. The increasing level of conflicts leads to political unrest and chaos. Economic and society are no exception to this damage. In fact, the strong conflict still remains and it is very difficult to heal the wound quickly. In the past years, there were some natural disasters such as flooding in Bangkok and the central region of Thailand. This catastrophe greatly damages lives and the assets of people. I was also the direct victim of this tragedy so I wanted to convey my feelings and emotions through these painting sets of "Thai…land". This set of artwork contains 6 paintings. All of them are Acrylic on Canvas.
Yellow Land (240 x 120 cm)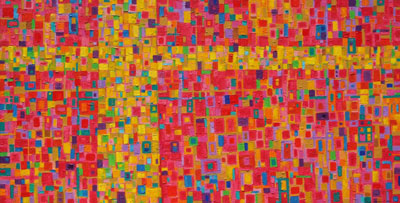 Red Land (240 x 120 cm)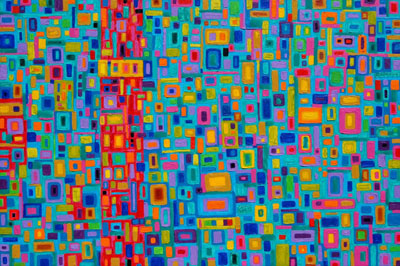 Colorful Land (180 x 120 cm)
Blue Land (120 x 220 cm)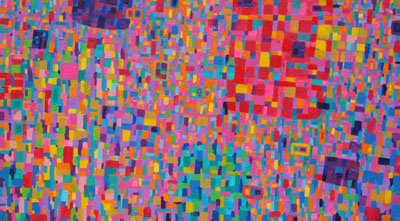 Happiness Land (180 x 120 cm)
Water Land (2000 x 120 cm)

The next set of artworks called "100 masks" was one of my most important solo exhibitions that is also memorable to people. These are made of recycled paper, sculpted and painted with acrylic color. Some of them mixed other materials such as wood and other things for decoration. I spent about one year to make these artworks and they were exhibited at People's Gallery and BangkokContemporaryArtCenter in 2017.
Here is my concept of making.
The idea originated and reflected the story of people from online social media which are increasingly popular since these days as technology grows so fast and convenient. People connect to each other by using their fingertips to browse their smartphones. They create their profiles that attract others and use social media as a channel to communicate with friends, to sell their products, to express their own feeling and so on. Some may express their identities openly but others might conceal their true intentions under their smiling faces. An image that we see in the online social media community could be like a mask to hide the real identity.
The final sets of artworks I like to talk about is "Crown". These artworks are developed after the "100 masks" set. The main concept is that everyone wants to wear a crown because it is so precious and majestic. They tried to obtain the crown but already forgot that the most beautiful and priceless thing is the virtue. For this large size, I used aluminum for the structure so that it is more durable and no rust. Aluminum is covered by recycled paper and glue for better durability. The acrylic color is paint to cover it. Diamond dust and other ornaments are also applied for more glistening from light reflection.
Education
1984- College of Fine Art , Bangkok
1989- B.F.A. in Painting , Faculty of Painting , Sculture and Graphic Arts , Silpakorn University , Bangkok , Thailand

Award
2012 - "Silpa Bhirasri Creativity Grants 2012" by Silpakorn University, Thailand
2009- Topten Asian Inspiration Winners' Exhibition 2009, Artrom Gallery, Italy
1989- Silp Bhirasri Silver Medal Award 6th by Silpakorn University, Thailand

Collections
: Silpakorn University, Bangkok, Thailand
: Grand Hyatt Erawan Bangkok
: Central Samui Beach Resort
: Siam Inter-Continental Bangkok

Solo Exhibition
2019 - "Faces" at ChangChui Gallery, Bangkok
2017 - "100 Mask" at People's Gallery BACC, Bangkok
2013 - "MY ELEPHANT" at Siamkempinski Hotel, Bangkok
2010- "COLOUR OF LIFE" at Rose Garden Gallery , Suan Sampran , Nakornpathom
2006 - "MEMORY OF MIND"at Leisure Art Gallery , Hua-Hin, Prachuapkhirikan
2002- "SEA FACES" Solo Exhibition at Laguna Beach Resort , Phuket
1999- Opas Chotiphantawanons Solo Exhibition at Chiwasom , Hua-Hin, Prachuapkhirikan
1998- Opas Chotiphantawanons Solo Exhibition at the loft Art Gallery Phuket

Duo Exhibitions
2000- "Dazzling Color" Art Exhibition , exhibition with Gumsak Atipiboonsin at Viengtavern Gallery , Bangkok
1994- "Coolsy Colors" Art Exhibition , exhibited with Chalit Nakpawan , at the British CouncilGallery , Bangkok
1991- Exhibited with Somkieat Jaroenwatsakol at Seven Sea Gallery Bangkok

Group Exhibitions
2019- "Look at Me"at Art gallery g23, Bangkok
2018 - "Art for Life Mercy Mission" at The Queen's Gallery, Bangkok
2018 - "Open your Eyes Open your Mine" at So gallery ChangChui, Bangkok
2017 - "In Remembrance of the Great King" at Bangkok Art and Culture Centre, Bangkok
2017 - "Forever King" The 11th Art Exhibition of the International Visual Artist
Association of Thailand at Central Embassy, Bangkok
2017 - "King Bhumibol The Great" The 10th Art Exhibition of the International Visual
Artist Association of Thailand at The Queen's Gallery, Bangkok
2017 - "SATI" at Duke Contemporary Art Space, Gaysorn Plaza, Bangkok
2017 - Group Exhibition Nude at River City, Bangkok
2016 - An Art Exhibition "Stars for Good Citizens" at Chamchuri gallery, Bangkok
2016 - The exhibition in remembrance of His Majesty King Bhumibol Adulyadej "Father of the Land" at Pacific City Club, Bangkok
2016- "Behind the Masks" at Grand Hall River City Shopping Complex, Bangkok
2014 - "International Watercolor Society-Thailand Festival 2014" at Grand Hall River City
Shopping Complex, Bangkok
2013 - "Rejoicing" Art Exhibition in the Occasion of 60th Anniversary of Professor Vichoke
Mukdamanee at PSG Art Gallery Silpakorn University, Bangkok
2013 - "Silpa Bhirasri Creativity Grants 2012" At Silpakorn University Art Gallery , Bangkok
2012 - "Dreams Box"at Siam Kempinski Hotel, Bangkok
2010- "Contemporary Art Exhibition Meassages" by Infinity Group at Tita Gallery,
ChiangMai
2009 - "SEACON SQUARE WATERCOLOURS ART EXPOSITION"at Seacon Square, Bangkok
2009 - "Bangkok…Bananas"at Bangkok Art and Culture Centre, Bangkok
2009- "Neo Black 2009 " at Grand Hall River City Shopping Complex, Bangkok
2008- "Visual Arts Festival 55th Anniversary of the College of Fine Arts " at The Queen's Gallery, Bangkok
2007- " ART VARIETY 2007 " at Grand Hall River City Shopping Complex, Bangkok
2007- " Artist Self Portrait " at The Silom Galleria, Bangkok
2007- " Inspiration From Our Beloved King " at Central World, Bangkok
2006- Art Exhibition"The 100 Thai Artists Helppeople with disabilities " at ThaniyaPlaza Shopping CenteratBangkok.
2006- "Seacon Square Art Exposition to Celebrate the 60th Anniversary of His Majesty The King's Accession to the Throne" at Seacon Square, Bangkok
2006 - "1st Anniversara of Tsunami Art Exhibition at Plaza Athenee Hotel, Bangkok
2006- "Thai Memories" at Jamjuree Gallery, Bangkok
2006- "Art 2006" Contemporary Art Exhibition at SCBParkPlaza, Bangkok
2006- Siriraj Art Exhibition to Commemorate the 60th Anniversary of HM's Accession to the Throne of Thailand at SirirajHospital, Bangkok
2005- " Space and Space "­ Art Exposition on The Occasion of Silpa Bhirasri day, 2005 at SilpakornUniversityArtGallery, Bangkok
2005 - " Reviving The Andaman " at the Imperial Queen's Park Hotel, Bangkok
2005 - "Arts For Smiles"at The Museum Hall Siam Commercial Bank,Bangkok
2004- "Contemporary Art Exposition : Earth-Mountain-River-Sea and Sky" on The Auspicious Occasion of Her Majesty the Queen's 6th Cycle Birthday Anniversary. at Silpakorn University Art Gallery,Wang Tha Phra, Bangkok
2004- "The 5 Decade Anniversary - The College of Fine Arts Exhibition" at The Silom Galleria, Bangkok
2004- "Seacon Square Art Exposition to Celebrate the Auspicious Occasion of Her Majesty the Queen's 6th Cycle Birthday Anniversary at Seacon Square, Bangkok
2003- "Art to Nature Phuket Krabi Phangnga"at The Silom Galleria, Bangkok and Dusit Laguna Resort Hotel, Phuket
2003- "Watercolours Art Exposition, Thailand 2003"at The Silom Galleria, Bangkok
2003- "Happiness" The Art Exhibition by 120 Artist on The Occasion of 60th Anniversary of Silpakorn University, Bangkok
2003- "Art in box " The 4th Thai Contemporary Art exhibition on the occasion of 60th Anniversary Celebration of Silpakorn University,Bangkok
2003- "Contemporary Expressions" at The International School,Bangkok
2002- "Art For Elephant" Art Exhibition at Hilton International,Bangkok
2002- "Spectacular Trang" The 60 Artists,Echo,The Trang chamber of commerce and Tourism Authority of Thailand at Resonance Center (RCK Tower), Bangkok
2002- Drawing Thai Contemporary Art Exhibition Project on the Auspicious Occasion of 60thAnniversary of Silpakorn University , Bangkok
2002- "Art for Mae-ram-poeng Beach" at Bann-Nanthasiri Hotel , Rayong
2002- Landscape Painting Exposition at Silpakorn University Art Gallery , Bangkok
2001- Art in the occasion of Silpa Bhirasri's day 2001: Artist...Portrait at Silpakorn University Art Gallery, Bangkok
2001- " Inherit Culture...Sukhothai to The Millennium 2001 " at Thailand Cultural Centre, Bangkok
2001- World's Premier The Contemporary Asian Art Fair, Singapore International Convention & Exhibition Centre , Singapore
2001- Art for the River Project Year 2001 at Saim Discovery Center, Bangkok
2001 - " Town Invade Forestry " the 4th Art music and photograph Exhibition by the Artists to preserve the western tropical forest group at The National Gallery , Bangkok
2000- Silpakorn Art Exhibition to Celebrate the Auspicious Occasion of His Majesty The King's 6th Cycle Birthday Anniversary 5th December 1999
1999- "An Artistic Experience of Chao Praya River " by " Artist love Chao Praya Group "at The Emporium , Bangkok
- Cobalt Blue Groups 4th Art Exhibition at The National Gallery , Bangkok
- "The River of Kings " Art Exhibition to Celebrate on the Auspicious Occasion of His Majesty the King's 6th Cycle Birthday Anniversary
- Seacon Square Art Exposition to Celebrate the Auspicious Occasion of His Majesty The Kings 6th Cycle Birthday Anniversary
1998- " Marine Dance " Art Exhibition at Central Chidlom , Bangkok
1997- Contemporary Art Exhibition in commemoration of 55th Anniversary of the Faculty of Fine Art , Sculpture and Graphic Arts , Silpakorn University
1996- Cobalt Blue Group's 3rd Art Exhibition at The National Gallery , Bangkok
1995- Asian Watercolor'95 at The National Gallery , Bangkok
1994- Cobalt Blue Group's Contemporary Art Exhibition at the Imperial Queen's Park Hotel , Bangkok
1991- "Coloration 1991" Art Exhibition by Vi Ni Ruj Gallery , Bangkok
- 3rd " Toshiba Brings Good Things to life " Art Competition
- Cobalt Blue Group's Art Exhibition at the Dialogue 1991 Gallery, Bangkok
1990- Thesis Art Exhibition by Undergraduates of Faculty of Painting , Sculpture and Graphic Arts , Silpakorn University
1989- 35th National Art Exhibition , Bangkok
- 6th Contemporary Art Exhibition by Young Artists
- 43rd Art Exhibition by Petroleum Authority of Thailand
- 1st Toshiba Brings Good Things to Life Art Competition 1989
- Art Exhibition by student of Faculty of Painting , Sculpture and Graphic Arts, Silpakorn University
1988- 34th National Art Exhibition , Bangkok
- 5th Contemporary Art Exhibition by Young Artists
- 3rd Art Exhibition by Petroleum Authority of Thailand
- Art Exhibition by student of Faculty of Painting , Sculpture and Graphic Arts , Silpakorn University
- "Seascape" Oil Color Painting Exhibition
1987- 33rd National Art Exhibition , Bangkok
- 11th Bualuang Art Exhibition , Bangkok
- 4th Contemporary Art Exhibition by Young Artists
- Art Exhibition by student of Faculty of Painting , Sculpture and Graphic Arts,
1986- Contemporary Art Exhibition , Bangkok
- 3rdContemporary Art Exhibition by Young Artist , Silpakorn University
- "Seascape" Watercolor Painting Exhibition , Bangkok
- 3rd Young Artist Exhibition of Thailand
- Art Exhibition by students of Faculty of Painting , Sculpture and Graphic Arts , Silpakorn University
1985- 2nd Young Artist Exhibition of Thailand
1984- Art Exhibition by Students of College of Fine Arts , Bangkok
1983- Art Exhibition by Students of College of Fine Arts , Bangkok