If you are European, a painting by the Swiss Symbolist Arnold Böcklin has accompanied you throughout your life: "Die Toteninsel" (The Isle of the Dead) from 1880 was so popular (Freud had it in his office) that the painter produced several similar versions with ever darkening skies in the next six years. The painting shows an alluring and foreboding rock island, with dense cypresses, white-glowing sculpted blocks, and majestic porticos leading into the rock face. There is something classical about the straight forms, something archaic and inviting like a marble palazzo of the dead in the Mediterranean sea. In the original version, a small barque approaches in the last light of sunset, with a figure of perhaps a woman, shrouded in white like a nun or a bride, guiding a white coffin to shore. A rower with long hair holds the oars.
One of the versions of the painting burned up in the course of time, and only a black and white reproduction remained. This version inspired Russian composer Sergej Rachmaninov to the symphonic poem "Die Toteninsel, Op. 29, " a beautiful, brooding work about the soul's journey toward death and the unknown beyond. The twenty-some-minute piece from 1909, written for an extended romantic-style orchestra with rich strings, horns and harp, now has inspired one of the young, gifted choreographers of our time, Liam Scarlett, to create a work for San Francisco Ballet, also called "Die Toteninsel."
Liam Scarlett, who is artist in residence at the Royal Ballet London, is a familiar here in San Francisco. The thirty-something Brit has supplied several noteworthy choreographies for the company in the past years ("Hummingbird," "Frankenstein" et al, reviewed in these pages), showing himself a cut above most of his competitors, possibly approaching the position of number 2 of today's classical ballet after Russian dance master Alexej Ratmanssky (whose "Shostakovich-Trilogy" will be next on the program). Scarlett's fellow choreographers mostly repeat over and over again what is considered the going modernist style. In recently shown works, their struggle with the question: "What is is that I might have to say?" is so obvious that I find it hard to say much of anything about them (Yuri Possokhov, Justing Peck, or Christopher Wheeldon are a case in point). Scarlett, by contrast, has dared to go all out and say something – something stirring and meaningful.
Rachmaninov's music for "Die Toteninsel" is set in a 5/8 rhythm in the slow-paced (Lento) forward-backward move of quietly rocking water. At times it rolls like a mournful procession of waves, only to slide and suck you back, keeping you unsteady with uncertain beats, while relentlessly moving on. Just rhythmically this music is a challenge for dancers used to a steady beat, but they perfected Scarlett's movement, keeping a rising suspense from the first steps to the last about where this is going: is it death, is it something beyond, is it to be avoided or can it be embraced? "There is a definite and then a faltering step," the choreographer said. "By putting that second beat on different accents, time shifts and is not as we know it. If you are making a journey to somewhere that's not in this life, then who's to say what time is?"
The choreographer chose a comparatively low-key rendition of the music (not a fast, high-drama version à la Gustavo Dudamel, for example) and the music was stirringly played by the San Francisco Ballet Orchestra under Martin West. The piece begins with a long line of dancers traversing the dark stage in a formal diagonal line as the music sets its pace with a simple step-by-step melody. The strings echo Rachmaninoff's familiar Dies Irae, a take on the medieval plainchant for the dead, with a marked accent of two Wagnerian chords of doom. The diagonal walking pace of the dancers is directed at a "night sun" or celestial body made of a beehive of halogen lights. This clear, inexorable move in one direction, with the dancers' dark bodies beautifully sculpted in bronze side-lighting by David Finn, brings to mind Forsythe's masterpiece "Artifact Suite" (reviewed here) and sets the tone for the entire choreography.
The dancers, group and soloists, continue with slow, pensive moves that seem to remember scenes from Greek urns or Egyptian hieroglyphs. In a brilliant spacial-musical idea Scarlett then embodies the unquiet 5/8 rhythm in five soloists, one threesome and one couple, in addition to a group of eight women and men. I saw a second cast with a superb corps dancer in the lead, Cavan Conlan (who was promoted to Soloist after this performance) and an equally compelling twosome (soloists Jana Frantziskonis and Max Cauthorn) and threesome (the charming soloist Wantang Zhao between principal Luke Ingham and soloist Steven Morse). The solo, then the duets and trios pick up doubt, fear, hesitation and courage in superbly fluent movements.The absence of grand or pompous sentiments in the choreography, renouncing any dramatic lifts or acrobatics, is particularly convincing.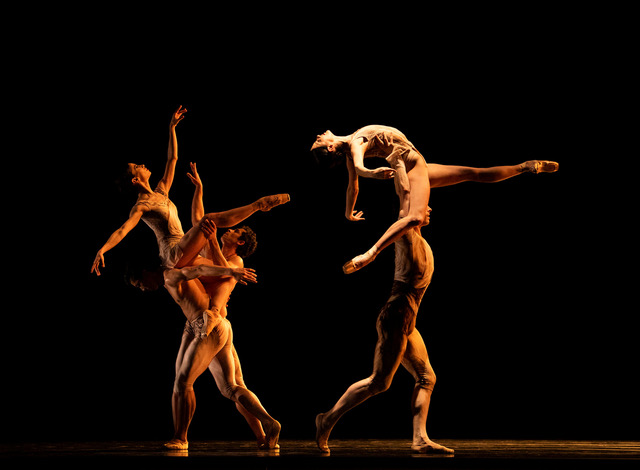 The soloists are mirrored in the background by the group in two-and three-formations that repeat the soloists' movements as if there were always two levels of experience: one a mere memory or fantasy of another. This device of doubling and shadowing is nothing new, but Scarlett apparently has no need to be original at all cost. He serves the repetitive phrases of the music perfectly in this way and keeps the piece anchored in a clear architectural shape of containment. As he shows with the allusion to Forsythe, the moments of struggle in the choreography also don't shy away from fleeting echoes of Balanchine's "Agon" and "Apollon Musagète."
Everything in the movement, however, is smooth as water, with a beautifully controlled velvet quality that is erotic and mesmerizing. The choreographer talks about moving "as if under water," which gives the piece an otherworldly feel. At the same time, he keeps in step with Rachmaninov's implacable forward movement, intensifying the ecstatic moments of the music with expressions of love's glory mixed with an aching sense of loss and regret, as if translating Dante's famous comment that "there is no greater sorrow than to recall happiness in times of misery"—whether in life or in the face of death.
The musical crescendos (with the thunder of kettle drums like judgment calls) concentrate the struggle on one couple, with an intensity that is full of seduction and has an echo of the archetypal Death and the Maiden. An ominous quiet follows with the ticking sound of a pendulum and the group solemnly rejoins the diagonal procession. The male dancer seems to be guiding, encouraging his lover to follow them, but she will not be convinced to move into the unknown space. Exquisitely danced by Jana Frantziskova, she hesitates, pleads and moves backwards, away. With the final phase of rocking, sucking, disquieting waters a third dancer returns and gently moves her over the threshold, but she wont look ahead to where she is now going: she remains turned toward her lover, to the past, to life. The lover, Cavan Conley, remains alone, then picks up the pace to follow the others. With the last note of the score that keeps everything in open suspense, he stops as if unable to go on. The music ends like holding its breath, and the dancer remains suspended in a gesture as ambiguous as the music— of despair, wonder, awe, and perhaps surrender.