I've written before in this column about how growing up in rural Ohio was a cocoon insulating me from the 1960s. Even so, my village wasn't protected from everything. Two of its young men—including the brother of one of my classmates—were killed in Vietnam. The draft effectively ended six weeks before my 18th birthday, but if I had been drafted, I would have gone to war. That's what boys from Sugar Grove did.
I was thirteen when Mayor Richard Daley set the Chicago police against protesters at the Democratic National Convention, and fourteen when Attorney General John Mitchell ordered a trial against leaders of the protests for crossing state lines to conspire to incite a riot. I don't remember anyone in Sugar Grove even mentioning the trial, but I'm sure nearly everyone in town thought the defendants were getting their just deserts, just as nearly everyone in town a year later thought William Calley was being railroaded.
There have been many documentaries and feature films that have portrayed or touched on the trial—including one by Jean-Luc Godard, Vladimir et Rosa, in which Judge Julius Hoffman was caricatured as "Judge Himmler." Now Aaron Sorkin has written and directed his own version, The Trial of the Chicago 7, a Netflix original.
The charges were flimsy; most of the defendants didn't even know each other before the trial, and those who did mostly didn't like each other—especially Abbie Hoffman (Sasha Baron Cohen) and Tom Hayden (Eddie Redmayne). Their philosophies and techniques were at odds: whereas David Dellinger (John Carroll Lynch) preached nonviolence, Jerry Rubin (Jeremy Strong) showed his followers how to make Molotov cocktails. One of the defendants, Black Panther Bobby Seale (Yahya Abdul-Mateen II) was plainly selected to scare the jury and the public to death.
Sorkin makes something else plain in the opening, in which Mitchell (John Doman) meets with federal prosecuting attorneys Richard Schultz (Joseph Gordon-Levitt) and Thomas Foran (J.C. MacKenzie): Mitchell seeks to embarrass his old enemy, former Attorney General Ramsey Clark (Michael Keaton), who refused to file a case in Chicago. Schultz points out that the statute under which Mitchell is charging the defendants was designed to allow Southern states to bring charges against civil rights activists. Mitchell's response, essentially, is, "So what?"
The rest of The Trial of the Chicago 7 plays out as an exciting courtroom drama with frequent flashbacks to the riots. Schultz and defense attorney William Kunstler (Mark Rylance) are dueling legal bulldogs under the baleful gaze of Judge Hoffman (Frank Langella). At every opportunity Judge Hoffman trumpets his bias in the government's favor. He issues a blizzard of contempt citations against Kunstler and the defendants; he insists on mispronouncing Dellinger's name as "Dillinger" or "Derringer." His worst outrage is to force Seale to appear in court without legal representation, and finally to order him beaten, shackled and gagged. In turn, the defendants (especially Rubin and Abbie Hoffman) increasingly flout their disdain for the judge and the court. At one point the two of them appear in court in judicial robes; when Judge Hoffman orders them to remove the robes, they reveal police uniforms.
The Trial of the Chicago 7 is a pristine example of Sorkin's work, resplendent with superb performances (it's hard to choose standouts, but Langella, Rylance and Cohen have in the showiest roles) and razor-sharp dialogue. Some reviewers have faulted Sorkin for the latter, on the grounds that the real-life historical figures would never have been so eloquent. Undoubtedly those reviewers are correct, but sharp dialogue is traditionally one of the pleasures of any dramatic entertainment, so why deny it to ourselves? Nevertheless, the most memorable line for me was one spoken in archival footage by Walter Cronkite, from 1968: "The Democratic National Convention is about to begin in a police state. There just doesn't seem to be any other way to say it." Regarding the events of the last four years, we see how little has changed in the last half-century, and we mourn.
Just as I was cocooned from the politics of my teenage years, so I paid little attention to much of its music. The cool kids in my school knew that the five members of the Band—Robbie Robertson, Levon Helm, Richard Manuel, Rick Danko, and Garth Hudson—were making some of the greatest recordings in the history of rock. I was not one of the cool kids.
The Band's final concert with its original lineup was the subject of arguably the best concert movie ever made, Martin Scorsese's The Last Waltz. More than forty years after the release of that film, Scorsese (along with Ron Howard, Brian Grazer and others) was executive producer of Daniel Roher's documentary, Once Were Brothers: Robbie Robertson and the Band. The movie's subtitle alone is a warning sign for some viewers. The Band had a legendary breakup that made the Beatles' split look amicable, and there were many who blamed Robertson, not least Helm. In 1994, when the Band was inducted into the Rock and Roll Hall of Fame, Helm preferred skipping the ceremony to seeing Robertson again. Helm was comatose when Robertson visited his deathbed in 2012. Hudson—the only surviving member of the original group besides Robertson—either declined or wasn't asked to be interviewed for the new movie.
In any case, Once Were Brothers is Robertson's story, and on its surface it is a straightforward, engrossing tale of a life in rock music. We see Robertson talking about growing up in Toronto, his early exposure to music on his visits with his mother to the Mohawk Nation homeland in Ontario, and how his career took off at 16 when Ronnie Hawkins hired him for his band, the Hawks. ("I told him, 'Son, you won't make much money, but you'll get more pussy than Frank Sinatra,'" said Hawkins, a cheery octogenarian, in his interview. "And he did!") Helm was already Hawkins' drummer when Robertson joined the Hawks; Manuel, Danko, and Hudson joined later. "They were probably the best white blues band in the world at that time," Hawkins said.
The story told in Once Were Brothers is well-known, especially how the quintet became famous through its association with Bob Dylan. That collaboration was not easy at first; this was the period when Dylan was transitioning from acoustic to electric. Audiences booed him on two continents and turned their special hatred on the musicians who backed him. Helm grew so discouraged that he quit and went to work on an oil rig in the Gulf of Mexico. However, he rejoined his bandmates for their sojourn in Woodstock, at the ugly but spacious house christened Big Pink.
Musicians including Bruce Springsteen, Eric Clapton, Van Morrison and Taj Mahal appear throughout Once Were Brothers, attesting to the influence Robertson and the rest of the Band had on their own music. The rest of the Band's history is sadly familiar, ending in bitterness and recrimination. You may accept Robertson's version that the Band collapsed in a heap of alcohol and drug addiction, or Helm's that Robertson was a credit and money hog. Personally, I see many shades of gray. There seems to be little disagreement that Robertson is an uncommonly dedicated musician, as well as one of the greatest songwriters of the rock era. Unfortunately, his status as the Band's chief songwriter was at the crux of its dissolution. Helm and the others excelled at tweaking the songs Robertson brought them, but in the end the royalties went to the guy whose name was on the title page.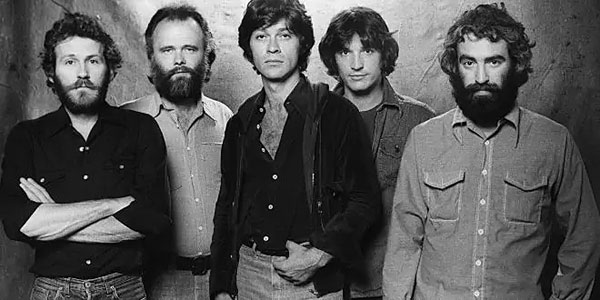 At the end of Once Were Brothers, subtitles tell us that The Last Waltz was the last time the five original members of the Band performed together. That is a sad thought, because it is commonly agreed that none of them ever again reached the heights they achieved together. But we still have The Last Waltz, the Band's albums, and such great Robertson songs as "The Weight," "Up on Cripple Creek," and "The Night They Drove Old Dixie Down." That is a greater legacy than most rock groups have left.
Once Were Brothers is available on Amazon Prime and Hulu streaming, as well as on Netflix DVD.