I have a place where dreams are born,
And time is never planned.
It's not on any chart,
You must find it with your heart.
Never Never Land.
So sings the boy who would not grow old, that enduring character created by J. M. Barrie, in the musical version of the play that continues to delight audiences young and old. Indeed, the story of Peter Pan has proved to be a timeless one – the trope of never growing old as much a metaphor for keeping the joy and innocence of youth alive throughout one's life, as it is a fairytale fantasy in its more literal meaning. That there have been countless psychoanalytical explorations of Barrie's story and character speaks to the fascination this work of fiction holds over the imagination and to the truths cloaked in make believe that it embodies.
The stunning new production of the 1954 Morris Charlap/Carolyn Leigh/Comden and Green/Jule Styne musical at Lancaster's Fulton Theatre demonstrates vividly the intersection of this fiction and reality. Performed for intergenerational holiday audiences in repertoire with the children's show, Marc Robin and Curt Dale Clark's 'Twas the Night Before Christmas, which explores in a comedic way the very same themes of imagination and seeing with the heart, this Peter Pan proves both eye-opening and inspiring.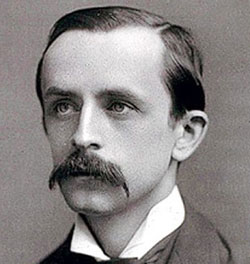 The Scots author, J.M. Barrie (1860-1937), was already a well-established writer on the London literary scene in 1902 when he published The Little White Bird, where in Chapters 13-18 he introduced readers to Peter Pan, a boy who has flown from his nursery to Kensington Gardens when he is seven days old. Described as both a child and a bird, this prototype of Peter Pan embraces immediately the mythical aspects of the character. Barrie transformed that germ of an idea into the 1904 London stage production of Peter Pan or the Boy Who Wouldn't Grow Up, which was so successful that it went on to have its American premiere in 1905 with the celebrated actress Maude Adams in the title role. The appeal of the story and its characters prompted Barrie to flesh it out in the 1911 novel, Peter and Wendy, and Barrie's creations have continued to live on in film adaptations, Disney animations, and in the classic stage version musical brought to life on Broadway by Mary Martin and Cyril Ritchard.
Barrie's Peter Pan is thought to have been inspired by his friendship for the Llewelyn Davies family – Arthur and Sylvia and their five children, George, John, Peter, Michael, and Nicholas. Barrie, divorced from his actress wife Mary Ansell, became a regular companion to Sylvia in the three years following the death of her husband Arthur in 1907 and her own passing in 1910 – both from tuberculosis – and he became one of the children's guardians from that time onward, remaining in close contact with the surviving boys (George died in WWI and Michael drowned in 1921) throughout his lifetime.
Not unlike R.L. Stevenson, who conceived Treasure Island to entertain his stepson, Barrie first created his play and novel about a fantasy realm of Neverland, home to Peter's band of Lost Boys, peopled by pirates and natives, to amuse the Llewelyn Davies children. But if Stevenson's work is a dark, realistic coming of age story that grapples with complex morality, Barrie's Peter Pan, at least on the surface, poses as sheer delight. However, the deeper social metaphors in Peter Pan did not go unnoticed from the very first. George Bernard Shaw described the play as "ostensibly a holiday entertainment for children, but really a play for grown-up people" in which the societal constraints of late Victorian Bloomsbury are contrasted with the exuberance of Neverland, a world where morality is ambivalent, where villains can be loveable, and where pleasure and fun prevail over responsibility. When Captain Hook asks Peter Pan in their final sword fight, "What fiend art thou, Pan?," Peter replies, "I am youth; I am joy; I am freedom!" echoing Barrie's rallying cry against conventionality and the death of innocence, joy, and imagination that could be the result of Victorian convention.
Psychologists, of course, also like to explore the motivations for Peter Pan's desire to remain a perennial boy, who only plays at more adult relationships, such as the one for which Wendy longs. And biographers like to dissect Barrie's own emotional life from the fact that his marriage remained unconsummated to his preference for youthful companions. Perhaps Nicholas, the youngest of the Llewelyn Davies children, summed it up best when he said, "Uncle Jim was an innocent – which is why he could write Peter Pan."
The Fulton Theatre staging, directed by Marc Robin, manages to embrace and treat seriously the contraries of this play and its creator without losing one jot of the magic. Indeed, it is the layered emotional depth of Robin's concept that makes this production soar. Perhaps his single most significant choice is to cast Peter with a male actor, rather than the conventional female interpreter. This lends a level of reality to the story, establishes genuine tension between him and Wendy, and makes him a viable foil to Hook. In this production we feel a palpable vulnerability and pain in Peter's backstory in poignant moments where he recalls his own mother's perceived rejection or when he, despite his affection for Wendy, cannot commit himself emotionally. These glimpses of deeper conflict are well shrouded in the sheer buoyancy of his spirit, his youthful animation, high energy, and unfiltered bravado. This is not an elfin creature, but a very human boy with all the fears and dreams of youth.
Other directorial choices help modernize the play without ever destroying its true essence. Given that this is fantasy, Robin is able to transform the Lost Boys into Lost Children, adding boys and girls to the mix, and he similarly finds wonderful comedy in adding some zany female pirates as well. He and Buddy Reeder choreograph a thrilling flight sequence and skillfully shape the choreography for Tiger Lily and her band into exotic, athletic virtuoso numbers that have none of what would be considered offensive today, just as he makes the relationship between Tiger Lily and Peter Pan one of two tribes finding common ground and friendship. Moreover, he creates a finale for Act One that is a celebration of childhood fun so dazzlingly original in its choreography and staging. Most of all Robin preserves the sense of magic and fun, the feeling of a slightly larger-than-life storybook tale, while still imbuing it with genuine heart.
Music Director Ben McNaboe leads the ten-person orchestra with flair, keeping tempi brisk, underscoring the drama skillfully, and finding more color and richness than one might imagine in the score. Robert Andrew Kovach creates a set that has the feeling of a children's book illustration- bold, rich hues, slightly oversized in scale, lovely to look at, and easy to escape into. Paul Black's lighting completes that ambiance using rapidly shifting tones of purple, green, yellow, blue, adding backdrops of starry skies and hazy lagoons. Katelin Walsko designs the remarkable props including the impressive giant crocodile, while Josh Allamon's soundscape is beautifully balanced. Anthony Lascoskie, Jr.'s costumes and wigs round out the picture, re-imagining the classic character images with freshness and bold originality.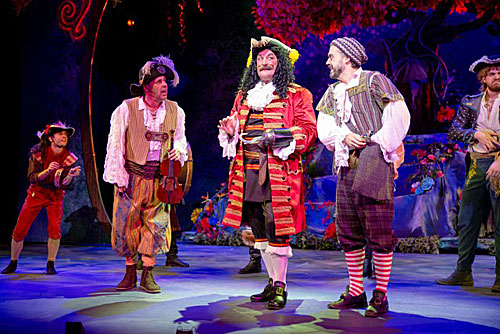 The large cast is outstanding in every way. As Peter Pan, Joseph Frederick Allen gives an electric performance – kinetic in the air and on the ground, cheeky, impish, sweet, touching, and he acquits himself impressively in all the vocals ranging from the boisterous "I Won't Grow up" to the lyrical "Neverland." As his nemesis, Captain Hook, Curt Dale Clark is perfection: an imposing figure capable of inspiring both awe and amusement, deliciously dangerous and at the same time helplessly silly, sassy and sentimental, a poetic dandy of a villain who is surprisingly endearing and who commands the stage every moment he is present on it. Moreover, Clark masters the vocal aspect of the role beautifully from his big, flamboyantly sung solos to his note perfect exaggerated British diction and gravely pirate-speak. This is a Captain Hook who steps from the story's pages with larger-than-life authenticity. That Clark also doubles so appealingly as Mr. Darling creating a completely different image of a prickly and proper British gentleman is testimony to his versatility as an actor.
Carolyn Anne Miller makes a beautiful, youthful, prim, and tender Wendy Darling who uses her lovely soprano to memorable effect. Katie SIna Kindig is an elegant, warm Mrs. Darling, whose lullaby "Tender Shepherd" is one of the show's highlights, and she, too, gets to turn 180 degrees and play a campy, unibrowed female pirate. George Boben Fenimore as John Darling and Noah Woods as Michael Darling are charmingly convincing as Wendy's younger brothers. Matty Rickard gives a loveable performance as Nana, the children's canine nurse. Expressive in his furry costume, Rickard captures both the mannerisms of large dogs like Barrie's Newfoundland who inspired the character at the same time that he endows Nana with a winning anthropomorphism. All the more humorous to find him as a rough-hewn pirate and an athletic dancer in Tiger Lily's Pounce. Janayé McAlpine is stunning as Tiger Lily- a lithe, sinuous, sexy dancer with just the right aura of attitude and dignity.
Among the pirates, Andrew Kindig is a colorful Smee, playing to Clark's Captain Hook with impeccable comic timing and a spontaneous chemistry that makes every scene alive. Jeff Coon has great fun bumbling his way through the role of his cohort, Starkey, often wittily improving a line or a piece of business. Other enjoyable cameos come from Anthony Zambito as an hysterical pirate asked to confront the murderous "Doodle Do," Joey Abramowitz, Buddy Reeder, Anthony J. Gasbarre III, David Webb as part of Hook's gang, and Dan Bob Higgins as a menacing crocodile. The entire adult ensemble is comprised of accomplished dancers, with Jonathan Bryant, Justin DeParis, Jason Garcia Ignacio, Alicia Babin, Kyra Christopher, and Samantha Hewes Cramer standing out especially in the Pounce scenes. The sixteen-person children's ensemble was delightful to experience in its diversity and sparkle. This is a show about youth and these young folks certainly captured the spirit Barrie intended.
You'll have a treasure if you stay there,
More precious far than gold.
For once you have found your way there,
You can never, never grow old.
Never growing old – literal to a degree in the mythical character of Peter Pan – is really a metaphor for preserving the youthful innocence of childhood, of nurturing the ability to dream. This same idea animates the Robin and Clark musical 'Twas the Night Before Christmas, which played concurrently to young audiences throughout the Fulton's holiday season. In this hour-long celebration loosely based on the traditional Christmas rhyme, a young girl Charlotte, sensitively played by Carolyn Anne Miller, overcomes her skepticism about the existence of Santa and all the other iconic Christmas characters and undertakes a mission with the lonely, timid Rudolph the Red Nosed Reindeer to save the true meaning of the season.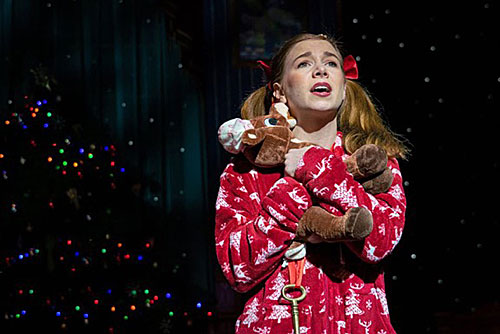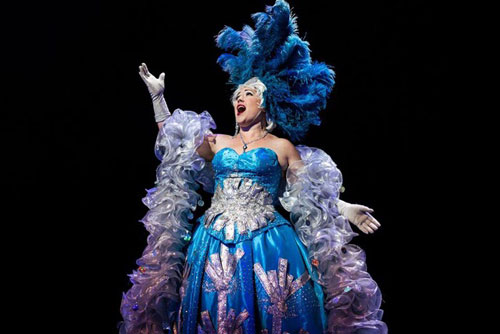 Directed by Randall Frizado, who poignantly plays Charlotte's father Charles, with expressive and varied choreography by Samather Hewes Cramer, the play features an eight-person ensemble who romp exuberantly through multiple roles. Nicole Hackmann as an operatic Snow Queen and Samaria, Andrew Kindig as a lively, wise-cracking Mouse King, Anthony Zambito as a shy Rudolph, and David Webb as a folksy Dale and Santa, Samantha Hewes Cramer as a street-wise Gremlin, Jonathan Bryant as Frosty, and Justin De Paris as the Nutcracker all perform with brio.
Ben McNaboe serves as Music Director, creating some skillful arrangements of familiar tunes; William James Mahoney repurposes the Peter Pan set to serve as the show's milieu with Keith Eyrich's props; Victoria Layser (Anthony Lascoskie, Jr., wigs/makeup) contributes the sometimes fantastical costumes; Kate Pollard-Knudson (lighting) and Tyle Horn (sound) complete the magic.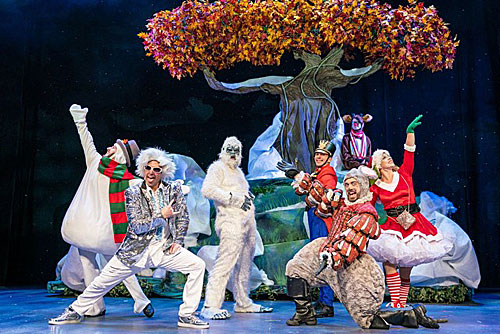 Told with deft and dizzying wit, this crazy quilt pastiche presents beloved characters and themes all trying to reinvent themselves and rediscover their truest essence. Crammed with allusions to fables such as The Wizard of Oz, The Nutcracker, and The Snow Queen, as well as musical allusions to numerous Broadway favorites, the overall effect is an incongruous mash up of fun that ultimately offers a message that complements that of Peter Pan. As the characters in 'Twas the Night Before Christmas rediscover their true inner selves, they reach the realization that it is important to believe in dreams, that one fashions a meaningful reality from fantasy by preserving the joy, the innocence, the freedom, and the self-affirmation that comes from believing in yourself. Masterfully written for both children and adults, - (what four-year-old understands allusions to Waiting for Godot and Guffman and what adult is not charmed by Rudolph's aerial Christmas Eve adventure?), Robin and Clark conjure up that realm where dreams are born.
Where, as Peter Pan sings, we
Photographs courtesy of The Fulton Theatre, Kinectiv, photographer
Peter Pan Sneak Peek at Fulton