It is so interesting to talk about Sa-ard Thanomwong, a Thai artist whose work I've followed for several years. He is an independent artist whom I always admired and I have wanted to write about his life and work. In December 2016, he agreed to be interviewed and show me some of his works. Four years later I had a chance to interview him again. Such a long journey !!
Sa-ard Thanomwong was born in Klaeng District, Rayong Province, Thailand. He graduated from Poh Chang academy of art. He began his artistic career as movie poster painter, taught art subjects at Santirad school and then worked for the Oriental Hotel in Bangkok.
After he resigned from his last job, in 1971, he eventually got a job at a USIS organization as an art illustrator and this was the beginning of his full-time artist's life. When he was working for the USIS Thailand with another eight artists, he had an idea to create art that looked exciting and independent because he had inspiration from a foreign artist who drew powerful realistic paintings of wild horses.
At that time, Sa-ard Thanomwong also created his first collection of nine expressionist paintings of wild horses and he called the theme "Wild and free." This collection was exhibited together with paintings from other artists at the AUA Center in Bangkok to strengthen relationship between the USA and Thailand.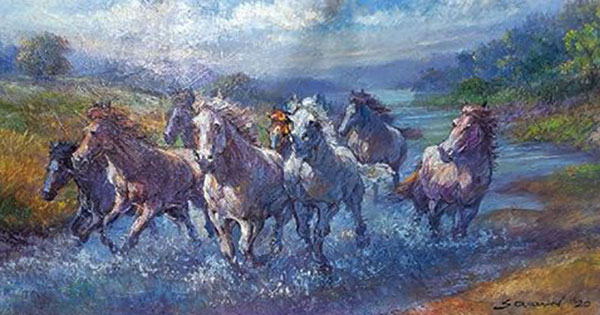 At the end of the exhibition, all of his paintings were not sold, while works of other artists were sold out. A day later a Bangkok-based art magazine review appeared that praised and recommended this collection. So, in the end, all the paintings were bought.
Thereafter, he worked on various other sets of paintings with different themes. Apart from collections of horse paintings, the "Forest in Thailand" collection was greatly sought after by art collectors.
Furthermore, for many years Sa-ard Thanomwong has been creating collections of sacred lotus paintings. He is praised by many as being a pioneer artist for his beautiful and realistic renderings of the Thai lotus.
To Buddhists, lotus is the flower that they use as offering to pay respect to Buddha images and their monks. The lotus is also used in the religious ceremonies.
Here is the interview
JY: Could you tell me about your earlier works?
ST: In 1969, I used to work for the USIS organization in Thailand. During that time, I was hired as an illustrator to work on making some paintings about the war between the US and the communists. There I painted many posters about fighting against communism.
JY: What do you think about an "Art Catalog" for an exhibition?
ST: For artists having exhibitions, art catalogs are quite necessary. Most of the time all artists already have their painting catalogs for an exhibition. But sometimes my works are not included in the catalog because I was not ready to take some photos of my works.
JY: What was your inspiration for "wild and free"?
ST: One day, I went to a library and met an interesting foreign photographer. I cannot remember his name. He showed his photos to me. I do remember that the title of his photobook was "Wild and free". Those photos depicted images of wild horses with untrimmed fur. Looking at these photos, I felt they were so lucky to be free. My main concept was also wild and free. This encounter made me want to paint some pictures of wild horses. I went back to the paint department in USIS where it took me days to finish all my paintings that I needed. Later, I gave an interview and revealed my nine paintings to an art magazine "Bangkok World".
I was also impressed by the color swapping technique by Jackson Pollock. It inspired me very much for my own works featured in the magazine. They were images of groups of wild horses. Manes, tails, bodies and legs of horses can be clearly seen but their heads are obscure. This is my intention. In addition, I created some more works in this similar concept to be exhibited in the exhibition
JY: How were your works received?
ST: Very positively, however, many people complained this set of my works could not express the beauty of wild horses well enough. Especially that they are wild horses. In this collection, the paintings were mostly about a group of running wild horses. I decided to make a catalog of this painting set. All attending artists agreed with me. It is unfortunate that no one bought my paintings in the art exhibition. Many said wild horses in my paintings were not beautiful. The next morning after the exhibition ended, I went back to my workplace and found that the budget of the art staff had been cut. I received a response from a man that my nine paintings from the magazine received many compliments. They said my works stimulated their emotion. After that, those nine paintings were exhibited at AUA library. The US diplomats came to the opening ceremony. All nine paintings were sold to foreign diplomats who attended the exhibition.
JY: Other than USIS, where else did you work?
ST: I worked for several hotels in Bangkok. I used to be an artist for the Oriental hotel. I also used to work at Indra hotel.
JY: What are some of the principles in your working of art?
ST: I usually do not change or correct mistakes in my painting and I tend to stick with something for a while before moving on to the next. Apart from wild horses, I also wanted to paint forests and lotuses in the pond. All three things can be in the same painting.
JY: Could you tell us about the group exhibitions you attended?
ST: Many years ago Prueng Pliensaisueb brought my work to exhibit with two national artists Thawan Duchanee and Pratueng Emcharoen. Kukrit Pramot came to the opening ceremony and he stopped first at my painting that has hundreds of wild horses.
For another exhibition, I had a chance to be in the exhibition withNoparat Livisit, Tawee Nantakwang,Suchao Sisganes. All of these individuals are excellent teachers whom I can learn much from. What Nopparat told gave me the understanding about what I still lacked. He said to me that diligence will be my best teacher and I have to be ready for both compliments and criticism.
JY: Tell us about your personal life, education and career?
ST: When USIS cut the budget of the art staff, my son was very young and I was bored working as a teacher. That was quite a rough time. From then on, I decide to be an independent artist. At first my income was not enough for house rent but after a while my earning could cover house rent, food, school fee for my son. For my past education, I spent three years at Poh Chang school. After graduation I worked as a teacher and then later I went to join the army until my rank became sergeant. I met a woman from Xishuangbanna region when she came to sell things in a fair. She was older than me by two years. We married and had a son.
JY: Do you have a technique for selecting the right color for your work?
ST: Initially, I had no technique for choosing right color. I just chose the color I wanted. One day, Nopparat asked me what color I used and he gave me some advice how to choose the right color and how to apply color. After knowing this, I stopped drawing in the white frame. First, I apply a color as a foundation and it will dictate the overall color tone for the entire work. Second, I need to see the beginning and the end of my work to assign color according to my goal, step by step. Third, for me, applying color on the white background is not good because we will see the drawing line easily.
Drawing lotuses is not much different from drawing horses as we use the same concept for applying color although the color tone is totally different.
JY: What is your opinion about selling the artwork for money?
ST: I don't worry much about how much my painting would cost or how many paintings I could sell. I am just happy to do something I love. Apart from guidance from a good teacher like Noparat, I found that the principles of Buddhism could help me to fulfill my goal of completing my artworks. They are called four bases of power which comprise passion, diligence, consciousness and investigation. These four life principles can be applied to almost anything.