On January 11, 2020, in Washington, DC, this reviewer saw The Met Live broadcast of the stunning William Kentridge production of Alban Berg's dystopic opera Wozzeck. Then on January 15, 2020, I went back and saw the one hour 34-minute opera again in a video rebroadcast.
Initially, I thought my emphasis this time would be to concentrate on Kentridge's remarkable video/art installation mise-en-scene, where the performers were often competing for attention with rickety duckboards, gas masks on live and puppet players, and such projections as a dirigible, exploding shells, crashed planes, disembodied heads, melodramatic scenes of a woman being manhandled, pervasive barbed wire, cosmic-sized maps, etc. My first encounter with the art of Kentridge was The Refusal of Time, a fascinating installation I saw at the Metropolitan Museum of Art in 2013. But no, this time, the music made me wonder about what exactly I was hearing.
Of course, I was aware of the folkish hunting song, military march, and lullaby and that for twelve-tone music, the overall suite of sound seemed rather tonal. How could this be?—the composer Alban Berg was a vested student of Arnold Schoenberg, who invented the twelve-tone system. Research uncovered a remarkable to-the-point tutorial titled "The Music of Berg's Wozzeck" published on the San Diego Opera's website and most likely assembled by their dramaturg (no attribution given). Here's the centerpiece of this San Diego Opera (SDO) tutorial:
Act I, for instance, is a collection of 'Five Character Pieces':
Scene 1: Suite with prelude, pavane, cadenza, gigue, gavotte and aria
Scene 2: Rhapsody and hunting song
Scene 3: Military march and lullaby
Scene 4: Passacaglia: a twelve-tone theme and 21 variations
Scene 5: Andante affettuoso (quasi rondo)
Act II is a 'Symphony in Five Movements':
Scene 1: Sonata form movement (exposition, development and recapitulation)
Scene 2: Invention and fugue on three themes
Scene 3: Largo or slow movement
Scene 4: Scherzo (ländler/trio/waltz/trio)
Scene 5: Rondo marziale con Introduzione
Act III is a series of 'Six Inventions':
Scene 1: Invention on a theme
Scene 2: Invention on a single note
Scene 3: Invention on a rhythmic pattern
Scene 4: Invention on a six-note chord
Scene 5: Invention on a rhythm (perptuum mobile)
Inspired by Georg Büchner's play Woyzeck (written in the 1830s but staged some 80 years later),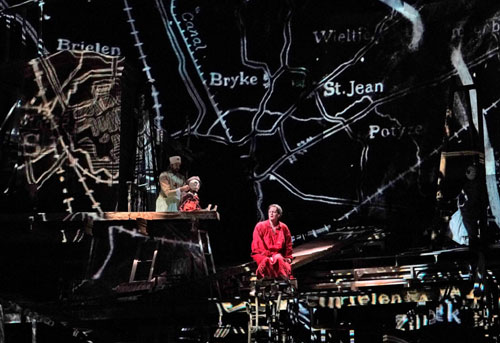 Berg adapted his libretto from this play, which he saw at its Vienna premiere in 1914. Berg developed this opera, his first, between 1914 and 1922. He was using serialism—a composition method using pitches, rhythms, dynamics, timbres and other musical elements—in advance of Schoenberg establishing his twelve-tone system from 1920 to 1923. So in Wozzeck, Berg was stretching tonality to its limits, unlike his second opera Lulu which is atonal and uses Schoenberg's twelve-tone system. (Kentridge also mounted a production of Lulu for the Met Opera in 2015.) Interestingly, the SDO tutorial says Berg thought it was entirely unnecessary for the audience to know how complex the musical structure of Wozzeck was.
The story revolves around an impoverished soldier named Frantz Wozzeck (baritone Peter Mattei) who has a child (the child is a puppet wearing a gas mask) with his lover Marie (soprano Elza van den Heever). Bored, she flirts with a handsome Drum-Major (tenor Christopher Ventris), who gives Marie a pair of earrings after which, Wozzech is mercilessly humiliated by his Captain (tenor Gerhard Siegel) and the mad Doctor (bass-baritone Christian Van Horn), who is running for-pay medical experiments on Wozzeck. Wozzeck visits Marie to give her his pay and sees the earrings. Meanwhile Wozzeck is experiencing apocalyptic visions of such things as a face in the sky all on fire. Wozzeck is going crazy. He ends up confronting Marie, the one person he loves, over her infidelity and stabbing her death. After showing up in the local beer garden with blood on his sleeve, he goes back to the river by which he has murdered Marie to wash away the blood and ends by taking his own life through drowning. The opera ends with the local children telling Marie and Frantz's child that his parents are dead, a message the child is too young to understand.
Mattei as Wozzeck and van den Heever as Marie gave convincing performances. Van den Heever is especially good at expressing a range of emotions that span from aggressive to fearful both with her outstanding voice and her body movements. Another favorite included the animated Christian Van Horn who is nicknamed Dr. Coffin Nail.
Kudos to Yannick Nézet-Séguin for his conducting, Sabine Theunissen's set, Catherine Meyburgh's projections, and Urs Schönebaum's lighting. Additionally, the overall cast was exceptionally good at articulating clear understandable German. When Wozzeck sings "Wir arme Leute!"—I understood this phrase (we poor people) to be an important statement about the overall opera. Wozzeck, is an everyman who embodies both good and bad. Marie is like Mary Magdalene, a repentant prostitute. We poor people takes on a mythic level.
While the original story was set in Germany around 1821, the opera seems to evoke the coming of World War I or any war of widespread magnitude. Because the libretto is filled with premonitions, the story has fearful, crazy-making currency with what is going on worldwide between the United States of American under Donald Trump and such countries as Iran, Iraq, Ukraine, Russia, North Korea, China.
For detailed information on how the music aligns scene by scene with the play, visit:
http://ada.evergreen.edu/~arunc/texts/wozzeck/wozzeck.pdf
Photography by Ken Howard