"I think no matter how old I am I have the mind set that life is an adventure. It doesn't matter what age you are to be able to appreciate the idea of coming of age because everyone does come of age."
The handsome, blond young actor sitting opposite me is talking specifically about his recent experience starring as Jim Hawkins in the world premiere and subsequent East Coast premiere [Maine] of the grand new musical theatre work by Marc Robin and Curt Dale Clark, Treasure Island A Musical Adventure. "Jim's story exists in an evolutionary way for me. Everything that happens in my life builds up as accumulated knowledge that informs the way I play the role. It has been a crazy, wild ride – a special adventure. I have always felt a real closeness with Jim."
Michael William Nigro is speaking of the role that has ushered in a breakthrough season in his artistic life, and as he recounts his story, his dreams, and his accomplishments, it becomes clear that this twenty-one-year-old artist's career is not only blossoming but filled with exciting prospects for future creative exploration. In the past twenty-four months not only has Nigro gained widespread recognition for his performances of Jim Hawkins, but he has chalked up a series of other milestones that any artist would envy. He has earned his Actors Equity card at age nineteen, worked regularly off-Broadway and in independent film and television, and made his regional theatre debuts at two leading companies. Just this year created his own expressive web content, and, together with his brother Brian, has written a pilot and several episodes for a television comedy series, The Nigro Brothers, he hopes to star in, and is in the process of writing, performing, and recording an album of original compositions, entitled Because I'm Scared.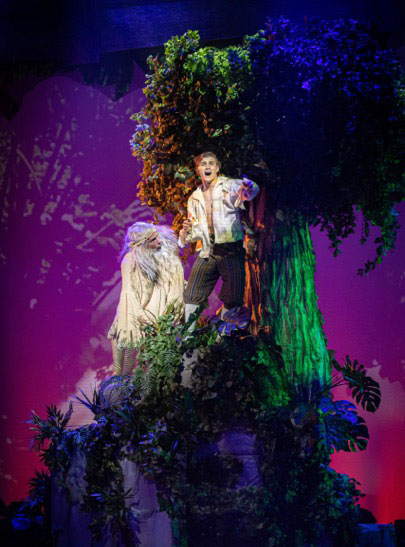 Nigro was cast as Jim Hawkins by Treasure Island's co-creators, Marc Robin and Curt Dale Clark, and he created the role in the second developmental workshop in 2018, going on to star in the 2018 world premiere at the Fulton Theatre in Lancaster, PA, and the 2019 East Coast Premiere at Maine State Music Theatre. Not only did the work take the musical theatre world by storm with a stunning critical and popular response, but Nigro, himself, garnered huge acclaim. Reviews raved not only about the beauty and scale of the work, but also of its young lead:
As Jim Hawkins, Michael William Nigro is a revelation! The twenty-year-old gives an incandescent performance that shines with white-hot passion, purity and gleaming vocal radiance. Among his show stopping solos and duets are "Look at Me," "Wonders of the World," the affecting "Miracles/Someday", and the eleventh hour, bring-down-the house anthem, "Calm Before the Storm." In this demanding role that requires stamina, athleticism, and interpretive maturity, Nigro makes Jim's journey to manhood grippingly genuine. From bright-eyed naïf, to eager adventurer, to a young man struggling to shape his own moral compass amid ambiguities and dangers, he invests Jim with a combination of reality and mythic dimension worthy of Stevenson's great boy hero. (Broadway World 6/2019)
"When I went into that commitment," Nigro acknowledges, "I didn't honestly know how I was going to do that show eight times a week," so demanding is the role. "Now I have done the show more than sixty times, and hopefully I will get to play the part yet another time," he sighs, admitting that it has been a growing process for him – "of listening to my character's story and to myself and especially of listening to the directors, Marc Robin and Mark Martino. When we did it in Lancaster, we were putting the show on its feet, but when I revisited it in Maine, I made some different choices that made my performance stronger because I was more conserved, more intimate, especially in the Pickard Theater setting. I have been open to learning and adjusting, and I think that has made it [my performance] naturally better.""
Co-star James Michael Reilly who plays the deliciously crazed and quirky Ben Gunn corroborates Nigro's view: "I watched him develop the subtlety over time." And Reilly adds, "Michael does everything at 110%, and it is an absolute pleasure to work with him. He is fully committed and has huge amounts of energy, talent, and vitality to pull it off." This, even though during the Maine run of the show, he was performing Treasure Island eight to nine times a week and rehearsing Hello Dolly! in which he subsequently made another role debut as Barnaby Tucker.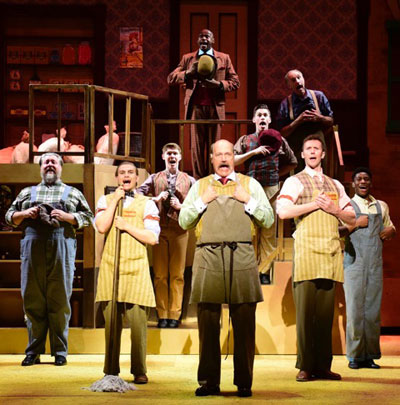 So how has this young artist crammed so much activity into such a short span of time and what has been the impetus for his fascinating journey from suburban youngster to child actor to an artist poised on the brink of exciting discoveries? "My work consists in the meticulous execution of my dreams," he remarks, quoting Salvador Dali. "Dreams and meticulousness don't necessarily go together, but perhaps they can," he muses.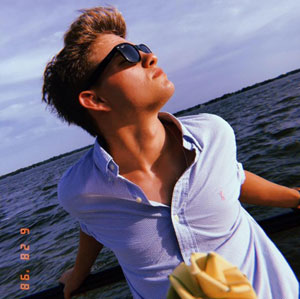 Raised in Cranford, NJ, the second child in a family of four siblings, Nigro remembers his first performance experience at age five. " I tried to sing 'Red and Black' from Les Misérables, but I kept forgetting the lyrics. Everybody laughed at me, and I cried. It was a frightening experience."
Nigro recalls how he often felt he did not quite fit in with his classmates. He was active as both a varsity athlete (wrestling, soccer, football, lacrosse) and a singer, dancer, actor, and he refused to be pidgeon holed as a jock or an artist only. "There was a cultural divide in my town. The sports people would ask 'Why are you doing theatre and ballet?' and the theatre crowd would say to me 'Why are you playing sports? What's a sport?" It was a viewpoint Nigro did not understand. "To me it is all art. I am expressing myself with my body and mind through art."
Nigro persisted in embracing both throughout his public school years, though he admits that some of the experiences and name-calling were hurtful. "Some things [like dance] are seen as outside the norm of what a male is supposed to be. That's sad." However, he feels the world changing around him. "When I was growing up, I felt pushed back from one side or the other, but as I have grown, I feel the world has grown with me. It seems now is an opportune time for people like me to bridge that divide. I have been doing a training program at Broadway Dance Academy, and one of the most important things I have learned is not just about doing the steps correctly but rather about telling a story in dance and being athletic and artistic at the same time. That was music to my ears."
One of his mentors, Anthony Rafaniello, Supervisor of Fine and Performing Arts for Cranford District 27 Public Schools, says of his student: "There are always tensions between athletes and performers, and it takes courage to do what Michael did in a typical suburban high school with all its stereotypes. But he was comfortable forging his own path, and I am really proud to see who he has become because of it."
A musician and choir director, Rafaniello took a special interest in Nigro's education, guiding him in curriculum choices, and helping him develop his voice. He recounts how he steered Nigro into dance classes in his sophomore and junior years because he knew this was the skill of the three triple threat skills, he needed to work on most. Rafaniello also convinced Nigro to join the Madrigals Honor Choir in senior year. "I believe it is a valuable experience for singers not only to be soloists, but also to be part of an ensemble – to engage with other voices around them and come together in a uniform way that is great and beautiful."
For Nigro, who had already had professional musical theatre gigs from the age of thirteen, this was valuable training, and he credits Rafaniello for his guidance and support to this day. "I respect Anthony so much; he cares so much."
Rafaniello describes Nigro's vocal gifts as natural ones. "He always presented as a high tenor. His voice has a unique quality to it that sets him apart. He has a really quick vibrato, and he can produce some extremely high notes with ease and power for someone of his age. I had never taught anyone with as distinctive a voice as Michael's before then. And he has stamina and consistency, and his preparation is very meticulous."
Maine State Music Theatre Artistic Director Curt Dale Clark who cast Nigro as Jim Hawkins, concurs, describing him in a promotional video as having " a voice from the gods and a heart so pure…"
Nigro says that stamina was a major challenge in playing Jim Hawkins because the role requires him to be onstage with almost no breaks for the entire show and to sing four of the musical's biggest numbers, as well as participate in most of the ensembles – all the while engaged in high energy, athletic staging. Laughing, he says, "I had to find out what worked for me. Hydration was key, but the trick was to balance drinking enough water and making it to the bathroom in the very short breaks."
Asked to describe his own voice, Nigro replies, "I have always thought of myself as a cross genre artist vocally. I am comfortable stylistically doing anything, but technique-wise I feel I am strongest in traditional scores like Les Mis or Treasure Island. I am trying to integrate more pop because many roles ask for that these days."
Besides honing his voice and dance skills and vocal coaching on occasion with Natalie Weiss, Nigro has worked diligently to study his craft as an actor. His primary mentor in acting has been Beth Baur, an actress and director of the New Jersey School of Dramatic Arts in Bloomfield, a professional training academy. Nigro met Baur through her son Tyler when both young men were in a production of West Side Story, and Baur immediately saw Nigro's potential and recommended him for several projects on which she was working, among them the award-winning short film by Gregory G. Allen, Mother and a production of Wendy's Shadow at the Hamilton Theatre in Rahway, NJ. Nigro credits her with being a major influence "on my life. She is one of those people from whom I have learned so much, who is patient with me, knows I word hard, and I really appreciate that." Even more, Nigro says he feels she is a kind of mother to him as well – "super nice, talented, professional, down to earth and caring."
Baur returns the compliment saying she has always felt the "bond between mentor and student is sacred, and it has meant a great deal to me that Michael respected my teaching."
Baur notes that when she met seventeen-year-old Nigro, he already had extensive performing experience for one so young, but she felt he needed to perfect his formal technique. "When he started coaching with me for auditions, I realized he had so much talent and natural ability, but hadn't had much formal training. Together, we were able to develop a technique base and from there he started talking my master class." Baur also recalls one very special session when she paired Nigro with an eighty-one-year-old actress, who played his grandmother in Amy Herzog's 4000 Miles. "Michael created this beautiful relationship where he almost took care of her throughout the process."
Of the experience, Nigro recalls: "Beth understands people, is so genuine, and has such a big heart, and that comes through in the way she teaches."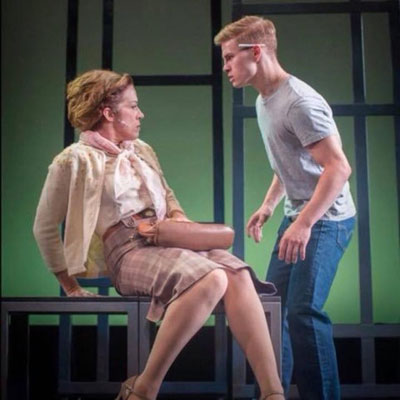 Nigro not only studied in Baur's master class and performed the leads in several NJSDA productions, among them Angel in Rent in 2014 and Johnny in American Idiot in 2015, but he also spent two summers at the Paper Mill Playhouse Conservatory and found performance opportunities in New York City with Broadway Workshop (Cabaret) and Kids Theater (Little Women, South Pacific).
Baur sums up her assessment of Nigro's talents and accomplishments. "He has an unbelievably beautiful singing instrument and a work ethic that is awesome. As an actor he listens, is incredibly present and alive on stage. It is a joy to work with him because he takes everything you say and applies it to his work at all levels."
Baur supports Nigro's choice to find his professional training in the many resources the New York area offers at the same time that he now continues his academic education by taking online classes at Union County Community College where he is studying business and reading economics, philosophy and politics. "I think it is enlightened and involved of Michael to want to develop himself as a full person. He sees all these [disciplines] as aspects of an artist."
But if Nigro has become a busy adult actor, his first real breakthrough came as a child performer in 2012-2013. In 2012 he booked the Radio City Christmas Spectacular and toured the country for an entire semester playing a boy who is trying to get home for the holidays and who meets Santa Claus along the way. When he auditioned again in 2013 for the show, he was devastated to be told he was too old (at age 14). Then he heard about casting for The Sound of Music Live with Carrie Underwood.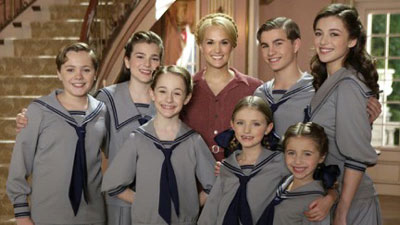 "I asked my agent to try to get me an audition appointment, but she was unable. She suggested I try the open call. That morning I got up at 3:00 a.m., got all dressed up and went with my Dad into the city and waited in line. I wanted to be the first person seen." Nigro was, in fact, number two in an endless line of hopefuls and when the television news crews came by, they singled him out for an interview. When he finally did sing, the audition captured on tape reveals the immediate delight and recognition of the Bernie Telsey and the casting crew. Nigro chuckles as he recalls how Telsey asked if he could sing anything from the Sound of Music. "I said 'anything,' and he asked me to start with 'Do Re Mi.'" A clip of that audition shows Nigro, all boyish smiles in a blazer , beginning to sing in a clear, pure, joyful tenor filled and after 3 bars, Telsey turns to his table mates, his eyes wide with amazement. Watching one knows, Nigro has nailed it.
Nigro played Friedrich in a distinguished cast that featured Carrie Underwood, Stephen Moyer, Audra MacDonald, Laura Benanti, and Christian Borle, and when the special aired that Christmas, 20 million viewers watched. When Nigro returned to Cranford High School for the second semester of his freshman year, he was a star.
Throughout the remainder of his high school years, Nigro continued to study acting, voice, and dance and book a series of New York theatre gigs that kept him working regularly. He frequently was asked to be part of the development of new works. He played Martin in Martin and Meelo and then the bully brother Dayle in the workshop production of Fat Kid Rules the World, where he met Aaron Ramey who would star opposite him as Long John Silver in Treasure Island. He undertook several diametrically different roles in the musical Freedom Riders, among them the white activist Jim Zwerg and a white racist southern thug. "Playing two poles of the same story was challenging. When you are on stage beating up on African American people and using the N word, which I had to do on stage, I felt if I don't do this justice, people aren't going to realize how awful this is. I had to go to my insecure dark place, where a lot of those things come from fear and channel those thoughts. Then when I played Jim, it was much easier because I was able to relate to my friends whom I had been working with for weeks."
Nigro also was cast and rehearsed to play Pip at Pip's Island, a New York City interactive theatre experience for kids, but he never got to perform the role because it conflicted with his Maine Treasure Island performances. He also has found work in a number of indie films, playing a wide range of characters. Besides his work for NYU film students' projects and his sullen, angry, at risk portrayal of the teenage Johnny in Mother, Nigro was cast as a tough boy dancer in the Margot Pelletier's 2016 biopic about about drag queen Scott Townsend, Thirsty. Nigro appears in the early jazzy dance number where the neighborhood toughs claim their turf. "I booked that about the same time I was doing Sound of Music. Some of the dancing we did was extremely difficult for me, but I put more acting into the part and in a short time [on screen] was able to create a character."
Another opportunity came through a connection Nigro made with writer Tim Realbuto in their New York cabaret appearances. Based on the critically acclaimed Off-Broadway play, Yes tells the story of washed up child star Patrick Nolan who decides to mentor a seventeen-year-old student and heads down a dark and slippery slope. Nigro played George Saiger, a role written for him. Just recently he made a brief appearance in Alice Wu's Netflix series The Half of It. "I played a 'Random Student,'" he smiles self-deprecatingly, but "at least I had a name and one line!"
Of his work in film, Nigro says, "I don't have nearly as much experience on camera as on stage. I just try to be natural. And I try to apply the lessons I've learned from some of the wonderful stage directors I've worked with like Marc Robin and Mark Martino to hold myself back and use my eyes and face more."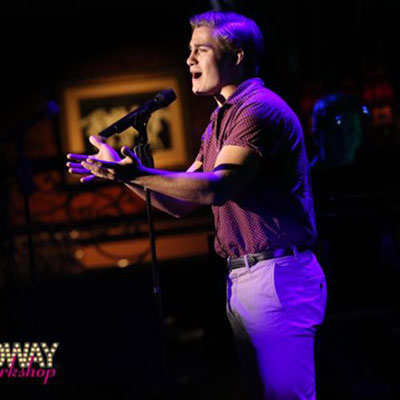 Besides the stage and screen, Nigro has demonstrated an affinity for cabaret. Beginning with the Sound of Music children's appearance at 54 Below in 2013, Nigro has returned year after year with various groups like Broadway Workshop and Kids of the Arts to delight audiences with the musical theatre repertoire ranging from Pippin to Cabaret to Sondheim classics to Pasek and Paul. Nigro says he loves the beautiful venue and the opportunity "to perform with people I know and be there to support them." He aspires to create a one-man show one day and already is toying with themes such as "an evening devoted to original songs written for television shows and movies."
In recent months Nigro has not only been following an actor's customary regimen of performance and academic classes, auditions, auditions, auditions, and working the requisite odd jobs to keep afloat, but he has somehow found time to immerse himself in two other major creative endeavors. The first of these is the concept for a television comedy series, entitled The Nigro Brothers, for which he has co-written with his brother Brian, the pilot, several episodes and the series bible. The project, which has even surprised Nigro with the amount of attention it is garnering in industry circles, is a contemporary, fiercely funny, edgy, outrageous, yet empathetic sitcom about two struggling actors and their adventures in a wild, futuristic, often surreal and dangerous world. The humor is laced with freshness, brashness, occasional darkness and daring; the characters are colorful, often extreme, quirky, weird, wild, and ultimately embraceable. The concept is tightly plotted with plenty of room for development and expansion, and, best of all, their writing is polished, witty, provocative, and sure-handed.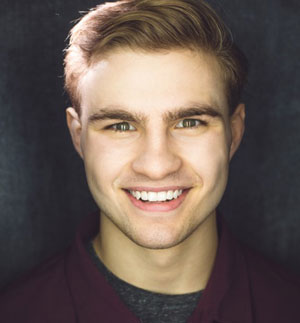 Asked how this all began, Nigro says, "Brian and I used to watch skits on Comedy Central, and I thought we could be doing that! We both grew up liking the same comedies, and so I said to Brian, 'Let's write the next sit com that people can loop over and over again because it is funny and real with vulnerable people exploring different perspectives.' Those kinds of shows are dying out, and I felt our market would be anyone who likes any of those classics like Seinfeld or Kay and Peele but with a little bit more contemporary twist."
The Nigros created hilarious, self-deprecating, often keenly self-aware roles for themselves at the same time that they people the series with a quirky assortment of unforgettable, diverse, characters. They have cast themselves as the central pair in the story, creating alter egos that Nigro says are remarkably true to his and his brother's personalities. The character of Michael is described as "a wordly pleasure seeker," "a bit of a bad boy, torn between being respectful of others and trying to establish an outside the box perspective" – [a young man] "who behaves questionably with a purpose." When I ask how much this character description rings true in life, Nigro replies, "All of it."
But at the same time the series is notable for its remarkably unusual, widely varied, funny and relatable other characters. "We wanted to showcase characters that are real people who are dynamic and complicated and establish individual perspectives other than our own. We didn't want Brian and me to have to carry all the ups and downs of the show, so we created a quirky assortment of characters who are unapologetic about how unique they are."
And besides the colorful cast, the series boasts some genuinely hilarious dialogue. Nigro says he is always striving to avoid clichéd dialogue and he is focused, as he always has been as a writer, on finding words that are unique. He opines that some of this may come from his experience as an actor –"knowing what doesn't sit right. "Now that I get to write the dialogue, I try to make it as unique and raw and real as possible – a little reflective of the New Jersey where I've grown up."
Asked about the process of co-writing with his brother, Michael Nigro responds enthusiastically, "I don't think I could have chosen a better writing partner. We understand each other so well. Brian is away at college, so we talk for hours on the phone, and we have screen writing software that allows us to work together on the script at the same time."
The series, now having been workshopped with focus groups and revised in consultation with a number of other readers, is in the hands of the creative content department at Nigro's talent agency and also being read by some other industry notables. Asked what his and his brother's hopes are for this project, Nigro replies, "When we started, our expectations were simply to write a script together, and I think we have surprised ourselves. We are ready to run with it if that becomes a reality. But really, it is about the experience of creating something that makes people feel they always have company, about serving the community and giving [audiences] something to attach themselves to and to follow and to support. I would like to give people an opportunity to find their new show." But, Nigro concedes in practical terms, "Even if this specific concept doesn't end up going anywhere, I would love Brian and me to continue as a writing team and do other projects."
Indeed, it is this compelling passion for self-expression that has also prompted Nigro to undertake another new creative project: writing music and lyrics, performing the vocals, and producing his own album to be available on streaming services. "So far I have five songs – two fully written," Nigro says, noting that he is grateful for current technology which has allowed him to produce everything from a tiny studio set up in his room.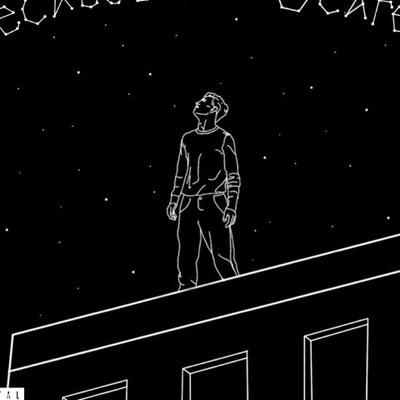 Nigro describes the album, entitled Because I'm Scared, as having a "pop feel, some jazz, but a little more modern." The content, as can immediately be intuited from the powerful black and white line drawing album cover by Brianna Scotti, is "very personal and very dark." It deals with love and loss, inner demons, and the search for redemptive forces. Powerful, wrenching and raw, it speaks of Nigro's willingness to share his vulnerability in order to create art and his abiding belief that by creating he can discover his inner truths and those of the world around him. Its release promises to be another of those coming of age moments for this young artist in what has already been a rich and remarkable voyage.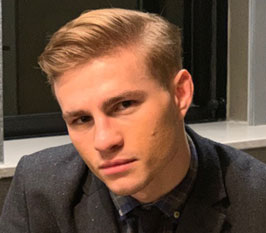 As our conversation draws to a close, I ask Nigro to reflect on his journey from child actor to the young adult working artist he has become. "It has been incredibly gratifying. It is a roller coaster, but everyone knows that is part of being an actor. Having the opportunity to act so young introduced me to the competitive part of it at such an early stage so that when some people were trying it our for the first time, I was already working professionally. So now I am at a point where, as you say, I have so many different things going on, but it seems to me I have had that mindset ever since I was a child. It has been a process of my finding out the different skills I have, the skills I can acquire, and the tools I can use to develop those skills. I don't think there has ever been any time I have questioned my choice of becoming an actor, but I think I also have to produce and do other things besides acting. One of the biggest transitions for me from child actor to adult actor is finding out that I don't have to wait around for somebody to create a show for me. Lin-Manuel Miranda is a big inspiration. I told my brother Brian the other day that if The Nigro Brothers or something similar were ever really to take off, I would love for us to have our own production company someday."
Ambitious yet remarkably humble, passionate yet meticulously thoughtful, Michael William Nigro is charting a creative course for the future. "I see Michael as a Renaissance man," says Anthony Rafaniello. "He has so many varied interests and the ability to be passionate about so many things and hold them all together."
Beth Baur agrees, saying, "I hope he stays unjaded and he carries joy, openness, and love and always stays in the center of that in his art. He is definitely somebody you should keep your eyes on and remember him."
On Michael William Nigro's newly created website two words usher the visitor into the site: "ACTOR CREATOR." He tells how he struggled with finding a way to describe succinctly his activities and aspirations. "Finally, I realized that 'Creator' encapsulated all the different things I wanted to do – to act, to write, to compose, to direct, to produce someday. I think my journey to this point has been a process of finding new things about myself and the world and trying to harnass those into possible opportunities. My idea is just to create content and art for people." Dreams....and their meticulous execution.
Website: mwnigro.squarespace.com
Visit this video gallery:
"Calm Before the Storm" from Treasure Island A Musical Adventure by Marc Robin & Curt Dale Clark, Fulton Theatre 2018

"Wilkommen" from Cabaret by John Kander & Fred Ebb, 54 Below 2018

"Corner of the Sky" from Pippin by Stephen Schwartz & Roger Hirson, 54 Below 2017

Musical Theatre Reel Compilation 2013-2017

Mother, a short film by Gregory G. Allen 2014

Photos: courtesy Anthony Chatmon, Jr Photography (headshots);
Michael William Nigro & the author (casuals);
Fulton Theatre, Kinectiv, photographer;
Maine State Music Theatre, Roger S. Duncan, photographer