It seems a lifetime ago that I chaired an arts department at a Midwestern prep school where I also taught acting and directed the school plays. These are some reminiscences written a long time ago about those wonderful, crazy days….
It always comforts me to be sitting in the audience of a Broadway show to witness a flub-up –technical or otherwise. Just a few weeks ago I joined in a hearty laugh at a performance of Corpse when a gaslight came on before Milo O'Shea even touched it. He made the sign of the cross and quipped, "Heaven be praised! It's a miracle!" The error confirmed my sense of the riskiness of the business and the fallibility of all show people (professional or amateur), and his wit and aplomb made me rejoice in the resilience and inventiveness of the stage and its actors.
Disaster is never more than a step away from most productions. But if the actor stopped to think about all the things that could go wrong, he would never set foot on stage. Worrying is the producer's job, and if he is good at it, he will communicate it to the director so misery may enjoy company, or, in my case, where director and producer were one, I was able to enjoy a double dosage of fretting. The art of producing or directing a play requires that you foresee all the potential disasters and you take preventative measures to avert them. If you are directing a school production, you can have along list of back-up measures and still not be completely safe. For as we all know, nothing in this business is fool proof.
Probably the worst crisis that can befall an amateur company is the illness of one of the leads because in most cases there are no understudies at all. In a production of Kiss Me Kate on the last dress rehearsal before taping, our Petrucchio called to say he was losing his voice and would see his doctor that afternoon. Already jittery, I felt no better when his mother called to say, "I just know it's like the time when he was a child and had walking pneumonia. if we go to the doctor, they'll hospitalize him." It was already 4:00 p.m., and I knew I was going to have to play Petrucchio myself for that evening's rehearsal. I fortified myself with a scotch and returned to the theatre to struggle through rehearsal. During "Wunderbar" our Kate whispered to me, "Cheer up. It always works out." I prayed she was right. As I was finishing up notes, James walked into the hall, bundled up and looking very pale. An audible sigh arose from the ensemble. It turned out to be bronchitis, but he was here! The show would go on after all!
In fourteen years for all the close calls with illness only once was a leading lady too ill to perform. It came in at the end of the second act of Oliver when Nancy was overtaken by laryngitis. There was a good chance we would have to cancel the show and send the audience home with its money. As the headmaster-director was dancing attendance on the sobbing heroine, one of the young ladies in the chorus stepped forward and in legendary fashion offered, "Please, Dr. Dea, I know the role word for word, and I can do all the dances." Gene whirled around from the wilting Nancy and turned to the prospective starlet with the same enthusiasm that Joan greets Ruby in Dames at Sea. Just at that exact moment, her mother, completing the mythical saga, emerged from front row center and became the proverbial stage mother. There followed an animated discussion, but before I knew it, the first Nancy was shedding her red dress and the second was donning it. The overly eager mother was busily stuffing tissue paper into the ample bosom of the dress and deftly pinning the seams to her daughter's figure while the actress mumbled the opening lines of the second act and moved her feet mechanically rehearsing the steps she must have practiced nightly in her room, silently preparing for this magical of all moments in stage lore. And so, the theatre gods did smile on us after all, taking pity on our economies and blessing us with the ability to complete the show.
The next most frustrating category of potential disasters is not missing actors, but actors missing lines. This is a danger even for the most seasoned, but with amateurs it can be a positive nightmare. I recall an actor who could not remember the order of his verses in "You've Gotta Have Heart" from Damn Yankees. Because any variance in order triggered a different combination from the supporting ensemble, it was crucial that he get it right. Somehow, unable to do so, he resorted to writing the words on his palms, and he skillfully deceived me into thinking he had mastered it. At the first performance he belted his way through the song and in a spontaneously exuberant gesture that I had not seen before, her threw his arms out to the audience, palms extended. To my horror and to general amusement of the first rows, the lyrics were boldly displayed in the hollows of his hands!

Another actor chose to use the Good Book to disguise a forbidden script. Tommy in Brigadoon could never, for the life of him, remember the genealogy of Fiona's family, and getting it right holds the entire mystery of Brigadoon. After countless attempts to have him memorize it – even trying to translate it into his bilingual French in the hopes it would stick better, I permitted what is always taboo: a page of the script discreetly disguised in the prop. And so the scene played without a hitch for three wonderful nights. Each night the prop mistress dutifully checked the Bible to be sure the vital document was there; each night she put the Bible directly into Jon's hands for safekeeping. Somehow, though, despite these precautions, on the last night, the book was set aside. When Jon came back to the spot where he had left it moments before his entrance, the page was missing. He searched for it and realizing his efforts were fruitless grabbed a script and tried to memorize the lines in ten seconds. But the lights came up and he was forced to enter. I could see the beads of perspiration on his forehead, and I knew something was wrong. When it came time to read from the book, Jon gulped some air and began extempore, and remarkably he got it right! When the pressure was truly on, somehow that wonderful survival principle functioned!
It is equally frightening if you are onstage as a fellow actor loses his lines, and it even more so to the director who is helplessly watching from the audience. The agony of that moment seems like a century, though it is usually a matter of seconds. On the last night of Kiss Me Kate, my Gremio, who had been stealing his scenes each night with his energy and vibrancy, made his entrance to declaim, "Is she the headstrong wench you spoke of?" He began the line only to lose it completely after "she." The line was a question so Hortensio could not ask it for him. I caught David's hand flailing the air in a gesture of impatience – a stutter almost of fear and frustration. After what seemed like hours, he stammered, "Is that…that person…" And grateful for any utterance, Hortensio cut him off and replied.
Human beings, however, are not the only causes of potential stage disasters. Dogs, tents, furniture, sound and light equipment, and scenery can all spell risk. In Camelot we had to fire several stage-struck pooches who essayed the role of Pellinore's dog. The first, a beautiful Collie aptly named Merlin was so energetic that he bolted from the wings each night dragging Pellinore with him and terrorizing chorus members, one of whom, Hiroko, was so frightened of dogs that she collapsed in a scene when Merlin came by and affectionately lifted her skirts; she began to cry uncontrollably, and we brought the entire rehearsal to a standstill. The second, a small terrier, was reluctant to come on stage at all, and yet he barked vociferously from the wings drowning out the dialogue. The third finally won the role for her docility. She was a Golden Labrador with the gentle name of Sally, but on the night of the performance, she became so comfortable on stage that she fell asleep and had to be dragged off stage to the resounding laughter of the audience.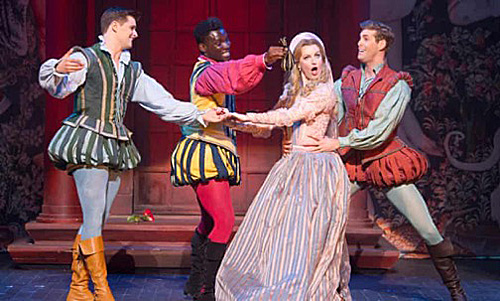 Actors have no control over lights or sound, but they can deal with the vicissitudes of props and furniture, although sometimes they do have to think quickly. Perhaps one of the funniest "takes" I remember was Petrucchio's after he entered on the havoc wreaked by an exceptionally energetic Kate. To her very realistic outburst with Baptista, she had hurled the bench so that its leg was breaking. James entered, righted the bench, examined the leg, calmly adjusted it, solicited the audience's opinion as to whether it was safe, then with hilariously exaggerated care, tested it by sitting. The audience roared, and since Kiss Me Kate is very much the kind of show that elicits an audience response, the improvisation was entirely in character.
In a show like The Crucible, however, no such levity is permissible. We were using the infamous bench (our inventory of props and scenery was often limited) in the final prison scene. When Elizabeth comes to sit next to Proctor to urge him to follow his conscience, they have a tender moment. "I cannot tell thee what to do, John," she said as she sat next to him, and before she could finish her speech, the bench collapsed, and she and Proctor were thrown precipitously into each other's arms on the floor. Fortunately, it was dress rehearsal, because even two seasoned thespians like Michelle and John could not restrain themselves from breaking into a howl of surprise, relieved tension, and uncontrollable laughter.
As harmless as these two episodes were, our scenery did attack one night in a more menacing manner. It was the wedding scene of Brigadoon; all the clans were assembled on stage, and in our tiny house that made quite a crowd, indeed! Harry was about to begin his famous sword dance. He flourished the two weapons above his head and struck his opening pose. Just as the first note of the bagpipes sounded, I saw with horror that the archway was swaying. With a silent rush of air, it fell to the stage. It narrowly missed hitting any of the cast, and to my relief and amazement, I saw that not one of the actors had so much as flinched or shifted gaze from Harry, who was performing the tricky dance while trying to avoid stepping on the debris. The cast had carried on entirely in character, and the audience, too, remained in respectful silence and awe. Only after the house lights came up at intermission did turmoil break loose backstage. Apparently, one of the choristers who had come on stage first had seen the archway sway and had surreptitiously put out her hand to support it. When it fell, it bent her finger, breaking it. Her ability to remain in character was a more heroic achievement than I could ever have asked for. While cast members ran for ice and comforted Nancy, I found myself before the footlights asking if there was a doctor in the house. A doctor did materialize to bandage the finger temporarily, and the stalwart clanswoman insisted that she would finish this closing night performance before allowing herself to be taken to the hospital. And so, once again, the show did go on as if blessed by some unseen presence.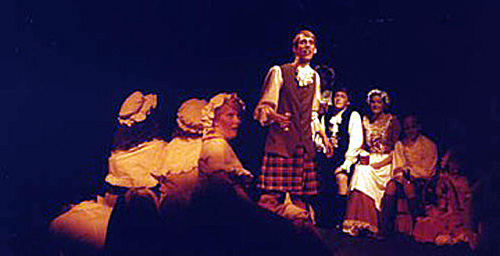 There is a saying that the gods protect idiots and madmen…and, may I add,…show people, who are, in their own right more than a little deliciously, wickedly, delightfully mad. If we were not, why would we continue to take such hair-raising risks…exposing our fragile instruments and even more fragile psyches the rigors of performance and the quest for perfection?