Back in the days of analog TV, there was a phrase, "the far end of the dial," which denoted small, independent stations of limited broadcast range that showed mostly old movies. Until the advent of home video, this was the only way to see many cinematic classics, unless you lived in a city that had repertory movie theaters.
Today, there are any number of basic and premium cable channels—not to mention streaming services—that offer movies from every era. This affords us a wider, more comprehensive view of movies than was conceivable ever before. And, at a time when we all have enforced stay-at-home leisure, investigating old movies has become more than just a pastime.
My own enforced leisure has given me the opportunity to watch some old movies for the second time. Four stood out to me, not for any interconnection save that I saw them again during the time of quarantine, and all of them struck me for various reasons. Two I originally saw in theaters, the other two on television.
The first I will consider is by far the most honored of the four, and in my opinion by far the least good. Terms of Endearment, released in 1983, was nominated for eleven Academy Awards and won five. These included a three-Oscar sweep for its director-writer-producer, James L. Brooks, who adapted his screenplay from the novel by Larry McMurtry. At the time, reviewers greeted Terms of Endearmentas if Shakespeare had returned to earth to write and direct his first film. That antagonized me against the movie, because what I saw on screen did not correspond with what I had read about it.
A few weeks ago, I happened to see on my cable guide that Terms of Endearment was about to start. I decided to watch it again, to see if my memory had been fair to it. I found a fair-to-middling comedy-drama, graced by some fine performances but otherwise undeserving of its canonical status.
I appreciated Jack Nicholson, at his most slyly ingratiating, and the warmth and decency radiated by John Lithgow. But for me Terms of Endearment has an insurmountable obstacle: however expert Shirley MacLaine's acting might be, I do not like or believe in the character of Aurora Greenway. At the time of its first release, I found Aurora to have the alternative personalities of Carry Nation, Gloria Steinem, and Gypsy Rose Lee, each deployed as Brooks needed it, and with no credible connection between them. I see no reason to revise that opinion.
Aurora is incoherent and actively unpleasant. The scene toward the end of the film, in which Aurora berates a nurse for not giving her daughter Emma (Debra Winger) an unscheduled pain shot is held up not only as an example of the greatness of MacLaine's acting, but as evidence that Aurora really loves her daughter. No, it isn't. I have nurses in my family, and they point out that nurses have no authority to administer drugs which are not prescribed by attending physicians. A nurse who did so would be lucky if he or she were merely fired. Aurora is not showing a mother's love; she is merely heaping abuse on someone who can't fight back. If you think I'm saying this scene is typical of Aurora's behavior, you're right. And that for me is why Terms of Endearment is not the great film it is generally assumed to be.
One film I do think is great, but which was received indifferently on first release, is 1995's Devil in a Blue Dress, which writer-director Carl Franklin adapted from Walter Mosley's mystery novel. Devil in a Blue Dress is not only a delightfully twisty, atmospheric private-eye movie, but in light of recent events its story has never been more relevant.
Devil in a Blue Dress stars Denzel Washington as Mosley's usual detective, Ezekiel "Easy" Rawlins. The story is set in Los Angeles in 1948; Easy, unfairly laid off from his job at an aircraft factory, is desperate for money to pay his mortgage. In a bar a shady white man (Tom Sizemore) offers him $100 to find Daphne Monet (Jennifer Beals), the girlfriend of wealthy, politically connected Todd Carter (Terry Kinney). The investigation leads Easy into ever-widening circles of corruption and mortal danger, the worst being the two LAPD detectives who want to pin everything on Easy, just for the hell of it.
Did white people actually need the murder of George Floyd to get them to pay attention to the brutalization of black people by police? In any case, white audiences in 1995 weren't willing to accept the strong lesson Devil in a Blue Dress provided. Devil in a Blue Dress, a thrilling, engrossing movie that should have started an Easy Rawlins franchise in Hollywood, made $16.1 million on first release on a budget of $27 million.
The film rings true on every level, from the photography of Tak Fujimoto, to the production design of Gary Frutkoff, to the large and masterful cast. As Easy, Washington is at the zenith of his powers, and you have never seen a true definition of the adjective "creepy" until you have seen Maury Chaykin as mayoral candidate Matthew Terrell. But the standout, in a star-making performance that won him several critics' awards, is Don Cheadle as Easy's loyal henchman, Raymond "Mouse" Alexander. Mouse could teach GoodFellas' Tommy De Vito a few lessons in sheer, gleeful kill-craziness. "Look, Easy," Mouse says at one point, "if you ain't want him dead, why did you leave him with me?"
Corruption of a grimmer, more deterministic sort is portrayed in Born to Kill, a 1947 film noir directed by Robert Wise. Featuring a screenplay by Eve Greene and Richard Macaulay from James Gunn's novel Deadlier than the Male, Born to Kill premiered to a volley of critical disgust. New York Times critic Bosley Crowther denounced it as "a smeary tabloid fable…designed to pander to the lower levels of taste." Today, it comes across as one of the most powerful films of its era, plumbing depths of human behavior that few American films ever have.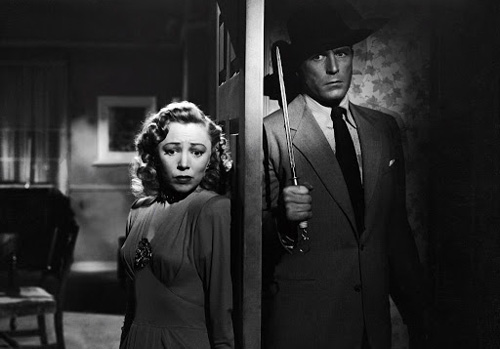 Born to Kill depicts the relationship between Helen Brent (Claire Trevor), a woman waiting in Reno for her divorce, and Sam Wilde (Lawrence Tierney), whom she meets one night at a casino. The aptly named Wilde is insanely jealous and a thug down to the bone, reacting to any real or imagined betrayal with his gun. Yet Helen becomes obsessed with him, even when she comes to realize that Wilde murdered his ex-girlfriend Laury (Isabel Jewell) and her new boyfriend Danny (Tony Barrett).
Helen's monomania for Wilde burgeons as Wilde moves to San Francisco and insinuates himself into her circle. She thinks nothing of continuing her affair with Wilde, even after he meets and marries Georgia (Audrey Long), Helen's wealthy half-sister. She also thinks nothing of threatening anyone who might finger Wilde for Laury and Danny's murder. In this she becomes both rival and adjunct to Marty (Elisha Cook Jr.), Wilde's loyal henchman and hitman. Both the character of Marty and the casting of Cook are especially interesting in light of his role as Wilmer the gunsel in The Maltese Falcon. The homoerotic attraction of Marty to Wilde, though not quite as obvious as that between Wilmer and Joel Cairo in Falcon,is still amazingly frank for a film made in the 1940s.
Born to Kill functions brilliantly as a study of some especially twisted characters, and the most fascinating are those at one remove from the rotten tryst of Helen and Wilde. One is Albert Arnett (Walter Slezak), a venal, Bible-quoting private detective who blackmails Helen. "Does it strike you that neither of us looks like a scoundrel?" Arnett purrs to Helen at one point. On the other end of the moral scale—indeed the only really likable person in the film—is Mrs. Kraft (Esther Howard), who hires Arnett to find Laury's killer. The blowzy, beer-guzzling Mrs. Kraft seems like the worst sort of reprobate, yet she is the only character in Born to Kill who is capable of pure, altruistic love. "You're the coldest iceberg of a woman I've ever seen!" she says to Helen at one point. That, aside from the Biblical citations offered up by Arnett, represents the final moral judgment of Born to Kill.
The study of memorable characters reaches its apogee in Anatomy of a Murder, Otto Preminger's 1959 film which stands as the best of the four films considered here, as well as one of the best films of the entire decade of the 1950s.
Anatomy of a Murder has been described as the best trial movie ever made. Screenwriter Wendell Mayes based his screenplay on a book by Michigan Supreme Court Justice John D. Voelker. Voelker, who published his book under the pseudonym of Robert Traver, based his story on an actual case in which he was the defense attorney. Preminger and Mayes, in turn, used Voelker's book to create a courtroom drama that still astonishes us with its legal and psychological acuity after six decades.
Anatomy of a Murder begins with Paul Biegler (James Stewart), a lawyer on the Upper Peninsula of Michigan. Biegler has just been voted out of office as district attorney, and he is at loose ends both professionally and financially. Opportunity comes in the arrest of Frederick Manion (Ben Gazzara), a young Army officer stationed at the local base. Manion freely confesses to killing local innkeeper Barney Quill, who allegedly raped Manion's wife Laura (Lee Remick).
Biegler takes Manion's case, bent on proving that Manion was temporarily insane when he murdered Quill. What follows is a mesmerizing parade of characters and plot twists, all the more fascinating for being presented in the plain light of the courtroom. Biegler, an outwardly folksy guy who revels in fishing and jazz, is as wily an advocate as ever opened a law book, and he gives Claude Dancer (George C. Scott), the legal shark from the Attorney General's office who leads the prosecution, the fight of his life. We also learn in increments about the toxic marriage of the arrogant, narcissistic Manion and the kittenish Laura.
There are plenty of other fascinating personalities along the way. In Biegler's own office are wisecracking secretary Maida Rutledge (Eve Arden, delivering the trademark performance of her career) and Parnell McCarthy (Arthur O'Connell), disgraced alcoholic attorney who seeks salvation in the Manion case. Others include Mary Pilant (Kathryn Grant), an employee of Barney Quill's whose testimony proves to be the decisive event of the trial, and Judge Weaver (Joseph N. Welch of "Have you no sense of decency?" fame), the quirky and philosophical jurist who presides over the case.
Anatomy of a Murder, the best American film of its year, was nominated for seven Academy Awards but went zero for seven (the egregious Ben-Hur was the big winner). James Stewart and Wendell Mayes did win awards from the New York Film Critics, and Stewart added a Best Actor award from the Venice Film Festival. Thrill-seekers might balk at the film's sometimes deliberative pace, though a deliberative pace is precisely what the material requires. Connoisseurs of fine acting, sharp dialogue, and fully inhabited characters will find much to love in Anatomy of a Murder; so will music lovers with the bracing, flavorsome score by Duke Ellington, who won three Grammys for it. Altogether, Anatomy of a Murder takes viewers down a fascinating path through twisted and broken lives, and leaves them guessing right down to the last, ironic squawk of the solo trumpet.