Out of the coronavirus pandemic comes an altruistic Internet platform designed for independent and small theaters, particularly community and school-based companies that one might call amateur groups. On the Stage Streaming is an offshoot of New York's On the Stage, an arts consulting and tech service company that, before Covid, provided full technical services that often included in studio development projects for Internet broadcast either live or videoed. Broadway producer Hunter Arnold, who also owns TBD Theatricals, developed On the Stage as an incubator project.
On the Stage provides not only the adapted ZOOM-based platform but also online ticketing and marketing through social media. While in-studio services are now suspended, On the Stage Streaming, which launched in April 2020 as a free beta test project known as Play It Forward, is offering most of the same services that its parent company provides. This includes: support in acquiring works from a library of licensed plays and musicals approved for streaming use; a built-in framework for virtually auditioning and rehearsing the show; a custom-branded website to promote the production, sell tickets and merchandise, or accept donations; software to record the performance (whether on-screen virtual capture or on-stage live filming); a secure viewing platform for broadcasting the production to an audience; and technical support for the entire production.
On the Stage Streaming is not pushing its brand. This makes it hard to find the 370 plus theaters who have taken advantage of this distributed virtual service where the actors are in separate locations. One way to get an idea is to see what comes up on Twitter under #onthestage. Since April 2020, theaters using On the Stage Streaming have sold over 20,000 tickets and collected over $35,000 in donations.
This reviewer stumbled into this environment through poet Anne Harding Woodworth who had teamed up with her playwright sister Bundy H. Bolt and was urging contacts to attend their play reading Somewhere Voices through New Surry Theatre of Blue Hill, Maine.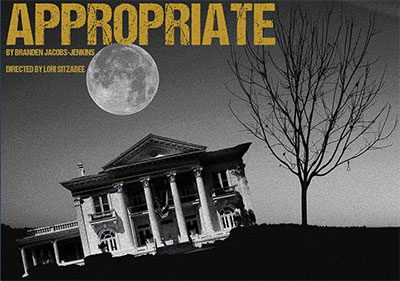 Subsequently, this reviewer saw New Surry Theatre's live streaming production of Branden Jacobs-Jenkins Appropriate. The play came across reasonably well despite latency issues—data transmission that stutters or freezes. (See my mini review at the Scene4-sponsored blog The Dressing.) This reviewer wondered what reaction playwright Jacobs-Jenkins might have about his play with the actors distributed in different geographic locations and occasional lines dropping out. Surely he knew his play was being licensed for use in this way. A call to the university where he teaches got the answer that he was not able to take interviews at this time due to his teaching responsibilities.
One thing for sure, On the Stage Streaming, which is only collecting a small percent of ticket sales never intended to get rich from this service. This reviewer sees it as an investment in the future of accessible and affordable theater.