Krisana Chavanakunakorn is an artist who amazed me that he would share his creations. His creative work came out systematically as well as those who study art from the institute. It tells the story of the origin of inspiration that has been created. Regularly, almost ten years ago he created a two-year event called Na Bueng Bua ( At a Lotus pond ) which was the first series of lotus works in contemporary Thai art, with such a Thai feeling and familiarity.
Thai people have feelings of a changing world and society. The goodness of the lotus is seen commonly in Thailand as a symbol of religion, the flower of worship; the presentation was a concept and a symbol of wisdom. He kept this feeling as a task. It's called the light of wisdom. Reflect on the symbolism and the use of colors to represent the number of flowers from the principles of religion. But it is an art movement that Thai people have accepted for a long time and easily understand. He sees natural beauty and makes the viewer feel at ease followed by a second set of events which reveal the lotus flower from above where Krisana Chavanakunakorn changes the perspective by offering a form of presentation that comes from the creative intentions of people interested in art. The artist himself as a new form unfolding from above until the beauty of the lotus blooms in the last stage which follows up with a third work, the introduction of wisdom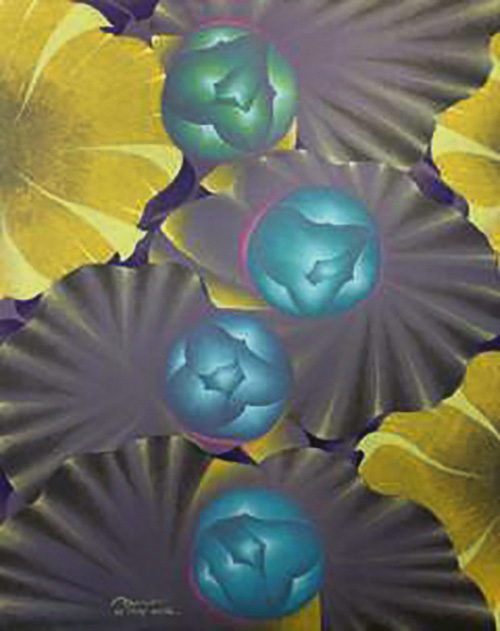 That is the inner thinking pattern: let's research what is suffering in this difficult world. The present which this work has mixed faces of people and animals like monkeys instead of feeling non-stop with lotus petals overlaid including the masks that people put together. People who must have a heavy crown called Chada on the head for communication in obtaining wishes. And the wings may be the way humans want to fly away from suffering are presented as reflecting the image of people in society competing. He wants the audience to experience the event and be aware. Let us have an understanding of life, when looking at art without pressure.
In addition to painting, he also has murals designs. At temples in Chiang Mai and Rayong provinces. Recently, I saw him at exhibitions where he donated his paintings to the Baramee of Art Charity at The Baramee Dhamma Hall, a renowned art gallery and mindfulness center in Chachoengsao province, central Thailand.
JY. You are an independent artist. I saw your creation come from the past. What are the impressions would you like to share with our readers?
KC. I grew up with the basics of Thai art and oriental culture. Especially the spiritual culture that is inserted in every step of life. But this doesn't limit my artistic tastes. I like to use a variety of works of art to express both ancient and contemporary ideas, beliefs, and styles.
I always admire artists who can connect cultures. Or what the character of my nation can be presented in contemporary art because it is the same thing that I try to do in my art. I am of the view that universalism in art is the presenting of diverse thought and cultural differences on the world stage.
For those reasons, nowadays, I don't pay much attention to the acceptance or rejection of other people in making art. I will do my best in front of my potential to express my patterns and opinions at that time, not being a sales success. It has become an advantage of my work that is always changing and not repeating the same pattern.It is always awake to continue to move forward according to personal taste.
The current new artists are extremely interesting by working in art as a career can be seen more clearly in this era. There are many examples of successful seniors. Making the new generation more determined to be an art worker, accessing art through social networks can also result in public presentations and influencing the arts from other corners of the world. If the younger generation knows how to make use of them, I would recommend them to present their work abroad. Or find a way to live and work in art abroad to pick up new and different tastes. It's hard to deny that most art buyers in Thailand have limited tastes. Working until it is accepted by buyers in the country: this could automatically frame the artist's ability to express themselves. But if you are successful from abroad, you will be recognized by this country as well
JY. Please share your history, study life in Thailand and abroad.
KC. I started to study art at Thaivichitsilp Art college. About design, I had the opportunity to study Thai art, which is a compulsory subject which was very impresseive, very much, and I decided to take the entrance exam to study in the Thai Painting Department, College of Engineering. Two years in Pho Chang (Vocational Certificate) has built skills and tastes of traditional Thai beauty. To see the value of national art is an important foundation that I use to create my work as applied Thai art. Two years later, I was studying for the bachelor's degree at the Rajamangala University of Technology Thanyaburi. I received first-class honors.
I started my life after school as a teacher. At Kanchanaphisek College of Chang Thong Luang ( Royal Goldsmith college and University ) by undertaking to teach the basics of art, Thai art and design. I intended to do artwork along with teaching work but with dreams. It was not true I could do very little art with my responsibility. There was an internal grudge, wanting to make art, but unable to do it fully. I theก quit my joband plan for further study to make time for myself to fully work on art again.
After four years serving as a teacher I resigned myself to pursue my master's degree at the Santiniketan Engineering University, India. It is a university in Fua Haripitak. The first generation of Thai artists profoundly influenced by the concept of modern art from the West went to study there following the advice of Professor Silpa Bhirasri. I read a history book about him. So I became interested and researched more information from Thai people who had gone to study until finally, I went to study.
I spent three years studying printmaking. For the first year, studying for a casual course for adaptation and another 2 years with a master's degree. Studying at Santi Niketan (as people often call it rather than the name of the university), quite independent. We studied theory from 7 a.m. to around 9. Then then we separated to work in the studio until noon. Professors did not force or pressure us to change our approach or to work as much as a university in Thailand.
Exchange learning takes place naturally between students. It accepts average children from all parts of India and there are be seats for foreign students from the west and east in every room. Therefore, the work will be very diverse, learning from each other from different traditions and cultures.
For me, it was like a new beginning in art again. I relaxed my adherence to ideal and traditional beauty. Learned more to understand the different beauty in the arts. Although the work performed at that time was still a lot of Thai art and traditions, it gradually dissolved. I had fun with new experiments through the printing process, until Igraduated in 2006
After coming back to Thailand I worked on art and shows. Although some institutions didn't contact me, around 2011, they started as a co-host for an art program that I had been doing for a couple of years. It was an opportunity to meet and talk with various artists, both big and small. Until after the 2nd solo show in 2013, I received a commission for a Thai temple mural painting in Singapore. It took about four years to complete, by painting together, two people, me and my wife.
Singapore is one of the countries in this region that has pushed the arts by spending huge money on art galleries and art museums. As well as a large collection of art from master artists, and regularly organizing international exhibitions. While working there I had the opportunity to see the exhibits all the time. I saw more possibilities in contemporary art there than in in our country. It cannot be denied that they had an effect on my later work of art and what I will do in the future.
JY. Whose work do you like the most?
KC. I like the work of Angkarn Kalayanapong. He was was a Thai poet and artist. He was named a National Artist of Thailand in 1989 and won the S.E.A. Writing Award in 1986. His work was contemporary with a taste of belief. It has a high eastern spirit. What you think, what you say, the work you do is unified. It's not an artist pretense. But he is completely himself. His murals are at a temple located in the center of Mueang Phayao., which never miss to visit if I have the opportunity to pass through Phayao city.
JY. Please tell me about your equipment and technique for painting?
KC. Almost all my work uses acrylic paint. Much of it in the Artistic Thai Tone, the color of Thai people.
I am a member of Thaksinawat, a group of ontemporary Thai artists. This is a group of artists with work related to Thai identity. First, there will be a big exhibition at the end of this year.
My angle of the artist is similar to that of a priest: stand, walk, sit, lie down, think, speak, do. You are the work of art. whether people come to hire or not, they are always working. Not limited to just a career. Art workers have a routine of creating art. We do not go to work in the morning and then paint after work in the evening.
Art is a common thing with human beings since ancient times. It corresponds to the desires of people, inseparable. But it responds to people in a sense. Not an empirical truth. Therefore, different objects of the same thing may differ in taste. Even just from different times, different values may be common. But the development of artistic perception has a direct effect on the development of the human mind. It is the first step of cognition. And understanding everything in the world, both concrete and abstract in terms of the creator of the work. For example, Picasso painted realistic pictures since childhood. Intensive study of form, adapt, adapt, understand form cutting until you find the beauty that is the core It is learning, understanding, releasing according to the study of the world to the dharma. It all depends on how happy the creators are with their work. They will travel to the essence or will stop on the way.
The art audience will have fun with artworks. You have to learn to develop a taste for beauty The acclaim is in the work in front of you and the concepts that artists use in creating such works to increase their understanding of the value of their works. This process directly elevates the mind, completing the human being, even though the owner himself may not be conscious.
KRISANA CHAVANAKUNAKORN
Education
1st class Honors in B.Ed. (Fine Art), Rajamangala University of Technology Thanyaburi (RMUTT), Thailand. (1998)
M.F.A. (Printmaking), Kala-Bhavana, Visva-Bharati University, Santiniketan, India. (2006)
Solo Exhibitions
"Bua" solo exhibition, at @BON Galleria, Bangkok. (2011)
"At a lotus pond" solo exhibition, at Jamjuree Art Gallery, Bangkok. (2013)
"Humanity" solo exhibition, at Classy Cafe& Art Gallery, Bangkok. (2019)
Selected Exhibitions
Thai Art Exhibition at Poh-Chang Art Gallery, Bangkok, Thailand. (1996)
21st,31st Bua Lung Exhibition, Bangkok, Thailand (1997,2007)
"Tai –Thai" Art Exhibition at Hotel Nikko Metropolitan Bangkok, Thailand. (1997)
Created the images and pattern design for stone carving on Sam Chai stupa at Watprabuddhabath Tamor, Chieng Mai, Thailand. (1998)
"Rice" Painting Exhibition at Silpakorn University, Bangkok, Thailand. (2001)
68th, 69th Annual All India Fine Arts Exhibition, Kolkata, India. (2003, 2004)
"Between" Art Exhibition at the Academy of Fine Arts, Kolkata, India. (2004)
Lines and Colour on Her Majesty the Queen's Sixth Cycle Birthday at River City Shopping Centre, Bangkok, Thailand. (2004)
The exhibitions of prints by M.F.A. students of Graphic Art Dept., Kala-Bhavana at Chandigrah (2004) and Birla Academy, Kolkata, India. (2005)
The Annual Exhibition of Kala Bhavana's Students at Nandan Gallery, Santiniketan, India. (2005)
"Reformation" Art Exhibition at The Silom Galleria, Bangkok, Thailand. (2005)
Young Kolkata Artists Exhibition, at Genesis Art Gallery, Kolkata, India. (2005)
Merit Scholarship, Visva – Bharati University, Santiniketan. (2005)
The exhibition "Art from Santi.", at Silpakorn University, Bangkok. (2006)
"FAITH" Art exhibition, at River City, Bangkok (2006)
The Art exhibition "Artists and his impression on Her Majesty", at Queen Sirikit National Convention Centre, Bangkok. (2006)
"FLUX ASIA" art exhibition, at Chandigrah, India. (2006)
"ARTIST SELF PORTRAIT" by 400 artists, at The Silom Galleria, Bangkok. (2007)
Workshops at Rajamangala University Tanyaburi, Patumtani (2008,2009,2010)
"INNER-OUTER" duo painting exhibition, at Jamjuree Art Gallery, Bangkok. (2008)
"AESTHETICS OF BODY" by Artery, Silom Galleria, Bangkok. (2009)
"INNER-OUTER" duo painting exhibition, at River City Shopping Complex, Bangkok. (2009)
"The Gate" painting exhibition, at 9Art Gallery, Chieng Rai. (2010)
"Royal Father in our Hearts" Art Exhibition, at OP Garden, Bangkok. (2010)
"The Light" Art Exhibition, at @BON Galleria, Bangkok. (2011)
The 1st Asia Plus Art Exhibition, at Queen's Gallery, Bangkok. (2011)
The Aesthetic of Thai Elephants Art Exhibition, at Amarin Plaza, Bangkok. (2011)
Honorable awards, 6th NanMee Fine Arts Awards (2011)
Mural painting at Wat Ananda Metyarama, Singapore (2014-2017)
"The Santiniketan Inspiration" Art Exhibition, at Exhibition Hall, Art&Culture Bldg., Chulalongkorn University, Bangkok. (2015)
"The Greatest Happiness" Art Exhibition by "Taksinawat" (a group of Thai Artist), at O.P. Place Shopping Center, Bangkok. (2018)
"Ganesha" Art exhibition, at Seacon square, Bangkok. (2019)
"Making merit or Creating hurt" Art exhibition, at Baramee of Art, Chachoengsao. (2019)
"Baramee of Art Charity 1st" Art exhibition, at Baramee of Art, Chachoengsao. (2019)
"Constellation" Art exhibition, at Fortune town shopping center and Satorn11 Artspace, Bangkok. (2019)
"In Remembrance of King Rama9" Art exhibition, at Baramee of Art, Chachoengsao. (2019)
"Maha Ganapati" Art exhibition, at DUKE art gallery, Gaysorn Village, Bangkok. (2020)
"45th Anniversary of Department of Thai Traditional Arts and in Honor of Julthusna Byaghrananda, Fellow of The Royal Society of Thailand" Art exhibition, at Queen Gallery, Bangkok. (2020)
"Baramee of Art Charity AWAKEN 2st" Art exhibition, at Baramee of Art, Chachoengsao. (2020)