Executive Artistic Producer Marc Robin calls the initiative "the Fulton's 3-G Plan…Give thanks, Give hope, Give back…" But in the dark and difficult months of 2020 pandemic, these words are more than a catchy marketing slogan. They have become a credo, an act of faith that is helping to propel this shuttered theatre and all its artists through the most challenging time in its history.
Like theatres globally, the pandemic has forced – since last March - the closure of Lancaster, Pennsylvania's grand old lady and the cancellation of all 2020 performances. In June, Robin was forced to furlough more than 60 year-round employees and struggle through the months ahead with a skeleton staff, who took on a wide array of responsibilities besides their usual tasks to keep the Fulton afloat until they could resume production – an as yet undetermined future date.
Throughout this agonizing time, hope has been the centerpiece of the Fulton's efforts. And this hope manifested itself in things great and small. When the pandemic struck early in 2020, the Fulton was in the midst of a massive Breakthrough Campaign to raise $2 million to complete construction and endowment goals for a building project - poised to be completed in 2021 - that would transform the historic theatre into a new, world-class performing arts complex, occupying an entire city block and making over the entire heart of downtown Lancaster. The proposed plans renovated the 167-year-old Fulton's backstage and technological capabilities, added rehearsal space, reconfigured the entire Tell Studio theatre, and built a stunning glass atrium connecting the theatre with the Academy Building for use as a lobby servicing one thousand people, as well as new offices, performances spaces, and reception areas, among them the breathtaking cantilevered glass and steel multi-use space of Castagna Hall. Phase one – artist housing was just about completed – when Covid came crashing down, construction was halted for many months before finally resuming.
Just before Christmas, I was treated to a tour of the project as Phase II nears completion with a projected date of February/March 2021. Not only is the design by Richard Levengood Architects and builders Warfel Construction magnificent, but the entire scale of the project is grand and embracing in the best sense. It doesn't take much to close one's eyes and imagine these spaces once again filled with the magic that is the hallmark of this theatre and Robin's genius as a producer, and if one momentarily experiences a twinge of the bittersweet – that so much beauty and so many dreams should be born in a time of dark peril – that quickly evaporates into the sense of inner strength. It is the kind of strength that comes from collective faith and hope – from the countless patrons and donors and community businesses who have chosen to support this project because they know that the arts form the foundation of community well-being. It is the faith that comes from the steadfast staff's commitment to guide the theatre through this crisis, and it comes, finally, from the artists for whom this theatre has been a home.
In July many of those artists assembled to present a telethon to raise funds for the Fulton. Their theme – encapsulated in a stirring anthem, written by Robin and Curt Dale Clark - was This Is Our Home, and truly, that is what the Fulton Theatre - like so many regional theatres across America – has come to represent for the cities and towns they serve. And so, Robin believes, it is imperative the Fulton to do what it can to give back to the community. Among the initiatives the theatre has put forward are the Festival of New Plays, scheduled (hopefully) for May 2021, whose theme this year is Stories of Diversity: Reflections on Community, Joey's Java Talk, a behind-the-scenes series of interviews with Fulton alumni, and just this Christmas, the launch of the Fulton new HD Channel with a gala Fulton Holiday Benefit Concert, featuring twenty-two of the theatre's favorite artists in a dazzlingly joyful and uplifting program that has streamed free to the public for the two closing weeks of 2020.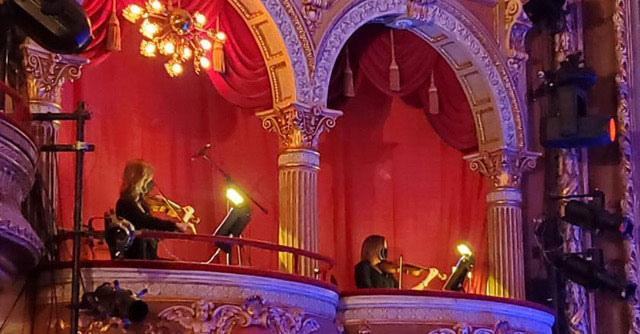 What made this concert special is that it was taped live – not recorded in artists' bedrooms and assembled through Zoom technology – on the stage of the Fulton before a very small, selected, socially distanced audience and though all the trappings and protocols of the pandemic era were visible – from masks and face shield to plexiglass protective booths – none of these could dim the luminous magic that emanated from the stage. As a member of the very, very small audience, I can attest to the palpable sense of excitement that radiated throughout the house. Artists were occasionally overwhelmed with the emotion of performing for a live audience for the first time in months. The grand old lady came alive with lights and feet tapping and sound filling her gilded rafters.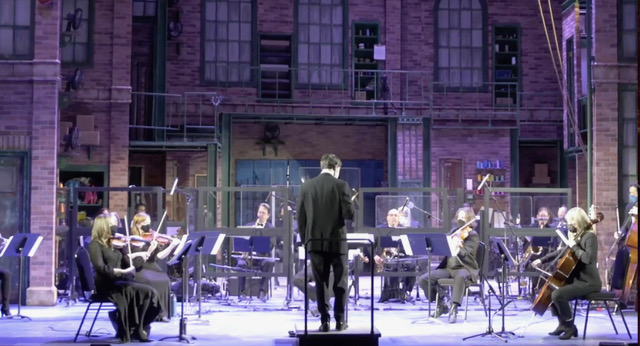 And because of the skill of the creative team, this visceral sense of inspiration is captured in the edited streaming finished product. Marc Robin has directed a fast-paced, delightfully varied, buoyant celebration of both the holidays and live musical theatre. Music Director Ben McNaboe (with assistance from Sam Gossier) creates the brilliant new arrangements for all the material, and he conducts the twelve-person orchestra with true élan.
The visual production, filmed by Kinectiv under the direction of the Fulton's Marketing Director Eric Pugh, the concert has a sophisticated, classy look that transcends the sometimes awkward safety-protocol dictated circumstances – performers in face shields, orchestra spaced throughout the boxes and on various levels of the stage. Each performance receives its own set – created lovingly by William Mahoney and Sean Cox; Paul Black works his usual fascination with atmospheric lighting that shifts from number to number, while Anthony Laskoskie .Jr's costumes have all the sparkle appropriate to the season, and Josh Allamon creates the perfectly balanced soundscape.
All the performers have ties to the Fulton , and the roster is not only impressive as a who's who in musical theatre, but notable for its diversity. The first section is devoted to Big Band Christmas and begins with the full orchestra on stage delivering a rousing , full-bodied overture. Demone Seraphin kicks the evening off with a soulful swing version of This Christmas, followed by a catchy syncopated Let It Snow with the quartet of Jeff Coon, Fran Prisco, Carissa Gaughran, and Tyler Johnson-Campion. Randy Jeter performs an impassioned, jazzy What Christmas Means to Me which segues into Manna Nichoils sexy, flirty The Man with the Bag. Will Ray belts out an appealingly upbeat Underneath the Tree before Angela Grovey delivers a haunting, jazzy My Favorite Things, complete with improvised riffs and scat singing. Carissa Gaughran closes the section with a sexy, charming rendition of All I Want for Christmas that showcases her amazing vocal color and range.
The second section is called Dancing Christmas and includes three choreographed pieces that are so welcome, given the pandemic constraints on choreography. The dance duo of Nicolas Dromard and Desirée Davar dazzle with their seemingly effortless execution of very athletic choreography in a wide variety of styles, set to The Best Things. Janayé McAlpine performs an evocative and moving modern dance solo to Believe, sung by Michael William Nigro in his pure and wide-ranging tenor with a luminous intensity and emotional conviction. Marc Robin and Tyler Johnson-Campion close the set with a boisterous, playful, joyously exuberant tap version of Jingle Bells that leaves the viewer wanting to cheer at the video screen.
The two middle sections take a quieter, more nostalgic tone. Home with the Hackmanns features Nicole and Nathaniel Hackmann, their son Alexander, and Ben McNaboe and Melissa Blatherwick in a living room setting. Accompanied by McNaboe on the piano, Nate Hackmann uses his velvety instrument to excellent effect in The Christmas Song, while Blatherwick sings a disarmingly lovely Silent Night in English and Spanish. The closing number tugs at the heartstrings as Nicole Hackmann uses her luscious soprano to sing Have Yourself a Merry Little Christmas as a lullaby to her son.
Looking debonair in tails while trimming a Christmas tree, Curt Dale Clark ushers in the New Year segment with an elegant, classy, suave rendition of Frank Loesser's What Are You Doing New Year's Eve?, his voice pure butter and cream, his mastery of phrasing and style impeccable. And what New Year's Eve would be complete without Auld Lang Syne, this time in a strikingly fresh arrangement by the group T3 (Tenors 3) – Jim Hogan, Brendan Jacob Smith, and Liam Fennekan, whose three subtlety different tenors layer texture, emotion, and unusual harmonies onto this classic.
The concert finishes with a series of Traditional Christmas melodies. Sopranos Kate Sina and Nicole Hackmann blend their lyric and dramatic voices into a stirring version of Hark the Herald Angles Sing, followed by Jim Hogan's delivering The Lord's Prayer with the passion of a preacher and the occasional improvisation of a jazz singer. Manna Nichols returns with a vibrant coloratura version of White Christmas, while Nathaniel Hackmann turns in a vocally dazzling, emotionally soaring account of O Holy Night. Hackmann joins Will Ray, Jim Hogan, and Randy Jeter for the finale of Oh, Come All Ye Faithful.
Watching the creation of a part of this concert and now reveling in the finished product, one has the contradictory feeling of completing a journey and of beginning one. There is the bittersweet sense of loss, uncertainty, indefinite waiting that is the existential condition of this crisis. But there is also the satisfying feeling that these extraordinary artists have been allowed to create and – even for a brief moment - share their talents and their mission. And even after too long a period of silence and darknesss, we realize these voices have not been extinguished. They reverberate in our hearts with a message of hope. And as the song told us earlier in the evening, Believe in what your heart is saying…in what you feel inside.
To this writer, the message is clear: the music, the theatre that can transform our lives is still very much alive. For the Fulton, the dreams of being the crown jewel in a city block that teams with light and life and serves as a magnet to near and far…these dreams do have a foundation. Because, again as the song so presciently says of the theatre and of its art: This is our home, this is our page, this is where we can write our stories… And this is where we will gather again to heal, to illuminate our hearts, and to share these stories….with passion, with laughter, with song.
Photos courtesy of the Fulton Theatre, Concert photos: Kinectiv, photographer