It is recognized worldwide that Finland has one of the best education systems in the world.
There is a welcome pleasure for the Thai boxing industry in the municipality of Kempele, a municipality south of the Oulu Airport in Northern Finland. It has included Muay Thai as a curriculum at five of the city's schools, and it's even more surprising that parents voted to allow Muay Thai to be an elective course for boys and girls aged 8-15 at the schools.
Muay Thai is prominent in Thailand. The Boxing Sports Act 1999 was intended to regulate the sport of boxing (both boxing and Thai boxing). It also promotes and supports the sport of boxing to have a standard as well. The meaning is that the boxer receives a fair reward from the organizer of a boxing event. Adulteration of drugs that weaken the body is punishable by criminal penalties. Everyone in the boxing industry must be registered.
Regarding age, Section 29 states that a boxer to be registered as a boxer must be at least 15 years of age (only registered boxers are allowed to fight). The organizers of a boxing event must be authorized by the registrar by virtue of Ministerial Regulations if it is to organize a certain type of boxing sport (e.g., fight on bamboo, gender or age special boxing, etc.) Boxers under 15 years old are allowed to fight but must have the equipment to protect their safety in the competition. Unfortunately, this gap allows us to see younger children punching each other for us on television. But it's illegal anyway because I don't see any safety equipment.
I have been studying Muay Thai regularly for many years.
Let's see how a Thai boxing teacher named Teeraphong Jindaworn from Thung Song Province Nakhon Si Thammarat, formerly a boxer from Lumpinee Boxing Stadium and Ratchadamnoen Boxing Stadium in Bangkok, pushed and laid the foundation of Muay Thai for both adults who came to study in his gym that had been established for a long time. who went to live in Finland in February 2013, For the first 5 years he started working in different places, practicing language and teaching boxing in other gyms until he was able to save money. He built his own gym called JMT. Jaowsamut Muay Thai in the municipality of Kempele, in 2018, which made people interested in Muay Thai. From other cities they came to study with a large number of both males and females. Some of them were the parents of the students in the school. Students found that Muay Thai is a part of Thai art and culture.
Let's see a Muay Thai teacher in school. How is it managed in Kempele, Finland with Muay Thai in his boxing camp built with love and using safe methods. When parents come to school they experience the exercise with good management, choose the right training. It should be good for exercising children which is the basis for self-defense, and there is exercise equipment that is interesting and a role model that creates fun throughout the school hours. It is known that Muay Thai is very toxic in the destruction of opponents because it has 8 weapons: two fists, two feet, two knees, and two elbows. They found that a boxing teacher from Thailand draws the good stuff of the lesson to train students in a systematic and non-violent manner. Muay Thai is a cultural heritage of Thai people and it is satisfying to know Muay Thai in the name of culture, and respect for opponents. and manners to respect each other and to dance, to pay respect to Kru Muay, and the training required both body language and mind language and will be useful in establishing the basis of the art of exercise and learning to use in self-defense.
When a Kempele municipality officials came to practice the sport of Muay Thai. It was a good opportunity to ask the students' parents to vote for five municipal schools to teach Muay Thai to their students. It is an elective course. Today, there is a list of schools. which have set up gyms with complete Muay Thai equipment and protective equipment for children schools as follows:
Kirkonkylan koulu
Santamaen koulu
Ketolanperan koulu
Linnakankaan koulu
Ylikylan koulu

In 2013 he went to live in Finland. For the first five years he worked in different places, learning the language and teaching boxing in other gyms until he was able to save money. He built his own gym called JMT, featuring Muay Thai in the municipality of Kempele. People took notice and interest. They also came from other cities to study, both males and females. Some of them were parents of the students in the school. Even Kempele officials came to practice the sport. They all have found that Muay Thai is a part of Thai arts and culture, a cultural heritage of the Thai people that has been passed down for a long time. It is both a self-defense skill, a sport and recreation.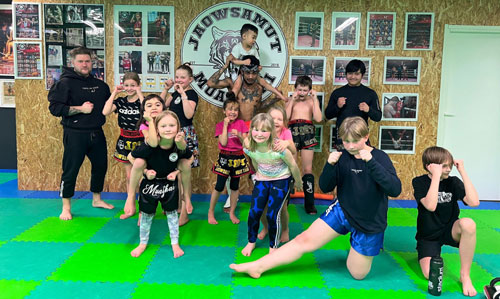 During my interview, the nickname he used on Facebook was Jaowsamut Poseidon, but he said to me, to honor the old boxing camp, he would like to use the name in this interview as Jaosamut Muaythai.
Here is the interview.
JY. Please tell us the story of your life in Thailand.
JM. I'm from Thung Song. Nakhon Si Thammarat Province When I was a child, I attended primary school at Ban Champa School until grade six. Due to the problem of divorced parents my home status was not so good. I had no money to continue my education in high school. Fortunately, there was a Muay Thai camp near the house. From the age of eight I went to practice with friends. and practice boxing to fight as a professional. When I grew up, I attended the high school level of non-school education. I had the opportunity to fight as a professional boxer at Both Lumpini Stage and the Rajadamnern Thai Boxing Stadium.
I have a family with two daughters. I have a job as a Muay Thai trainer in Koh Samui in Surat Thani Province. and in Phuket.
I got to know Noora Salminen, a tourist from Finland who never learned Muay Thai before she came to Thailand. She was young and very beautiful. I called her Nora, which is the name of a Thai southern dance character. Our relationship started with me wanting to follow her to Finland. and then my love for her. Noora came to Thailand and extended her trip for eight months. She said that she had a friend who opened a boxing camp in Finland. I should be able to work there, teach Muay Thai to those who are interested. Economic problems in Thailand, were still very difficult. I went to Finland with her. Nowadays we have three kids: Jasmin Salminen, Lila Salminen, and Ryan William Salminen.
Kempele, Finland is a city in the north with hazy air and cold all year
round, but it is also a romantic country.
I signed up to teach boxing for free at Nora's friend's boxing gym. In the day I worked at many jobs, in a bar, as a construction contractor. In the evening I went to teach boxing. It stayed like this for three to four years, I started saving money for my own boxing gym in Finland,
When my Muay Thai gym opened, it caught the attention of people living in Finland. There were both male and female adults coming to exercise and practice safe Muay Thai, and their numbers increased all the time because they sensed the good management that I bring along with good teaching. Muay Thai training course stresses reduction and weight loss for those who train hard with standard classroom equipment.
When the husband and wife come to study, they miss their children. In our gym kids can follow their parents. They come to class too on the school holidays. In 2020, municipal officials in Kempele come to learn Muay Thai at my gym. The parents gathered and asked the municipality to open a course for students who are children. I got to teach school students in five schools in Kempele,
JY. What are the ages of the students selected to study?
JM. We have students aged 8-15. both male and female.who choose Muay Thai as an elective subject. Each school provides a gym with equipment that I have provided.
The course begins with:
1. Respecting elders, teachers
2. Basic Muay Thai Training - Build confidence for students, kicking, punching, punching equipment, gloves, and sportswear as appropriate.
3. Practice the discipline of living together, some sacrifices must be made to cultivate young children. Be a responsible person in the future. Clean the classroom. When at home, bedrooms, mattresses, and bathrooms are cleaned.
4. Learn about the art, culture, and history of Muay Thai from various media to create an understanding of the art of Muay Thai.
5. Learn about the performance we call Wai-kru Muay Thai
6. Have a Thai cooking class together and bring it home for parents to eat as well.
JY. For the Municipality of Kempele, what opportunities have you given to "Let's lay a foundation for studying the art of Muay Thai in Finland."?
JM. Finland is a welfare state. I chose to teach work as an association. I do social work and I receive a monthly contribution of about 100,000 baht. For me, it is a very good feeling that the Kempele Municipality recognized the importance of the activities I started doing. And everyone understands that in the management of Muay Thai events for everyone we choose the good ones. Create values and unity in society no matter where we are. Honesty and discipline can bring good things to society. Help is shared with the proceeds. It is a device that I prepare for students, because here everything is very new. And I have to show everyone that besides being a giver or being a recipient, I can give back to society smoothly as well.
JY. What are some examples of activities held at JMT's gym in the past?
JM. We held seminars and demonstrations and boxing competitions in June, with those who come to study with JMT Gym.
Two old boxers came to fight as in the past in my show. The goal was for foreigners to see real Muay Thai and its emphasis on the art of Muay Thai boxing culture These events are held every year and there are Thai food stalls outside the gym. Everyone who attended the event was happy, starting from living together and singing hymns.
It created a good feeling together.
Muay Thai in Finland