Summer is almost mythical in Maine. Perhaps it is the sense of rebirth after arduous winter. Surely it is the breathtaking coastline, beautiful beaches, pristine hiking trails, the waterways to sail, wildlife to observe. But Maine also has a rich tradition of cultural attractions – theatres, museums, and literary sites that bring millions of visitors annually to enjoy both the outdoors and indoors – to experience what Mainers long ago dubbed "Vacationland."
While Maine does have many prestigious year-round theatres, the state has enjoyed a long history of being home to acclaimed summer theatres, and in recent seasons the wealth of performance offerings has not only increased in number, but also in quality. Maine can proudly say that it boasts some of the finest regional theatre companies in the country, and after almost three agonizingly painful pandemic years, these companies are re-emerging, bringing joy and healing.
Of the many choices, two major professional theatres with storied histories are true destinations for travelers as well as locals.
Maine State Music Theatre in Brunswick, Maine, is a leading regional Equity company that ranks among the best in the country. This venerable music theatre's recently opened its 64th season of "bringing Broadway to Brunswick." The company performs a roster of four main stage shows at the Pickard Theater on the Bowdoin College campus and one co -production with Portland Stage in Portland, as well as three children's shows, three concert stagings, and a host of ancillary events that all add up to an ambitious and exciting summer experience. Closed down by Covid in 2020 and forced to present a truncated season in 2021, MSMT has come triumphantly back this June with what they are calling their "Revival Season" that boasts stunning productions of main stage shows The Sound of Music, Joseph and the Amazing technicolor Dreamcoat, The Color Purple, and Kinky Boots. MSMT has an ardently loyal subscriber base and the company, thanks to the efforts of Artistic Director Curt Dale Clark, has made itself an intrinsic and beloved part of the entire fabric of the Midcoast community. Rarely will you find as enthusiastic – and experienced – audience whose engagement makes the performances all the more special. And if your travels take you to Brunswick, you will find scores of other adventures to be had nearby: among them first class restaurants, the Bowdoin campus with its fine museums, the Bowdoin International Music Festival, historical and literary tours, and the natural beauty of the coast within a few short miles.
Ogunquit Playhouse , the second of Maine's highly esteemed summer theatre destinations, presents its 90th season in 2022 with a lineup of familiar and new titles, among them The Cher Show, Clue, and world premieres of The Nutty Professor, Mr. Holland's Opus. Ogunquit Playhouse has a long and glamorous history as one of the nation's leading summer stock companies which has drawn top stars to perform. Under the artistic direction of Bradford Kenney, that tradition of using star performers continues, but the theatre also has concentrated on building ernsembles in recent years and has committed itself increasingly to new work. Housed in the historic barn building that has been renovated and modernized, a performance at the Playhouse will take you back to a gentler era. The attractively manicured grounds of the Playhouse are available for strolling and sipping cocktails, as the sea breeze from the nearby ocean wafts over you. The town of Ogunquit, itself, is a major tourist destination, and in summer because of the beaches, the scenic walks like Marginal Way, the shopping and dining, hotels are overflowing and traffic is dense, so the town-provided trolley service is the best way to avoid the hassle and sit back and relax.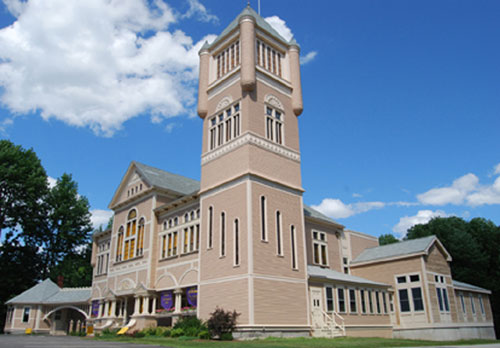 Theater at Monmouth , Maine's professional state Shakespeare company, offers a thematic roster of classic and contemporary plays in repertory This year's organizing concept is "It's Greek to Me" with a mix of classic and contemporary plays, among them, Lysistrata, Anthony and Cleopatra, Comedy of Errors, and Sarah Ruhl's modern take on Eurydice. The plays are performed with minimalist scenery, classy costumes, and a professional resident company in the beautiful Cumston Hall. This Gothic Revival building with a jewel box Rococo interior is worth a visit in and of itself, as is the delightfully idyllic setting of this rural village tucked away just south of Maine's capital, Augusta. Because of its remote setting, visitors often bring picnics which they enjoy on the lawn before the show.
Penobscot Theatre Company in Bangor produces several summer offerings, beginning this summer with the musical Nine to Five. The year -round company located right in the heart of Maine's second largest city. Closed during the pandemic, the company availed itself of the opportunity to make much-needed renovations to their home, which was originally the Bangor Opera House. Bangor is a city with good restaurants, shopping, a waterfront walk, and popular sites such as Stephen King's home and the nearby Bangor Casino.
Among the smaller, non-Equity summer companies, there is newcomer Isle Theater Company in Downeast Maine. Founded at the height of the pandemic by Anna Fitzgerald and Marvin Merritt IV, their goal was to make safe, accessible theater in a tumultuous time. Presenting a retelling of Aeschylus' The Suppliants, Do Not Move Stones outdoors at the Settlement Quarry in Deer Isle, they launched an avant garde company dedicated to making professional, community-driven work in unconventional spaces.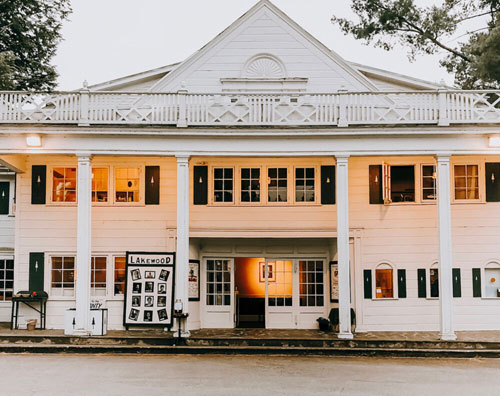 Lakewood Theater , a more than century old summer stock company nestled in Madison in Maine's western mountains, mounts its 122th season in 2022. This season's roster includes Drinking Habits, Girl on the Train, Choice, and the musical Drowsy Chaperone. The aura of the place and the adjoining Lakewood Inn and restaurant recalls the glory days of "rusticators" spending summers in Maine. Located in the lake region of Maine, with scenic drives, swimming, hiking, boating, and golf, a visit to Lakewood offers a relaxing getaway.
Maine is truly a culturally rich state, and live theatre is at the heart of the performing experience. From its roots in summer stock, Maine's theatre scene has continued to evolve, gaining a genuine regional identity, and in the case of its leading players like Maine State Music Theatre and Ogunquit Playhouse, has won richly deserved national acclaim. So for travelers seeking a vacation that adds the magic of live performance to other pleasures, Maine offers an amazing array of opportunities.
And why not combine a performance with a visit to one of the many museums on Maine's Art Trail or take in the sites associated with famous literary figures? More suggestions in Parts 2 & 3 of this series.
For more information on these theatres:
MSMT: Tickets: 207-725-8769 or www.msmt.org
Ogunquit: Tickets: 207-646-5511 or www.ogunquitplayhouse.org.
Theater at Monmouth: Tickets: 207-933-9999 www.theateratmonmouth
Isle Theater: www.isletheater.org
Penobscot: Tickets: 207-942-3333 www.penobscittheatre.org
Lakewood: Tickets: 207-474-7176 www.lakewoodtheater.org