It had been nearly forty years since I had traveled this route, northwest of London through the gently rolling green countryside of England's Cotswolds – my destination Stratford-upon-Avon and a weekend with Shakespeare. This year the Bard featured prominently in our annual London theatre adventure, so it seemed a good time to revisit his plays at both the Royal Shakespeare Theatre in Stratford and the Globe in London and to walk in the 600-year-old footsteps of this incomparable and incredibly modern genius.
The visit to Stratford took in a walking tour of the town – today a bustling (and somewhat tourist-centered) village – tracing Will's personal journey from his birthplace on Henley Street to his school days at the Guildhall, his marriage to Anne Hathaway in Trinity Church and his return in his final years, as a wealthy and successful playwright. The loveliest spot, however, is the river Avon with its flocks of regal swans and meandering flat bottom boats, winding its way past the red brick edifice that is home to the Royal Shakespeare Company.
The original Gothic Revival theatre, built in 1879 by wealthy citizen and brewery owner Edward Flower, was destroyed by fire and rebuilt in 1932 with a design by architect Elisabeth Scott – one of the first important edifices created by a woman in Britain. A 1040-seat space with thrust stage, stalls, and two-tiers of galleries, it suggests the Globe while feeling much more modern and comfortable. The Royal Shakespeare Company makes its home here and in London, presenting the works of Shakespeare and his compatriots in world -class, definitive, and pioneering productions.
My visit allowed me to take in the final performance of All's Well That Ends Well, Shakespeare's late and very dark "comedy." Performed in an equally dark and harsh modern setting, replete with digital age weaponry and technology, the production, directed by Blanche McIntyre, raises a host of very troubling and timeless issues about the relationships of men and women, marriage, agency, and sexual satisfaction. The conclusion that "all's well that ends well" resonates with a bit of hollowness here as Helena and Bertram , though they do accept their married roles, suggest that they still have a long journey ahead toward trust and true partnership.
McIntyre's concept has an unabashedly feminist bent; her Helena is a woman who sees what she wants and goes after it, doing whatever it takes to get her man even when that quest involves bold deception. Bertram is more straightforward – quite simply immature and entitled and very taken aback when he is out-maneuvered by a woman. Neither of these "lovers" (and very few of their associates) is likeable, and this gives the play its unnerving edge. McIntyre also does not shy away from exposing the cruelty in many of the characters, especially in their treatment of Bertram's faithless friend, Parolles.
Robert Innes Hopkins' d茅cor is minimalist; given the thrust stage, it uses an upstage canopy that serves as some of the interiors with bold, often harsh lighting effects by Richard Howell and pop art video images by Douglas O'Connell. D.J. Wade composes music to move the transitions, while Gregory Clarke's sound design handles the cavernous space effectively. Hopkins' contemporary costumes – mostly in neutrals – add to the quotidian
atmosphere.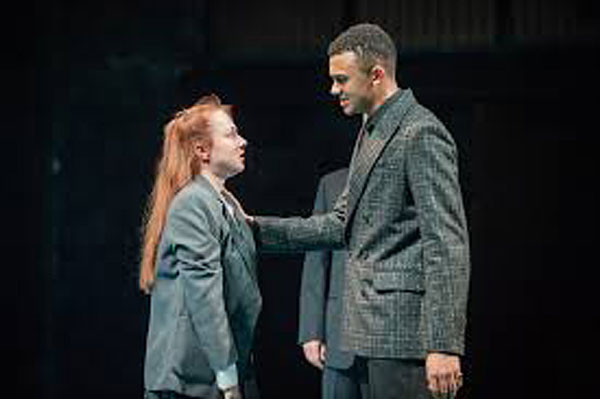 The casting is completely colorblind using the remarkably diverse company to advantage. Gender of Shakespeare's original characters is sometimes altered as with the Countess (not Count) Rossillon and several female soldiers. These minor shifts only serve to underscore the universality of Shakespeare's vision. The Royal Shakespeare Company continues to set the gold standard for the performance of the Bard, making their delivery seem effortless.
As Helena, Rosie Sheey projects both vulnerability and steel. Driven, she is never desperate, but pursues her goal with an unrelenting passion. Benjamin Westerby is appropriately feckless and shallow as Bertram, gaining a small measure of insight at the end. Claire Benedict makes a regal Countess Rossillon; Bruce Alexander is an imperious French King, while Simon Coates portrays Lafew as a cousin to Polonious. Olivia Onyehara gives a sympathetic performance as Diana with Funlola Olufunwa her colorful mother. Perhaps the most compelling performance is that of Jamie Wilkes as a very human, very flawed and yet loveable Parolles with his scene, after he has been mocked and abused, genuinely touching.
All's Well That Ends Well does not have the charm of some of Shakespeare's most beloved comedies, but this fearless production serves to reinforce the visionary genius of Shakespeare. Writing about the conventions and mores of his time, he, nevertheless, manages to shed light on the quintessential conflicts that beset humanity. Love is messy, complex, and not without its darker side.
Even Much Ado About Nothing, arguably one of his most endearing and enduring plays, has its own darker undercurrents, though somehow here, the Bard manages to wrap them in language laden with brilliant wit and irresistible comic situations. The current performance at Shakespeare's Globe is one of the freshest takes on this comedy in recent memory.
Choosing to set the piece in 1945 in Italy's Veneto, as the Countess Leonata and her family await the liberating Allies, the Italian context is created with loving attention to detail and more than a little whimsical humor. The unparalleled tradition of performing Shakespeare at the Globe lends the play its special air of magic, as director Lucy Bailey adds Italian folk song, accordion music, traditional dance (Georgina Lamb, choreographer) to the piece and encourages the actors to engage freely in bits of improvisation (real or simulated) and to engage the "groundlings" actively in the production.
Bailey creates a true romp, mining both the situation comedy and the comedy of manners to their fullest. She makes brilliant use of the breathtaking space with its large canopied upstage area with its balcony and the downstage thrust outfitted as a lush Mediterranean garden. She encourages physical comedy from her cast as well as sharp repartee, and she sustains the Italian conceit with clever touches like the Commedia masks at one of the inebriated dinner parties. This is a large, affectionate, dysfunctional Italian family at its intimate best. Joanna Parker's d茅cor readily suggest the sun-drenched Italian landscape, while Costume Supervisor Caroline Hughes' WWII dress is attractive and elegant.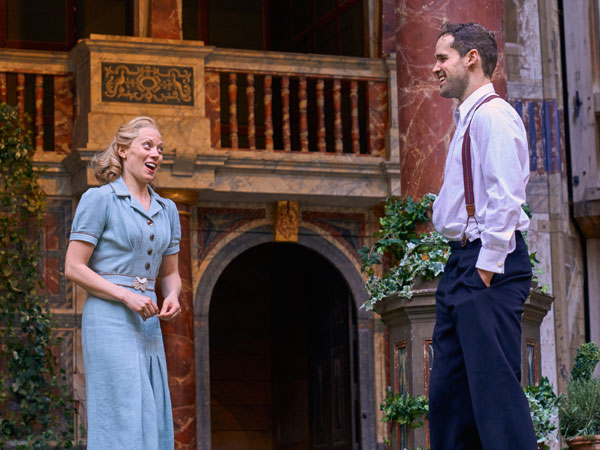 The Globe Shakespeare Company, like the RSC, proves itself a master of the material. Lucy Phelps shines as Beatrice; she projects a captivating naturalness, a stunning command of physical comedy, a pungent and witty delivery of repartee, all the while maintain a core of genuineness and originality that makes the final reconciliation with benedict touching. Ralph Davis is her match as Benedict, made foolish by lover's games, but ultimately true and unaffected in attaining his love. Katy Stephens makes Leonata (again a gender change from father to mother that works especially well) a feisty, vivacious, even lusty widow who has some wonderful fully amusing moments in song and dance. Nadi Kemp -Sayfi is sweet and luminous as Hero, while Patrick Osborne makes the insensitive, then repentant Claudio credible and empathetic. Ferdy Roberts is a fine foil for Leonata as a very human Don Pedro with Olivier Huband a low-key, melancholy, and malicious Don John. Peter Bourke as Conrad and Ciaran O'Brien as Boracio, play his henchmen in a manner reminiscent of the twin gangsters in Kiss Me Kate. George Fouacres is an appropriately dimwitted Dogberry, who injects gleeful plebian humor into his scenes. Joanne Howarth creates two funny portraits of Antonia, Leonata's sister, and Verges, Dogberry's cohort, with Rachel Hannah Clarke as a duplicitous Margaret.
The experience of attending a play in what Shakespeare called "this wooden O" five centuries after it was first performed there is, in and of itself, priceless. Arriving by the sleek clipper ferry that crosses the river from Embankment to a dock just below the Globe, one could easily imagine taking the same journey with a ferryman centuries before. You climb the steps from the riverbank and enter the great wooden doors of the Globe (rebuilt in 1614 after a conflagration caused by a misfired canon in Henry VIII). You find your seat on a hard oak bench somewhere in the circular configuration. Your back aches from the lack of support and the cold night air. You wonder how the hundreds of "groundlings," filling the area around the stage, will manage to stand for three hours, but by the anticipatory looks on their faces – young and old alike - they are eager to hear the evening's tale. And they are thrilled to become part of the action, as the actors often walk among them or solicit their responses or even bring a few on stage.
The stars come out above in the darkening sky; the players take their places and the magic begins. There is no amplification. The lighting – albeit electric – is simple and unchanging to give the illusion of the basic candlelight of long ago. In this communal setting where "the play's the thing," Shakespeare's words ring out with a clarity and conviction that defy time. They remind us that theatre is great storytelling and artists are the keepers of our human condition.