At the beginning of The Last Movie Stars, his new six-part documentary on HBO Max, Ethan Hawke tells a story about his boyhood. He and his father were headed to church one Sunday when his father suggested they go see a matinee instead. The movie was Butch Cassidy and the Sundance Kid. "From that time on," he says, "the movies have been my church."
Among other things, this anecdote is testimony to the enduring appeal of Paul Newman. Fourteen years after his death, Newman is ubiquitous, and seems likely to remain so. It isn't just a matter of his face being emblazoned on jars of spaghetti sauce and bottles of salad dressing in every American supermarket. It isn't even that his perfectly chiseled face and ocean-blue eyes made him one of the handsomest men who ever appeared in front of a camera. Newman, for want of a better phrase, was the Everyman who wasn't. There was something about Newman that was fallible yet perfect, something that drew us to him and made us believe in him even when—as often happened—he played a total jerk. He always made a charming con man, but especially in his later years he radiated an inner core of integrity and strength, despite the flaws his characters exhibited, that made him unforgettable. Tied to that strength were a sterling work ethic and a constant effort to stretch himself, so that in the end his list of credits outshone that of almost any male performer of his era.
Sixty-odd years ago, it looked as if Newman's wife, Joanne Woodward, would be the bigger star. Woodward was more naturally talented than her husband, and universally acknowledged to be. No one thought this more than Newman himself. Woodward established herself early—in such films as The Three Faces of Eve, for which she won an Oscar at 28—as a master. Her range was limitless; she excelled at both bravura roles and the most delicate gradations of thought and feeling. She even outshone Brando in their film together, The Fugitive Kind. Her ambition and work ethic equaled her husband's, but the obstacles she faced—most of them having to do with being a woman and mother—far exceeded his. Woodward's reputation has not faded—far from it—but her greatest fame is through her connection with Newman.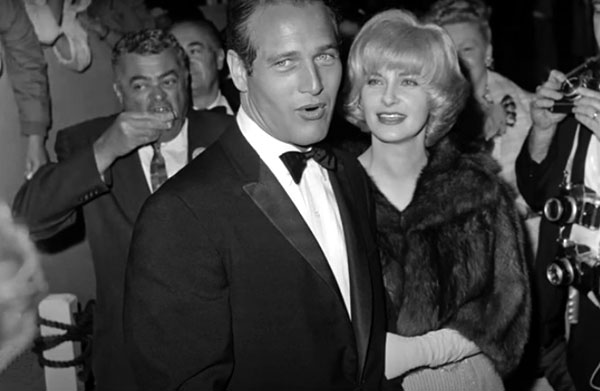 Given this—one partner aware of the other's greater talent, one partner aware of the other's greater fame--how did the marriage of Paul Newman and Joanne Woodward last fifty years? This is the main question—though not the only one—that Hawke seeks to answer.
Hawke had abundant material to work with, over and beyond the voluminous film and video clips you would expect. One of Newman's friends, screenwriter Stewart Stern, interviewed Newman, Woodward, and more than a hundred of their friends and colleagues in preparation for a memoir Newman planned to write. For reasons which will always remain unclear, Newman burned the
tapes. But he didn't burn the transcripts Stern made, and those transcripts — boxes and boxes of them, provided by one of Newman's daughters, who approached him with the project--form the basis of Hawke's film.
Hawke assembled a brilliant group of actors to read the transcripts. George Clooney takes the role of Newman, Laura Linney that of Woodward; other participants include Sally Field, Zoe Kazan, Josh Hamilton, Bobby Cannavale, Tom McCarthy, Billy Crudup, Vincent D'Onofrio, Mark Ruffalo, Ewan McGregor, Oscar Isaac, Sam Rockwell, and Brooks Ashmanskas, who nearly steals the show voicing Newman and Woodward's lifelong friend Gore Vidal.
It was Vidal who, in his interview, provided the title for this film: "I think people will remember them as the last movie stars. They were the last people who were treated at the beginning of their careers the way Katharine Hepburn and Gary Cooper were treated, and they survived."
Filmed during the pandemic, The Last Movie Stars begins with Hawke and the actors assembling via Zoom, with Newman and Woodward's children joining later. (New York Times reviewer Mike Hale correctly likens this to a cast showing up for a read-through.) The welter of voices over the stream of film, videotape and newsreel footage is disorienting at first, but soon we become engrossed in the story of how two young people—the son of an Ohio sporting goods store owner and the daughter of an impoverished South Carolina single mother—met each other as understudies in the 1953 Broadway production of Picnic. They married five years later and worked together in 16 movies, three Broadway plays and dozens of TV programs.
Newman and Woodward were members of the Actors Studio during its apex, the heady 1950s era of Brando and Kazan. Hawke and film editor Barry Poltermann are wonderful at conveying the excitement of that milieu. Woodward, after a brief awkward period, found a true home at the Studio. In a videotaped interview, Sanford Meisner reminisced about asking Woodward, "Why do you want to be an actor?" According to Meisner, she answered in a thick Southern accent: "Because it's all I know how to do."
Newman had a tougher time. Mockingly called "Brando II," he was seen as lacking spontaneity and depth. Ben Gazzara reportedly called Newman "a Shaker Heights asshole." Newman's reaction was, "If Ben Gazzara said it was fake, it was fake." Vidal, as always, had an opinion: Newman, he said, was always "thinking, thinking, thinking, and that sometimes gets in his way." Acting in our society is considered unmanly, Vidal said, so Newman had to show his thought processes. Woodward did not have this problem, he added, because all women are forced to be actresses in real life.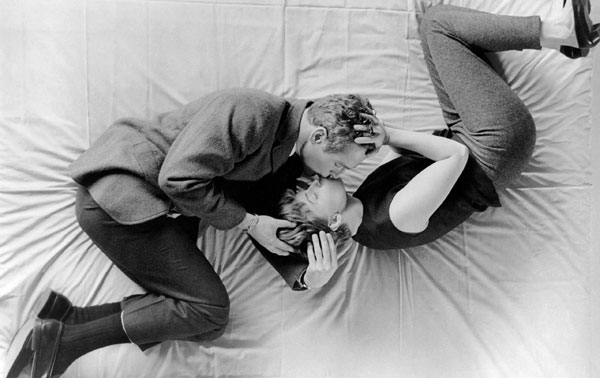 Meanwhile, Newman and Woodward's personal lives were reaching a critical point. The Last Movie Stars reveals that Newman and Woodward had an
affair for five years while Newman was still married to his first wife, Jackie McDonald. Stephanie Newman, daughter of Newman and McDonald, says her mother was devastated by the betrayal, and remained so. McDonald herself (in the interview transcript read by Zoe Kazan) testified to her heartbreak: she was left alone with three children while Joanne Woodward was onstage accepting an Oscar. A friend of Newman and McDonald summed it up: "They were two very nice people who never should have married each other."
Nineteen fifty-eight was the year Newman and Woodward achieved both personal and professional parity. Their marriage coincided with their first film together—The Long, Hot Summer, an international hit. Newman won Best Actor at Cannes for that film the same year that Woodward won her Oscar for The Three Faces of Eve. But soon Newman was traveling around the world on location, while Woodward was stuck at home with three daughters. (In the interview read by Linney, Woodward confessed that, although she loved her daughters, if she had known how motherhood would affect her career, she might not have had children.) The sexism of the time also stymied Woodward, sometimes even at home. Newman's widely publicized remark about
marital fidelity—"Why should I go out for a hamburger when I have steak at home?"—did not help. Woodward's reaction was, "I am not a piece of meat!"
There was the tragedy of Scott, Newman's son with McDonald. An aspiring actor, Scott had a few roles, but what he mostly did was drugs, which killed him at 28. Grief over Scott, along with professional pressures, exacerbated Newman's alcoholism. Woodward threw him out; after four days of sleeping in the driveway, Newman asked if she would take him back if he limited his drinking to beer. She did.
Throughout The Last Movie Stars, Hawke is masterful at matching clips from Newman and Woodward's movies with the events in their lives. He shows their flaws, but also how they grew, not only as people and as a couple, but as artists. Commenting on the action, Hawke says outright that Newman and Woodward are not only the actors but the people he has always aspired to be, and the other participants are in total agreement. These include Linney, whom Woodward mentored, and Field, who had two of her biggest successes working with Woodward (Sybil) and Newman (Absence of Malice). Newman and Woodward's philanthropy alone—the Newman's Own product line, which to date has contributed more than $550 million to charity, and the Hole in the Wall Gang camps for children with leukemia and AIDS—is enough to add their names to the pantheon.
The last episode, which concentrates on Newman and Woodward's later lives and careers, is especially moving. Hawke and Richard Linklater select The Color of Money as the most significant of Newman's late films. In Linklater's words, Newman achieves "the emergence of his true self" as Fast Eddie Felson. Twenty-five years after The Hustler, Fast Eddie is no longer striving; his calm and self-confidence are palpable. Of Tom Cruise's character, Vincent Lauria, Fast Eddie says, "He's got to learn how to be himself—with a purpose."
As for Woodward, her sense of purpose was never in doubt. She continued to star in films, many of them either with Newman (Mr. and Mrs. Bridge) or directed by him (Rachel, Rachel); she directed her own theater company, one of whose productions was Our Town starring Newman as the Stage Manager; she starred in many TV-movies, winning three Emmys. One of the Emmy winners was Do You Remember Love, a 1985 telefilm in which she played a woman suffering from Alzheimer's disease. At the time she explained that the project meant a lot to her because her mother had died of Alzheimer's. In a tragic irony, she herself was diagnosed with Alzheimer's in 2007. Nine days later, Newman was diagnosed with terminal cancer; he died the next year. Woodward survives, but her illness made her incapable of participating in The Last Movie Stars.
There is much more to The Last Movie Stars, more than can be contained in one review. But in the end we can only be in awe of the lives Paul Newman and Joanne Woodward created for themselves, as individuals and as a couple. Their conflicts were many, but their mutual love and respect remained intact. The Last Movie Stars quotes from the text they wrote when they renewed their vows: "A good marriage must be created. It is standing together facing the world…a common search for the good and beautiful. It is not only marrying the right partner, it is being the right partner."
Hawke leaves us with a final image from one of Newman and Woodward's
films. I will not describe it, but it is how we fans like to imagine them, and—for those of us who believe in a life beyond this one—what we wish for them in Heaven.