Introduction
This month's guest writer, Gregory Vernitsky, has written an entry of varied layers related to Kandinsky, with glimpses of other artists in Ukraine, such as David Burliuk: first Vernitsky's own years there as a budding artist under Soviet rule in the 1960s and '70s, then the tenor of Ukraine as it shifted in the period from 1917 to the early 1930s, and then again farther back.
In her authoritative monograph, Kandinsky, Dr. Jelena Hahl-Fontaine (formerly Hahl-Koch) states: "Almost nothing is known about Kandinsky's school years" (p. 24). Nonetheless, confusion persists in the Kandinsky literature about his time in Odessa; for example it is fairly often said that he attended an art school there. Vernitsky, himself from Odessa, set out to see what might still be learned about this exceedingly slippery topic. With so many of the hoped-for facts seeming to be truly lost to history, Vernitsky has instead given us a texture, a train of thought, a collection of associations that create a context not only for what might have been for Kandinsky, but also for any information that still might surface. These in themselves offer some admirable clarification.
Even more, Vernitsky shows us some of the Kandinsky paintings that, when threatened, were privately concealed; large collections of paintings were scattered and many were spirited away to provincial museums in Russia. This information is increasingly known. But I wondered: how remote was a "provincial" museum from Odessa? Today, Krasnodar is close to 1,400 miles by bus. Krasnoyarsk is 2,656 miles or 23-1/2 hours by train and then flight. The Tumen region is over 1600 miles from Odessa. What a feat it was to save those paintings.
A practical note: You will find pre-1991 Odessa referred to as a Soviet Republic, and as part of Soviet Russia, the Soviet Union, the USSR, or the Eastern Bloc. You will also see the shift from the spelling "Odessa," the Russian transliteration of the city's name, to "Odesa," Ukraine's own spelling, post-1991, of the name of its sovereign nation.
Lissa Tyler Renaud
Editor, "Kandinsky Anew" Series
Oakland, California
*
Kandinsky's Odessa, Ukraine Context:
The Fate of Modern Art in the Russian Empire
Gregory Vernitsky
As a young student in Ukraine, the very first names I learned of modern artists were Wassily Kandinsky [1866-1944] and David Burliuk [painter-poet, 1882-1967]. I was walking into the Odessa Art School to take an entrance exam (which I failed), when I spotted their names, handwritten on the plaque listing Notable Alumni. Hours later their names were gone, wiped off. Someone told me they were famous artists who were prohibited, and that the students would simply write their names up there again.
It was 1968. The public could see French art in Moscow and Leningrad [since 1991, St. Petersburg], but Soviet Russian modern art was under constant threat of destruction and kept hidden. Such works were protected by brave and selfless people such as V. Pushkarev at the Russian Museum, or I. Savitsky at the Nukus Museum in Central Asia. Just a couple of years earlier, in Odessa, the History Museum had burned some of its Ukrainian art in the courtyard: the political leadership of this Soviet republic, Ukraine, was being criticized by the Soviet Russian authorities for having a nationalistic tilt and, sniffing what was in the air, the museum's administration moved to destroy these artworks to forestall trouble.
Odessa was a normal Soviet city: there were only a few art books, about stale Soviet art and the major 19th century realists. In the stores open to the public, all the art materials together could fill only four feet of two shelves. The first color reproduction of a Kandinsky I saw was in the early 1970s; I treasured a book that I couldn't read, with a Chagall on the cover, and a Saudi stamp with a Modigliani on it: you could invite a girl to see your albums of Chagall, or Dali, or Picasso—not just listen to the latest music!
*
But Kandinsky was much less known. I still have a 1972 book about the fate of German artists in Hitler's time, The Art That Did Not Submit, full of letters and documents and even reproductions of works by Kathe Kollwitz, Ernst Barlach, and Paul Klee, along with other Expressionists. This book, printed in a 10,000-copy run, was unique for the USSR: a compilation of documents, printed in East and West Germany, that let the Expressionists speak for themselves. Information related to Kandinsky was (as the book was written by critics with social-realism leanings, aesthetics were secondary) very sparse—it came mostly from the political and social critics. Only one note stood out: Kandinsky was visiting Klee in Bern in 1939, to support his exiled, dying friend.
Of course the editors of this book had a complicated task: how to show the Nazi persecution of "Degenerate Art" without drawing attention to the very similar actions of the Soviet Government, or to the conservative taste the Soviets had in common with Germany—the taste for the naturalistic and heroic in art? How to promote the left-leaning art of the antifascists without talking about their too-conspicuously less political Soviet contemporaries? Well, this book was never reprinted.
Most books, available to the lucky and the persistent, were printed in Hungary, the DDR [the German Democratic Republic], Czechoslovakia, and other countries of the Eastern Bloc; there was a special bookstore called "Friendship." Once, in a secondhand store, I found a book about Modigliani (printed in Czechoslovakia), hidden behind other books and, after a huge uproar and struggle, was able to leave the store with it. Do not laugh—Modigliani was printed in Russian just once during the 1970s and early '80s, two copies of the books came to the Odessa libraries, and both were immediately stolen. From a cultural standpoint, only North Korea and Albania were worse than the Soviet Union.
People do think of Odessa as having a great history in the arts—indeed, many artists, musicians, and writers started out in Odessa, then left and became famous elsewhere. To troll their school's administration, the students secretly adding the names Kandinsky and Burliuk to that plaque were choosing very well: a notorious abstractionist and a scandalous, romantic revolutionary, who had both left Odessa.
"Sunny Street" (literally "street lit by the sun"), painted in Munich:
one of four Kandinsky paintings held in the Odesa Art Museum.
Very early work (date unknown).
Besides, I do not think students in 1968 knew many other names (such as Nathan Altman, Boris Anisfeld, or Amshey Nurenberg), or were aware of their importance in the history of art, but they were longing for times they had never lived in: a world in which artists could live in Paris, travel to other countries—to Italy, or Morocco, paint what they wanted, not listen to the authorities, be poor but one morning wake up famous—that is, the fairytale world of Pre-WWI Europe. They may have felt, without actual proof, that Odessa used to be a part of it.
*
Before the Revolution of 1917, the Odessa Art School that Kandinsky is sometimes thought to have attended was a private establishment, funded by donations and student tuition; its teachers belonged to the Society of South Russian Artists. Also sometimes referred to as "Odessa Art College," it was a preparatory school for an art academy or
institute, providing both art education and high school diploma.
Neither Kandinsky nor Burliuk was Jewish, but it is notable that, to a unique extent, there were no restrictions at the Odessa Art School as to the number of Jewish students who could attend, and who by 1904 constituted more than 60% of the student body. There were reasons so many Jewish students famously continued their education in Paris or Munich: few were able to continue their education at the very conservative Academy in Saint Petersburg; the Moscow School of Painting, Sculpture and Architecture would not admit Jews at all.
"Improvisation 209" 1917, oil on canvas. Krasnoyarsk Art Museum, Russia
Odessa was far more open to modern movements. One group of artists, expelled from a Moscow school for having "leftist tendencies," formed the famous Jack of Diamonds group, and initially exhibited in Odessa with independent artists hardly known in the West: A. Nurenberg, M. Gershenfeld, I. Malik, T. Fraerman, S. Fazini and others. They were supported by J. Pereman, an art collector, bookseller, and leader of an Odessan Jewish socialist movement. During the Civil War that followed the Revolution, Pereman took his art collection to Palestine.
By the end of the Civil War in 1922, Odessa was empty. Some artists had fled, some had moved to Moscow where, for a short time, some modern art could flourish; some died or simply disappeared. Those who remained had to follow new Party requirements. In early 1930 the curtain fell, the fabric of cultural life sustaining the freedom of artistic expression was torn.
It was a long dark night.
"Untitled," 1918, watercolor, ink, paper, 31 x 22cm. Private collection.
*
Kandinsky was among those who left Odessa for Moscow, then
Munich. He studied law at Moscow University, graduated, worked for a while, and in 1896 went first to Anton Ažbe's popular Munich atelier, or private art school, and then to the liberal Munich Fine Art Academy ["Munich Academy"] in 1900. Burliuk followed a similar path: Odessa Art School, and then to Ažbe's Munich school and the Munich
Academy. Meeting again in Munich, Kandinsky and Burliuk helped another former Odessa Art School student and sculptor, Vladimir Izdebsky, to organize the 1909 and 1910 "Izdebsky Salons"—the first and hugely influential exhibitions of modern Western Art in the Russian Empire.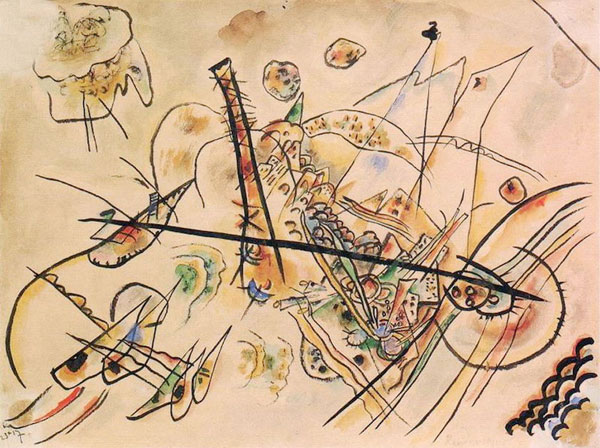 "Immaterial" (Subjectless), 1917, watercolor on paper, 25 x 34 cm.
Krasnodar Regional Art Museum.

In an all too common tale of the times, Burliuk's older brother Vladimir, a painter, was killed in WWI; his younger brother Nikolai, a poet, was executed by the revolutionary Bolsheviks; David Burliuk emigrated to the U.S. in 1922. As for Kandinsky, in 1920, during the famine in Moscow, Kandinsky's child died before his third birthday, of malnutrition; and in 1922 Kandinsky left Russia and took a teaching job at the Bauhaus in Weimar, Germany.
"Purple Wedge," 1919, oil on canvas, Tumen region, Museum complex.
(A point of interest: Leonid Pasternak, father of the great Boris Pasternak [Dr. Zhivago et alia], did the same: after Odessa Art School, he continued his education at Moscow University, then Ažbe's art school and the Munich Academy.)
It is important to note that, although their early life trajectories were so similar, one difference between Burliuk, Pasternak, and Kandinsky, is that the first two graduated from Odessa Art School, while Kandinsky perhaps did not, though he may have had a similar level of formal training nevertheless. But we continue to see "sources" related to Kandinsky list him as an Odessa Art School alumnus—including online—even while most books do not.
*
Today, there is also a darker reason to talk about the tragic fate of modern art in the Russian Empire: as Putin is denying even the existence of Ukraine and its language, the war is raging in the culture, too. The knowledge and understanding gained in the last 30 years— since the dissolution of the USSR—may be lost again, and our common cultural heritage divided by hatred and suffering. Hope it will not happen.

Kandinsky's memorial plaque in Odesa, where his family lived in the 1890s. Finally installed between 1991 and 1996 (after the Soviet Union ended). By A. Tokarev.
* * *
For further reading: in this series, see "Kandinsky and the Totalitarian State" (November 2019), by Zarina Zabrisky.