Lancaster's Fulton Theatre's recent production of the British comedy,
The Play That Goes Wrong, is, in fact, an oxymoron, Because while the premise of this play within a play is that the production of a murder mystery by troupe of hapless actors becomes a stage disaster, the actual Fulton production is – and must be to succeed – a dazzling display of talent and technique. The play by Henry Lewis, Henry Shields, and Jonathan Sayer is a complex master class in comedy that has the audience reeling with nonstop, out loud laugher for two-and-one-half hours. Directed with genius by the Fulton's Executive Artistic Producer Marc Robin, created by a team of superb technical staff, and cast with an ensemble of actors whose comedic timing and technique are sheer perfection, this show provides a much-needed escape from the stresses of our present world.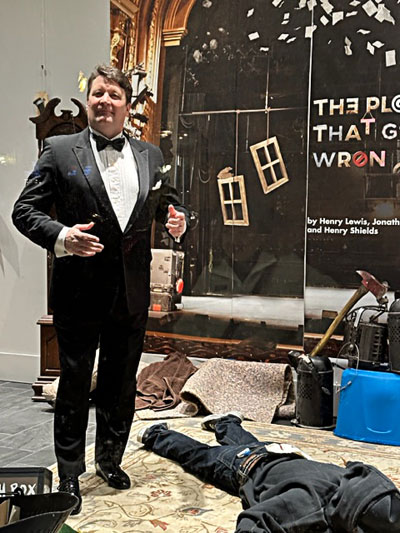 The play showcases every type of comedy imaginable in rapid-fire succession, leaving the actors – and often the audience – breathless with laughter, surprise, and even a whiff of danger. There is a great deal of physical comedy from sword play to pratfalls to mishaps with the scenery. There are a number of elaborately choreographed scenes involving actors and mishaps with props, including one show-stopping sequence in the second act when a platform holding two actors appears to collapse. There is also farce, of the revolving door variety, with entrances and exits occurring in crazy succession, substitution of actors in roles, costume malfunctions, sound cues gone awry, and general onstage mayhem. Then, there is verbal comedy: individual sequences which rely on irony or rapid -patterned dialogue such as the episode where a foursome of actors repeats a section of dialogue over and over, giving each repetition a differently nuanced reading, all intending to prompt a forgotten line response from the butler. And, there is parody: delicious homages to sketches from situation comedy like the Monty Python, the Carol Burnett show, or the Marx Brothers, or even older vintage movies like those of Erroll Flynn and Agatha Christie, as well as visual and verbal satiric nods to classics like Hamlet and Phantom of the Opera.
And so, to present a play that is ostensibly so bad, all the members of the cast and creative team must be insanely good at their craft. Actors must have the ability to play a character playing another character with split -second perfect comedic timing. They must be agile enough to execute all the physical stage business while delivering lines in perfect British dialect. They must have the energy to keep this high-octane piece running with uninterrupted precision and speed. And they must work well as an ensemble because the execution of the various comic gags requires trust and timing from both cast and crew.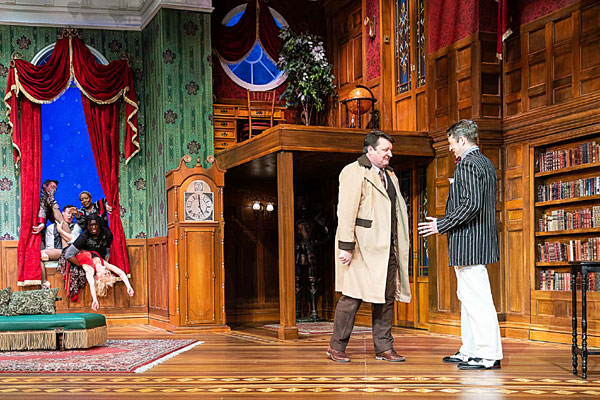 The Play That Goes Wrong is also a very tricky piece to produce, and the Fulton is one of the rare regional theatres with the means and physical capabilities to succeed. The set and props, which are characters in and of themselves, are visually lavish and beautiful to look at, but they hold a host of surprises and throughout the course of the evening, they deconstruct with alarming alacrity. Scenic Designer Czerton Lim and Props Coordinators Katelin Walsko and Meg Valentine do a virtuoso job of creating a stage environment that is filled with surprises – one that leaves the audience frequently gasping or roaring with laughter – sometimes both at once. Colin Riebel provides all the appropriate sound effects for a murder mystery and a lighting design that aids in following the action. Costume Designer Anthony Lascoskie, Jr. supplies the costumes that effectively create the upperclass British milieu with their own little comic twists. Katie Wilhelm, Cody Smith as Deck Stage Managers supervise a masterful crew whose contribution to this show is enormous, while Stage Manager Tim Markus keeps the innumerable moving parts all together running smoothly.
Director Marc Robin, renowned for his work in musical comedy and
drama, proves himself to be a comedic genius as well. He applies his skills as a choreographer to the work, setting each sequence as if it were a subtle dance - both physical and verbal. The result is that the audience erupts in applause repeatedly throughout the course of the play as actors deliver a "routine" that then seamlessly segues into the next. Robin also excels at helping his actors delineate character, so that each one gives a humorous take on familiar figures: the inspector, the ingenue, the butler…. Moreover, for this production, he has created a pre-show that involves actors and crew moving among the audience in character and then onstage warming up the audience with some gags that set the tone for the ensuing comedy.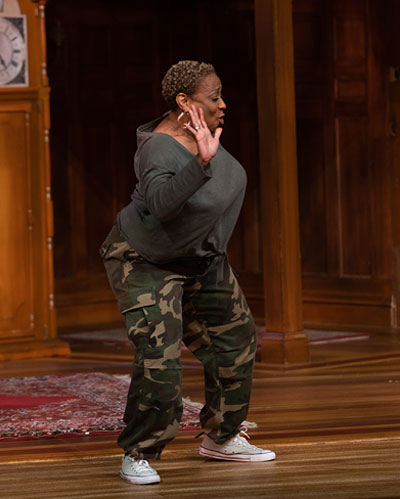 The cast works as a fine-tuned ensemble. E. Faye Butler as the Stage Manager, Annie knows how to work an audience, and, from the minute she walks onto the stage in the pre-show, she has them in the palm of her
hand. Her stint replacing the ingenue lead Florence is deadpan funny, and her interaction with Davon Williams as Trevor is priceless. Williams plays a bumbling and mischievous crew member, Trevor, with delightful abandon. Cameron Wright makes an onstage cameo appearance as a crew member searching for Winston, the dog, as do Raymond Marc Dumont and Bryant Martin in the pre-show.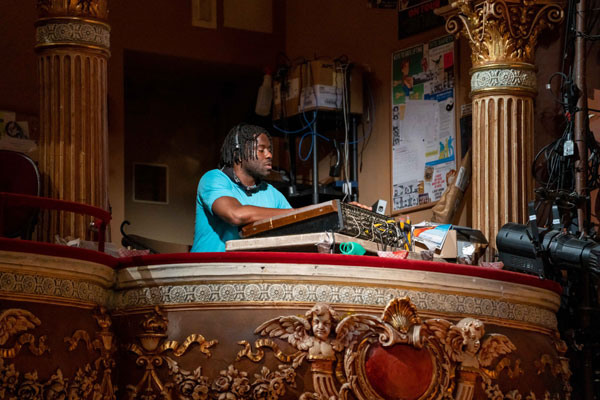 As the presumed victim in the mystery, Charles Haversham, Nathaniel Hackmann gives a wonderfully witty performance. He is amusing as Jonathan, the dim and inept actor playing Charles, who cannot manage a correct entrance and who refuses, as the corpse, to remain dead. Then he rises to a humorously melodramatic soliloquy at the end in which he parodies a classical actor surveying the wreckage in a Shakespearean drama.
Kevin Early portrays Thomas Colleymore, Florence's controlling g brother, with bravado, style, and the requisite straight-face. His sword fight with Florence's lover is hilarious, and his scene grappling with tilting platforms and rolling furniture is side-splittingly funny. Chuck Ragsgale romps through the roles of Cecil Haversham, Charles' narcissistic brother and Arthur the Gardener, played by the flamboyant character of Max. Brilliant at physical comedy, Ragsdale's lithe antics keep the audience in stitches. As Sandra playing Florence Colleymore, Lara Hayhurst makes her character a seductive showgirl willfully grasping what she desires. With the grace and skill of a dancer, she executes some of the most startling and limber feats in the production.
Jonathan Arana as the Butler Perkins supplies a great many laughs with his mispronunciations and missed cues, and is responsible for setting up many of the comic situations.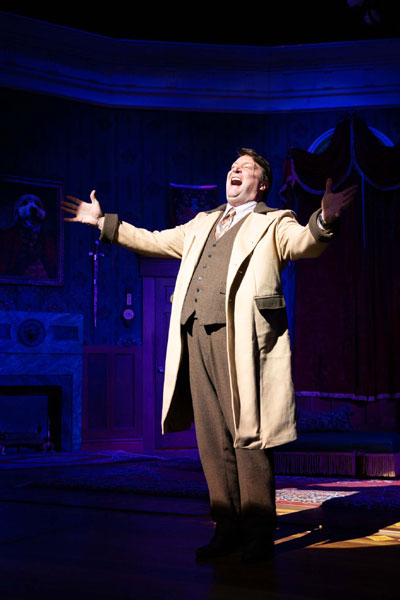 As Chris Bean, the self-satisfied director of the Cornely Drama Society who plays the pivotal role of Inspector Carter in the murder mystery, Curt Dale Clark has a number of opportunities to take center stage – something he does with tongue-in-cheek aplomb. His opening monologues at the beginning of each act, delivered with impeccable accent and perfect mock hauteur, establish both character and tone for what follows. His cleverly limned portrait of the quintessential British inspector is all the funnier when he is derailed by the onstage mishaps. The sequence in which he unravels as he searches for the missing prop ledger and then recoups his poise is riotously funny, as is the elaborately choreographed duet with Early on the collapsing platform of Charles' study, where he gamely demonstrates how to "take the stairs."
Understudies for this high energy show play small pre-show and backstage roles with gleeful commitment: Sebastian Antonio, Bailey Blaise, Raymond Marc Dumont, Ron King, Bryant Martin, Kelly J. Mazzella, and Mark Tinkey.
The crew for Play That Goes Wrong is also integral to the success of the show, managing all the carefully timed "accidents" and effects from backstage: Dana Landis, Matty Vasquez, Tyler Horn, Chris Hoffman, Griffin Allen, Karen Chack, Claire Molitoris, Tara Fontanes, Cameron Wright, Deb Bielek, Liz Kershenbaum.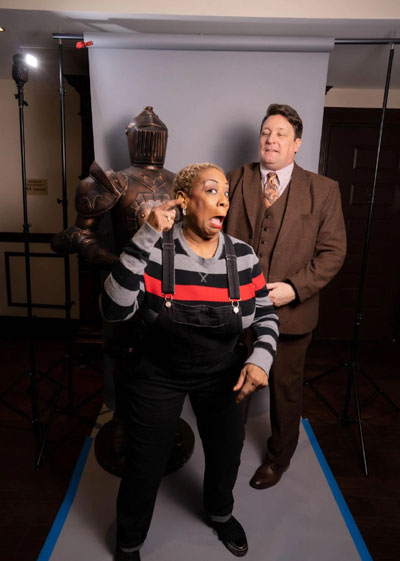 In 1900 the French philosopher Henri Bergson opined in his famous essay on comedy that "Laughter appears to stand in need of an echo." To be present in the Fulton theatre, in the dead of winter, after a long sojourn in the world of the pandemic, what this critic heard was laughter and more laughter and then some more…..a rippling echo of unfettered joy.
The Play That Goes Wrong ran at the Fulton Theatre, Lancaster, PA from January 19-February 12, 2023
Photos courtesy Fulton Theatre, Kinectiv photographers